I hope you enjoy reading the blog post.
If you want to chat now about your matchmaking search, click here.
Ambiance Matchmaking Reviews [Best San Francisco Matchmaker?]
Wondering if this San Francisco matchmaker can find your perfect partner? This Ambiance Matchmaking review is a great place to start.
Entrusting your love life to someone else is a big decision, both financially and emotionally. It's crucial to find a matchmaking service that aligns with your expectations!
Our team has reviewed well over 200 matchmaking services, thoroughly examining their processes, client feedback, success rates, and more. With more than 14 years of industry experience, our reviews are grounded in extensive research and a profound understanding of the matchmaking landscape.
Ambiance Matchmaking Review Table Of Contents:
Let's get started!
How Ambiance Matchmaking Got Started
Ambiance Matchmaking was co-founded by Leslie Wardman and Taylor Wade, driven by their shared vision of providing a "one-of-a-kind matchmaking service for conscious leaders, creatives, and entrepreneurs."
But neither Wardman nor Wade began their careers in the matchmaking industry. Leslie Wardman started in production and advertising with ESPN, while Taylor Wade studied International Business & Entrepreneurship.
It was Wardman who made the switch first, sharing that she reached a point in her life where she was looking for ways to 'reinvent' herself.
After spending 20 years in advertising, Wardman decided to shift her focus towards helping people find meaningful relationships. She considers that to be 'the most important part of life', as she mentioned in an interview with Voyage Chicago.
It was a colorful magazine article and a unique business name that piqued Wardman's interest. She recalled the experience to Voyage Houston saying,
"One day I saw a magazine article that had a bunch of bright colors and a crazy business name. That was enough to get me to pick up the phone and call to see what they had going on. I had a great time speaking with the girl that answered (we're still great friends to this day) but she handed off the phone and at the time I didn't know why. I was told that they introduced single business people all around the country."
Unaware that she was stepping into a job interview, Wardman was invited down to their office. Out of 250 applicants, she was chosen as the director of an international matchmaking company, where she worked as a matchmaker and gained valuable industry insights.
When the company underwent a corporate takeover, Wardman made the decision to leave and establish her own matchmaking firm.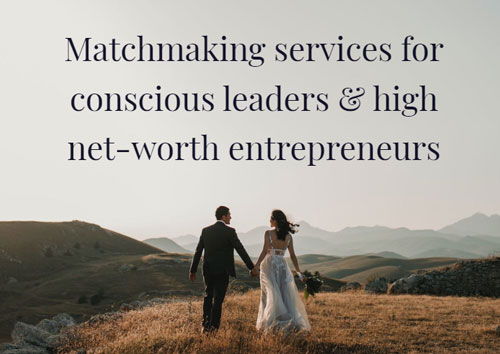 In 2002, Ambiance Matchmaking was launched, combining Wardman's matchmaking expertise with Wade's entrepreneurial spirit.
Although based in San Francisco, this matchmaking service operates across the United States with a presence in Los Angeles, Orange County, San Diego, New York City, Chicago, Oklahoma City, Tulsa, Dallas, Austin, and Miami.
As Wardman shared with Voyage Houston, Ambiance Matchmaking clients are typically entrepreneurs and business owners who have excelled in their professions. They work with both men and women who are looking to find a partner with similar life goals.
As she puts it,
"Our business model is working with busy singles on an equal playing field. Matching wealthy men with young beautiful women is not our thing. When we match it's built on family values, where you are in life, and where you want to see yourself going."
A Peek At The Ambiance Matchmaking Process
The first step to working with Ambiance Matchmaking is applying to become a member through their website.
Next, they'll conduct a phone interview followed by an in-office personal consultation. During this consultation, they explore various aspects of your life, including family values, work, hobbies, and leisure activities. There is a $225 interview fee, which is applied to your package price if you move forward.
"At Ambiance Matchmaking, we have developed a system where, no matter who you interview with, we get to know you and will personally be responsible for matching you."
They maintain high selectivity when choosing if someone is the right fit for Ambiance, believing that it is crucial for individuals to have their lives in order before finding love.
As Wardman expressed in an interview,
"We feel very strongly that someone should have their ducks in a row before they go into something that is huge, such as (finding) a significant other or marriage."
Potential matches are sourced from the singles database, their private matchmaking network, or through recruiting efforts on your behalf.
Once a match is found, Ambiance Matchmaking notifies you and provides a brief description of the other person, including details like eye color and height, along with why they feel this person is a good fit for you.
It's important to note only VIP members can view pictures of their matches before introductions. According to their website FAQs, the reason for this is 'due to the extremely confidential aspect of our business.'
You can expect to meet matches once to twice a month, and the Ambiance team takes care of scheduling the dates for you, including making reservations. If distance is a factor, they can arrange introductions through video platforms.
"We've been making some introductions via Skype, Facetime, Zoom, etc., for quite some time now if there is geography involved. This way you can sit back and get to know someone in the convenience of your home prior to making big travel plans to meet. I think this is a very healthy process."
The following day after a date, a team member contacts each person to gather feedback on how the evening went.
What You Can Expect To Spend
If you're interested in having active searches conducted on your behalf, you'll need to purchase one of Ambiance Matchmaking membership packages.
Packages start around $25,000 and can range up to $100,000, with the final price depending on how many matches you want to meet and the geographical scope of the search.
Ambiance Matchmaking offers several package options, including Local, Regional, National, International, and VIP packages. Typically, memberships are valid for one year, with the flexibility to place your membership on hold for up to 12 months.
You can choose to join their database of singles for free. However, this is considered a passive membership, meaning you will only be contacted if your profile aligns with what a paying client is seeking.
Ambiance Matchmaking Reviews
The company and its founders have been featured in various media outlets, but you might be wondering what actual customers have to say about their experience with Ambiance Matchmaking.
Ambiance Matchmaking has a 5-star rating on their Google business profile, based on 7 reviews.
All of the reviews were 5-star, with clients sharing a positive experience:
On Yelp, the Ambiance Matchmaking reviews were more of a mixed bag, resulting in a 3 ½-star rating.
The positive reviews mentioned Wardman's matchmaking abilities and the team's professionalism:
The two negative reviews were from clients who were not happy with the frequency of their matches.
Is Leslie Wardman & Ambiance Matchmaking Right For You?
Online reviews can be helpful, especially considering how a company responds to them on the platform can be an insightful peek into their approach to customer service in general.
Reviewers' experiences can also help you formulate important questions to ask during your initial consultation.
But ultimately, it all comes down to what fits within your budget, and how effective you think a particular service will be when it comes to selecting matches that fit all your requirements.
And there is also contract length to consider! Multi-month contracts are the industry standard, with packages typically spanning 3 to 12 months if not more. In most cases, you'll be required to pay the entire fee up front before the search for your ideal partner begins, although some services do allow you to commit to a payment plan.
VIDA Select, on the other hand, takes a different approach to contracts by offering a pay-as-you-go structure instead.
With monthly packages starting at $1095 for Basic services, $1695 for Premium services, and only $2595 for Elite services, VIDA Select clients pay only for the time they'd like to receive new matches.
On average, clients meet someone special within just 3 months of service. So if you also meet someone intriguing right away, you can simply pause your service to explore where things go!
VIDA Select's matchmakers leverage the largest pool of eligible singles there is, and clients at all levels of service review a full profile of each potential match, including photos. That means you can look forward to first dates with singles you know you're attracted to!
Intrigued? Find out more about VIDA Select's modern matchmaking service here.
All product and company names are trademarks™ or registered® trademarks of their respective holders. Use of them does not imply any affiliation with or endorsement by them.
Why Choose VIDA Select?

Since 2009, thousands of clients have discovered true love thanks to VIDA Select's fresh, modern approach to matchmaking – which has finally thrown blind dates and long-term contracts out the window. This isn't your grandmother's matchmaking!
Instead of working with a single matchmaker using a small rolodex of potential partners, VIDA Select's matchmaking team taps into the world's largest database of available singles. We'll quickly identify the matches who check all of your boxes so you can finally experience true chemistry. Are you ready to become our next success story? Schedule your complimentary consultation now by clicking the button below!
Get Started Now