I hope you enjoy reading the blog post.
If you want my team to just do your online dating for you, click here.
Catholic Match Reviews: Scam Or Solid Investment? [2023]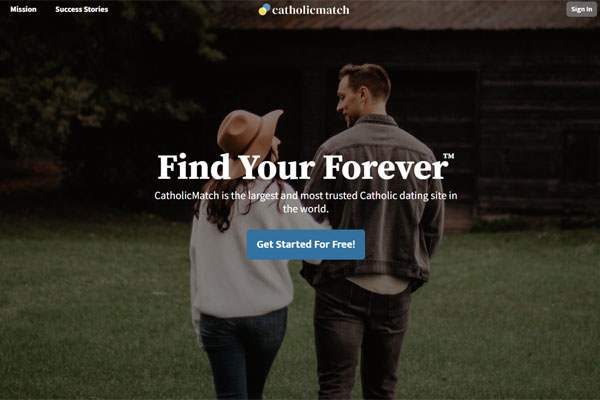 If sharing your faith with your partner is a must, Catholic Match seems like the obvious choice. But is it a site you can trust in the search for your ideal match, or is it nothing more than another online dating scam?
These Catholic Match reviews reveal everything you need to know about this faith-based dating site so you can decide whether it's right for you.
Pros & Cons Of Catholic Match
No dating site is perfect in every way. Here are the main advantages & disadvantages of CatholicMatch.
Pros:
It's the most well-known Catholic dating site, and having been around since 1999 you know it's legit.
The site asks very specific questions regarding your beliefs, so if finding a like-minded Catholic is very important, this is the site for you.
Since messaging requires a paid subscription, the Catholic singles you'll find on the site are typically serious about meeting someone.
Cons:
You have to upgrade to a paid subscription to send and receive messages.

As with any specialized dating site, if you're not in a large metro area the user pool might be quite small.

The account setup process is time consuming, and you must complete most of your profile before you're able to check out the local users.
Does Catholic Match Work?
If you're Catholic (or have a Catholic background) and it's important to you to date someone who shares your faith, then it could be a great place to find high-quality, attractive singles.
But keep in mind that Catholic Match simply doesn't attract the same number of users that you'll find on more popular sites. So unless you're in a huge metro area like NYC or Los Angeles, your search might take a little longer.
That's why, for most people, we recommend searching for singles who share your faith on Match.com (full review) and ChristianMingle (full review). The Advanced Search functionality these sites offer will come in handy for finding your perfect match.
If you wish to widen your search from there with a handful of more targeted matches, add Catholic Match into the mix.
What Others Are Saying In Their Catholic Match Reviews
Catholic Match has a mixed bag of reviews. Ratings website SiteJabber gave it 2 stars, with the bulk of users' reviews on the negative end of the spectrum. Most called it a "waste of time and money."
However, other reviewers praised how seriously the site takes the Catholic faith, and pointed out how quickly profiles with content that goes against the church's beliefs are deleted.
On this Catholic forum, some users proclaimed it a ghost town, while others said it was the best of the Catholic-only options.
Catholic Match Cost & Features
Setting up your profile on Catholic Match is free. But before you can exchange messages with anyone, you'll have to become a paid member.
CatholicMatch starts at $29.99 for a single month:
CatholicMatch 2023 Cost
1 month - $29.99
6 months - $15.00/month
1 year - $10.00/month
*Price may vary by location
A premium membership to CatholicMatch includes these features:
Unlimited messaging & likes
See which users have "liked" your profile
Advanced filters
In-app video calls
Message read notifications (with a 6- or 12-month subscription)
Emotigrams
Access to the community forums
If you purchase a 6 month or 1 year Premium subscription, you'll also unlock message read indicators.
Setting Up An Account
Setting up your account takes some time. You're required to complete most of your profile before you can access other Catholic Match features.
First you enter your name, email, location, and gender. Then you'll answer a series of basic questions, such as birth date, marital status, and diocese.
Next, you can upload up to 6 photos, either from your computer or directly from Facebook.
You can skip this step, but not using at least one photo is a mistake. She's paying for the privilege of sending messages, and she's probably not going to waste time returning one from Mr. Anonymous.
At VIDA, we've found our clients get the best results using a range of 3 to 5 photos. Fewer than 3 and it's difficult to showcase all the facets of your personality.
At the same time, it's practically impossible to look equally attractive in 5+ pics. Want more tips on selecting your photo lineup? Check out this expert advice on choosing your best online dating photos.
CatholicMatch Questions
Next you'll answer more questions from 3 different profile sections: Appearance, Background and Faith.
The questions get quite detailed and personal, like "How much television do you watch?" and this one about tattoos:
You'll also be asked questions like "Describe your political views" and "Growing up, who was responsible for you."
As you might expect, many of the questions center around your faith. Examples include whether or not you're considering a religious vocation, how often you attend mass, and if you're a convert (and from what background).
There are several yes/no questions on whether or not you accept specific teachings of the church regarding the Eucharist, contraception, premarital sex, the infallibility of the Pope, etc.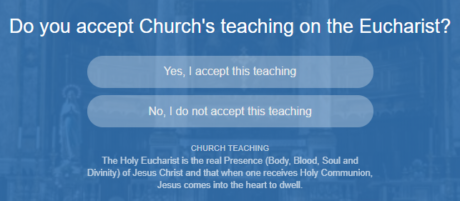 You aren't allowed to skip any of the 30+questions, although for some you can opt for "Get to know me first."
Once you're through all the questions, you'll get an opportunity to describe yourself to potential matches. There's a 150-character minimum, with space for up to 2500 characters.
This is the most important section of the written portion of your Catholic Match profile. You need to capture her attention from the first word, and showcase all your most desirable traits so she's eager to learn more about you.
We've got plenty of irresistible profile examples that attract women for you. But for right now, start with the...
Basic Dos & Don'ts Of Profile Writing
DO:
Describe your life using vivid words and imagery that make her eager to spend time with you.
Show, rather than tell. That means no boring list of adjectives - describe how you embody a particular trait, rather than just saying "I'm funny, smart, and kind."
Use good punctuation, spelling, etc. You only get one chance to make a first impression, and surveys have shown women judge a date by their grammar.
DON'T:
Forget to describe the type of woman you'd like to meet. Research has shown that 70% about you, 30% about her is the most attractive ratio to use in your profile.
Write anything negative. She's not interested in your past relationship drama, and making yourself sound like a victim of your last relationship is not sexy.
Rush through your profile. The most attractive local women have their pick of men on dating sites, so don't give her a reason to discount you right off the bat.
The last section of your profile gives you the opportunity to list favorite things in 8 categories:
Activities
Faith
Foods
Media
Music
Reading
Sports
Travel
You can skip these sections by simply clicking "Continue," but it's easy to select your interests, and worth the time. You never know what mutual hobby may spark a connection!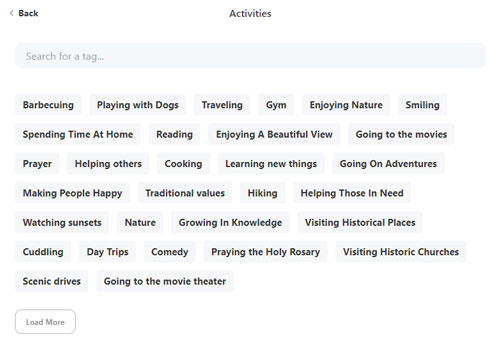 Once you've selected a few favorites, congrats - you're officially done setting up your Catholic Match profile.
Catholic Match Search Functions
Like all dating sites in the Match family, the search functions are both robust and easy to use.
You can do a basic search that covers the essentials: age range, location & distance radius, gender, height, marital status, race/ethnicity and body type.
Premium members can access the advanced filters, which include:
Smoking
Drinking
Children
Education
Political Views
Accepts Church Teachings
Liturgical Preference
If you're on Catholic Match because you're marriage-minded, unlocking the premium filters can help you instantly screen for true dealbreakers.
This Catholic dating site also allows you to name and save your searches, which can be handy if you're looking in multiple locations.
Finding Matches
Once you've entered your search parameters into the search bar, you can scroll through the results. Primary photos matter a lot on this site, because your potential matches only see that plus your name, age and location.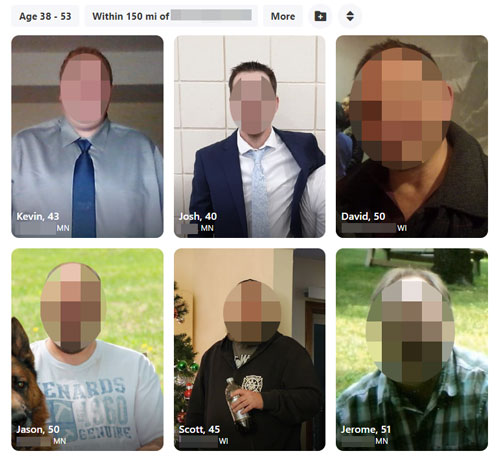 When someone catches your eye, click on the photo to check out the rest of their profile. Similar to eHarmony, CatholicMatch profiles display information in an easy to digest, modular way.
To "like" a profile, click on the heart icon. To send them a message, click on the conversation icon.
CatholicMatch also has a Forums section where you can participate in message threads with other members.
Meet Attractive Catholic Singles The Easy Way
Writing a compelling profile and choosing your best photos is just the beginning. Once you're up and running on Catholic Match, the hard part is about to start - finding and messaging attractive matches.
Be prepared to invest time and effort in your message exchanges, because going from icebreaker to date takes work.
First class singles demand perfection, and you've got to bring your A-game every step of the way.
But with VIDA at your side, you can skip all the hard work and go straight to the dates with attractive local singles. If you're looking for The One, you want to do everything possible to find them, right?
VIDA has been helping people find someone special since 2009. Why leave your love life to chance when an online dating expert is just a call away?
Want us to do your online dating for you?

Hey, I'm Ally, VIDA Select's Director of Matchmaking.
We take all the frustration, hard work and hassle out of modern dating!
Imagine your very own Dream Team of highly skilled dating experts searching for the very best local matches, sparking their interest, and arranging all the dates for you.
Wouldn't it be nice to finally stop swiping and start dating higher quality matches so you can meet someone special?
We've helped thousands of singles just like you since 2009, and we're ready to make you our next success story!
What are you waiting for? Take the next step now…
See If You Qualify