I hope you enjoy reading the blog post.
If you want to chat now about your matchmaking search, click here.
Central Valley Matchmakers Reviews - Should You Hire Them?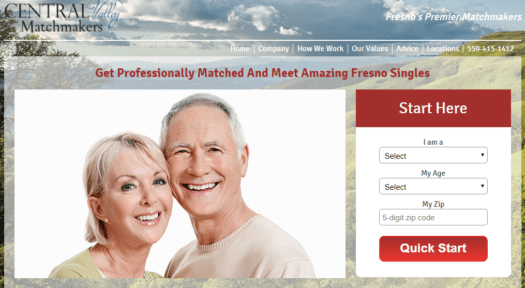 When it comes to something as important as finding your ideal partner, doing your homework before hiring a Fresno matchmaking service makes sense. These Central Valley Matchmakers reviews have all the info you're seeking, like cost, policies, and authentic feedback from real clients - both praise and complaints!
It should help you decide if this is the right California matchmaker for you. And you'll also learn about another more affordable option that might just be the perfect fit.
From the small independents to the biggest industry players, our expert team has reviewed over 200 matchmaking services. Our insight comes from 14+ years of industry experience, comprehensive research, real customer reviews, and a deep understanding of the matchmaking landscape.
Who Owns Central Valley Matchmakers?
This dating service is one of many owned by a company that runs multiple matchmaking websites from a central location.
The matchmaking process is the same across the board. If you're interested in learning more about them, you can submit your name, email, and phone number via the website, and wait for a matchmaker to get in touch with you: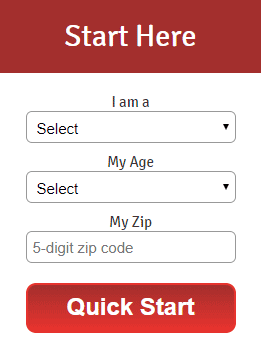 By submitting the form, you're agreeing with the Privacy Policy - and you may want to check and see what may happen with your personal contact info.
But in case you're not in the mood to skim fine print, here are two sections you may be interested in reading:

All that essentially boils down into one thing. Sales leads, which Central Valley Matchmaking is more than likely selling to third party vendors. You'll no doubt notice a surge in targeted ads online, as well as phone calls from numbers you don't recognize.
But hey - maybe you'll end up getting some great offers!
So assuming you do send them your deets, you'll then have the chance to submit even more personal info in the form of a "Compatibility Profile":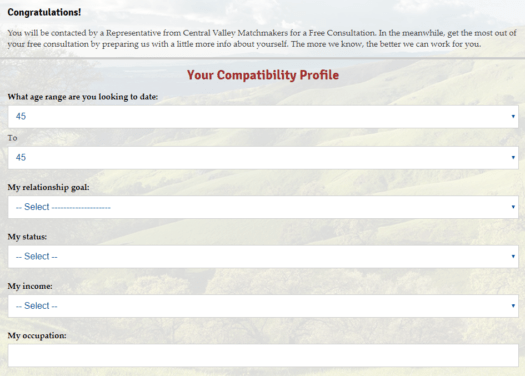 This will give your matchmaker a heads up on what you're like, and what you want your ideal partner to be like, before she calls you.
But this step isn't mandatory. You can talk about all that over the phone if you'd rather. Your matchmaker will also set an appointment of the consultation (read: sales pitch) that happens at their office, located at 30 River Park West, Fresno.
All of the important stuff - i.e. cost, membership options, contracts - is only discussed when you and your matchmaker are sitting across the table from each other.
Which leads us to...
How Much Does Central Valley Matchmakers Cost?
It depends on the person.
According to various Central Valley Matchmakers Yelp reviews, prices range from $1,000 to $7,000. The cost is affected by things like your income, credit balance, credit score, and current financial health. Plus any 'last minute' type deals that may come your way if you express any sticker shock.
In other words - you can likely get away with a little negotiation. But that also means you may be presented with some very persuasive high pressure sales tactics.
When it comes to the contract, make sure you understand exactly what you're signing on for (an paying for upfront), before your pen gets anywhere near that paper.
As the VP of the company that owns Central Valley Matchmakers told an NBC Bay Area investigative reporter:
You're only eligible for a refund for three business days. After that, you've got little recourse should you find yourself unhappy with the service.
So what do other Fresno singles have to say about their experiences with this matchmaking service?
Real Customer Reviews for Central Valley Matchmakers
On Yelp, the tribe has spoken - so far all the recommended reviews are a single star.
This potential customer decided not to sign up after she felt pressured during the sales pitch: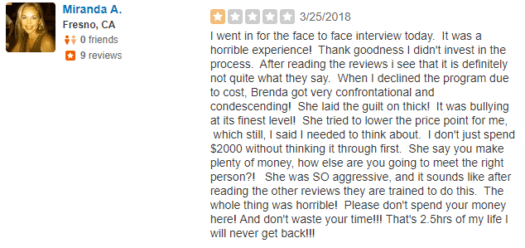 This paying client was unhappy with both the quality of the matches and the customer service she received from the matchmakers:
This customer thought the "VIP" package she paid for was anything but: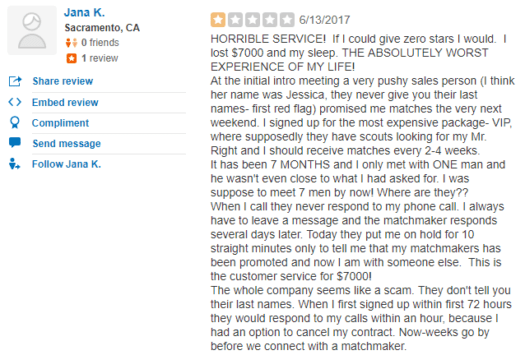 The Google reviews for Central Valley Matchmakers are a little better. Of the 3 reviews listed, only one is a single star. The other two are positive, with one client reporting that he was impressed with the interview process: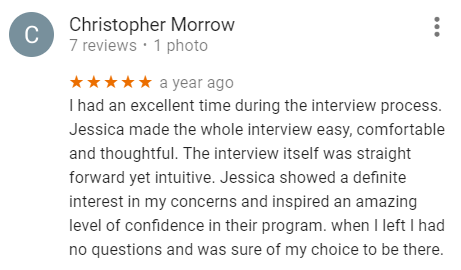 The other customer had a few suggestions for ways they could improve, like updating their profiles. But otherwise he was happy to be working with the matchmaking service despite not meeting anyone that was close to what he wanted:
There are no Central Valley Matchmakers BBB reviews, and it hasn't received a rating.
Should You Hire Central Valley Matchmakers?
While the online reviews of Central Valley Matchmakers certainly raise a few red flags, that's not to say their style of matchmaking wouldn't work for you.
It all comes down to how comfortable you feel about making a sizeable investment up front for a service you haven't received yet. Since your contact is non-refundable after 3 business days and you pay up front, you won't have much recourse down the road.
If that seems risky to you, you may want to consider hiring a professional matchmaking service like VIDA Select where you pay on a monthly basis instead of being locked into a contract.
On average, VIDA's clients find a relationship after only a few short months!
With the largest pool of eligible Fresno singles right at their fingertips, VIDA's matchmakers will present you with unlimited matches. And you can pre-approve them all!
That means you don't have to "settle" when it comes to introductions. You're only meeting high-quality people who check all the "ideal partner criteria" boxes on your list.
Intrigued? The first step to finding your soulmate is a no-pressure, no-obligation 20-minute phone call with one of VIDA's elite matchmakers.
All product and company names are trademarks™ or registered® trademarks of their respective holders. Use of them does not imply any affiliation with or endorsement by them.
Why Choose VIDA Select?

Since 2009, thousands of clients have discovered true love thanks to VIDA Select's fresh, modern approach to matchmaking – which has finally thrown blind dates and long-term contracts out the window. This isn't your grandmother's matchmaking!
Instead of working with a single matchmaker using a small rolodex of potential partners, VIDA Select's matchmaking team taps into the world's largest database of available singles. We'll quickly identify the matches who check all of your boxes so you can finally experience true chemistry. Are you ready to become our next success story? Schedule your complimentary consultation now by clicking the button below!
Get Started Now