I hope you enjoy reading the blog post.
If you want to chat now about your matchmaking search, click here.
Meet Claire AH [Best Ottawa Matchmaker For You?]
Wondering if Claire AH from Friend Of A Friend Matchmaking is the best Ontario matchmaker for you? It makes sense to research any matchmaking service you're thinking about hiring, especially when you consider the investment of time, trust, and money.
And we've made that research a whole lot easier! Our team of experts has reviewed more than 200 matchmakers and their services, diving deep into cost, process, client experiences, and more.
With over 14 years of first hand matchmaking experience, we're intimately familiar with what customers value most in a service!
Claire AH Matchmaker Review Table of Contents:
Let's dive in!
Meet Ontario Matchmaker Claire AH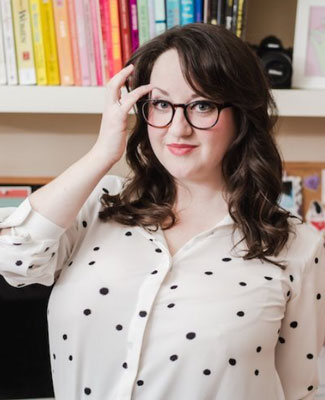 Prior to launching her matchmaking career, Claire AH was a sex educator in Montreal. She did marketing and PR for a sex education company, eventually taking on a VP role.
In 2013, Claire AH briefly became a client of matchmaker Sofi Papamarko, the founder of Friend Of A Friend Matchmaking. It was an experience that she says helped her identify what she was looking for in a partner.
When she was 28, she went through a health scare that changed her career trajectory.
As she explained to The Cut, "Going through a complicated recovery process with the love and support of my partner truly reframed for me what relationships could be."
After her recovery, she started taking classes in psychology, with a particular interest in navigating romantic relationships with a disability in the mix. And in 2016, she noticed that Friend Of A Friend Matchmaking was hiring.
Having experienced the positive impact a healthy partnership can have during a healing process, Claire AH knew she wanted to become a matchmaker to help other people find clarity around what they're looking for in a relationship.
As she puts it:
"[Your matchmaker is] somebody who'll help you, expose you to slightly different things than what you're used to, and will get that feedback loop going with you."
She joined the Friend Of A Friend Matchmaking again, this time as a matchmaker rather than a client. And when founder Sofi Papamarko decided to refocus on other projects, Claire AH bought the business.
As AH told The Bed Post Podcast,
"When people ask me what I do… I say 'I'm a matchmaker', and then I always qualify that by saying 'it's a really weird job' but the truth is it's not really a weird job. It's just a very unexpected job."
Claire AH's Dating Philosophy
It's no surprise that clients come to Friend Of A Friend Matchmaking with specific criteria in mind for the type of match they want to meet. But AH explained that trying to "order people like a pizza" can backfire.
In the Bed Post Podcast, she described it as closing doors that you don't mean to.
"Sometimes they want someone who is very highly educated, but what they mean is that they want somebody who is intellectually curious… it's all these things that they think of as being short hand for being intellectually matched or matched lifestyle-wise. But maybe there are other meaningful ways to find that."
Ah offers dating coaching in addition to matchmaking, helping them identify troublesome patterns and build skills to improve relationships.
Here is a taste of the dating advice she dishes out to singles from around the web!
Now, let's take a look at how this Ontario matchmaker approaches the search for compatible singles.
What To Expect As A Friend Of A Friend Client
This GTA matchmaking service caters to singles based in Ottawa, Hamilton, Burlington, and Toronto. She takes on clients of all demographics, including those seeking LGBTIQA+ matchmaking.
According to Claire AH, she prefers working with singles who don't have a strict set of matchmaking requirements. In her words,
"My ideal clients are people who are open-minded enough to not have a rigid type of partner — like having to be 6-foot-2 with a six-figure salary… I look for people who will be enjoyable to work with, open to the process, and open-minded."
The process starts with a free screening call to identify if her service is a good fit. If both parties agree to work together, a contract is signed.
The next step is a questionnaire that digs into what you're looking for in a match. This includes dietary restrictions (i.e. vegan or vegetarian), lifestyle choices, and other compatibility factors.
After that step, there will be another conversation with the matchmaker so she can learn even more about you.
Friend Of A Friend Matchmaking prioritizes matching personalities, so AH tries to understand which qualities her clients are attracted to based on things like their celebrity crushes and what they like about their exes.
What you won't see is a photo of your matches, as Claire AH doesn't share those as part of her process.
How Much Does It Cost To Hire Matchmaker Claire AH?
Claire AH offers a range of packages at all price points, from around $149 to $17,000+.
"Online support" services cost $149 to $459, and she charges $100 an hour for dating coaching.
Her online matchmaking packages start at $349 CDN, with traditional matchmaking packages starting at $750.
Each one of Claire's matchmaking packages include a year's worth of matchmaking and an opportunity to meet at least 1 to 5 singles. Clients also receive a limited amount of dating coaching.
AH's most elite matchmaking package starts around $17,000 and includes unlimited matches.
The higher tier membership options also allow for "external" matchmaking, meaning a team will scout for suitable candidates in the area. At the lower cost packages, you'll be introduced to people from her database.
Want a more in-depth look at Claire AH's pricing and matchmaking packages? Check out our Friend Of A Friend Matchmaking review next!
Is Claire AH The Best Ontario Matchmaker For You?
Deciding which matchmaking service to invest in ultimately comes down to how you feel about factors like the vibe of your consultation call, year-long contracts, and blind dates.
It's not uncommon for matchmaking services to withhold photos of potential matches, encouraging their clients to keep an open mind when it comes to meeting someone new. And some singles are fine with that approach.
But for others, physical attraction is a big component of chemistry. Many singles want to decide who to meet based on all the available information to avoid disappointing blind dates.
If that's the case for you, you may also want to consider VIDA Select! VIDA takes a modern approach to matchmaking that leverages the single largest source of singles there is, which means you can look forward to dates with matches who check all your boxes.
You'll review a full profile, including photos, and be in total control of who you meet.
VIDA also offers the convenience of pay-as-you-go monthly packages, rather than using a long-term contract. On average, clients meet someone special within just 3 months of starting the service.
Intrigued? To find out if VIDA's approach is right for you, go here!
All product and company names are trademarks™ or registered® trademarks of their respective holders. Use of them does not imply any affiliation with or endorsement by them.
Why Choose VIDA Select?

Since 2009, thousands of clients have discovered true love thanks to VIDA Select's fresh, modern approach to matchmaking – which has finally thrown blind dates and long-term contracts out the window. This isn't your grandmother's matchmaking!
Instead of working with a single matchmaker using a small rolodex of potential partners, VIDA Select's matchmaking team taps into the world's largest database of available singles. We'll quickly identify the matches who check all of your boxes so you can finally experience true chemistry. Are you ready to become our next success story? Schedule your complimentary consultation now by clicking the button below!
Get Started Now