I hope you enjoy reading the blog post.
If you want to chat now about your matchmaking search, click here.
Columbus Singles Review (Includes Actual User Reviews!)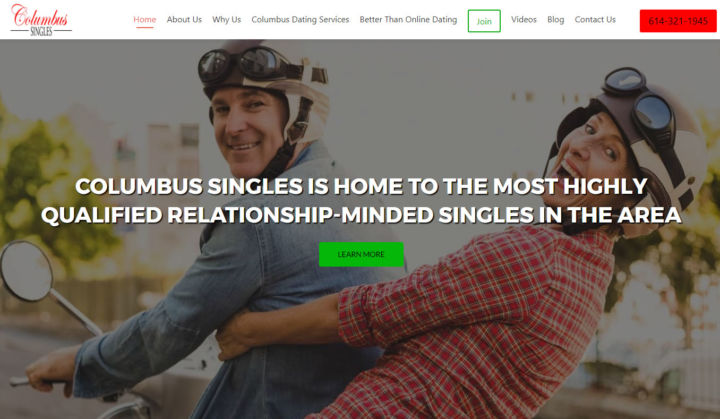 If you're having trouble meeting quality people in Columbus, you're not alone. Hiring a matchmaker is one of the best ways to find your ideal partner, but is hiring this Columbus dating service the best way to go?
This in-depth Columbus Singles review has everything you need to make that decision, from cost to common complaints and everything in between!
The Bigger Picture
Columbus Singles is under the Great Expectations umbrella, which is a nationally franchised matchmaking service. Great Expectations started way back in 1976 as a video dating service, and has been evolving ever since.
The individual franchises all follow the same general format. There's a database containing your member profile, and you can choose to attend exclusive Columbus Singles events like cruises, speed dating, and local casino nights.
Columbus Singles Cost
Memberships prices vary per client, depending on your financial situation and personal circumstance. Specific pricing and membership options can't be found on their website, you'll have to find out the details during the face-to-face sales presentation.
You can generally expect to spend in the neighborhood of $1,000 - $8,500+. Depending on when you sign up, there may be "last-minute" promotional deals. You also need to factor in additional costs for things like the photo shoot and Columbus Singles events.
All these contract details will be hammered out during the initial consultation, including the refund policy. The only way to get a refund is if you cancel within 3 days, which length of time state law requires.
What To Expect When You Sign Up
You can start the process by calling Columbus Singles, or completing their online form at "realcolumbussingles" and waiting for them to call you.
The initial phone screening is short, they'll ask you a few basic questions and then schedule the in-person consultation.
That's where you'll get down to brass tacks, and learn what this Columbus matchmaker is going to cost you.
If you decide to sign the contract, your matchmaker will create a profile for you that's added to the database of local singles. You can browse through the member profiles, just like you would on OkCupid or Match.com.
To complete your Columbus Singles profile, you'll have your picture snapped by their in-house photographer. There's an excellent chance of it being a "studio" type photo shoot, complete with a boring blue or gray backdrop.
While that does help ensure all their member profiles look consistent, it probably means you won't be re-posting the picture on your Facebook or Tinder profile.
You can look at member profiles in one of two ways:
View the ones your matchmaker selects for you based on list of "must haves"
Go through the Columbus Singles member login page to browse through profiles at your leisure
If someone catches your eye, you can message them through the website. If the interest is mutual, you can start an online conversation.
So is this a vastly more expensive form of online dating? Or is Columbus Singles actually worth it's hefty price tag?
Keep reading for actual user reviews that may help you make up your mind. And at the end of this short article, you'll discover a different approach that could greatly increase the odds of finding your ideal partner.
Real Columbus Singles Reviews (aka Great Expectations)
Consumer Affairs has given Great Expectations a 1-star rating.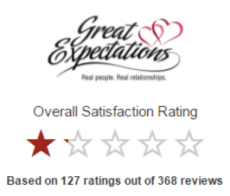 Complaints lodged against it by Ohio residents include high pressure sales tactics, poor customer service, and unresponsive matches: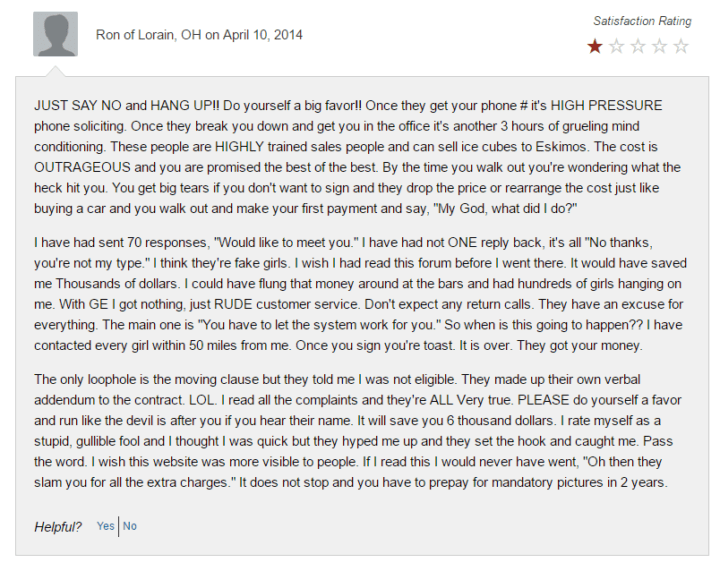 Columbus Singles has a 1½ star rating on Yelp. Of the 10 recommended reviews, 8 gave them a single star.
The 5-star review praises the front office decor and her interaction with the "relationship specialist" she met:
High pressure sales tactics was a common Columbus Singles complaint:
The Better Business Bureau currently gives Columbus Singles a C+ grade. There are no reviews, positive or negative, but there were 15 customer complaints lodged against this Columbus matchmaker.
This reviewer felt Columbus Singles had misrepresented the number of women in the database who met his specified criteria:
It's generally true that happy clients aren't as prone to leaving reviews on the internet, so negative reviews should be kept in perspective. But when the same handful of complaints pop up in negative reviews across multiple platforms, that could be a reason to dig a little deeper.
For instance, you'll find that Great Expectations franchises have been the subject of multiple lawsuits by states like Wisconsin, Arizona, and Washington State for practices like using high pressure sales tactics and deceptive marketing.
If you truly want to find the best matchmaking service, doing your homework upfront can save you both time and money!
The Best Way To Meet Ohio Singles
If you're not having much luck meeting high-quality, interesting singles in Columbus, hiring a matchmaking service makes a lot of sense. But why choose one where you browse a database and message potential matches?
That feels an awful lot like online dating, and if you were doing that successfully, you probably wouldn't be looking for Columbus Singles reviews, right?
The best way to meet your ideal partner is by hiring a matchmaking service that handles every aspect for you so all you have to do is show up on your dates!
At VIDA Select, our team of professional matchmakers leverage the largest database of local singles you can find in Columbus to find your ideal partner.
You pre-screen every single match, so you're only meeting highly-compatible people that you're truly excited to meet.
It all starts with a low-key, no-pressure free phone consultation with one of our elite matchmakers. Why not get started today?
Just click here!
All product and company names are trademarks™ or registered® trademarks of their respective holders. Use of them does not imply any affiliation with or endorsement by them.
Why Choose VIDA Select?

Since 2009, thousands of clients have discovered true love thanks to VIDA Select's fresh, modern approach to matchmaking – which has finally thrown blind dates and long-term contracts out the window. This isn't your grandmother's matchmaking!
Instead of working with a single matchmaker using a small rolodex of potential partners, VIDA Select's matchmaking team taps into the world's largest database of available singles. We'll quickly identify the matches who check all of your boxes so you can finally experience true chemistry. Are you ready to become our next success story? Schedule your complimentary consultation now by clicking the button below!
Get Started Now