I hope you enjoy reading the blog post.
If you want my team to just do your online dating for you, click here.
Events & Adventures Review (2021) - Is It Worth The Cost?
White water rafting, ziplining or solving a murder mystery dinner sure sounds like more fun than another Friday night alone, swiping and messaging on Tinder. So you're thinking about signing up for Events And Adventures.
But is this activities-based dating service worth the money?
This Events And Adventures review is packed with the information you're looking for, from cost to real customer reviews. Keep reading to find out if Events And Adventures is worth your time and money!
What To Expect From Events And Adventures
Founded by Mark Owens over 30 years ago, Events And Adventures emphasizes the "adventure" part of their name.
While they do host lower-key events like wine tastings and a "Monday Mingle," many of their gatherings are more physically active - like jet skiing, glass blowing, and cave spelunking.
They also offer plenty of online members-only events, from comedy shows to trivia nights and cooking demos.
Pre-pandemic, the company also brought Events And Adventures groups on outings like ski excursions, cruises, sailing trips, and tours of Europe.
Depending on your city, you'll have the opportunity to attend 30-50 events each month. Each event is limited to 20-40 people, or in many cases only 10 to accommodate for social distancing measures.
Here is a sampling of what you'll find on their monthly calendar: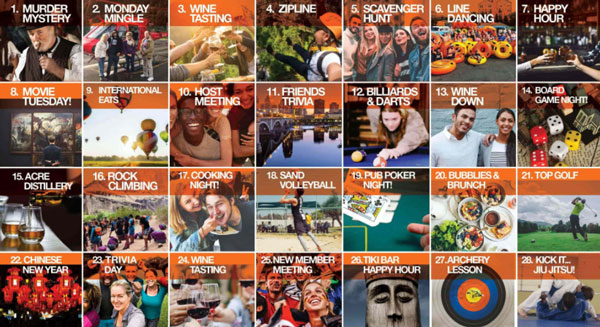 Events And Adventures Locations
This dating service has "Singles Clubs" in 12 cities across the nation. Locations include: Chicago, Dallas, Denver, Ft Lauderdale/Miami, Houston, Minneapolis, Nashville, Phoenix, San Francisco, San Jose, Seattle, and Vancouver.
If you don't live near any of those cities, you can still sign up and participate in all the virtual events.
How Much Does Events And Adventures Cost?
The price varies depending on which Singles Club you join, and any "last minute" deals they may be running.
So the Chicago cost might be different than the Denver cost. But generally you can expect to spend between $100 and $200 a month for an Events And Adventures membership depending on your contract length.
Keep in mind the membership fee doesn't cover the cost of most activities. You'll have to shell out an additional $40 to $200, sometimes more, for each outing you attend.
Who Can Sign Up?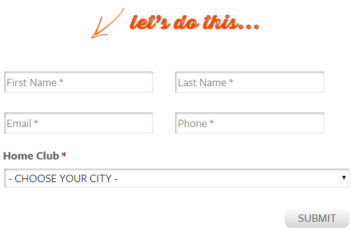 Membership is not open to everyone. You have to be at least 21 years old, and you have to be single. If you're in the process of getting divorced, you can join as long as you've actually filed. (And you'll need the papers to prove it).
But age and relationship status aren't the only criteria for getting in. You still have to pass the interview process since this local singles club is invite only.
Prospective clients can call directly or fill out a simple online form to initiate a phone call. Then you'll sit down for a virtual face-to-face interview to see if you pass muster.
If you're accepted, you can expect to sign a contract. You'll either pre-pay in full or commit to monthly payments for a 1 or 2-year membership.
Events And Adventures Cancellation Policy
According to the fine print, you have the right to terminate your membership within 24 hours for a full refund.
Or you can cancel within 3 days of signing up for a refund minus a $400 processing charge. But that only applies if you *haven't* attended an event yet. No refunds or guarantees are offered apart from that.
Here is the "cancelling your membership" portion of an Events And Adventures policy, courtesy of a Yelp reviewer who joined the Denver Singles Club:

Events and Adventure Reviews - Real Customer Experience
As with any national franchise, customer experience varies depending on location. But overall, the company has an almost-4-star rating with Consumer Affairs.
Reviewers like these two praised the fun activities and enjoyed meeting new people:
Common complaints included the events booking up too fast and the online ones being a bit disorganized:
The Events And Adventures headquarters near Seattle, Washington, has an overall 'A-' rating with the BBB.
That's despite having a whopping 72 complaints filed against various locations in the last 3 years.
Some of the reviewers complained singles at the events were older than they were looking to date. A few also noted the 3-day cancellation policy didn't give adequate time to experience the membership before deciding to keep it: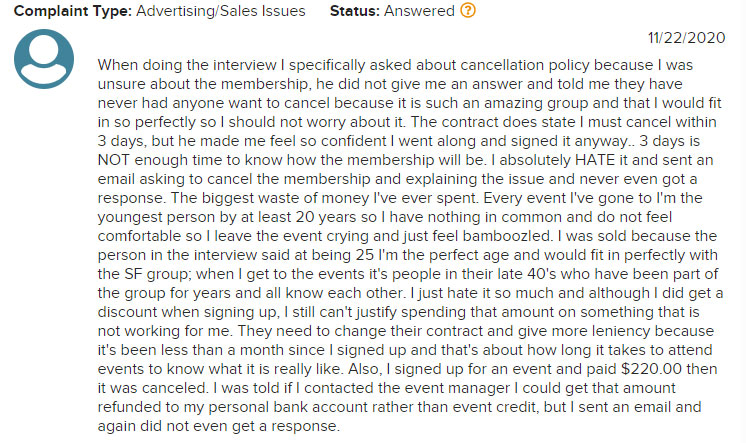 Other Events & Adventures members felt subjected to high-pressure sales tactics during the initial presentation: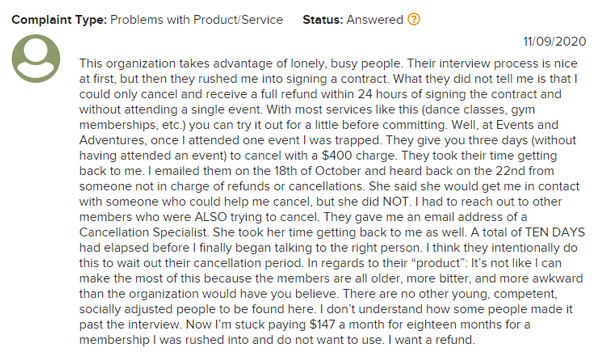 Events & Adventures has a 2.5 star rating on Yelp, based on 100+ reviews.
For those who praised their Events And Adventures experience, meeting new friends and having fun at the events seemed to be a common theme. For instance, this Yelp reviewer in San Francisco wrote:
However, for those unsatisfied with their Events And Adventures membership, high pressure and/or deceptive sales tactics and poor turnout to singles events was frequently mentioned in reviews like this one:
Of course, you probably already take online reviews with a grain of salt.
But when the same complaints pop up across multiple review sites, that old adage about 'where there's smoke, there's fire' could apply. Proceed with caution to avoid getting burned, especially when the company has been successfully sued.
Events and Adventures Class Action Lawsuit
A class action lawsuit filed in Orange County Superior Court was granted final approval, after the courts found the company illegally recorded interviews with 229 prospective members.
The lawsuit was settled in favor of the Class Members. Each member of the lawsuit received just under $3,000.
The Easiest Way To Meet Local Singles
If the membership price is in your budget, and you don't mind paying for individual events on top of it, Events And Adventures could be a good way to meet new people while having some fun.
But if you don't live near one of their 11 locations, or you're leery of paying up front for a 1 or 2-year membership, before you've even had the chance to check out a single event, you may want to try your luck with a free social networking service like Meetup first.
And if you're interested in Events And Adventures because you're not having any luck with online dating, have you considered outsourcing it to a company like VIDA Select?
Our dating experts handle everything for you, from start to finish, on any dating site or app you want to use!
Not only will we use a data-driven process to select your absolute best online dating photos, our professional writers will customize an attractive dating profile just for you! And it doesn't stop there.
We'll handle all the back and forth messaging on dating sites and apps for you! So all you do is show up to the dates with intriguing local singles you actually want to meet.
With VIDA, you won't find any high pressure sales tactics or lengthy contracts. You pay by the month, so you can stop your service at any time. You're in control of every step in the process, and most of our clients meet that someone special in an average of 3 months!
Click here to learn more.
Want us to do your online dating for you?

Hey, I'm Ally, VIDA Select's Director of Matchmaking.
We take all the frustration, hard work and hassle out of modern dating!
Imagine your very own Dream Team of highly skilled dating experts searching for the very best local matches, sparking their interest, and arranging all the dates for you.
Wouldn't it be nice to finally stop swiping and start dating higher quality matches so you can meet someone special?
We've helped thousands of singles just like you since 2009, and we're ready to make you our next success story!
What are you waiting for? Take the next step now…
See If You Qualify