I hope you enjoy reading the blog post.
If you want to chat now about your matchmaking search, click here.
Exclusive Matchmaking Review [Is Susan Trombetti The Best?]
Thinking about hiring Susan Trombetti's matchmaking service to find the love of your life? This Exclusive Matchmaking review has all the information you need to help you determine if this service is worth considering.
Our team has reviewed 200+ matchmaking services, delving deep into their operations, client experiences, and success rates. Our reviews are built on extensive research and a keen understanding of the matchmaking industry.
Exclusive Matchmaking Review Table Of Contents
Keep reading to find out how she got started, the cost, and more!
The Backstory On Susan Trombetti
Susan Trombetti launched Exclusive Matchmaking in Annapolis back in 2011, after transitioning from her previous career running an investigations company focused on liquidating fraudulent credit cards and banking portfolios.
Her motivation for starting a matchmaking service?
As she told MyCity4Her,
I had another business where I never saw anyone but my employees and was a slave to my business–basically, I was chained to my desk. I am a people person and wanted a business working with people I would enjoy. I feel excited meeting and spending time with lots of different people, so it was a perfect fit. Also, I spent a lot of time giving advice to women on their dating life and just seemed like it was a natural step to take. One woman friend made me so nuts with all her dating issues, I decided to start charging for it and matching people.
Trombetti found that matchmaking aligned with her instincts and abilities, as she explained in an interview with Authority Magazine.
Matchmaking came naturally to me because I am a people person. My other business was so dark, always chasing criminals and cons. One day, I thought if I could find cons, I could find love and matches for people. It was such a happier way to live my life.
Exclusive Matchmaking is headquartered in Maryland but works with clients across the United States, focusing on elite singles who are ready to commit and find a partner.
Clients turn to Exclusive Matchmaking to overcome obstacles in their dating journey. As Trombetti emphasized,
My clients often come to recognize there's something they're not doing in virtual or in-person dating, and that's keeping them from finding love.
How Exclusive Matchmaking Works
The first step to working with Exclusive Matchmaking is a consultation to determine if our services are right for you. This consultation might be conducted in person, over the phone, or via video chat, depending on your location.
During this consultation, whether with Trombetti or any elite matchmaking service, you'll typically discuss your relationship goals, ideal partner criteria, lifestyle, career, etc.
With Trombetti's background in investigation, tracking, and analysis, she applies these skills when interviewing new clients.
I ask them what they are looking for to see if it's superficial. There are only a few criteria I will work with and the rest is just being too picky. I ask about the former relationships to see if I can identify patterns or problems that are holding them back from finding love. I look to make sure they are commitment-minded and truthful.
The consultation will help Trombetti and her team determine whether their coaching services or matchmaking packages are a better fit. Clients who want to work with Trombetti can opt for VIP service, however Exclusive Matchmaking only accepts a limited number of VIP clients at any given time.
Your potential matches will come from either the Exclusive Introductions database or be actively scouted on your behalf, depending on the specifics of your matchmaking agreement.
Exclusive Introductions also offers private coaching sessions with either Trombetti herself or one of their dating coaches. These sessions are designed for individuals who seek guidance in their personal lives or need help identifying any obstacles that may be hindering their search for love.
As Trombetti explained in a post she wrote on Your Tango,
What I found is that clients can be doing something that is keeping them single. Or, you might say, they aren't doing something, like asking you out for a second date when they should.
There is a difference between having standards and needing to adjust limiting behaviors, according to Trombetti. Exclusive Matchmaking places emphasis on coaching to help these clients move past these types of challenges.
Dating coaching services can be purchased individually or in monthly packages. These advice sessions can cover a wide range of topics.
You could ask why guys cheat, or why you're always friend-zoned. It's a good way to connect with me if you're not sure if you want matchmaking.
Exclusive Matchmaking also offers a standalone service called Investigate Your Date, where she'll conduct background checks on potential matches. Her goal is lofty: uncovering deceit in the online dating world and helping singles who are looking for the "real deal".
Now that you know how Exclusive Matchmaking works, you're probably wondering about the price tag.
Exclusive Matchmaking Cost
The initial consultation costs between $350 and $550, depending on whether or not it's conducted in person or via video call.
VIP matchmaking packages typically range from $7,500 to $50,000, but depending on your search criteria the cost could go as high as $250,000. If you're interested in a more exclusive option they do offer a CEO Club.
Trombetti offers a gold-level package for singles under 33 who don't require any dating coaching. It's only offered for men in Maryland, DC and Northern Virginia. Pricing varies per client, but it's generally less expensive than her platinum-level services.
Want a private event hosted in your honor to meet potential matches in a cocktail party setting? Trombetti offers a "Bachelor Party" package that costs $4,000+. This is a one time event, so it doesn't require a long-term contract like the matchmaking packages do.
Now for the million dollar question: is Exclusive Matchmaking worth the price?
Exclusive Matchmaking Reviews
Checking out online matchmaking reviews is a great way to help you answer that question. Except when it comes to Exclusive Matchmaking reviews, you won't find too many on local review platforms.
Exclusive Matchmaking has a 5-star rating on their Google business profile:
But it's based on a single review left a decade ago. The reviewer was happy with her consultation experience, saying it helped her identify bad dating habits: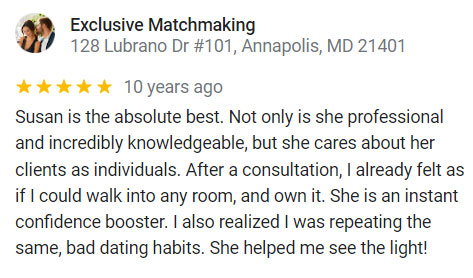 Exclusive Matchmaking has not yet been reviewed on platforms like Yelp, Trustpilot or the Better Business Bureau.
A lack of online reviews isn't necessarily surprising, given that Trombetti says her clients value discretion.
That means deciding if Exclusive Matchmaking is right for you will come down to factors like how you felt during your initial consultation, where your matches come from, and, of course, cost.
Is Exclusive Matchmaking The Right Service For You?
When it comes to the price tag, Exclusive Matchmaking is in line with what other elite matchmaking services charge.
For instance, Enamour is a bespoke matchmaking service with an invite-only database that works with high-achieving singles. Their services begin at $20,000, with packages typically spanning 6 months.
Barbie Adler's exclusive matchmaking service Selective Search charges between $25,000 and $250,000. And Janis Spindel, founder of Serious Matchmaking, commands up to $1,000,000 for her ultra-elite packages.
Once you've decided on an amount you're comfortable spending, it's crucial to consider where the potential matches you'll meet are pulled from.
Because here's the thing: for a pairing to be successful, it's not just about what you're looking for in an ideal partner. You also have to fit that person's ideal partner criteria as well. Matching is a two-way street!
And for those kind of stars to align, your matchmaker needs access to an immense database of singles. There is no matchmaking service out there capable of making consistently high-quality matches from within a limited internal Rolodex in any one city - it's just statistically not possible.
That's why meeting someone who doesn't really fit what you're looking for is such a common complaint in online matchmaking reviews. It's not really because the matchmaker is bad at what she does… it's because there wasn't anyone more suitable to pair you with.
That's why many elite matchmakers also offer scouting - and charge you a premium for all that extra work. But that's not always the case!
A Modern Matchmaker With An Extensive Reach
VIDA Select takes a modern approach to matchmaking that leverages the most expansive source of eligible singles there is. That means you'll never have to settle when it comes to who you'll meet - and you get to pre-approve every single match!
VIDA also takes a different approach when it comes to contracts. Instead of requiring clients to pay for a 3, 6 or even 12-month contract up front, VIDA offers matchmaking packages that are paid month to month.
Whether you meet someone right away or need to pause your search for travel or professional obligations, VIDA's pay-as-you-go structure means you can date on your schedule.
And with no long-term commitment required, it's risk-free. If it turns out VIDA isn't quite the right approach for you, simply don't continue on for the next month. It's that easy.
Want to learn more about VIDA Select's matchmaking service? Just go here!
All product and company names are trademarks™ or registered® trademarks of their respective holders. Use of them does not imply any affiliation with or endorsement by them.
Why Choose VIDA Select?

Since 2009, thousands of clients have discovered true love thanks to VIDA Select's fresh, modern approach to matchmaking – which has finally thrown blind dates and long-term contracts out the window. This isn't your grandmother's matchmaking!
Instead of working with a single matchmaker using a small rolodex of potential partners, VIDA Select's matchmaking team taps into the world's largest database of available singles. We'll quickly identify the matches who check all of your boxes so you can finally experience true chemistry. Are you ready to become our next success story? Schedule your complimentary consultation now by clicking the button below!
Get Started Now