I hope you enjoy reading the blog post.
If you want to chat now about your matchmaking search, click here.
Greenwich Matchmaker LLC Reviews [Best CT Dating Service?]
Curious about Lory Kelsey's Connecticut matchmaking service? This Greenwich Matchmaker LLC review has all the details you need to decide if she's the best option for finding your ideal partner.
Here's What We'll Cover In This Greenwich Matchmaker Review:
Our team of experts has been in the industry since 2009. We've reviewed over 200 matchmakers and their services, diving deep into their processes, costs, customer experiences, and more.
These reviews are based on 14+ years of matchmaking experience, comprehensive research, and a keen understanding of what clients value most in a service.
Let's start with meeting the founder!
Meet Greenwich Matchmaker Lory Kelsey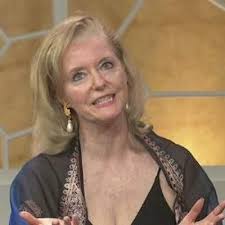 Lory Kelsey began her professional journey in clinical psychology and holds a master's degree in social work. Beyond her educational credentials, she also gained industry-insight working for a dating service called Turning Point International.
After her divorce, she experienced for herself how hard it could be to meet quality singles in Greenwich. Kelsey found herself "frustrated with the bar scene" and knew she couldn't be the only person in this predicament.
As she shared with CT Insider,
"I live in Greenwich and was looking to date in Greenwich and thought to myself, 'Maybe I should be the Greenwich matchmaker.'"
Kelsey put her idea into action and, in 2012, she established Greenwich Matchmaker LLC.
Her service assists both men and women in New York, Connecticut, and New Jersey, specializing in working with singles within a 100-mile radius of Greenwich.
As someone who thoroughly enjoys her work, Kelsey finds matchmaking an immensely rewarding profession. Identifying as a "romantic at heart," she believes that we're all in search of that special connection.
Or as she puts it,
"It's really thrilling when two people meet and want to go out again. I can't think of anything more thrilling, everyone is looking for that moment."
In an interview with Hamlet Hub, Kelsey explained the benefit of working with a matchmaker and the personalized touch it offers:
"With a matchmaker's expertise, you will be meeting people you would never meet otherwise and who share similar interests, values, goals in life. A matchmaker hand selects introductions for you having interviewed them in person ahead of time."
A Peek At The Matchmaking Process
Adopting a boutique-style approach, Greenwich Matchmaker caters to a limited number of clients at any given time.
The process starts by applying for an interview: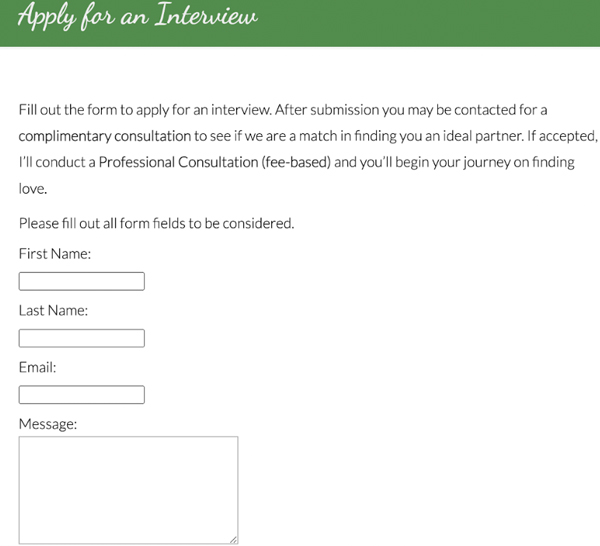 If she thinks you're a good fit for the service, the next step is a complimentary consultation followed by a "professional" consultation that has an associated cost of $600 per hour. (The calls typically run between 1 and 2 hours.)
During this process, Kelsey gains an understanding of the client's personality and preferences for a partner, while clarifying membership options and corresponding costs.
Kelsey's matchmaking service offers two main membership choices for both men and women: becoming a matchmaking client or joining the "Platinum Registry" as a potential match.
Women wishing to become a "Private Lady Client" need to be between the ages of 25 and 60 years and meet certain net-worth criteria.
Joining the Platinum Registry requires a 1-hour, $600 consultation call. You'll then be eligible to be matched with paying clients for 5 years. There are no guaranteed matches as a database member, so you may never meet anyone this way.
Greenwich Matchmaker also offers additional services for women, such as dating makeovers, nutrition counseling, and more.
Men can purchase a matchmaking package, or also have the option to join the "Gold Gentlemen's Registry".
This involves a $600, 1-hour consultation call. If selected, your profile will be included in the database for 5 years. You'll be matched with the "Platinum Lady Clients" who purchased matchmaking service.
There are, however, no guarantees you'll ever be contacted as a database member. For an active search, you'll need to purchase a package.
Paying male clients are matched with the 2,000+ women from Kelsey's database, or with candidates she's scouted via her network of contacts. Clients can also purchase dating concierge services, where she plans out the dates for you.
How Much Does Greenwich Matchmaker Cost?
Apart from the $600 per hour consultation fees, matchmaker Lory Kelsey does not divulge her matchmaking package costs online. As she states in the FAQ on her website, her packages are tailored to fit individual clients.
But taking a quick look at what other Connecticut matchmaking services charge can give you a general idea of the financial investment you might be making.
For instance, Enamour is an option to consider for Connecticut singles looking for a hyper-curated pool of matches.
But the Enamour team searches far beyond the invitation-only database, using an extensive network of scouts and recruiting tech to pinpoint compatible matches both offline and online.
Enamour packages start around $20,000.
And VIDA Select leverages the largest pool of eligible singles there is, thanks to taking a modern approach to matchmaking. VIDA clients look forward to meeting highly compatible singles, and on average meet someone special within just 3 months of signing up.
VIDA packages are purchased on a monthly basis, so you won't need to commit to a long-term, multi-month contract. The cost of each package highly aligns with the number of hours your personal matchmaker should dedicate to your search each month, given your compatibility criteria, how many cities you want to date in, etc.
Basic matchmaking packages begin at just $1195 per month, while Premium options begin at only $1795 per month. Elite services start from just $2595 per month.
Now that you have a ballpark idea of cost, let's take a look at what past clients of Greenwich matchmaking have to say about their experience with Lory Kelsey.
Greenwich Matchmaker Reviews
Greenwich Matchmaker holds a 5-star rating on their Google business page, however that's based on only 6 reviews.

Most of the reviewers mentioned meeting quality matches:


And this client shared that Kelsey was professional and gave her wonderful post-date feedback: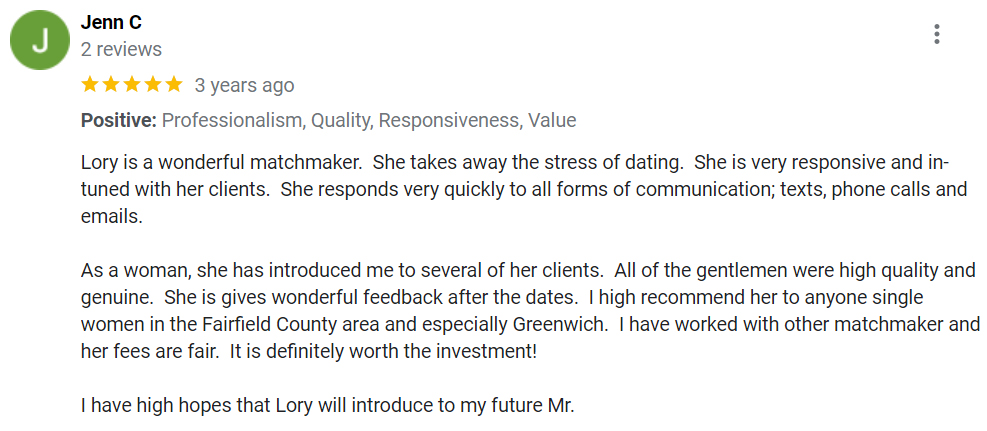 Greenwich Matchmaker has an A+ rating with the Better Business Bureau (BBB), with no reviews or complaints listed.
Lory Kelsey's Connecticut dating service has a Yelp entry, but no reviews there yet either.

How To Hire The Best Connecticut Matchmaker
You have plenty of Connecticut matchmaking services to choose from, so that's the good news. Now it's time to start narrowing down your options, and the best way to do that is considering factors like cost, the duration of the contract, where your matches come from, and your feelings about the initial consultation.
If you're not sure what to expect from that first call, or you're not sure what type of questions you should be asking, our team of experts has you covered.
Our quick guide to hiring a matchmaking service is packed with tips on what to consider before signing a contract, insightful questions to ask any potential matchmaker, and ways to avoid making a costly mistake.
All the info you need to be confident you're making an informed decision!
All product and company names are trademarks™ or registered® trademarks of their respective holders. Use of them does not imply any affiliation with or endorsement by them.
Why Choose VIDA Select?

Since 2009, thousands of clients have discovered true love thanks to VIDA Select's fresh, modern approach to matchmaking – which has finally thrown blind dates and long-term contracts out the window. This isn't your grandmother's matchmaking!
Instead of working with a single matchmaker using a small rolodex of potential partners, VIDA Select's matchmaking team taps into the world's largest database of available singles. We'll quickly identify the matches who check all of your boxes so you can finally experience true chemistry. Are you ready to become our next success story? Schedule your complimentary consultation now by clicking the button below!
Get Started Now