I hope you enjoy reading the blog post.
If you want my team to just do your online dating for you, click here.
Korean Cupid Review - Is This Asian Dating Site Legit Or A Scam?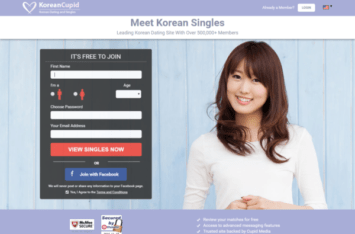 The heart wants what it wants, and if an exotic look gets your motor running, it's natural to think about trying an Asian dating site like Korean Cupid.
That said, some international dating sites are better than others, and some are outright scams. Don't worry - our team of dating experts has been helping singles around the world find their ideal partner on dating apps and sites since 2009.
With well over a decade of firsthand experience using all the most popular dating platforms, we know which ones work - and which ones to avoid!
Read on to get the 411 in this Korean Cupid review, so you can decide if this Asian dating site is right for you.
Pros And Cons Of Korean Cupid
PROS:
Korean Cupid is owned and operated by Cupid Media, one of the largest and most respected players in the online dating market.
You can go from signing up to browsing matches in under a minute.
The advanced search functions are quite detailed, so it's easy to quickly narrow down your results.
We've used the site successfully for a handful of clients, and there appear to be more women than men - which is good news for you.
CONS:
Unless you pay to upgrade, you can only exchange messages with women who pay to use the site.
While Korean Cupid does actively screen for them, you'll still find a handful of scammers and fake profiles.
VERDICT:
Korean Cupid is a very popular dating site in South Korea, and it's hands down one of the best Korean dating sites in existence. You'll find plenty of real local women hoping to meet a foreign gentleman. If you don't mind hopping on a plane to meet the woman of your dreams, Korean Cupid is definitely worth a try.
3 Important Things To Know Before You Sign Up
Before signing up with any international dating site, you'll want to consider that:
Meeting women usually involves a plane ticket. But if you can fit the travel expenses into your budget, international dating sites broaden your dating pool tremendously.
If you're American, many of the women on this site will not be able to get a tourist visa to visit you in the US. This means you'll need to get a fiancé visa with someone you barely know, unless your work is so flexible that it's possible for you to live in South Korea for a while.
"Romance fraud" is huge problem on sites like this, to the tune of $82 million lost to scammers in just one 6-month span. Most guys are savvy enough to spot a con, but be prepared to spend extra time screening your matches carefully.
International dating is expensive, and it's not just the back-and-forth travel. Once you've met someone special, the relocation process will put an even bigger dent in your banking account.
It may make more financial sense to do one more local search - this time with an expert in your corner. And if you're positive you want to take your quest for love abroad, VIDA has the know-how to make the process a breeze.
Price Tag & Features
This Korean dating website review wouldn't be complete without an explanation of the membership levels and how to set up an account.
Creating a basic profile, searching for matches, and messaging paid members is free. But you'll find the majority of women on the site are not paid users, so you'll have access to a much larger pool of women if you pay for a subscription. Upgrading allows you to exchange messages with any woman who intrigues you.
There are two levels of "premium" Korean Cupid membership: Gold and Platinum. Here is an overview of what you get at each level: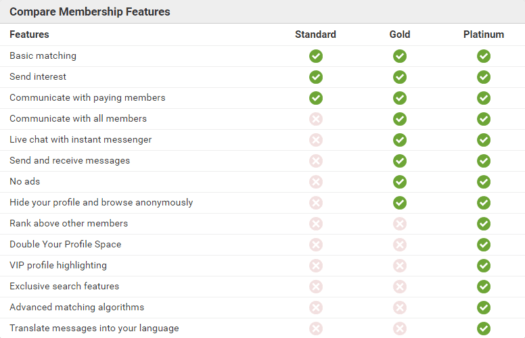 Here is how the prices compare for the two premium levels:

Setting Up An Account
Signing up with Korean Cupid is incredibly easy - all you need to do is provide your first name, age and an email address.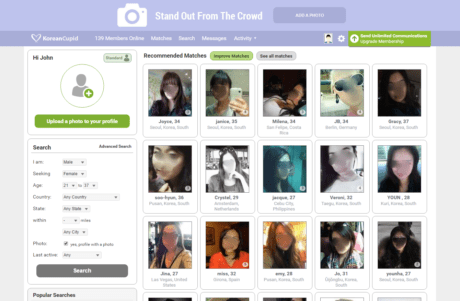 You can start browsing right away, but you'll immediately notice your matches are from all over the world and of multiple ethnic descents.
If you're specifically looking for Korean women in a specific country you'll need to narrow your search criteria accordingly.
If you're serious about finding a high quality woman abroad, you need to look like an attractive prospect. Korean Cupid is geared toward marriage-minded guys who are willing to trek across the pond for someone special. She's not going to take you seriously if you don't take your profile seriously.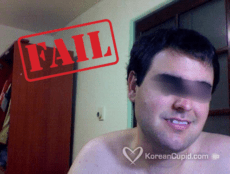 Choose your photos wisely - you want to look your best, but keep in mind she'll also be scoping them out for clues on what kind of lifestyle you have. Keep a sharp eye on what's in the background, so when she imagines what life with you will be like, it's an attractive prospect.
For more essential photo tips, check out this article.
Writing Your KoreanCupid Profile
Your Korean Cupid profile consists of 5 sections, the first 4 of which are answered via pull down menus. All questions require an answer.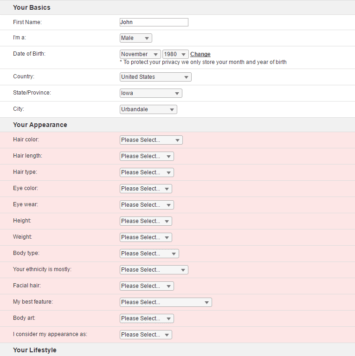 Your Basics - i.e., name, birth month/year, and location
Your Appearance - physical descriptors like height, weight, etc… plus some more unusual fields like "body art" and "best feature".
Your Lifestyle - drinking/smoking habits, occupation, income level, etc. plus what type of relationship you're seeking and whether or not you're willing to relocate.
Your Background - languages spoken, chinese sign, star sign, religion, etc.
In Your Own Words - a free form section where you describe yourself and what type of woman you're looking for.
Making all your selections from the pull down menus is a breeze. The meat and potatoes of your profile is the last section:

Writing a profile for an international dating site is different than what you'd use for a site like Match.com or OkCupid. Many women on the site aren't native English speakers, so you'll want to keep your profile (and messages) simple and straightforward.
Pro Profile Tip!
To make sure your profile will sound good to her, use Google Translate to translate it into Korean. The translate the Korean version back into English and see if it still makes sense. If something doesn't sound correct, rewrite that portion using simpler language and repeat the translation process.
Normally it's a good idea to use humor in a dating profile, but when it comes to international sites it's actually not a good idea. From a cultural perspective, she might not get your jokes and sarcasm, and you don't want to leave her confused - or even worse, offended, if something gets lost in translation.
Highlight a few attractive qualities, describe your life in an appealing way, and let her know that visiting her country is a possibility. That last one is important - most women on Korean Cupid are looking to move to a Western country, and she's not going to spend time forging a long-distance relationship with you if there's no promise of it leading anywhere.
Here is an example of a profile that works well for an international site like Korean Cupid: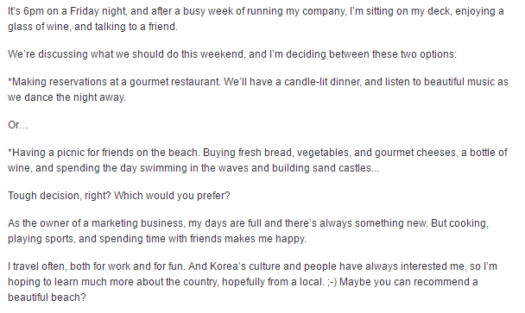 One word of caution: Write your profile in a separate document, then copy/paste it into the form fields.
KoreanCupid times out after a few minutes of inactivity, and the site does not register you typing in the free form boxes as activity. If you're composing your profile on the site itself, the odds are good you'll lose all your work when you hit "submit".
For more tips on writing an irresistible profile, go here.
Choosing Your Interests
Korean Cupid has an "Interest" section for choosing your favorite activities, food, music, sports, etc...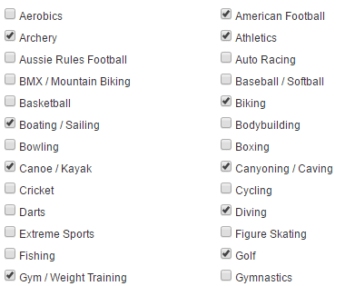 You'll want to choose a few options from the extensive menu, as any shared interest could help forge a connection with a potential match.
Plus, you don't want her to think you're a boring guy with nothing interesting going on his life.
In the "Personality" section, you're given the opportunity to answer up to 12 free-form questions about everything from your favorite movie to your travel habits.
Take the time to complete this section, as your answers will give her a good idea of your personality. The most attractive women get a ton of messages from guys just like you, so you need to show her why you're better than your competition.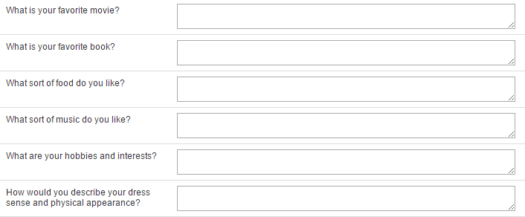 You also have the option to add Cupid Tags to your account. These are words that describe your lifestyle or your personality, and there are literally hundreds to choose from.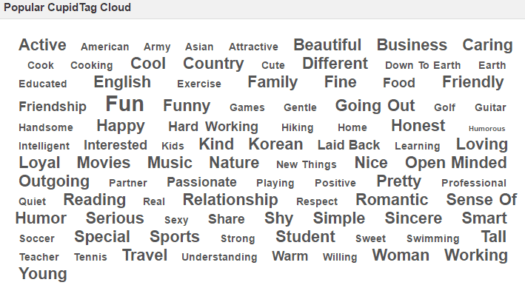 The benefit to adding a few Cupid Tags to your profile is this: she can browse matches by them. So if she's interested in dating an entrepreneur, she can search for profiles with that Cupid Tag.

Once your profile setup is completed, you have the option of having your account verified. When you upload a copy of your passport, license, or national ID, your profile will display a "Verified" badge.
Jumping through the extra hoop can boost your response rate, as it's reassuring for her to know she's communicating with a real person.
Hire A Wingman
Navigating the waters of an international dating site can be tricky, since what works on OkCupid probably won't fly on Korean Cupid.
Here at VIDA, we've gotten great results for our clients on just about every international dating site out there. From writing your profile to handling all the back and forth messaging, we know what appeals to attractive women in far flung cities.
If you want to meet a beautiful, exotic woman without putting in all the effort or risking falling victim to an international dating scam, VIDA has you covered! Click here for more information!
Want us to do your online dating for you?

Hey, I'm Ally, VIDA Select's Director of Matchmaking.
We take all the frustration, hard work and hassle out of modern dating!
Imagine your very own Dream Team of highly skilled dating experts searching for the very best local matches, sparking their interest, and arranging all the dates for you.
Wouldn't it be nice to finally stop swiping and start dating higher quality matches so you can meet someone special?
We've helped thousands of singles just like you since 2009, and we're ready to make you our next success story!
What are you waiting for? Take the next step now…
See If You Qualify