I hope you enjoy reading the blog post.
If you want to chat now about your matchmaking search, click here.
Meet Leisha Murphy [Best Matchmaker In Georgia?]
If Atlanta Matchmakers is on your radar, it's natural to be curious about its founder, Leisha Murphy. After all, when considering an investment of your time and resources into a matchmaking service, your goal is to find the matchmaker who best aligns with your needs and preferences.
Our team of experts has reviewed 200+ matchmakers, delving into their service, matchmaking process, success rates, and client reviews. With our industry experience dating back to 2009, our reviews are not only based on extensive research but also on our firsthand experiences and insights.
This profile is packed with all the details you need to decide if Leisha Murphy is the best Atlanta matchmaker for you!
Leisha Murphy Review Table of Contents:
Meet Matchmaker Leisha Murphy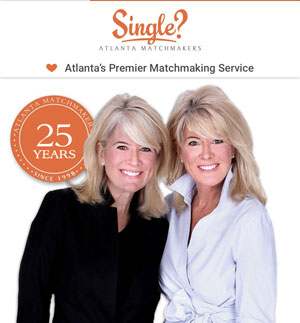 Single Atlanta founder Leisha Murphy grew up in Texas and attended Baylor University along with her twin sister Lisa Lyngos.
After graduating she went on to pursue a career in sales, where she met her husband. The two eventually moved from Houston to Atlanta for a job relocation.
The late 90s saw Atlanta experience a significant growth period, triggered by the 1996 Olympics. The city had an influx of people needing help finding meaningful connections.
As Murphy shared in an interview,
"The city had suddenly exploded with people from all over and they didn't know how to meet each other."
She says she has always had a passion for bringing people together, and quickly realized the city was in need of a local matchmaking service. In 1998, she established Single Atlanta Matchmakers, later rebranding as Atlanta Matchmakers.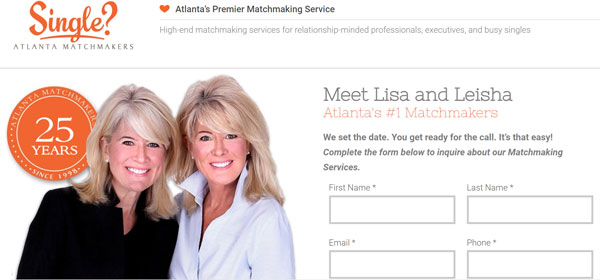 Shortly after opening, her twin stepped in as managing partner, bringing with her insights from her career in the modeling and fashion industry. Meanwhile, Murphy's husband assumed the role of company president, contributing his expertise as a marketing executive and entrepreneur.
The undeniable bond shared by the twin sisters brought an extra dimension of intuition and synchronicity to their work. Leisha reflected on this unique connection, emphasizing that their innate understanding of each other's thoughts and actions enables them to act as dual CEOs.
She explained it this way to Atlanta Magazine,
"We have a kismet—that's the thing about being identical. The twin thing is very naturally fast."
Leisha Murphy's Approach To Matchmaking
Murphy attributes her successful matchmaking approach to a blend of traditional Midwestern values and a can-do Texas spirit. Growing up, her family instilled in her and her sister a strong work ethic, one full of perseverance. Or as she puts it…
"We were raised with that traditional Midwestern worth ethic and also felt the Texas attitude, which says 'kick a hole through the sky, anything is possible."
A key element in Murphy's matchmaking strategy is maintaining a positive and unwavering attitude toward her Atlanta Matchmaking clients.
She firmly believes in being a continuous source of support, saying, "We don't give up on anyone. We just continue to be the wind underneath them."
Central to her approach is fostering personal growth throughout the matchmaking journey. The Atlanta Matchmakers team views self-improvement as a powerful tool in attracting the right partner, and they actively encourage their clients to make time for themselves.
In line with this philosophy, Murphy suggests to her clients that focusing on personal happiness and fulfillment makes them more attractive to potential partners. She explained it this way:
"The better you are, the better person you attract. Happy people are really attractive. That's what's important."
Murphy and Single Atlanta Matchmakers offer ongoing support to clients throughout the process, and the twins frequently dispense their dating advice via various media outlets and in interviews. 
Here are a few of their best dating tips from around the web:
Becoming An Atlanta Matchmakers Client
Atlanta Matchmakers assists singles who are in search of genuine and lasting connections, focusing on those who are committed to finding a life partner.
In a recent interview, Murphy emphasized that their service is designed to sift through the pool of singles who lack seriousness about relationships, adding, "We offer something real, no worries about the caliber of people you'll meet."
The process begins with a confidential online questionnaire, followed by a personalized interview with one of their matchmakers.
During this interview, you'll have the opportunity to share your relationship history and what you're looking for in an ideal partner. If both you and the team agree Atlanta Matchmakers is the right fit, you'll sign a contract for their services.
Your matchmaker will also discuss pricing with you. Packages are tailored to your particular requirements, with factors like the number of introductions you desire and the duration of the service impacting the total cost.
While Atlanta Matchmakers does not disclose pricing publicly, based on reviews, their services typically range between $1,000 and $15,000.
With so many Atlanta matchmaking services to choose from, you're likely wondering how those prices compare to other options. Check out this quick Atlanta matchmakers price comparison!
Curious what former clients have to say about their Single Atlanta experience? Check out our Single Atlanta Matchmakers review next.
All product and company names are trademarks™ or registered® trademarks of their respective holders. Use of them does not imply any affiliation with or endorsement by them.
Why Choose VIDA Select?

Since 2009, thousands of clients have discovered true love thanks to VIDA Select's fresh, modern approach to matchmaking – which has finally thrown blind dates and long-term contracts out the window. This isn't your grandmother's matchmaking!
Instead of working with a single matchmaker using a small rolodex of potential partners, VIDA Select's matchmaking team taps into the world's largest database of available singles. We'll quickly identify the matches who check all of your boxes so you can finally experience true chemistry. Are you ready to become our next success story? Schedule your complimentary consultation now by clicking the button below!
Get Started Now