I hope you enjoy reading the blog post.
If you want to chat now about your matchmaking search, click here.
Meet Lisa Lyngos [Best Atlanta Matchmaker For You?]
Considering hiring the Single Atlanta matchmakers to help you find your ideal partner? It's only natural that you'd want to learn more about Lisa Lyngos and her approach to matchmaking.
Over the years, our team of experts has reviewed more than 200 matchmakers, researching their offerings, processes, success rates, and client feedback.
Keep reading to learn about Lisa Lyngos's journey into matchmaking, her philosophy on discovering love, how much it costs, and more!
Lisa Lyngos Review Table of Contents:
Let's dive in!
Meet Atlanta Matchmaker Lisa Lyngos
Lisa Lyngos is the managing partner at Atlanta Matchmakers, also known as Single Atlanta. Alongside her twin sister, Leisha Murphy, she dedicates herself to helping singles find love across the Southeast and into the Carolinas.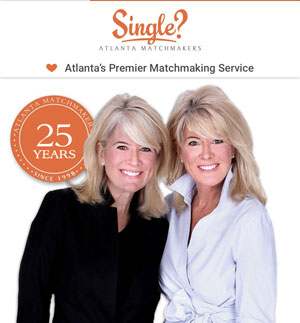 Single Atlanta was founded by Leisha Murphy in 1998. But Lisa Lyngos came on board as a managing partner shortly after opening its doors. Prior to becoming a matchmaker, Lyngos worked in the fashion and modeling industry.
Lyngos and Murphy operate as a dual leadership force, with their identical twin connection adding a special "kismet" that strengthens their bond and adds a swiftness to their decision-making process.
It is this unique link that Lyngos mostly credits for their success, saying, "We don't really have a business secret; the secret is that we're twins."
The matchmaking company is located in Sandy Springs, a suburb of Atlanta, and works with singles of all ages.
Lisa Lyngos's Matchmaking Philosophy
At the heart of her matchmaking philosophy lies a profound love for getting to know her clients on a deeper level. It is this genuine interest in learning about their values and dreams that form the foundation of her process.
She explained it this way in an interview: 
"We have always loved meeting people, talking to them, and finding out about the things they care about. Their values. Their dreams. Their stories. We also have a natural intuition about people that translates to a simple ability: matching people together… and in the process, making their relationship dreams come true."
Instead of just using a superficial checklist of traits, Lyngos advises her clients to explore deeper aspects of what truly counts in a partner.
Or as she puts it, "I tell people, 'You're going off the list you made when you were playing Barbies!'"
She encourages her clients to embrace the matchmaking process with an open mind, allowing them to discover connections that go beyond more surface qualities.
As a matchmaker, Lyngos says she it's not just about finding someone for her clients to date - she wants to find them truly compatible matches.
"You are compatible with about three out of a hundred people. I'm going to take your hand and walk you past 75 people and say, 'Meet John.'"
While Lyngos strives to recommend matches that meet her clients' criteria, she also recognizes the role chemistry plays in creating a successful connection. In her own words, "You will be dating for chemistry because the compatibility has been covered."
In Lyngos's view, love is not limited by age; it is a timeless possibility.
She encourages her clients to embrace new adventures and be open to trying new things. Sharing that as people age, the focus shifts from finding someone to date to finding someone who has shared interests and a similar outlook on life.
As she explained in an interview with Vive,
"When we dated in our 20s, you were looking for potential. Now, the thing that's so wonderful, we are who we are. You want a happy, healthy, stable relationship with someone you share interests with, and you see life from the same lens. Yes, opposites can attract, but not when it comes to character and values."
The Twins' Dating Advice
Lisa Lyngos's and Leisha Murphy's tenure in the matchmaking industry has earned them recognition from media outlets such as The Atlanta Journal-Constitution, CNN, and The Today Show. 
And they regularly share dating advice in interviews and on social media.
According to Lyngos and her sister, first dates should be light-hearted and an enjoyable experience.
And while it's natural to want to avoid the first-date awkwardness, they suggest you push on through it. As they advise on their Facebook, "You're doing something truly awesome and really challenging; you're opening yourself up to have a meaningful connection with someone."
Here are a few more of their first-date tips:
How Much Does It Cost To Hire Lisa Lyngos?
Atlanta Matchmakers keeps their pricing details private, but after analyzing their online reviews, it appears that service ranges from $1,000 to $15,000, with typical packages in the $5,000 range.
Curious how that stacks up with other options you may be considering? Check out this Atlanta matchmaker price comparison!
And for a more in-depth look at Lyngos's Single Atlanta Matchmaking service, check out our Single Atlanta review next.
All product and company names are trademarks™ or registered® trademarks of their respective holders. Use of them does not imply any affiliation with or endorsement by them.
Why Choose VIDA Select?

Since 2009, thousands of clients have discovered true love thanks to VIDA Select's fresh, modern approach to matchmaking – which has finally thrown blind dates and long-term contracts out the window. This isn't your grandmother's matchmaking!
Instead of working with a single matchmaker using a small rolodex of potential partners, VIDA Select's matchmaking team taps into the world's largest database of available singles. We'll quickly identify the matches who check all of your boxes so you can finally experience true chemistry. Are you ready to become our next success story? Schedule your complimentary consultation now by clicking the button below!
Get Started Now