I hope you enjoy reading the blog post.
If you want to chat now about your matchmaking search, click here.
Macbeth Matchmaking Reviews [Best Elite Dating Service?]
Thinking about hiring one of the De Blasi sisters as your personal matchmaker? This Macbeth Matchmaking review has the details you're looking for!
Our team of experts is here to help ensure you choose the best service for you. That's why we've reviewed over 200 matchmakers, diving deep into their costs, processes, client reviews, and more.
With over 14 years of matchmaking experience, we know what clients value most when it comes to selecting a service!
Macbeth Matchmaking Review Table Of Contents:
Let's start by meeting the matchmakers!
The Faces Behind Macbeth Matchmaking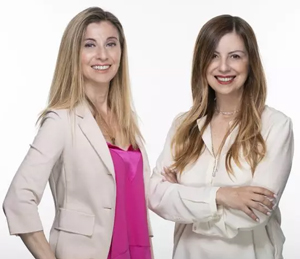 Rossana De Blasi, originally from Italy, studied at the University of London before relocating to Geneva, the location of Macbeth Matchmaking's headquarters. Prior to becoming a matchmaker, she spent time in consulting and finance sectors.
Carla De Blasi holds an MBA in Finance and worked in the international trading industry before finding her passion for connecting singles.
The two co-founded Switzerland-based Macbeth Matchmaking in 2012, and both take on the role of executive matchmaker.
Macbeth Matchmaking caters to a broad clientele, helping everyone from single parents, divorced individuals, and high-profile professionals. Their clients are primarily over 27 years of age.
Speaking to Marie Claire in an interview, Rossana highlighted the high socio-cultural caliber of their clients, by saying:
"These are people who know what they want and who are looking for personalized service, because they don't necessarily have the time to devote themselves to their love life. There are company directors, businessmen and women, lawyers, doctors, etc. They therefore count on our discretion and our experience to find them someone who suits them."
Macbeth Matchmaking At-A-Glance
An international dating agency, Macbeth Matchmaking has a presence throughout Europe, including Ireland, England, Belgium, France, Spain, Italy, Germany, Sweden, Switzerland, Austria, the Netherlands, and the UK.
As the sisters shared in an interview, the agency has a membership base of over 3,000 singles.
The first step for potential clients involves filling out a short online inquiry form, where you'll provide basic details about yourself, such as your country of residence and the qualities you desire in an ideal match.
You'll then have a complimentary 30-minute consultation call to learn more about the service.
Next up is the registration process, which involves an in-depth interview with a matchmaker. They'll find out more about your relationship history, lifestyle, personality, and approach to dating.
According to co-founder Carla De Blasi, many potential clients come to Macbeth Matchmaking seeking perfection. She shared that clients typically have a long list of qualities they're looking for in a partner.
As she explained in an interview,
"Women seek virility, security, gallantry. They want a man who is confident, well-groomed and attentive. Men seek femininity. They want a woman who is both a friend and a lover, who has a good sense of humor... someone they will be proud to introduce to those around them. Perfection, in short!"
Once you've selected and paid for a matchmaking package, the search for that perfect match begins. The team at Macbeth Matchmaking look through their database of singles and leverage their matchmaking network to find candidates. 
Selected profiles are presented to you and you'll have the opportunity to either meet or pass on each pre-screened match.
After each date, clients exchange feedback with the matchmaker, discussing the potential for a second date and sharing insights that may help refine future searches.
In addition to matchmaking, Macbeth offers coaching in life management, image, and wellness at an extra cost.
Now, let's take a look at what other clients are saying about their experience with Macbeth Matchmaking.
Macbeth Matchmaking Reviews
On Trustpilot, Macbeth Matchmaking has a 2.1-star rating.
Of those who shared a positive experience, several mentioned meeting someone special through the service, while others said that they felt the quality of their matches was spot on:
Other former clients described a less than positive experience, giving the service a 1-star rating in their Macbeth Matchmaking reviews:
And this former client gave a 2-star rating in her Macbeth Matchmaking review:
Macbeth Matchmaking has a 4.7-star rating on SiteJabber.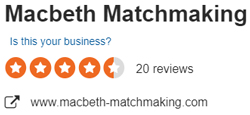 The majority of the reviews were 5 stars, with several former clients mentioning they met someone special through the service:


Other reviewers shared that working with Macbeth Matchmaking helped them become more confident:

The company has a 3.9 rating on Product Review, based on 10+ entries. The majority of the reviewers gave the service 4 or 5 stars.
This former client said he met his future wife through the service:

And this Macbeth matchmaking client said she met quality matches:
On the other hand, this reviewer was dissatisfied with the quality of his matches and had other concerns about the service: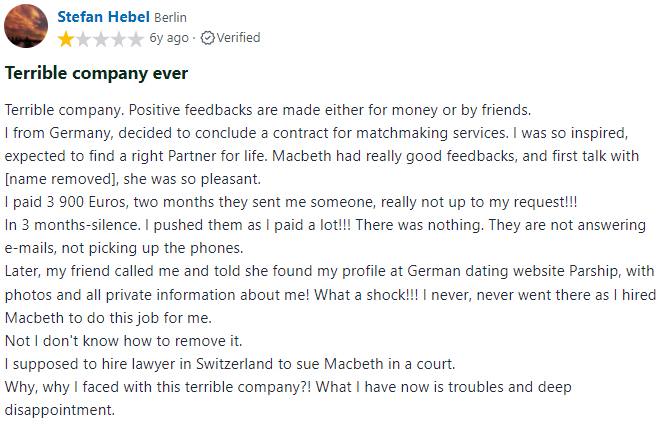 Reviews can offer valuable insights into a particular company's approach and processes, and you can use the experiences you read about to formulate specific questions to ask during your initial consultation.
(Want an insider's guide on how to get the most out of that call, and help ensure you're investing in the right matchmaker? Check out our insider's guide to hiring a matchmaking service!
Next, let's take a look at one of the most important factors to consider: cost.
How Much Does Macbeth Matchmaking Cost?
According to various online reviews, you can expect to spend anywhere from $3,900 to $15,000+ euros for a matchmaking package.
Service is tailored to fit each client's individual requirements, so pricing is not listed on the website. Macbeth Matchmaking's contracts typically span 3, 6, or 12 months, and also include "break" time.
Curious how that stacks up with other international matchmaking services that may be on your radar?
Enamour offers elite matchmaking from within a heavily curated, invitation-only database. The team also uses targeted recruiting and an extensive network of scouts to pinpoint highly compatible candidates from a variety of online and offline sources.
Using a blend of relationship psychology, AI, and intuition, your seasoned personal matchmaker will deliver quality, relationship-worthy matches. Enamour packages start around $20,000 USD.
VIDA Select is another international matchmaking service to consider when you're ready to meet incredible matches who check all your boxes.
VIDA's modern approach leverages the largest source of eligible singles there is, and the average client meets someone special within just 3 months of beginning service.
Matchmaking packages are offered on a monthly basis, so there's no need to invest in a long-term contract that spans anywhere from 6 months to over a year.
Basic services begin at only $1,195 USD per month, and Premium matchmaking options start at just $1,795 USD per month. Elite packages begin at just $2,595 USD per month.
Packages are customized to fit your search requirements, with the final price highly aligned with the number of hours your dedicated matchmaker will spend each month on your search.
Find out if VIDA's approach is right for you. Just click here to get started!
All product and company names are trademarks™ or registered® trademarks of their respective holders. Use of them does not imply any affiliation with or endorsement by them.
Why Choose VIDA Select?

Since 2009, thousands of clients have discovered true love thanks to VIDA Select's fresh, modern approach to matchmaking – which has finally thrown blind dates and long-term contracts out the window. This isn't your grandmother's matchmaking!
Instead of working with a single matchmaker using a small rolodex of potential partners, VIDA Select's matchmaking team taps into the world's largest database of available singles. We'll quickly identify the matches who check all of your boxes so you can finally experience true chemistry. Are you ready to become our next success story? Schedule your complimentary consultation now by clicking the button below!
Get Started Now