I hope you enjoy reading the blog post.
If you want to chat now about your matchmaking search, click here.
Modern Love Club Review [Best NYC Matchmaking Service For You?]
Matchmaker Amy Van Doran founded Modern Love Club in response to the increasing demand for matchmakers in New York City.
And thanks to that demand, you have plenty of options when it comes to choosing the service that's best for you. Checking out reviews is the best way to start narrowing down your short list, and this Modern Love Club review has all the details you're looking for!
Our team has reviewed over 200 matchmaking services, delving deep into their operations, success rates, and customer experiences. Our reviews are built on extensive research and a keen understanding of the matchmaking industry.
Modern Love Club Review Table of Contents
What You Need To Know About Modern Love Club
Modern Love Club was founded back in 2008. It's a remote service with the opportunity to meet with your matchmaker in person, if you're local to NYC.
The main matchmakers at Modern Love Club are founder Amy Van Doran and her co-matchmaker Alexa Cassill. 
As Van Doran shared in an interview with DatingNews.com, "Fifteen years later, I haven't solved loneliness, so we continue on."
Modern Love Club recruits singles for their database of matchable candidates from a myriad of cool social events. They also actively scout at places like the gym, the library, the subway, online - anywhere an amazing New Yorker is to be found!
If they meet someone who seems to have potential as a good match for a current client, they'll approach the person to see if they'd consider being matched with someone extraordinary.
Modern Love Club also hosts events for singles to meet and connect over music, food, and a cool atmosphere. They also promote other events around town they feel may help singles connect with like-minded people.
What To Expect As A Modern Love Club Client
Modern Love Club works with NYC singles who are successful, inspiring, and ambitious. Van Doran and her team take on "extraordinary people" they believe they can help with fostering romance in their lives, and they take a personalized approach with each individual.
As a boutique matchmaking firm, Modern Love Club typically only works with up to 16 paying clients at a time, usually between the ages of 30 and 60.
"We're quite particular. Luckily we're at a place where we can pick out who we want to work with. We only take people on if we feel we can find matches for them."
Are you interested in being one of the chosen few? The process starts by emailing Van Doran via her website. This initiates the screening process, an initial consultation where you'll talk for an hour and see if they're the best match for you as matchmakers.
If you do end up joining the Modern Love Club as a paying client, you'll meet some of the nearly 10,000 singles from their Rolodex.
Like many matchmaking services, gathering feedback after each date is built into the process. You'll have the opportunity to let your matchmaker know what you thought of each match.
They also check in with each match, so you'll receive insights into how the date went from your match's perspective. This gives the team an opportunity to guide you through some of the nuanced obstacles preventing you from having a successful romantic connection. 
As Modern Love Club matchmaker Alexa Cassill explains,
"We care a lot about your success in dating. We'll get to know you and see where you might be having trouble making a meaningful connection. We'll do our best to set you up with people who you'll be with compatible with, but we also want to make sure you're showing up as your best self, to make the best impression with a potential love."
NY singles can also join Modern Love Club as a Rolodex member by submitting an application via the website. The application includes photos, social media handles, multiple choice and short answer questions.
Rolodex members are eligible to be matched with paying clients. Joining is free, however as a non-paying client there is no guarantee of ever meeting anyone.
You will only be considered for matching with a paying client if you happen to fit their preferences, there is no active search being done for clients who match your preferences. 
Modern Love Club also offers one-off, one on one dating coaching sessions. You can book a 1-hour "Love Session" that's conducted via Zoom. It costs $300 per session, and you'll talk about your past relationships, what you're looking for in your next relationship, and how to reach your dating goals.
Modern Love Club Cost
Modern Love Club matchmaking packages start at $30,000.
All the particulars of your package will be outlined in your membership contract.
So, is Modern Love Club a worthy investment for your time, trust and money? Checking out client reviews is a good way to help you answer that question!
Modern Love Club Reviews
Amy Van Doran has garnered her fair share of media attention, having been featured in both local and national publications like Bustle and Vice.
But even with an abundance of positive media mentions, you won't find very many client reviews discussing their Modern Love Club experience. This NYC matchmaking service has yet to be reviewed on local platforms like Yelp, Trustpilot or the BBB.
On its Google business listing, Modern Love Club has a 5-star rating based on 11 reviews.
This reviewer was happy with the quality of his matches, even though he ended up meeting someone special outside the service: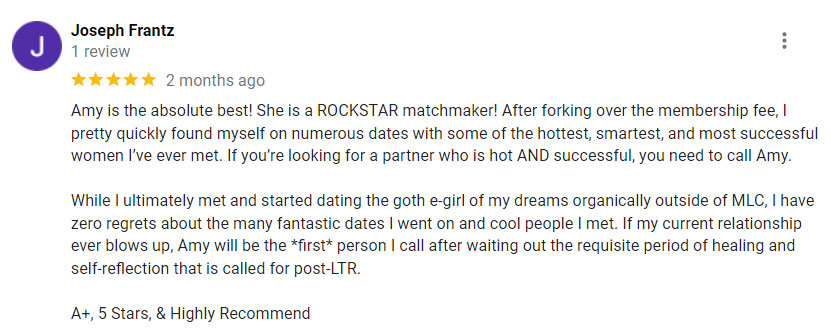 This Modern Love Club reviewer appreciated all the extra services he received, and liked the events:
And this reviewer was happy to be in the Modern Love Club Rolodex, and enjoyed the event she attended:
Is Modern Love Club The Right NYC Matchmaker For You?
Modern Love Club has been working its matchmaking magic in New York City since 2008, so it's worthy of your short list.
But keep in mind they only work with a very select few clients at a time, and there's also the $30,000 price point to consider. That's very much in line with other luxury matchmaking services in New York City.
For instance, Enamour offers highly personalized, bespoke matchmaking services to high-achieving, successful New York City singles. Contracts start around 6 months, with a price tag starting around $20,000.
Janis Spindel, one of the city's longest-running matchmakers, charges up to $1,000,000 for her services.
VIDA Select, on the other hand, offers elite matchmaking service to NYC singles for a fraction of that price tag. And thanks to VIDA's modern take on traditional matchmaking, your matchmaker will also have direct access to the largest database of eligible New Yorkers there is!
VIDA has one other potentially huge advantage over the other matchmaking services you may be thinking of hiring - the ability to pay as you go.
Instead of a multi-month contract that could span anywhere from 3 months to over a year - and is generally paid in full, up front - VIDA offers month-to-month matchmaking starting at just $1695 for Premium packages.
That means you can stop, start and pause as needed, whether that's to travel, explore a promising relationship with a match, or simply because it's not the right approach for you.
Want to learn more? Find out if you qualify for VIDA today!
All product and company names are trademarks™ or registered® trademarks of their respective holders. Use of them does not imply any affiliation with or endorsement by them.
Why Choose VIDA Select?

Since 2009, thousands of clients have discovered true love thanks to VIDA Select's fresh, modern approach to matchmaking – which has finally thrown blind dates and long-term contracts out the window. This isn't your grandmother's matchmaking!
Instead of working with a single matchmaker using a small rolodex of potential partners, VIDA Select's matchmaking team taps into the world's largest database of available singles. We'll quickly identify the matches who check all of your boxes so you can finally experience true chemistry. Are you ready to become our next success story? Schedule your complimentary consultation now by clicking the button below!
Get Started Now