I hope you enjoy reading the blog post.
If you want my team to just do your online dating for you, click here.
6 Hacks To Fill Your POF Inbox With Interested Women In 2023
Not seeing much action in to your POF inbox?
VIDA Select has been helping guys like you conquer online dating since 2009, and we know all the hacks that will fill your POF inbox with messages from interested women.
Here are 6 POF hacks you can try right now!
POF Hack #1: Copy And Paste Proven Opening Lines
We've known it for years, and OkCupid's research backs us up - copy and paste messages work.
It's easy - once you have an opening line that's proven to work, send it to any women who intrigues you.
A successful opening line is generic enough that it's appropriate for anyone, yet still makes her feel like you actually read her profile.
A message like this, for example:

Sending a message like the one above is quicker and easier than reading her profile and then painstakingly writing a personalized message.
If you rinse and repeat that process for every woman who intrigues you, you'll quickly find yourself spending countless hours per week just trying to generate some replies.
Check out these tips for writing great online dating openers so you can come up with a few messages that work great to quickly fill your inbox with responses from interesting women.
POF Hack #2: Search By "Last Online"
Since it's free, POF has its share of fake profiles and women who aren't active on the site. You can avoid wasting your time messaging women who will never respond by using the "last online" search filter.

Sorting by "last online" means that the women you see first are women who are actively using the site.
Only message women who have been active within the last few days, and preferably the past 24 hours. This will greatly increase your chances of getting a response.
You can also sort by "newest member," which is a great opportunity to send her an icebreaker before her inbox fills up with messages from other men in your local area.

POF Hack #3: Pick The Right Username
On POF, your username is front and center. If yours is unattractive, slimy, or creepy, the only thing piling up in your inbox will be a sense of despair.

According to a study, the most effective online dating usernames start with a letter in the first half of the alphabet, convey a fun-loving personality, and signify intelligence or culture.
These tips can help you craft the perfect username, but go with something entertaining and witty that starts with a letter between A and M. With that, you'll be well on your way to more responses.
POF Hack #4: Stick To Simple Language
While it's tempting to try and impress your potential date with fancy vocabulary and complex jokes, researchers have found simple language is the way to go.
People tend to be drawn to shorter, easily remembered words. A profile that's easy to process also increases overall likeability.
In other words, don't get over-complicated with wording or vocabulary. It won't pay off.

When writing your headline and profile, stick to simple, punchy copy that's easy to skim and understand.
Here is a simple template you can use to write a POF profile that attracts the kind of women you want to meet most: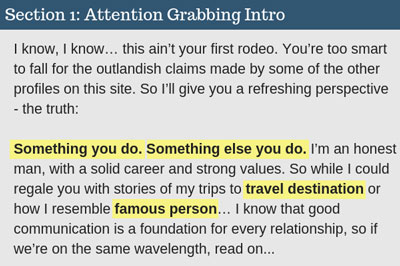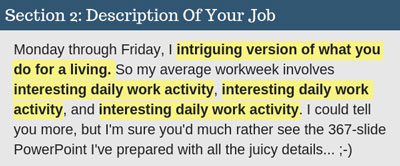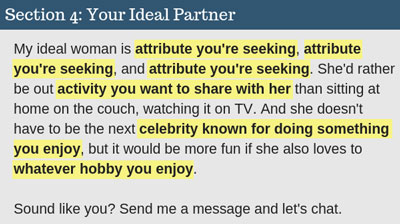 When writing your headline and profile, stick to simple, punchy copy that's easy to skim and understand.
Check out these examples of POF profiles that get dates!
Also, whatever you happen to be writing, from your profile to your messages, don't make grammar mistakes.
This popular dating site surveyed 2,000 singles, and 58% of them said they don't tolerate bad grammar. Take an extra minute to proofread so you're not inadvertently turning her off.
POF Hack #5: Consider Stretching The Truth, But Only A Little
The majority of online daters lie somewhere in their profile.
While there are some things you should never lie about (i.e. whether or not you have kids), tweaking some of your stats can boost your results.
According to OkCupid, men add two inches to their reported height, on average.
A UK study found that 6' is the ideal height for men on online dating sites.
Go ahead and add an inch (or two) to get you closer to that magic number.
You can take a couple years off your age, but if you already have a POF profile, this means creating a brand new account.
You can only edit your birthdate within 2 weeks of signing up. But if you're not getting any results, starting a new account with a brand new profile may not be a bad idea.
When women choose their age range of interest, they tend to search in round numbers - like 30 to 40.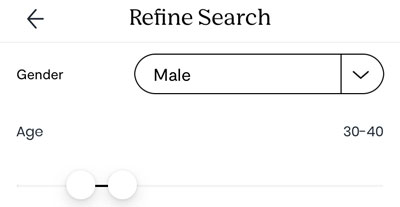 So if you're 41 or 43, you won't show up in her results. And if you message her, she might automatically dismiss you, because in her mind, you're "too old".
Listing your age as 40 solves both problems, and it qualifies as a white lie that won't be a big deal later. After all, it happened before you even met her!
But remember - your end goal is meeting her face to face, so don't go crazy with the fiction.
If there's a big discrepancy between what you package up online and what she gets in person, your dates probably won't go very well.
Read this for more advice on when to fib in your online dating profile.
POF Hack #6: Use Power Words
Certain qualities, like specific hobbies, religious affiliations, and occupations are considered universally attractive. Think of a fireman or pilot, for example. What woman doesn't want to date one of those?
Wired magazine crunched data from OkCupid and Match.com and determined that "surfing" and "yoga" are two of the most attractive words you can use in your profile: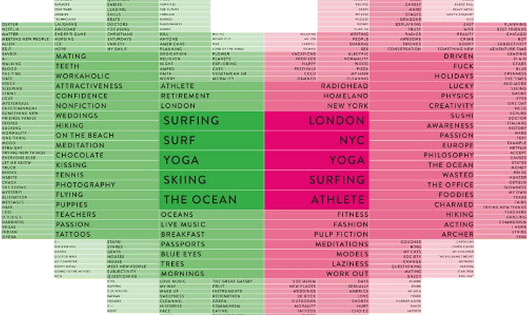 Selecting "Christian" for your religious affiliation could result in 20% more messages.
So even if you're more agnostic than anything else these days, if you were born in a Christian family, it's not a bad idea to stick with your roots and list "Christian."
For tons of tricks and tips on writing a profile that gets her attention, go here.
Bonus Hack: Be Irresistible With An Expertly Written Profile
All the POF hacks in the world won't help you get more messages in your inbox and a date for Friday night if your photos and profile are turning her off.

If you're looking to date the type of girl who will make your buddies jealous, you need a magnetically attractive profile.
That's where VIDA comes in handy.
Our team of dating experts will craft an intriguing, irresistible profile that's 100% customized.
We'll even handle all the back and forth messaging with the women you like best so all you have to do is show up to meet them!
If you're anything like the average online dater, you're spending around 5.2 hours a week browsing profiles, then 6+ more sending out messages.
That's a whopping 48 hours a month, and if all you've got to show for it is an endless stream of lonely Friday nights or bad dates no wonder many men throw in the towel before they even meet anyone.
Don't be that guy - bring in the dating experts!
Click here to find out more, then watch those dates roll in...
Want us to do your online dating for you?

Hey, I'm Ally, VIDA Select's Director of Matchmaking.
We take all the frustration, hard work and hassle out of modern dating!
Imagine your very own Dream Team of highly skilled dating experts searching for the very best local matches, sparking their interest, and arranging all the dates for you.
Wouldn't it be nice to finally stop swiping and start dating higher quality matches so you can meet someone special?
We've helped thousands of singles just like you since 2009, and we're ready to make you our next success story!
What are you waiting for? Take the next step now…
See If You Qualify