I hope you enjoy reading the blog post.
If you want my team to just do your online dating for you, click here.
POF Username Ideas: 15 Irresistible Examples For Guys
An amazing POF username isn't going to get you dates all by itself. But it will give you a helping hand, and there's nothing worse than having a crappy username that repels women.
It doesn't matter if your "About me" bio was written by Shakespeare and your photos were taken by Annie Leibowitz. When a message from "420wannafook" shows up in her inbox, do you really think she's going to read it, much less send you a response?

If you want a world-class woman to return your message on Plenty of Fish, then you need a username that piques her curiosity.
If she's hot, her inbox is crammed full of messages from hopeful guys. She's scanning her inbox for anything that intrigues her, and instantly deleting the contacts that don't. A cringeworthy username ensures one of those deleted messages will be yours.
These 15 POF username ideas get girls in your inbox and get you more dates.
Your POF Username Should Highlight An Attractive Alpha Trait
Chicks dig alpha males, it's a natural law that's deeply encoded in her DNA. So if your username radiates alpha, she'll be feeling it. Research has shown women are hardwired to find personality traits like these attractive:
Bravery
Courage
Stability
Willingness to take risks
Loyalty
Protectiveness
Put evolutionary theory to work for you with a username like one of these:





Online dating is all about first impressions - and those are formed in microseconds. Your username is all part of the package. If your username highlights a negative trait or contains words that automatically raise red flags in her mind, good luck getting a date for Friday night. You'll be just as lonely as these guys: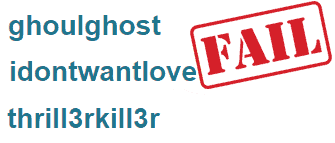 Stand Out From The Crowd On POF
An interesting, creative online dating username will give her pause - and that's a good thing. If you can make her curious, she's going to click on your message to see what you have to say. A username like this will get your foot in the door:





Uncreative usernames, on the other hand, will slam that door right shut. That means don't take someone else's good idea and add a bunch of numbers and dashes to it. You also want to stay away from anything that sounds desperate, sexual, or like you're not taking online dating seriously:

Appeal To Her Appetite
Online dating and delicious sounding food are a match made in heaven. Women enjoy talking about food, so make her hungry for more with a username like one of these:




One caveat - yes, salami is a food. So is bologna. But neither has any place in an attractive username. Keep it classy, unlike these guys:

Harness The Power Of Science (Yes, Really)
These 15 username examples get girls in your inbox, but let's face it. A lot of guys read our blog, so these specific usernames are probably already taken. But we're not going to leave you hanging.
We've got 5 tips for writing an attractive username that are based on statistics. Take these studies into account when coming up with username:
Not Sure Where To Start?
If you want to come up with an attractive username from scratch, but aren't sure where to begin - grab a pen and paper.
This will only take a minute, and you'll come up with some powerful words. First, think about your job. Write down a few words that describing what you do. Let's say you work in IT, so your list might include words like this: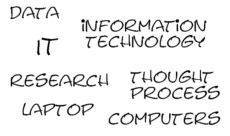 Then add some of your hobbies: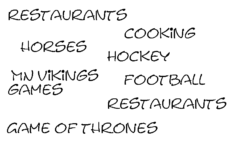 Now, look over your list of words and do a quick game of word association. (There's no shame in heading over to Thesaurus.com, BTW. That site is a goldmine of inspiration).
Jot down any related words that sound interesting: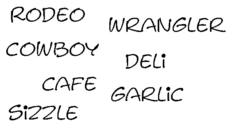 Look over your list and start putting words together. Based on this list, you could come up with great POF username ideas like these:
DataWrangler
ITCowboy
TechViking
Secret Shortcut: Better Username, Better Dates
You've got everything you need to come up with a winner, but your username is just the tip of the iceberg. If you want to score dates with high quality women, your POF profile, photos, and messages all have to be top notch.
You could spend hours and hours doing it all yourself, or you could hire a virtual dating assistant to handle everything for you - from inventing your username to setting up your dates! This is your love life we're talking about, after all.
Why not bring in a team of online dating experts to make sure you meet the beautiful women you know you deserve? Click here to schedule your free confidential consultation today.
Want us to do your online dating for you?

Hey, I'm Ally, VIDA Select's Director of Matchmaking.
We take all the frustration, hard work and hassle out of modern dating!
Imagine your very own Dream Team of highly skilled dating experts searching for the very best local matches, sparking their interest, and arranging all the dates for you.
Wouldn't it be nice to finally stop swiping and start dating higher quality matches so you can meet someone special?
We've helped thousands of singles just like you since 2009, and we're ready to make you our next success story!
What are you waiting for? Take the next step now…
See If You Qualify