I hope you enjoy reading the blog post.
If you want to chat now about your matchmaking search, click here.
SawYouAtSinai Reviews [Best Matchmaker For Jewish Singles?]
With its commitment to preserving Jewish values, SawYouAtSinai offers a unique approach to matchmaking for singles seeking a meaningful relationship rooted in compatibility, faith, and shared values.
Our team of matchmaking experts has reviewed more than 200 matchmakers and their services, diving deep into cost, process, client experiences and more.
With 14+ years of industry experience, our reviews are built on extensive research and a keen understanding of the matchmaking landscape.
In this SawYouAtSinai review, we break down how the service works, what it costs, and what clients are saying about it.
We'll also take a quick look at how it compares to other Jewish matchmaking services you may be considering, so you have everything you need to decide if working with a SawYouAtSinai matchmaker is the right approach for you.
SawYouAtSinai Review Table of Contents:
Let's start with…
How SawYouAtSinai Works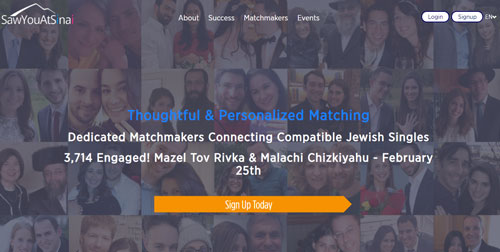 SawYouAtSinai is a Jewish dating site with a twist: a network of 350+ volunteer matchmakers from around the globe curates profiles for members to review.
The dating site has a global reach, and is specifically for Traditional, Conservative, Modern Orthodox, and Yeshivish Jewish singles. According to the website, there are currently 30,000+ members.
It was founded in 2003 by Marc Goldman, a former Wall Street management consultant who wanted to build something that would make a positive impact within the Jewish singles' community.
The Midrashim teaches that every Jewish soul stood at Sinai with their bashert at the giving of the Torah, which is what Goldman says inspired the company's name.
And when it comes to finding that soulmate, the platform combines the convenience of online dating with the intuition of a professional matchmaker.
As Goldman told The Jerusalem Post a few years after SawYouAtSinai launched,
"I created the site to be the best of both worlds. Matchmakers have the challenge of not having a wide enough pool of people to choose from. People dating online have to take a risk with dating people who may have lied on their profiles. Our web site eliminates both of these problems."
When you initially sign up, you'll create a profile on the SawYouAtSinai website. It includes detailed personal information about your background, religious beliefs, interests, and what you're looking for in a partner.
Then, depending on your membership level, you'll be paired with 1 or 2 matchmakers. They will contact you to discuss any additional information beyond your profile they feel they need to help with the search.
SawYouAtSinai does not permit members to do any profile browsing. You'll only be able to see the profiles specifically selected for you to review. When a potential candidate is identified, you'll have 10 days to view the profile on the website and approve or decline the match.
When interest is mutual, your matchmaker exchanges contact information. Men are advised to call their match within 3 days of receiving her phone number to arrange the date.
Mutual matches can also exchange messages through the SawYouAtSinai dating site.
Members can also update their match status in the website's database with phrases such as "went on first date", "spoke on the phone", or "dating exclusively", etc. This will help keep your matchmaker apprised of how things are going with a suggested match.
Now that you know how SawYouAtSinai works, you're probably wondering how much it costs to have curated profiles sent for your approval…
SawYouAtSinai Cost
SawYouAtSinai offers two levels of membership: Basic & Gold.
The Basic level is free. It includes having your profile listed in the database and access to member's only single's events as well as the dating blog on the website.
You can also receive a max of 1 match per week. However, communicating with your matchmaker and accepting matches with other members requires a Gold level membership.
Gold members are able to work with 2 SawYouAtSinai matchmakers, which includes a 15-minute "initial conversation" where you can provide more details about yourself and your ideal match.
The paid membership also unlocks the ability to approve, save, or pass on up to 10 matches per week, and you can contact your matchmakers for ongoing support, feedback, and advice.
A Gold membership to SawYouAtSinai costs between $10 and $24 per month, depending on the subscription length:
$65.70 ($10.95/month) for 6 months
$44.85 ($14.95/month) for 3 months
$24.95 for 1 month
In addition to these membership costs, under the Shidduch Laws of Jewish matchmaking it's customary for a successfully matched couple to pay their shadchan if the match results in marriage.
This amount should be discussed between the couple, their Rabbi, and the matchmakers but the current rate is approximately $3,000.
SawYouAtSinai Client Reviews
This Jewish matchmaking site is run by volunteer matchmakers, so the client experience is likely to vary depending on who you work with.
Overall, SawYouAtSinai's star ratings on review platforms range from 4 stars down to 1 star.
On Google Play, the SawYouAtSinai dating app has a 4.2 star rating based on 200+ reviews.

Reviews were mixed, but predominantly 5 stars.
This SawYouAtSinai reviewer liked the relationship they were able to build with the matchmaker, as well as the matches received:

And this SawYouAtSinai client said she found a relationship through the service:

But on the other end of the star spectrum, this user was not impressed with the free membership:
This user wasn't happy about having to answer a "30-minute form" before finding out that connecting with a matchmaker required a membership:
The SawYouAtSinai dating app has a 2-star rating on the App Store, but it's only based on 4 reviews:
On Yelp, SawYouAtSinai has a 1-star rating that's based on a single review.

The reviewer was unhappy that the notes his matchmaker made about him were viewable by other matchmakers in the SawYouAtSinai network:
SawYouAtSinai has a listing with the BBB, where it is rated an A+.
There is a single 1-star review, resulting in a 1-star customer review rating. The reviewer was the same former client who left a similar review on Yelp.
Is SawYouAtSinai The Right Jewish Matchmaker For You?
As founder Marc Goldman says in various interviews, SawYouAtSinai puts a more personal spin on traditional Jewish dating sites & apps by having a matchmaker search for profiles for you.
SawYouAtSinai's website invites you to "join the network of 30,000 Jewish singles", but keep in mind people sign up from all over the world.
While your matchmaker will likely prioritize sending you profiles of matches who are somewhat nearby, you may also get suggestions to meet people who live much further away.
If you're willing to hop on a plane to meet relationship-worthy singles, that may not be an issue. But you also may want to consider matchmaking services that go beyond a limited database to source potential matches.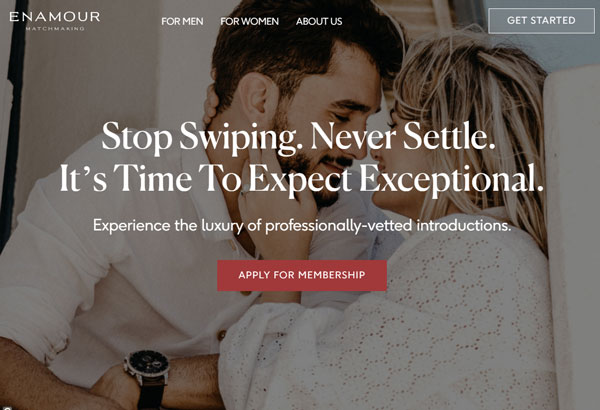 Enamour, for instance, is also an international matchmaking service. But in addition to having an exclusive, invite-only database, Enamour also uses recruiting technology and an extensive network of scouts to source highly compatible Jewish singles for you to meet.
Having the ability to scout outside of a database is a huge advantage for any matchmaker, as it's difficult to impossible for any service to consistently make quality pairings from a limited client roster in a particular city.
That's because compatibility isn't a one-way proposition. Your matchmaker needs to find singles who not only fit your criteria, you also have to fit theirs. That's why having an extensive reach is so important!
Enamour is an investment, starting around $20,000 for 6 months of service. But you'll be working with a dedicated matchmaker who goes beyond reviewing other member profiles and forwarding the ones she thinks might work.
Every potential match is extensively screened during an in-depth interview process. Your matchmaker will get to the heart of what's important to you in an ideal partner, and ensure that all your potential matches are truly relationship-worthy. 
Another option worth considering is VIDA Select. VIDA uses a modern approach to matchmaking that leverages the single largest source of eligible Jewish singles there is.
Like SawYouAtSinai, service is monthly. You'll be paired with a dedicated matchmaker who gets to know you, your lifestyle, and your matching criteria.
You'll have the opportunity to review profiles and photos of every potential match, but you don't have to worry about exchanging messages with anyone. VIDA handles every aspect of modern dating for you, so you just show up to the date and enjoy meeting singles who check all your boxes.
On average, VIDA clients meet someone special within just 3 months of starting service. Want to learn more about VIDA's approach to matchmaking? Just click here!
All product and company names are trademarks™ or registered® trademarks of their respective holders. Use of them does not imply any affiliation with or endorsement by them.
Why Choose VIDA Select?

Since 2009, thousands of clients have discovered true love thanks to VIDA Select's fresh, modern approach to matchmaking – which has finally thrown blind dates and long-term contracts out the window. This isn't your grandmother's matchmaking!
Instead of working with a single matchmaker using a small rolodex of potential partners, VIDA Select's matchmaking team taps into the world's largest database of available singles. We'll quickly identify the matches who check all of your boxes so you can finally experience true chemistry. Are you ready to become our next success story? Schedule your complimentary consultation now by clicking the button below!
Get Started Now