I hope you enjoy reading the blog post.
If you want to chat now about your matchmaking search, click here.
Simantov International Review: Best Jewish Matchmaker?
With so many options to choose from, it makes sense you're looking for Simantov International reviews. You want to ensure you hire the best Jewish matchmaking service for you, right?
From cost and what to expect to a brief history of the company, all the details you're looking for are right here.
Simantov International Review Table Of Contents:
From small independents to the biggest industry players, our expert team has reviewed over 200 matchmaking services.
Our insight comes from 14+ years of firsthand industry experience, comprehensive research, and a deep understanding of the matchmaking landscape.
Let's dive in!
How Simantov International Got Its Start
In the early 1970s, Denise Kahn, a Shadchanit in the religious circles of Strasbourg, identified a need for a matchmaking service that catered specifically to Jewish singles.
She began matchmaking within her local Jewish community. She then expanded into France, Germany, Luxembourg, and Switzerland as her service grew, leading to the establishment of Simantov International in 1975.
Jose Weber took over the reins in 1985 after being successfully matched with his second wife by Kahn herself.
Under his leadership, Weber steered Simantov toward more global expansion, extending its operations across Europe. A significant milestone under Weber's leadership was successfully matchmaking the company's present owners, Bertrand and Rachel Stern, in 2015.
Rachel Stern shared their journey in an interview with Dating Advice, revealing, "After dating unsuccessfully for eight years, I was matched in just three months."
Moved by the experience, the Sterns seized the opportunity to take over Simantov International when Weber sought new management.
"We bid to take the ownership and finally won. That's how I became owner and CEO," Stern recalls.
Having a background in business analytics and search engine optimization, Rachel lends her professional skills to further Simantov International's reach while honoring its traditional matchmaking roots. She regards her ongoing work as "an honor to give back what I got."
Today, Simantov International describes itself as "a modern day Jewish Matchmaker in an international Shtetl", blending Jewish tradition with modern matchmaking techniques.
Simantov International is headquartered in London, with client representatives in cities across the globe like Tel Aviv, Paris, Madrid, Bruxelles, Frankfurt, Vienna, Zurich, New York, Panama City, Montreal, and Melbourne.
The company's clientele is comprised of Jewish singles seeking committed relationships, but Rachel Stern emphasizes the company's selectiveness in accepting applications.
As she explained,
"Jewish people are traditional and want a family. We receive thousands of applications, but we choose the ones who are ready to commit to following our process."
A Peek At Their Matchmaking Process
Simantov International adopts a traditional approach to matchmaking, prioritizing personal connections and a human touch over algorithm-driven processes.
Potential clients begin with an online inquiry, followed by an interview where membership and coaching program options are explored. If both parties agree it's a good fit, a confidential contract is signed outlining the terms and conditions of the service.
According to Stern, Simantov's hands-on process results in an 87% success rate, a sentiment that is echoed on their website.
Their focus is on quality over quantity, tailoring their searches to find the right match rather than guaranteeing a specific number of introductions. Potential matches are typically made within 4 to 6 weeks.
As Stern explained in an interview, "Once we take someone on board, we don't give up." She goes on to share that this belief extends to all clients, even those who may consider themselves 'too picky.'
Matchmaking packages include a 'Match-Mentoring' feature designed to empower clients on their journey to self-improvement. Simantov collaborates with global specialists in various fields to support each client's journey.
One of these specialists is Jo Hemmings, a Behavioral Psychologist and relationship coach who works with clients to facilitate the match mentoring sessions.
Another collaborating partner is Dr. Terri Orbuch, also known as "The Love Doctor." Dr. Orbuch is a therapist, speaker, author, and love expert based in New York. She's been working with Simantov to develop science-backed resources and course materials that encourage self-reflection.
According to Rachel Stern, this part of the matchmaking process is important for clients.
"When individuals go through the material, they can reflect on it and know what they're looking for in a partner."
As Simantov's London-based senior matchmaker Karina Datashvili explained in an interview, it's about more than just making a simple introduction.
"I believe that I need to help my clients not to disrupt everything after just one conversation – it's the reason why they need coaching."
Next, let's take a look at what some clients thought about Simantov's approach to matchmaking!
Simantov International Reviews

Simantov International has a 5-star rating on Google based on 3 reviews.
This client shared that she found someone special via the service:

And this client said he met the woman who is now his wife through Simantov International:

Simantov International reviews on Nicelocal resulted in a 4.3 rating.

One review was a duplicate from the Google Business profile, with 3 other reviews as well.
These former Jewish matchmaking clients both reported a positive experience:

The single negative reviewer shared that they were unhappy with service experienced, however a representative of Simantov International responded on the platform advising they were not able to verify that review as being from an actual client: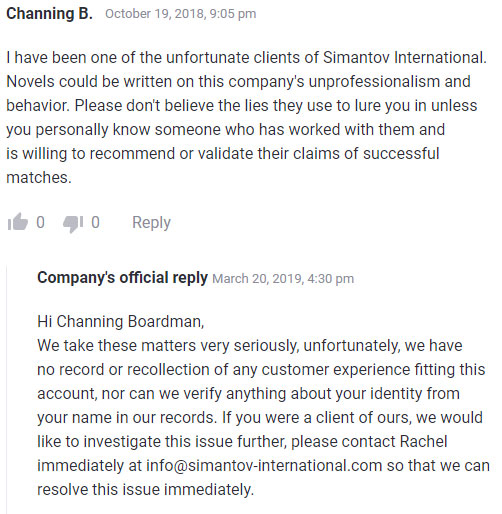 Now that you've seen what other clients are saying you might be wondering…
How Much Does Simantov International Cost?
Simantov International offers 3 levels of packages, allowing potential clients to choose which option suits them best.
The Discovery Package is meant to "test the waters", as their website explains. It does not include any active matchmaking. Instead, at this level your profile will be "searchable" for clients and the matchmaking team, meaning you may get matched with those who purchase a more expensive package.
If you want a matchmaker actively searching for compatible Jewish singles for you to meet, you'll need to purchase a Cosmopolitan or Premiere Package.
The Cosmopolitan Package includes a local search, while the Premiere Package includes an international one conducted by a senior matchmaker.
All 3 packages include at least one "Match Mentoring" session, which is dating coaching aimed at helping you make a good first impression.
When it comes to cost, that's revealed during your initial consultation. Like many matchmaking services, Simantov International doesn't disclose pricing on their website.
But to get you in the ballpark of what you can likely expect to spend, let's take a quick look at what other services offering Jewish matchmaking charge!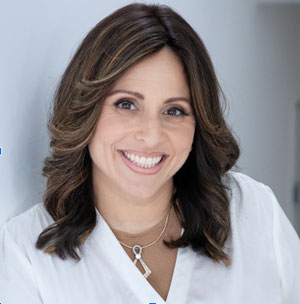 For instance, Aleeza Ben Shalom, known for her featured role in Netflix's "Jewish Matchmaking" offers packages ranging in price between $15,000 and $50,000. Her company, Marriage Minded Mentor, is based in Philadelphia but she works with clients across the US and Israel.
Jewish Match NYC, a branch of NYCity Matchmaking, offers packages that range from around $7,500 to $25,000+. The service is helmed by Michelle Frankel, who has been in the matchmaking industry since 2012.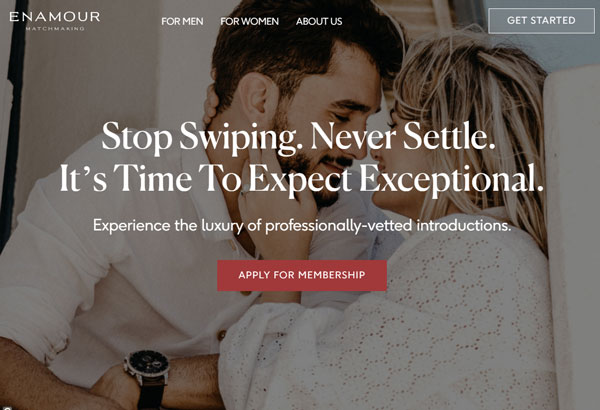 While not exclusively for Jewish singles, Enamour offers white glove matchmaking for those seeking a tailored experience. The matchmaking team maintains a highly curated database of singles that's invitation-only, and also works with an extensive network of scouts.
Enamour's reach is global, and your personal matchmaker will use a blend of psychology, AI, and old-fashioned intuition to identify and screen truly relationship-worthy matches for you to meet.
Enamour's matchmaking packages begin around $20,000.
VIDA Select is another matchmaking service worth considering. By taking a modern approach, VIDA's matchmakers are able to leverage the single largest source of eligible Jewish singles there is.
And unlike most other services, VIDA doesn't require a multi-month contract paid entirely up front. Instead, VIDA offers monthly packages on a pay-as-you-go basis, with the cost factoring in the number of hours your personal matchmaker devotes to your search each month.
Basic matchmaking services begin at $1195 per month, while Premium options begin at just $1795 per month. Elite services start at just $2595 per month. On average, clients meet someone special within only 3 months.
Intrigued? Learn more about VIDA here!
All product and company names are trademarks™ or registered® trademarks of their respective holders. Use of them does not imply any affiliation with or endorsement by them.
Why Choose VIDA Select?

Since 2009, thousands of clients have discovered true love thanks to VIDA Select's fresh, modern approach to matchmaking – which has finally thrown blind dates and long-term contracts out the window. This isn't your grandmother's matchmaking!
Instead of working with a single matchmaker using a small rolodex of potential partners, VIDA Select's matchmaking team taps into the world's largest database of available singles. We'll quickly identify the matches who check all of your boxes so you can finally experience true chemistry. Are you ready to become our next success story? Schedule your complimentary consultation now by clicking the button below!
Get Started Now