I hope you enjoy reading the blog post.
If you want my team to just do your Tinder for you, click here to chat with me.
Tinder Secret Admirer [What It Is & How It Works!]
Tinder Secret Admirer is a game that pops up periodically as you use the app. In a bid to break up the monotony of swiping, Tinder presents you with a card containing 4 hidden profiles.
The object of the game is guessing which one "liked" your profile. In other words, one of the choices is your Tinder secret admirer.
How Tinder's Secret Admirer Works
This isn't a game you can play on demand. For most users, it typically pops up when you're 10 to 15 swipes into a new session. You'll only see it once a day, if that.
When you select one of the hidden profiles, Tinder reveals if this is the Secret Admirer who already swiped right and Liked you.
You can then swipe right for an instant match, or tap the info icon to check out their profile. To pass on the match, simply swipe left.
If you guess incorrectly, you can still swipe right if you're interested once the profile is revealed. It just won't be an instant match.
Now, if you're curious how to get shown as a Secret Admirer on Tinder, the answer is simple. Make sure your account settings are not set to hide your profile. No one is seeing your profile if it's hidden, and the game only works when people can swipe right on you.
Is Secret Admirer Similar To Tinder's 'Likes You' Feature?
Secret Admirer is a way for Tinder to promote their paid subscriptions. At the end of the game, you'll get a pop-up asking if you want to unlock all of your Secret Admirers by getting access to your "Likes You" feed.
That's where you can instantly match with any profile you see, and it's a feature included with Tinder Gold and Tinder Platinum.
3 Ways To Get More Right Swipes On Your Tinder Pic
Tinder is all about the photos, even more so when yours is highlighted as a Secret Admirer. If the impression your profile photo makes right off the bat isn't favorable, your match rate will suffer.
Our Ultimate Guide To Tinder is packed with all the expert photo, profile and messaging advice you need to move things off the app with your hottest matches. So add that to your reading list, but for now here are 3 expert Tinder photo tips!
#1: Fly Solo
Group shots aren't ideal as a primary Tinder photo, because who's got the time or inclination to figure out which person is you? And guessing games are even more annoying in the context of the Secret Admirer feature.
For that all-important #1 profile photo, choose one where you're the only one in it. Headshot proportions, where it's cropped to show just your upper body and head, generally look best.
Using an image where you're also making strong eye contact with the camera also increases the odds of making an instant connection. Sunglasses tend to have the opposite effect, so save those for further on in your lineup.
#2: Do A Background Check
When it comes to your primary photo, it's not just about how you look. Your potential matches are noting all kinds of details, including what's going on in the background.
It's a process called 'thin slicing' that happens subconsciously, and in mere seconds. Everything visible in the frame comes together to inform her first impression, and that's largely going to determine which way that swipe is going.
Research has proven that less background noise makes for more appealing photos. To put it simply, the less your brain has to work to understand what's going on in an image, the more you will like it.
A simple photo works far better for a primary pic. Anything that distracts her focus away from you is not ideal.
#3: Mind The Lines
Photos are the most important aspect of your Tinder profile. But your bio is emblazoned across the bottom of it, so she's definitely going to at least glance at it. A bio that makes her cringe could quickly extinguish any spark she got from your primary pic.
Every line in your bio needs to support the overall goal: making you seem like someone she wants to meet. And that's doubly important for the portion of the text that displays on your primary photo, which is usually the first paragraph or so.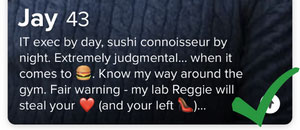 See the difference a great bio makes?
Want more examples? Check out these attractive Tinder bio ideas!
Want More Admirers On Tinder?
Let the dating experts at VIDA help! As you've no doubt realized by now, getting a Tinder match is only half the battle. You've still got to close the deal and get a date scheduled with your most interesting matches.
That requires time, effort and most of all finesse.
If it all seems like too much work and the dating app fatigue is kicking in, VIDA Select can do all your online dating for you. Our experts will optimize your profile and pics, then handle all your back and forth messages. Representing you in a genuine and authentic way online is what we do!
Find out if VIDA is the right approach for you. Start by going here to see if you qualify!
Want us to do your online dating for you?

Hey, I'm Ally, VIDA Select's Director of Matchmaking.
We take all the frustration, hard work and hassle out of modern dating!
Imagine your very own Dream Team of highly skilled dating experts searching for the very best local matches, sparking their interest, and arranging all the dates for you.
Wouldn't it be nice to finally stop swiping and start dating higher quality matches so you can meet someone special?
We've helped thousands of singles just like you since 2009, and we're ready to make you our next success story!
What are you waiting for? Take the next step now…
See If You Qualify