I hope you enjoy reading the blog post.
If you want my team to just do your online dating for you, click here.
7 Awesome Insights From "Modern Romance" By Aziz Ansari
Romance is hard. Romance in the digital age is even harder. But thanks to a ton of research, Aziz Ansari has given us plenty of insights into how to effectively navigate the modern dating scene.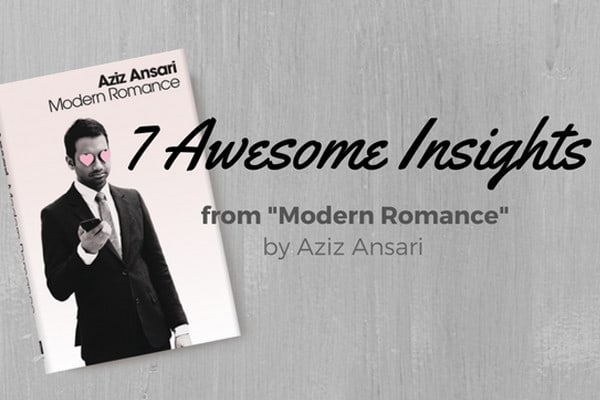 With his humorous, information-packed book, Modern Romance, Aziz Ansari gets into the nitty gritty of how modern romance works and what we should do if we want to find love in the 21st century.
Here are 7 awesome insights from Modern Romance by Aziz Ansari:
#1. More choices = more stress.
While you might initially think having literally hundreds of potential matches just a swipe away is a good thing, having so many choices can quickly become overwhelming.
As Aziz points out, apps like Tinder and Bumble are like carrying a singles bar in your pocket 24/7, and by pressing a few buttons you can immerse yourself in an ocean of romantic possibilities. That seems amazing at first, but "most modern singles quickly realize that it takes a ton of effort to stay afloat, and even more to find the right person and get to shore together."
With so many candidates for "The One" literally at your fingertips, it's easy to make snap decisions. But remember - you're not going to fall in love on the first date.
The reality is first dates are awkward. No matter how many times you have texted back and forth, it will always be different in person. So go on a couple dates, get to know the person, and then decide if they are a good match for you.
#2. Apps are great! Dating sites are great! But they are just the beginning.
Dating apps and websites should be considered an introductory tool and nothing more.
Aziz touches on something most online daters are familiar (and frustrated) with: the eternal conversation. You send messages back and forth endlessly, but you never actually meet. This way of using online dating platforms is dangerous - she'll give up and move on, sooner rather than later.
Instead of exchanging endless messages, try to take things off the site or app as quickly as possible. Unsure how to do that? Check out this article about how to ask a girl out online.
#3. "Ghosting" is a real thing - don't take it personally.
If you've spent any time on dating apps or websites, you are probably familiar with this. You're messaging back and forth with a hot girl and things are going well. Finally, you ask her out, and then… nothing. No matter how many times you try to reach out, you never hear from her again. She has officially "ghosted".
When you text someone and they don't text back after two or three days, they probably aren't very interested. Even if things are going well online, a lot of people get intimidated by the reality of actually meeting in person. Don't waste your time trying to revive these connections and move on to someone else instead.
As Aziz points out, the "scarcity principle" means sending less texts actually makes you seem more desirable: "Basically, we see something as more desirable when it is less available. When you are texting someone less frequently, you are, in effect, creating a scarcity of you and making yourself more attractive."
#4. There's a lot of game playing involved.
Even the apps themselves have been designed to make finding a match feel like playing a game. But the games don't end there - and you need to know the rules if you want to succeed.
For instance, when it comes to replying to her message, Aziz suggests waiting about 20 minutes to respond to a girl. "Don't text back right away - you come off like a loser who has nothing going on."
And, of course, there's the issue of grammar. Turns out your mom was right - people really do judge you on how you write.
Navigating the online dating game can be a tricky business, which is one of the reasons guys are outsourcing all their online dating to experts.
#5. Don't let online dating replace real life.
Let's imagine you're at a bar with a few of your friends. They go for refills, leaving you alone to wait at your table. A pretty girl smiles at your from across the room. What do you do? You open Tinder. WRONG.
This is one of the greatest dangers of online dating. It's great to use dating apps and websites to meet women, but do that when you are at home in your sweatpants. When you are out and about prioritize the real world and engage with the people around you. Who knows, you might even meet a girl who doesn't have a Tinder account.
#6. Don't get hung up on perfection.
As we said above, online dating sites and apps offer up a huge pool of singles to choose from, plus the ability to filter them based on things like what color hair they have and whether or not they own a car.
While advanced search filters can definitely help you narrow down the playing field, don't become obsessed with perfection and over-filter your matches. Aziz cautions that "Since our expectations are so high, today people are quick to break things off when their relationship doesn't meet them."
While he goes on to explain that he's talking about the "touch her hair/no boner" problem of having a soulmate fail to live up to the hype, that advice also applies to writing off matches based solely on superficial traits like eye color.
#7. How you ask someone out is incredibly important.
You might think asking someone out online would be easier than doing it in person, but it's still surprisingly difficult. In person she has to respond and you can read her body language, plus the chances are ten other guys aren't asking her out at the same time. Online, your odds aren't nearly as good.
If you really want to win at the online dating game, you need to follow all the rules, like knowing the difference between "hanging out" and asking for a date.
Aziz recommends being specific, since his research found that the vagueness of "Wanna do something sometime next week?" was a huge turn off. Instead, he found that the people interviewed "overwhelmingly preferred to have a very specific (and ideally interesting and fun) thing presented with a firm invitation."
We definitely agree, and we have a few more detailed recommendations here.
For even more awesome insights into dating in the digital age, you should definitely give Modern Romance a read. And if after reading this you're feeling like online dating is a lot of work, that's because it is. But it doesn't have to be.
Here at VIDA, our online dating experts know what works and what doesn't, and we've got the data to prove it. We can manage all your online dating sites and apps, from profile set up to all the tedious back and forth messaging.
Want to learn more? Schedule your free 20-minute confidential consultation!
Want us to do your online dating for you?

Hey, I'm Ally, VIDA Select's Director of Matchmaking.
We take all the frustration, hard work and hassle out of modern dating!
Imagine your very own Dream Team of highly skilled dating experts searching for the very best local matches, sparking their interest, and arranging all the dates for you.
Wouldn't it be nice to finally stop swiping and start dating higher quality matches so you can meet someone special?
We've helped thousands of singles just like you since 2009, and we're ready to make you our next success story!
What are you waiting for? Take the next step now…
See If You Qualify