I hope you enjoy reading the blog post.
If you want my team to just do your online dating for you, click here.
The 4 Best Millionaire Dating Sites [That Really Work!]
Ironically, dating sites claiming to be for rich professionals are a dime a dozen - and many of them simply aren't worth your time or your money.
Whether you're wondering how to meet a millionaire online or you're a successful professional with extremely high standards when it comes to your ideal partner, these are the 4 best millionaire dating sites to try!
Notice you won't find any "sugar daddy" type dating sites on this top list. If you're in the market for a "mutually beneficial" relationship, check out this list of the 7 best sugar daddy dating sites.
Otherwise, keep reading for a quick review of these millionaire dating sites, plus expert tips on how to get the best results on each one!
The League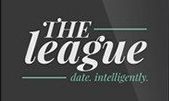 While it's not strictly for millionaires, you'll find plenty of them on this ultra-exclusive dating app. It even comes standard with a wait list & profile screening guaranteed to keep out the riff-raff.
According to app founder Amanda Bradford, education, professional achievement and ambition all weigh heavily in the screening algorithm, and you'll find plenty of people who also have a healthy dose of good looks on top of all that.
In other words, you'll find a lot of millionaires and future millionaires.
Right now, you'll find The League in over 160 cities, including these:
Atlanta, Austin, Boston, Charlotte, Chicago, Cleveland, Columbus, Dallas, Denvery, Detroit, Houston, Indianapolis, Kansas City, Los Angeles, London, Miami, Minneapolis, Nashville, New Haven, New York City, Orlando, Philadelphia, Phoenix, Pittsburgh, Portland, Raleigh, Sacramento, Salt Lake City, San Antonio, San Diego, San Francisco, Seattle, St. Louis, Tampa, Toronto, and Washington DC.
The app is free to download. You can continue using it for free but you'll be limited to only 3 matches a day, all of which you'll receive at 5 pm.
Paying members have 3 subscription choices - joining as a member, owner or investor. Pricing ranges from $99 for 1 week all the way up to $399 for 1 week. There are monthly options available as well.
The premium benefits include more matches, seeing who liked you, extra video dates and more.
Pro Tip: If you make the grade and pass the screening process, you're up against some fierce competition.

A strong primary photo is worth its weight in gold, so here's the 4-step formula for nailing an attractive photo - backed by science!:
Up the contrast so you don't risk blending into your surroundings.
Make sure you're the frames sole occupant.
Crop in to traditional "headshot" proportions - opt for chest and up.
Choose a pic where you make eye contact with the camera (and by extension, with whomever is checking you out!)
For a closer look at this popular dating app, check out this in-depth League review.
The League app is available for both iOS and Android.
Inner Circle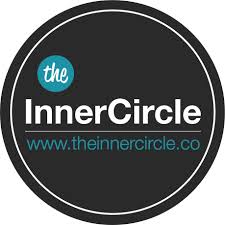 Much like The League, Inner Circle has both a verification process and a waiting list. But once you're in, you'll find yourself in the company of millionaires, CEOs, creative visionaries, and the like.
Inner Circle is available in more than 200 cites around the world.
On average, users are around 30 years old, and in tech, finance, or marketing/consulting. But if you're north of that number, never fear - according to one of the app's founders, it was designed for well-educated, successful corporate types in their mid 20s to mid 40s.
Sound like what you're looking for? The good news is at $260 a year it's more budget friendly than The League. While technically you can be a free member, you can't see your messages or matches. In other words, if you want to actually meet anyone, plan on subscribing.
Pro Tip: Be selective about your photos, and limit yourself to between 3 and 5. You're savvy enough to know that one bad photo can torpedo your chances with a high-quality match, so focus on quality over quantity.

Everything in the frame is going to get scrutinized. It's a subconscious process called thin slicing, wherein all the little details - from wrinkles in your clothing to what's visible in your surroundings - get cataloged and judged. And it happens in mere seconds.

Maybe you should err on the side of caution, and check out these tips for looking good online before choosing your photo lineup...
Want to get the full scoop on this elite dating app? Check out this Inner Circle review.
Get Inner Circle for iOS or Android.
Millionaire Match
Looking for a verified millionaire dating site? Look no further - Millionaire Match has that option.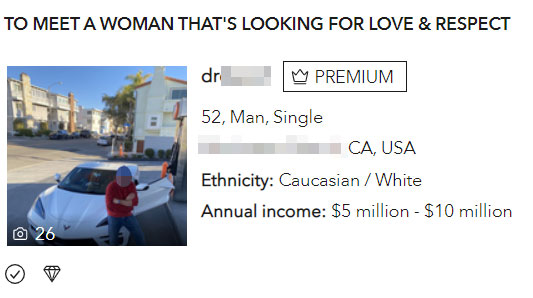 It involves jumping through hoops, the kind that involve submitting tax returns and the like, but that "Certified Millionaire" diamond icon you'll get in return is so, so worth it.
Most women on millionaire dating sites weren't born yesterday, they know not everyone claiming to be rich and successful has the zeros in their bank account to back it up. Thanks to that little badge, she'll know you do.
Besides, paid members have the option to limit their search results to only certified millionaires, so if that's you, why lose out on the opportunity?
That being said - making 6 figures isn't mandatory to have a profile on the site. But keep in mind that your match's expectations will be considerably higher than what you'd find on a free site like Plenty Of Fish.
You'll want a paid membership - if you're not a Gold member, you can't send messages, see who visited your profile, or access other premium features. Here are how the costs for a Gold membership breakdown:
$70 for 1 month
$135 for 3 months
$240 for 6 months
Also, if you need to limit your profile visibility due to factors like a high-profile career, Millionaire Match allows gold members to do that. (Want to see other sites that allow you to keep it discreet with private profiles and selective visibility? Check out this article.)
Pro Tip: Use the keyword search to save time and meet more matches. It's easy - simply choose a topic you're interested in that you'd like to have in common with your match, for instance skiing. Then, send a copy & paste message like this to any intriguing matches who use that word in their profile:



To learn more about Millionaire Match, check out this dating site review.
The Millionaire Match app is available for Android devices.
Luxy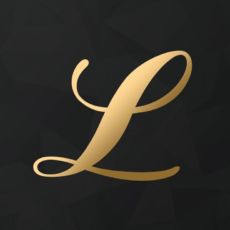 Luxy bills itself as the #1 millionaire's matchmaking app, and attracts plenty of singles who are both rich and beautiful.
But here's the twist - the other members have to vote you in during a 24-hour "vouching" process. If you want in, your "approval rating" has to end up at 50%, minimum.
But don't worry - there's a back door, if you make over $200,000 per year and can prove it.
Like Millionaire Match, there's a millionaire verification process - all you have to do is submit a pic of your driver's license and your tax return.
Or just subscribe to Luxy Black, that gets you in as well. Here's what it will cost you:
$58.99 per month for 6 months
$79.99 per month for 3 months
$99.99 for 1 month
Perks include the ability to message anyone you want, even if you're not matched yet, and access to the premium search features like income, location, and verification status.
Pro Tip: Singles on Luxy have high standards, just like you do. Use your photos to showcase what a fun, adventure-filled life you lead - and make your matches want to join you in it. Snaps of your exciting hobbies and travels are practically mandatory.
Want to learn more about this millionaire dating site? Check out this Luxy app review!
The Best Way To Be Successful On Millionaire Dating Sites
Chances are you don't have a ton of free time to spend creating your profile, screening your matches, and sending message after message. For most people, the more successful they are professionally, the less time they have to actually get out and meet people - online or otherwise.
That's where VIDA comes in. Our matchmaking service is designed for successful professionals like you. We'll handle everything, from start to finish - including scheduling dates with hand-selected, highly curated matches that you get to pre-approve!
When your standards are high, there simply is no better way to meet your ideal partner. Learn more about how VIDA's modern dating service works!
Want us to do your online dating for you?

Hey, I'm Ally, VIDA Select's Director of Matchmaking.
We take all the frustration, hard work and hassle out of modern dating!
Imagine your very own Dream Team of highly skilled dating experts searching for the very best local matches, sparking their interest, and arranging all the dates for you.
Wouldn't it be nice to finally stop swiping and start dating higher quality matches so you can meet someone special?
We've helped thousands of singles just like you since 2009, and we're ready to make you our next success story!
What are you waiting for? Take the next step now…
See If You Qualify