I hope you enjoy reading the blog post.
If you want to chat now about your matchmaking search, click here.
DC Singles Reviews - Legit or Scam? [Real Reviews + Cost!]
Want the real scoop on DC Singles? Keep reading for all the information you won't find on their website - like cost and actual customer experience!
From the boutiques to the biggest industry players, our team has reviewed over 200 matchmaking services. Our insight comes from 14+ years of experience in the industry, comprehensive research, real customer reviews, and a keen understanding of the matchmaking landscape.
These DC Singles reviews have everything you need to decide if they're a Virginia matchmaking service worthy of your time and hard-earned money.
And at the very end of this matchmaking service review, you'll also discover another, more modern way to meet your soulmate that may be the perfect solution for you!
First, The Big Picture...
DC Singles is located at 7700 Leesburg Pike in Falls Church. But the person who owns this matchmaking service isn't quite so local.
According to the Better Business Bureau's research, DC Singles is owned by William Broadbent. He is associated with a whole network of 100+ matchmaking websites around the country: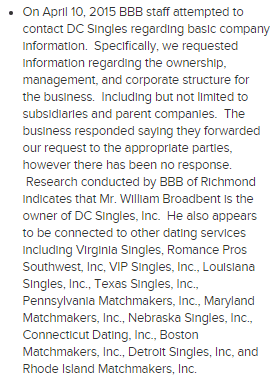 These websites, like Connecticut Dating, Maryland Matchmakers, and Boston Matchmakers, all have a similar look and feel:
And the process for reaching out to a matchmaker is the same. Simply submit your name, email address, and phone number via the short contact form on their website, and DC Singles will get in touch with you.
A Privacy Policy You Should Review
But before you "verify you're real", you may want to discover just what "we respect your privacy" means and click on the Privacy Policy at the bottom of the screen.
Who reads those, right?
Here are some tidbits you may be interested in knowing:
In other words, you're giving them permission to display targeted banner ads online. And call you with telemarketing offers.
As they say in the biz, but wait - there's more:
DC Singles is likely selling your private contact information as a sales lead to third parties. Which will in turn be calling you with products & services they hope to sell you.
In other words, they've likely already made some money off you. And you haven't even spoken with a matchmaker yet!
If you do go ahead and click "Complete", you'll be given the chance to answer some questions that your matchmaker can reference during the initial phone call with you:
But you don't have to complete the form. You can just wait and discuss the answers when a DC Matchmaker calls.
This initial phone call isn't very long. First she'll get to know a bit about you and your dating goals. Then she'll schedule an appointment for the in-person interview at their office.
That's where all the most important details, like their membership packages and how much their matchmaking service costs, will be discussed.
So How Much Does DC Singles Cost?
Like the rest of the matchmaking websites affiliated with William Broadbent, you won't find any actual prices listed. That's because the price quoted during the sales pitch isn't the same for everyone.
Factors affecting the bottom line include your current credit/financial situation, the length of your contract, and any promos or sales that are running at the time you come in.
You'll also likely find you can negotiate the first offer down a bit. Just be prepared for sales tactics designed to keep that number as high as possible.
The final price tag often ranges from $2,500 to $9,000.
Both the cost and the agreed upon number of matches will be spelled out in your contract. But make sure you read *all* the fine print so you have a clear picture of what you're committing to. DC Singles doesn't refund matchmaking fees.
Actual Customer Experience With DC Singles
This Virginia matchmaking service was the subject of a 7 On Your Side I-Team investigation, and reporters talked to two single women who were unhappy with the service:
The other client was provided a match she'd consider dating, but was unimpressed with the rest:
They weren't the only unhappy customers who brought their complaints to the news.
NBC4 Responds also investigated DC Singles after multiple women complained they were unable to receive refunds within hours of signing their contracts, even though no services had been performed yet.
DC Singles Yelp Reviews
Reviewers on Yelp were likewise unimpressed.
DC Singles has a 1-star rating based on 36 recommended reviews, all of which were 1-star.
DC Singles complaints included the matches promised during the sales pitch not living up to the matches actually presented, as was the case in these 3 DC Singles reviews:
Of the 18 not recommended Yelp reviews for DC Singles, the vast majority are 1-star, with only 2 people giving them a 4-star review:
The other DC Singles reviews mentioned lack of matches, poor customer service, and dates with people who feel way short of the specified "ideal match" criteria.
Here is a sampling:
Internet reviews aside, there's really no way to predict what your actual experience with DC Singles will be.
But whenever there's a pattern of complaints that make the local news, you may want to proceed very carefully before committing to a lengthy contract.
For that matter, maybe you'd be more comfortable hiring a matchmaking service that's so confident in its ability to find your ideal partner, they don't even require a contract?
Meet Amazing Local Singles - The Modern Way!
Paying up front for a year's worth of matchmaking services when you just met your matchmaker could feel like a risky proposition.
If that's the case, why not hire a matchmaking service like VIDA Select that allows you to pay on a monthly basis, without committing to a long-term contract?
That means you have the freedom to stop and restart your matchmaking service whenever you want, for any reason!
VIDA's services start at $1195 for a Basic matchmaking package. Premium matchmaking options start at only $1795, and Elite packages begin at $2595. All packages are paid on a month-to-month basis, and the price highly reflects the total number of hours that should be used in the search for highly compatible matches.
Our elite matchmakers have DC's largest database of high-quality, eligible singles right at their fingertips. So the average VIDA client starts a serious relationship within the 2nd or 3rd month of service!
If you're tired of being single in the DC area, you owe it to yourself to see how VIDA can change your life.
It all starts with a quick no-pressure, totally free phone call with one of our matchmakers.
Click here and see what VIDA can do for you!
All product and company names are trademarks™ or registered® trademarks of their respective holders. Use of them does not imply any affiliation with or endorsement by them.
Why Choose VIDA Select?

Since 2009, thousands of clients have discovered true love thanks to VIDA Select's fresh, modern approach to matchmaking – which has finally thrown blind dates and long-term contracts out the window. This isn't your grandmother's matchmaking!
Instead of working with a single matchmaker using a small rolodex of potential partners, VIDA Select's matchmaking team taps into the world's largest database of available singles. We'll quickly identify the matches who check all of your boxes so you can finally experience true chemistry. Are you ready to become our next success story? Schedule your complimentary consultation now by clicking the button below!
Get Started Now