I hope you enjoy reading the blog post.
If you want to chat now about your matchmaking search, click here.
Get Ready To Date Review [Best Rhode Island Matchmaker?]
Rhode Island matchmaker Debra L'Heureux has been helping singles get back into the dating scene for over 5 years, but is she the right fit to find your ideal partner? This Get Ready To Date review will help you decide!
Our team of matchmaking experts has reviewed more than 200 services, diving deep into processes, real client experiences, and more.
With over 14 years of firsthand industry experience, we're well acquainted with what singles value most in a matchmaker.
Get Ready To Date Review Table Of Contents:
Let's start with meeting the founder!
Meet Barrington Matchmaker Debra L'Heureux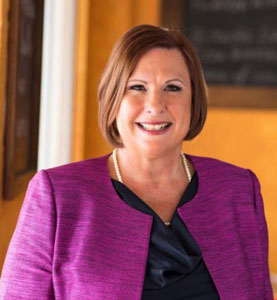 Debra L'Heureux firmly stands by the belief that "it's never too late to dream a new dream and have the courage to love again." This philosophy stems from her own life-changing experience when, at the age of 49, she found the love of her life.
In fact, that experience is what eventually led L'Heureux to leave her job in academia and become a professional matchmaker.
Before striking out on her own, she spent 10 years as a matchmaker with Great Expectations, then nearly 3 years working with Florida matchmaker Mimi Lee, founder of My Top Matchmaker, in Sarasota, Florida.
Then, in 2017, L'Heureux branched out on her own and established Get Ready to Date, headquartered in Barrington, Rhode Island.
L'Heureux primarily works with singles who are dating over 40, generally those reentering the dating scene after being either widowed or getting divorced.
Guided by the belief that life is full of opportunities, L'Heureux assists her clients in developing their dating skills and finding someone special.
As she explained in an interview, "One of the things I do is help people fall in love with themselves," recognizing that healing and self-love after traumatic events takes time.
From her experience, L'Heureux understands working with widows offers unique challenges such as helping them forgive themselves for seeking life and love after losing a spouse.
"They need to give themselves permission to date," as she puts it. She shared in an interview that these qualities define her approach to matchmaking.
In her own words,
"My clients say I have a discerning and passionate heart and am a consummate romantic. I possess the tenacious resolve of a headhunter to introduce clients to their next great love."
The Get Ready To Date Matchmaking Philosophy
L'Heureux emphasizes that matchmaking is not a quick fix.
"Matchmaking is a process. It takes time. Some people want instant results, but they have to be patient. I take between 15-18 hours per match."
A fundamental part of her philosophy revolves around creating adequate space in one's life to accommodate love.
L'Heureux observes that while many people express the desire to find love, they are often not prepared to make consequential adjustments in their lives to welcome that special someone.
As she explains, "they're kind of in denial", often doing things like packing their schedule full of obligations that draw attention away from finding love.
L'Heureux advises her clients to designate time for self-reflection, and understand their wants and needs from a partner before trying to enter into a committed relationship.
She has also found that oftentimes people just rely on physical attractiveness and neglect other areas of compatibility, like shared interests.
She explained it this way to Sarasota Magazine,
"The biggest mistake people make is when they decide to date someone based on physical appearance alone. There has to be a physical, emotional, and intellectual connection. You need to have all three."
L'Heureux asserts that anything less than "mad, passionate love" is a squandered effort.
"There are too many mediocre things in life and love should not be one of them."
Becoming A "Get Ready To Date" Client
The first step for potential clients involves submitting a request online, followed by a phone call.
These initial steps set the stage for what L'Heureux refers to as your "Breakthrough Consultation," which is an in-person interview to better understand your specific needs.
This complimentary 90-minute consultation offers dual insights. You'll gain an understanding of L'Heureux's matchmaking process, and she'll learn all about your dating history and preferences regarding your potential matches.
If you both agree to work together, L'Heureux proceeds with client screening that involves a background check and employment verification. Assuming you pass, the process gets underway.
First, L'Heureux crafts what she describes as your "second chance for love blueprint."
She works closely with each client to make sure they're emotionally ready for a relationship. When she feels you're ready to start meeting new people, the search begins.
You'll meet matches she sources from her database, or she'll search outside of it as well. As she describes it in an interview with Hey Rhody,
"I comb New England to find quality matches that clients would not find on their own."
Throughout the search, she says she works to keep her clients' expectations realistic. For example, she tells people "I won't match a 75-year-old man with a 35-year-old woman."
Once a suitable match has been identified, L'Heureux organizes the first date at a local restaurant.
She keeps clients' personal information confidential from their match, and vice versa. In her own words, "They speak through me if they want to see the person again."
So, does her process work in practice? Let's see what some clients had to say about their experience!
How Much It Costs To Hire Matchmaker Debra L'Heureux
L'Heureux doesn't disclose her pricing online. Prices vary depending on the length of your contract, scope of your search, and other factors. Package options and the final cost will be discussed during your initial consultation.
That being said, in complaints filed with the BBB one client reported spending $2,500 for a year-long contract that included 12 matches, and another said she spent $4,990.
Get Ready To Date Reviews
Get Ready to Date has a 4.7 rating on their Google business page, based on 15 reviews.

Get Ready To Date's google reviews were predominately 5 star, with some clients mentioning L'Heureux's professionalism:


This client shared he was happy with the support he got, and said he gained confidence throughout the process:
The sole 1-star Get Ready To Date Google review mentioned a lack of matches:
On Yelp, this Rhode Island matchmaking service has a 1-star rating based on a handful of reviews.
There was a common theme among the Yelp reviews, with 3 out of the 4 reviews mentioning a limited database and lack of dates.
For instance, this client regretted signing up after only going on 4 dates in 18 months:

Similarly, this client said she only went on 3 dates in 8 months, and thought 2 were incompatible matches:
There were also 3 'not currently recommended' reviews, 2 of which were positive:
Debra's L'Heureux's matchmaking service has an A- rating with the Better Business Bureau. There are no Get Ready To Date reviews on the BBB website, but there are 2 complaints filed. Both cited a lack of compatible matches and a perceived lack of communication from the company.
Is Debra L'Heureux The Best Rhode Island Matchmaker For You?
When choosing a Rhode Island matchmaker, you've certainly got a few options. Checking out matchmaking service reviews is the logical place to start narrowing them down. But don't just skim the star ratings!
Use the first-hand client accounts as a way to formulate insightful questions to ask during your initial consultation. And the company's public response to those reviews often give you a peek into their approach to customer service.
Other considerations to factor into your final hiring decision include the vibe you get during that consultation, as well as more practical aspects like where your matches come from.
Traditional matchmakers predominately pull matches from an internal Rolodex, or match you with other paying clients. And while that approach can be effective, keep in mind compatibility has to flow both ways.
For a match to be successful, they have to check all your boxes, and vice versa. Making consistently high-quality matches is difficult for any matchmaker to do from a limited database in any one city - and that's why one of the most common industry complaints is meeting incompatible people.
Enamour, for instance, is an elite matchmaking service that might also be on your radar. Enamour's team has an exclusive, invitation-only database, but they also utilize high-tech recruiting tools as well as a network of scouts to identify compatible singles from both online and offline sources.
VIDA Select is another option Rhode Island singles should consider if they're serious about finding their ideal partner. VIDA's modern approach leverages the single largest source of eligible singles there is.
That means you can look forward to first dates with singles who meet your compatibility requirements, who are also excited to meet you! VIDA offers one other twist on traditional matchmaking, too.
When it comes to contracts, VIDA opts for a pay-as-you-go approach. Instead of committing to a 6, 9, or 12-month contract, you simply pay for each month you want service.
The cost of each package highly aligns with the number of hours your matchmaker will use for your search. On average, VIDA clients meet someone special within just 3 months of joining the service!
Intrigued? See if VIDA Select is right for you - get started here!
All product and company names are trademarks™ or registered® trademarks of their respective holders. Use of them does not imply any affiliation with or endorsement by them.
Why Choose VIDA Select?

Since 2009, thousands of clients have discovered true love thanks to VIDA Select's fresh, modern approach to matchmaking – which has finally thrown blind dates and long-term contracts out the window. This isn't your grandmother's matchmaking!
Instead of working with a single matchmaker using a small rolodex of potential partners, VIDA Select's matchmaking team taps into the world's largest database of available singles. We'll quickly identify the matches who check all of your boxes so you can finally experience true chemistry. Are you ready to become our next success story? Schedule your complimentary consultation now by clicking the button below!
Get Started Now