I hope you enjoy reading the blog post.
If you want to chat now about your matchmaking search, click here.
My Top Matchmaker Reviews [Best Sarasota Dating Service?]
Looking for My Top Matchmaker reviews is a savvy first step if you're thinking about hiring Mimi Lee's Sarasota matchmaking service.
This review is packed with all kinds of helpful information, from how she got started to how much you can expect to spend and more. From the small independents to the big industry players, our team of experts has reviewed over 200 matchmaking services.
Our insight comes from in-depth research, real customer reviews, and a deep understanding of the matchmaking landscape that comes from 14 years of experience in the industry.
This review has everything you need to decide if she's the right Florida matchmaker for you!
My Top Matchmaker Review Table of Contents
Let's dive in!
Meet Mimi Lee, MTM Founder
Mimi Lee was born in SWFL, and MyTopMatchmaker is based in Sarasota with an office in Naples as well. But Lee actually debuted as a matchmaker on the West Coast in the late 1990s, working for millionaire matchmaker Patti Stanger.
As she told Gulfshore Life, Mimi founded MyTopMatchmaker about 15 years later, bringing her matchmaking service back to her Florida roots.
She credits her intuition for her success at matching up clients, and says she takes the "opposites attract" approach.
It's friction that causes the flames to ignite; let me hear your story, your character, your passion, and ambitions, as for your hobbies.... well, hobbies are nice.... but I'm always on the hunt for the elixir of spice!
So that's the theory behind her matchmaking service… Now let's take a look at how it works in practice!
What To Expect From My Top Matchmaker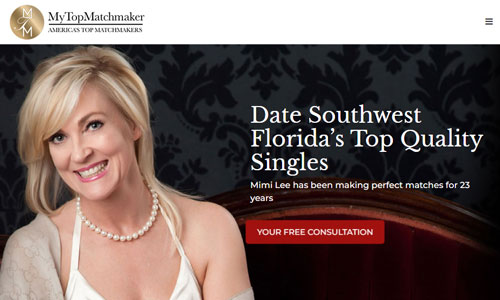 Lee specializes in helping Florida singles in their mid 40s+. She described her typical clientele to Sarasota Magazine, saying:
A lot of them have already been married and they haven't dated in 20 years or are widowed after being married 50 years or more. I help them get started and feel comfortable about going out.
Potential clients start with a free initial consultation. As with most matchmaking services, this is where you'll learn the basic details of how the service works, what it costs, and other contract details.
According to MTM's website, approximately 75% of potential clients wishing to hire the service are accepted.
Criteria for acceptance include providing proof of identity, going through a background check and consenting to (and passing) a "five panel drug test via oral swab."
Assuming those criteria aren't a dealbreaker, if you agree to the terms of her contract you'll join her internal database of 1200+ clients.
Once you've come on board as a client, you'll have a much more in depth interview. This is where Lee and her team get all the details they'll need to match you with other clients.
As she explains,
I sit and talk with all my people for at least two and a half hours. And my intuition, because I've been doing this for so long, helps me match people up.
What she doesn't use is an algorithm, proclaiming on her website that "We pride ourselves on not using a computer program to predict a date; our work is all hand crafted."
In an interview with Coastal Breeze News, Lee shared that she's good at "coaxing out" all the details that will help her make good matches. She said it really all comes down to one factor…
In figuring out who I match as a pair, it always comes down to one thing that I trust more than anything else, and that's my opinion.
Once she's found another client she feels is a good match for you, and there's mutual interest in meeting each other, all the first date details are arranged.
Now that you know how her service works, the next logical question is…
How Much Does My Top Matchmaker Cost?
Like most professional matchmaking services, Lee does not post her prices anywhere online. But based on MyTopMatchmaker reviews online, it seems her services start around $5,000 and increase depending on how many dates you'd like.
To learn more about what professional matchmaking services typically cost, just click the link!
My Top Matchmaker Reviews
Mimi Lee's Florida matchmaking service has generally good online reviews. My Top Matchmaker has an A+ rating with the BBB, with no reviews or complaints as of yet.
On Google, the dating service has 4.8/5 stars, based on 40+ reviews.
This reviewer liked that you paid for a specified number of dates, rather than a set length of time. She also thought not seeing a photo of her match before the first date made the process exciting and allowed her to keep an open mind: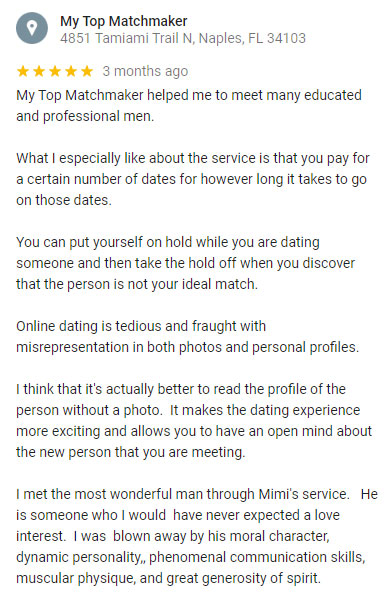 This reviewer said he met many interesting women through the service, and that it was the best option for anyone who has the resources: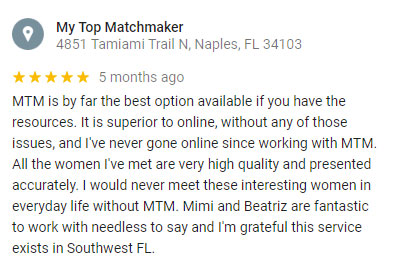 Most of the Google reviews were 4 or 5-stars; only 2 were 1-star. Both had to do with the cost, although it was unclear if they were from actual or potential clients:
Google seems to be the main place where you'll find MyTopMatchmaker reviews, as Mimi Lee has yet to be reviewed on other platforms like Yelp or TrustPilot.
How To Leverage Matchmaking Service Reviews
Online matchmaking service reviews are only one piece of the puzzle. They are subjective by nature, but can be a useful tool in helping you decide if the service would be a good fit.
Use the details in the reviews to formulate insightful questions you can ask during the initial consultation. For example, let's take a look at 3 excerpts from the reviews shown earlier.
Excerpt #1:

For many people, physical attraction is a key component of chemistry.
Some matchmaking services allow clients to approve or pass on matches based on a full profile that includes photos. Other services go the blind date route, or take a multi-tiered approach where the level of service that includes photos costs more.
You'll often find that traditional matchmakers working from a limited rolodex are also the ones who don't reveal photos prior to a first date.
That could be because they genuinely want you to give matches they feel are compatible a chance. But it could also be because they simply don't have many options to pair you with - and they don't want to give you a reason to pass before you've even met.
Depending on how you feel about blind dates, the highlighted sentence might prompt you to clarify whether or not you have the option to see photos of a match before agreeing to invest time and money on a date.
In that same review, the client mentions this...
Excerpt #2:

That detail brings up another important consideration when hiring any matchmaking service.
Are you comfortable signing up for a predetermined number of dates over a non-specified time frame, or would you prefer a defined end date?
There is no right or wrong answer - it's entirely based on your preference.
Some matchmaking services offer unlimited matches but you're committed to (and usually paying up front for) 6, 12 or even 24 months of service. That means whether sparks fly with your very first match or your 20th match, you're paying the same amount.
Other services, like VIDA Select, offer packages that are paid on a month-to-month basis.
And here's one more consideration, possibly the most important of them all:
Where your matches come from!
Excerpt #3: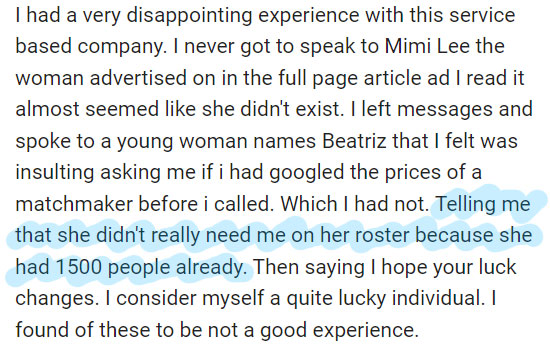 In this review from earlier, the writer mentions a client roster of 1500. And while the review itself needs to be taken with a big grain of salt as it's not clear she actually used the service, it does bring up an important point you'll want to clarify with any matchmaker you're thinking of using.
Where do they find your matches?
Many boutique matchmakers match clients with other clients, and are working with a limited number of profiles to pull from. And that's why meeting low-quality, incompatible people is a common complaint you'll read in matchmaking service reviews.
They simply don't have the number of people needed to make high-quality matches, because compatibility has to flow both ways.
That's why VIDA Select's modern approach to matchmaking is often the most effective!
The Best Way To Meet Truly Compatible People
VIDA Select's matchmaking team doesn't rely on a limited client roster - they have direct access to Florida's largest pool of eligible singles.
That means you're not crossing your fingers that your soulmate signed up for the same service you did, or settling for dates that are ultimately disappointing because your match didn't meet all your important compatibility criteria.
With VIDA Select, you have the power to approve or pass on every single match, based on a full profile and photos. And the matchmaking service is paid monthly! That means if it's not quite the right fit for you, simply don't continue with another month of service.
If you're ready for a matchmaking service that puts you in control of the process, why not see if VIDA Select is right for you? Click here to learn more!
All product and company names are trademarks™ or registered® trademarks of their respective holders. Use of them does not imply any affiliation with or endorsement by them.
Why Choose VIDA Select?

Since 2009, thousands of clients have discovered true love thanks to VIDA Select's fresh, modern approach to matchmaking – which has finally thrown blind dates and long-term contracts out the window. This isn't your grandmother's matchmaking!
Instead of working with a single matchmaker using a small rolodex of potential partners, VIDA Select's matchmaking team taps into the world's largest database of available singles. We'll quickly identify the matches who check all of your boxes so you can finally experience true chemistry. Are you ready to become our next success story? Schedule your complimentary consultation now by clicking the button below!
Get Started Now