I hope you enjoy reading the blog post.
If you want to chat now about your matchmaking search, click here.
Meet JoAnn Ward [Is Master Matchmakers Right For You?]
JoAnn Ward has been in the matchmaking industry for decades - you may even recognize her from VH1's reality show "Tough Love". But you're here, so you're probably wondering if Master Matchmakers is the right service for you.
Our team of experts has reviewed over 200 matchmaking services, diving into their processes, success rates, costs, and customer experiences. With our industry experience dating back to 2009, our reviews are built on extensive research and a keen understanding of the matchmaking landscape.
Coming up, you'll discover everything you want to know about matchmaker JoAnn Ward, from her approach to how she got started.
JoAnn Ward Review Table of Contents:
Let's dive in!
JoAnn Ward's Matchmaking Roots
Before she started making love connections, JoAnn Ward was a matchmaker of a different sort. She was a headhunter in Washington, D.C., working in the legal industry matching attorneys with other attorneys.
In an interview with Natfluence, JoAnn says that she learned a lot about the people she was connecting with. She found herself thinking, "This person would be so cute with so-and-so!"
She started introducing the singles she thought would like each other, and eventually word spread about the romantic matchmaking she was doing on the side. People began calling her because they wanted to meet someone special.
JoAnn also told Natfluence that she realized she had this big database of people, and realized she could start a business around it. But she knew she lacked industry experience, so she began working for different dating services to learn what worked, and what she thought she could do better.
In 2002 she launched Master Matchmakers, with her son Steve Ward coming on board a year later. 
In addition to matchmaking, the two of them went on to co-host a reality show based around a woman's dating bootcamp. Called "Tough Love," it ran on VH1 for a few seasons starting in 2009.
The duo also co-authored "Crash Course in Love", which imparts all their dating and relationship wisdom.
For example, JoAnn believes love is created from a connection that flows both ways. Otherwise, it's just lust.
She also believes that dating is a game, and you have to know how to play it correctly to get anywhere. Or have the right coach guiding you…
Now that you know the backstory, let's take a closer look at Master Matchmakers!
Master Matchmakers At A Glance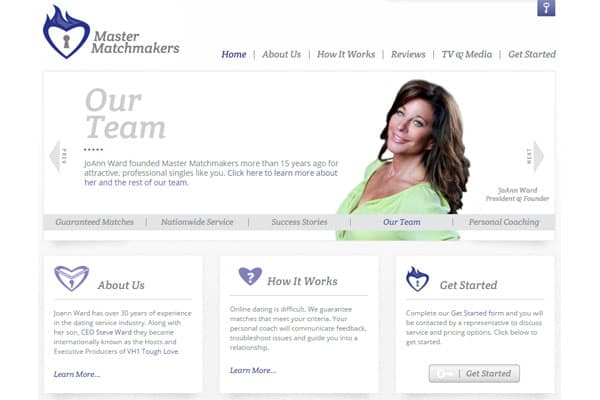 Master Matchmakers was originally based in Philadelphia, but JoAnn and Steve Ward have since moved the headquarters to Palm Beach, Florida. It has also expanded over the years, offering services to singles nationwide.
Paying clients are matched with singles from their internal database. If your package allows for it, matches can potentially be scouted from other sources as well.
When a potential candidate is found, you'll be presented with the other person's profile, photo, and reasons why the team believes it's a good match. If the interest is mutual, contact information is swapped.
At that point, the two of you can make arrangements to meet in person.
JoAnn Ward believes that you don't need to meet a lot of people when you're dating. Just the "right" people.
As she told Natfluence,
"When you're on Bumble or Tinder, or another service, it's a crapshoot. It's just a lot of work. When you hire a matchmaking service or a dating service, there is accountability."
After each date, you have the opportunity to check in with Master Matchmakers and provide detailed feedback on the quality of the match.
Next, let's take a look at what it costs to have the Wards head up the search for your ideal partner.
How Much Does It Cost To Hire JoAnn Ward?
Master Matchmakers packages range from $2,500 to $15,000+, which includes personal matchmaking and date coaching services.
There is also a $450 "qualification fee" that covers administrative costs associated with your interview, background check, and addition of your profile to the database. The total package cost varies depending on who you work with, how many coaching sessions you want, and other factors.
For more information about pricing, check out this rundown on Master Matchmakers costs.
Curious what former clients have to say about their experience? Read our detailed review of Master Matchmakers next!
All product and company names are trademarks™ or registered® trademarks of their respective holders. Use of them does not imply any affiliation with or endorsement by them.
Why Choose VIDA Select?

Since 2009, thousands of clients have discovered true love thanks to VIDA Select's fresh, modern approach to matchmaking – which has finally thrown blind dates and long-term contracts out the window. This isn't your grandmother's matchmaking!
Instead of working with a single matchmaker using a small rolodex of potential partners, VIDA Select's matchmaking team taps into the world's largest database of available singles. We'll quickly identify the matches who check all of your boxes so you can finally experience true chemistry. Are you ready to become our next success story? Schedule your complimentary consultation now by clicking the button below!
Get Started Now