I hope you enjoy reading the blog post.
If you want to chat now about your matchmaking search, click here.
Master Matchmakers Review - Is This Dating Agency Legit?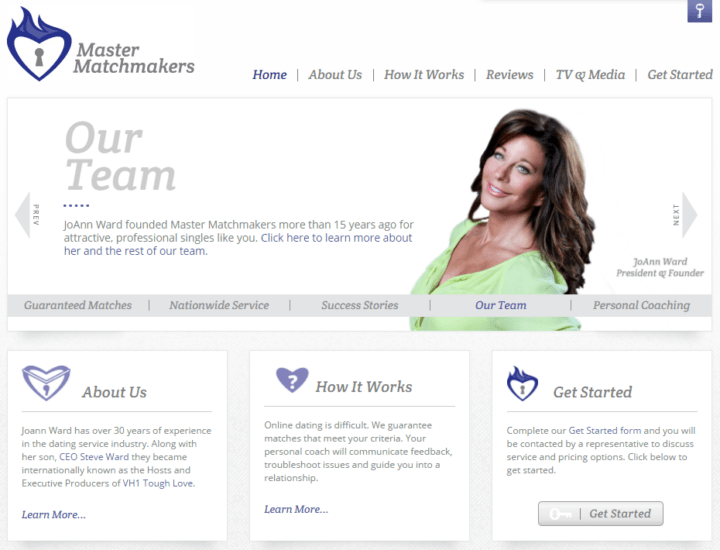 You're looking for Master Matchmakers reviews, so you're probably wondering if a couple of television personalities can really find your ideal partner.
You may recognize JoAnn Ward and her son Steve Ward from VH1's matchmaking show Tough Love, which they hosted from 2009-2013. They also wrote a book called "Crash Course In Love."
Is this mother/son duo the right matchmaking service for you? This Master Matchmakers review will help you decide!
Our team of experts has reviewed more than 200 matchmaking services, delving deep into their operations, success rates, and customer experiences. Our reviews are built on comprehensive research and a keen understanding of the matchmaking industry that comes with having 14+ years of first-hand industry experience.
Master Matchmakers Review Table Of Contents
Let's jump in!
Master Matchmakers At A Glance

Master Matchmakers was founded in Philadelphia over 20 years ago by JoAnn Ward.
Now headquartered in Palm Beach, FL, this dating agency works with affiliated professional matchmakers in cities across the nation. Locations include Washington DC, Los Angeles, Chicago, New York, Dallas, and Boston.
How Much Does Master Matchmakers Cost?
The price of this matchmaking service starts at $2,500, which includes a combination of date coaching and personal matchmaking.
Your final cost will be determined by the amount of coaching you receive (if any), which dating coach you use, how many matches you want, and how many matchmakers you'd like working on your behalf.
Included within that package price is a non-refundable $450 "Qualification Fee," which covers your interview, background check, and your profile's addition to their database of eligible singles.
How Master Matchmakers Works
There's no set time frame on the service, as you're simply paying for a set number of matches. When your matchmaker finds a suitable candidate, you'll receive a profile along with the reasons why they believe you would be a good match.
There's no limit on the number of profiles you can review. When you accept an introduction, phone numbers are exchanged so you can get acquainted and make plants to meet. Once you've met someone in person, it counts as a match.
You can pause your service at any time by asking your matchmaker to put your service on hold. When you're ready to meet more people, Master Matchmakers will start your search again.
Your profile will remain in the Master Matchmakers database until you let them know you're no longer on the market. That means you could still be matched with other clients, even if you've already used up the number of matches you purchased. If you want an active search to continue on your behalf, you can pay for more matches.
Master Matchmakers does offer partial refunds, but only in certain circumstances.
For instance, if you meet someone right away and don't need to use your remaining introductions, a prorated portion of your matchmaking fee may be returned. Some services, like the $450 Qualification Fee and coaching fees, are not refundable.
Becoming A Client
The first step is scheduling an initial consultation. Prospective clients can do that by filling out a short form, calling directly, or requesting a consultation via a calendar on their website.
If you decide to move forward with this professional matchmaking service, you pay the entire fee up front through their website and sign the contract.
Before your search begins, you'll go through a coaching process with your personal matchmaker that's broken into 3 hour-long Skype sessions.
The Coaching Process
During the first hour, you'll describe yourself and your relationship goals. This hour is devoted to getting to know you - your hobbies, interests, career, background, etc.
You'll spend the second hour discussing exactly what you're looking for in your ideal partner. Master Matchmakers also delves into past relationships, so be prepared to answer questions about what's worked for you, and what hasn't, in your last marriage or long-term relationship.
JoAnn Ward says she puts a huge emphasis on getting to know you in detail, so that she can find a partner who fits your personality.
The third hour is devoted to discussing what-if scenarios and preparing for all possibilities.
Once the three Skype sessions are completed, your matchmaker will search for people who meet "as much of your criteria as possible."
Your Matches
Members are matched with other members in the database. But matchmakers will recruit from outside the database if needed.
When a suitable candidate is found, you'll receive a profile and photo of your match. If the interest is mutual, your matchmaker will exchange phone numbers on your behalf.
From that point, it's on you to call the match and coordinate a date. Once you've met in person, it counts as one of your matches. After the date, you can provide feedback on the quality of the match.
JoAnne Ward believes that you don't need to meet a lot of people. You just need to meet a handful of the right people. So providing detailed feedback is important, as that will allow your matchmaker to fine-tune your search.
Master Matchmakers Reviews
This dating service has an A+ BBB rating, and it's listed as an accredited business. They have over 30 reviews, mostly positive, resulting in a 4.76 out 5 star rating.
Many clients like this one seemed happy with quality of matches:

Others praised the coaching they received:
Both negative reviews were from people not happy with their matches.
The Master Matchmakers Verdict
Master Matchmakers has been in the biz for quite some time. Their "find an agreed upon number of matches with no set timeline" model seems to work well for them. If you're not in any particular hurry to meet the love of your life, that approach may work for you too.
But if you'd rather be in a serious relationship sooner rather than later, you may want to consider a matchmaking service that has a more expansive database of eligible singles.
A Better Alternative To Master Matchmakers?
The matchmakers at VIDA Select tap into the largest database of matches in the entire world. That means you're not waiting months or more to meet someone. And you don't have to compromise your "must have" list just to finally get a match.
It just takes an average of 11 first dates for VIDA clients to meet someone special. And this usually happens within just 3 short months!
If you're thinking about leveraging a professional matchmaker to shift the odds in your favor, chances are you're a smart individual.
Thinking about it critically, you probably don't really believe the person you'll spend the rest of your life with is likely to be one of your first dates with Master Matchmakers. Meeting your perfect match usually takes more dates than that, even if the quality is right where you want it.
And the lingering question is… How long's it going to take for Master Matchmakers to make those introductions happen so you finally can test out the chemistry with your handful of potential matches?
After all, you're making a significant investment in your search for someone special. Wouldn't it be reasonable to expect a high-quality date per week until you meet your ideal partner?
Then why not consider a matchmaking service that offers the best of both worlds by delivering consistent high-quality dates when you want them, at a very reasonable price?
With VIDA, you'll review full profiles and photos of all your matches, so you can pre-select the people you want to meet. You're in total control of how many dates you want to go on, and how long you want to use the service.
Meeting your "someone special" couldn't be easier. Simply schedule your free, low-key consultation with one of our expert matchmakers.
If you're ready to finally meet your ideal partner, get started now!
All product and company names are trademarks™ or registered® trademarks of their respective holders. Use of them does not imply any affiliation with or endorsement by them.
Why Choose VIDA Select?

Since 2009, thousands of clients have discovered true love thanks to VIDA Select's fresh, modern approach to matchmaking – which has finally thrown blind dates and long-term contracts out the window. This isn't your grandmother's matchmaking!
Instead of working with a single matchmaker using a small rolodex of potential partners, VIDA Select's matchmaking team taps into the world's largest database of available singles. We'll quickly identify the matches who check all of your boxes so you can finally experience true chemistry. Are you ready to become our next success story? Schedule your complimentary consultation now by clicking the button below!
Get Started Now