I hope you enjoy reading the blog post.
If you want to chat now about your matchmaking search, click here.
Ultimate Guide To DC Matchmakers [Top 6 List For 2023!]
Since you're looking for DC matchmakers, chances are you work the kind of long hours that don't leave you with much time to go out and meet high-quality people.
Hiring a professional matchmaker is a perfect solution, but choosing the wrong one can be a costly mistake.
That's why our team of matchmaking experts has prepared this comprehensive guide to help DC singles connect with the best possible matchmaker. From the small independents to the big industry players, we've reviewed well over 200 matchmaking services. Our insight comes from 14+ years of industry experience, in-depth research, real customer reviews, and a keen understanding of the matchmaking landscape.
If you want to work with one of the best matchmaking services in DC, check out these 6 elite matchmakers first!
Kelleher International
Kelleher International is based on the West Coast. But they've got offices in 15+ major cities across the US - including Washington, DC.
Previously called Kelleher & Associates, this exclusive dating agency was founded in 1986 by Jill Kelleher.
Her daughter Amber Kelleher-Andrews joined her 9 years later. Together they grew the company into what they claim is the biggest privately owned matchmaking company in the nation.
Kelleher International Cost
Kelleher International offers 3 membership packages:
Local Search:
Starts at $30,000
Option to add additional cities for $5,000 each
National Search:
Starts at $45,000
CEO Club:
$150,000 - $300,000+
Includes an international search
Personal consultation with one of the Kellehers
Memberships last from 1 to 3 years. There is no set number of matches guaranteed at each level, as it depends on the scope of both your search and your match criteria.
Included in all 3 packages is 12 months of "freeze" time. That allows you to place your membership on hold should you need to travel for an extended period or if you want to see how a promising relationship with a match develops.
Prospective clients complete an online request-for-contact form, or they can call Kelleher International directly.
The next step is an interview (Skype or in-person) to talk about your ideal partner, dating history, long-term relationship goals, etc. You'll also go over all the contract details and select a membership package.
DC Matchmaking
DC Matchmaking was founded in 2009 by Michelle Jacoby. A boutique DC matchmaker, Jacoby only works with 15 to 20 paying clients at any given time.
Prospective clients start with a phone consultation, and can choose between dating coaching and matchmaking service. If Jacoby and her team feel you may be a good fit for the service, you are invited to a face to face interview. That typically lasts an hour or two, and you'll learn about the different package options.
Once you've selected a package and signed the contract, prospective matches are screened from the DC Matchmaking internal database. Jacoby is also part of the Matchmaker's Alliance, and uses her contacts there to source potential matches for you.
A member of the matchmaking team will call you with a description of each prospective match they feel is compatible. If you're interested, a first date is arranged.
DC Matchmaking Cost
There is no charge to join Jacoby's database of DC singles. That being said, there is also no guarantee of getting any dates that way. She'll only be in touch with you if you happen to be the type of person a paying client is looking to meet.
DC Matchmaking packages start at $15,000. Contracts are typically 1 year long, and include an additional 6 months of hold time.
Further Reading
Exclusive Matchmaking
Susan Trombetti is the face of Exclusive Matchmaking, which she founded in 2011. This professional matchmaking service is headquartered in Annapolis, but has locations across the US - including a matchmaking team in DC.
Prospective clients must first have a matchmaking consultation, either via Skype for $350 or face-to-face for $550.
During the interview, you'll describe your ideal match.
But don't expect your matchmaker to work from a list of "must have" traits. Trombetti doesn't believe a checklist should be part of discovering chemistry.
Women can join the Exclusive Matchmaking database of eligible singles without purchasing a membership package. They simply pay the interview fee, go through the screening process, and will then be matched with clients.
Active searches are only done for paying clients. There are several memberships available, including the most elite package - VIP Platinum Matchmaking.
Exclusive Matchmaking Cost
Pricing varies per client, as it depends on factors such as your match and search criteria, and any coaching services Trombetti feels you may need to make the dating process a success.
Matchmakers work with a limited number of Platinum clients at a time, and you can expect to spend anywhere from $7,500 to north of $125K.
There's a less expensive option for men who are single professionals between 21 and 32 years old. The $3,500 "Exclusive Introductions" package includes an agreed-upon number of matches that varies by client, but no coaching services.
Or you can forego the membership packages altogether, and opt instead for a "Bachelor Party."
During this one-time event, you'll meet matches that fit your ideal partner criteria throughout the evening. Cocktail party prices start at $4,000.
Further Reading
Three Day Rule
Helmed by Talia Goldstein in Los Angeles, Three Day Rule has been in the matchmaking business since 2013. There are 9 locations across the US, including a branch in DC.
As with some of the other elite DC matchmaking services on this list, prospective clients can join TDR in two ways - as an eligible single listed in the database, or as a paying client.
Having a profile in the database is free, but you'll only be matched with paying clients when you meet their search criteria.
To work proactively with a matchmaker, you'll need to purchase a membership and sign a contract.
Three Day Rule Cost
There are three options, depending on your time frame and how many eligible singles you want to meet:
Three Day Rule Pricing
$5,900 - A minimum of 3 matches over the course of 3 months
$9,500 - A minimum of 6 matches over the course of 6 months
$18,500+ - VIP matchmaking packages
Three Day Rule also provides "Dating Strategy Services."
These are 50-minute Skype sessions where you'll get date coaching and advice. The sessions cost extra, and can be purchased 1 or 2 at a time, or in packs of 10.
As for your matches, those come from three places:
The Three Day Rule database
Your matchmaker's "personal network"
When a prospective match is identified, your matchmaker will interview that person to make sure they fit your criteria. Then you'll be sent a photo and a bio. That counts toward your match quota, even if you aren't interested in meeting them.
If you are intrigued, contact info is exchanged and it's on the two of you to set up a date. You can then share any feedback you may have with your matchmaker as to the quality of the match afterwards.
Further Reading
Love By Leora (Leora Hoffman Associates)
If you're 50+, Leora Hoffman is one of the best matchmakers in the DC metro area to consider. She specializes in matchmaking services for baby boomers, and has been doing it since 1989.
Having your profile included in her database of eligible singles is free, provided you pass her screening process and agree to follow her membership guidelines.
Among other things, members are asked to plan on meeting each referral at least twice. That takes the pressure off the first date. She also encourages matches to talk on the phone rather than text. Members are also asked to share post-date feedback with Hoffman.
You'll be paired with paying clients if/when you happen to meet their 'perfect match' criteria, but she won't actively be looking for matches on your behalf.
This DC matchmaker does not guarantee a certain number of matches for paying clients.
Leora Hoffman's Matchmaking Process
She focuses on a 'quality over quantity' approach, and tailors her membership packages according to the length of time she'll personally devote to your search.
There are 3 membership levels:
Basic
Executive Search
Premier
All three memberships come with 12 months worth of active search time. It can be used over a 2-year window. That means you can pause and resume your search as needed, but all your active search time must be used within 2 years of signing your contract.
The Executive Search and Premier levels come with an "action plan" that allows you to track your matchmaker's recruitment efforts on a quarterly basis.
The Premier membership includes a session with a pro photographer and an image consultant, as well as a personality test administered by a licensed psychologist and a 3-hour "relationship readiness course" taught by a licensed social worker.
Prospective clients start with a personal interview, during which your relationship and life goals, perfect partner description, and dating history will be discussed.
You'll also learn how much her matchmaking services will cost you, as the membership prices vary per client.
VIDA Select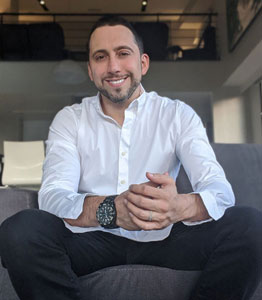 Founded by Scott Valdez in 2009, VIDA Select takes a modern approach to matchmaking in DC.
Your dedicated matchmaker leverages DC's largest database of eligible singles to find relationship-worthy matches who check all your "must have" boxes. Since you pre-approve each one, you can look forward to dates with highly compatible singles!
Most other DC matchmakers require a multi-month, non-refundable contract - and you'll likely be paying the bulk (if not all) of the membership costs up front.
That doesn't give you much recourse if you're not satisfied with the number or quality of your matches. And if you meet someone special when you're 1 month into a 6- or 12-month contract, you end up paying for a lot of search time you don't need or want!
You pay only for each month you want service, and you can pause or restart your search at any time.
Monthly packages are offered across three tiers of service: Basic, Premium and Elite. The cost of each package is highly aligned with the number of hours that should be used each month to find high-quality, highly compatible matches.
VIDA Select Cost
Basic pay-as-you-go packages start at just $995/month. Premium packages begin at $1595/month and Elite packages start at $2395/month.
On average, VIDA Select clients meet "someone special" within the first 3 months of service.
When it comes to finding your soulmate, don't you want to work with one of the best matchmaking services in DC? See if VIDA Select is the right fit for you - schedule your low-key, confidential, complimentary consultation with one of our matchmaking experts today.
Just click here to get started!
All product and company names are trademarks™ or registered® trademarks of their respective holders. Use of them does not imply any affiliation with or endorsement by them.
Why Choose VIDA Select?

Since 2009, thousands of clients have discovered true love thanks to VIDA Select's fresh, modern approach to matchmaking – which has finally thrown blind dates and long-term contracts out the window. This isn't your grandmother's matchmaking!
Instead of working with a single matchmaker using a small rolodex of potential partners, VIDA Select's matchmaking team taps into the world's largest database of available singles. We'll quickly identify the matches who check all of your boxes so you can finally experience true chemistry. Are you ready to become our next success story? Schedule your complimentary consultation now by clicking the button below!
Get Started Now