I hope you enjoy reading the blog post.
If you want to chat now about your matchmaking search, click here.
6 Ways VIDA Select Is Different From Other Matchmakers
From franchised operations to luxury matchmakers who come with a hefty six-figure price tag, you'll find options for every budget.
And quality varies just as much, so putting in some research before making your final decision is essential.
VIDA Select has been successfully matching accomplished, intelligent, career-minded singles for over 10 years. But what makes VIDA different from other matchmaking services?
And more importantly, is it the right service for you?
Let's start with the biggest difference… contracts.
Is A Matchmaking Service Contract Worth The Risk?
Many matchmaking services try to lock you into a contract that can span anywhere from 3 months to a year or more. And they ask you to pay in full before your matchmaking service begins.
That means your proverbial check is on the way to the bank before you've had a chance to experience the service. Not to mention the quality of the matches they have for you.
They already have your money. So there's not as much motivation to find quality matches, return your call, answer your emails or proactively communicate with you.
Refunds aren't likely in most circumstances. And many matchmaking services only accept wire transfers or personal/cashiers checks. That's so you can't dispute the charge later with your credit company if you're unhappy with the results.
So how invested are they in your satisfaction with the service?
In fact, if you check employee reviews for some matchmaking services, you'll find it's more about sales and quotas than actual matchmaking…
VIDA is different!
VIDA Select has no need for a long term contract, because we're confident in our ability to produce results. If a matchmaker is so good at what they do, why would they need an entire year to do it?
We earn your membership each month. As a VIDA client, you can rely on consistent, meaningful communication and frequent progress updates. You'll hear from your matchmaker multiple times throughout the week, and if you have a question or concern she's just a text, email or phone call away.
You choose to continue working with your Matchmaker. If our approach didn't work, our clients wouldn't continue with the service from month to month. That option is off the table when you're locked into a contract! You're meeting the right matches, so finding someone special is just a short matter of time. For the average VIDA Select client, that happens in 11 dates and only takes about 3 months.
We want you to meet someone incredible. Our largest source of new clients is referrals, and most of these referrals are the direct result of a client having met someone incredible.
Go Beyond Traditional Matchmaking (For The Best Chance Of Finding Your Ideal Partner)
Unless you're paying over $20,000, traditional matchmakers typically pair up clients with other clients from within their internal database. Depending on the size of the company, that could be anywhere from several hundred to several thousand eligible singles.
Your matchmaker will look in her Rolodex for people who meet your criteria, such as gender, age, income range, occupation, lifestyle and physical appearance. But matching goes both ways!
You have to fit what your potential match is looking for as well - which can whittle the list of suitable candidates down to zero.
That's why dates with people who leave you thinking "Why am I here?" are a common source of frustration, but it's probably not because the matchmaker didn't want to find a great match - she likely just didn't have that many potential options to choose from.
Doing a proactive search outside the client database is time-consuming. So unless you're spending tens of thousands of dollars, she'll just skim the client roster to see who's the closest fit for what you're looking for.
If no one in their database is a close fit, she'll ask you to "reconsider" some of your criteria. Or simply match you with people who aren't ideal for you because she has no other choice.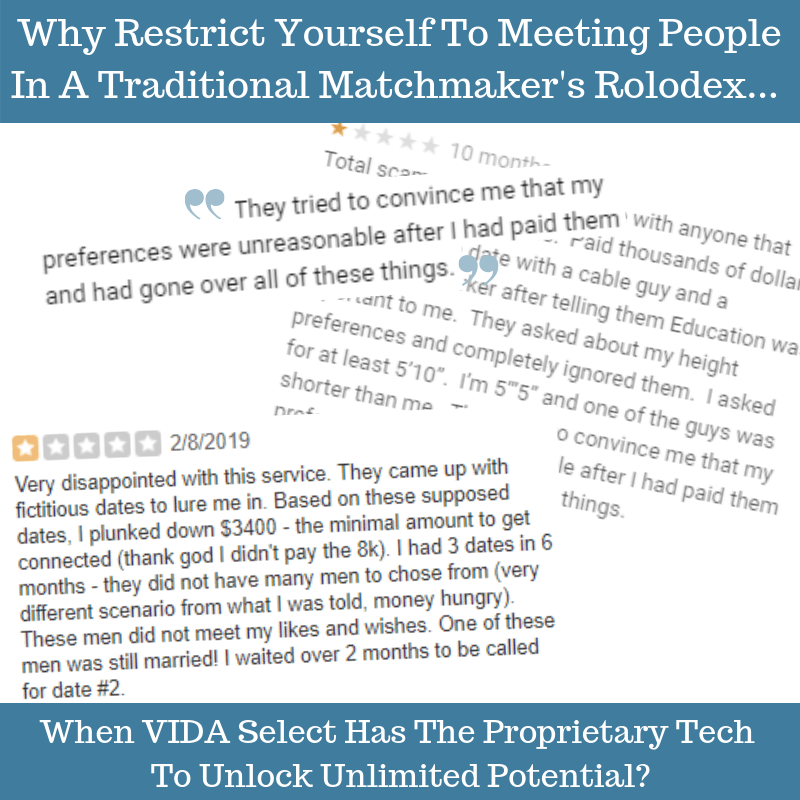 You can sign a contract and pay as much as $300,000 up front to hire Selective Search or Kelleher International to do a proactive search… or you can get the same high-quality service starting at only $995 a month for Basic matchmaking with VIDA Select. Monthly Premium matchmaking packages start at only $1595, and Elite options begin at $2395.
We take a two-pronged approach to finding your ideal partner:
Your VIDA Select matchmaker will take your list of ideal partner criteria and search our extensive database for matches. She'll then reach out to both you and your potential match to see if there's mutual interest in meeting, and if there is she'll exchange contact information or arrange a date.
She will also search for high-quality, uber-compatible singles online. That opens up the pool of eligible candidates exponentially, allowing us to find a lot more singles who truly do check all your "must have" boxes.
Thanks to our proprietary technology, VIDA Select's matchmakers are able to tap into that virtually unlimited online potential and select high-quality, eligible, ready-to-date singles who align with exactly the type of person you're seeking.
Why A Modern Approach Is The Best Approach
Ever since 2017, singles have been heading online in increasing numbers to find love. Right now, it's the #1 way that married couples met their significant other. That's because it works.
It's the single biggest potential dating pool out there, so the odds are high your perfect match is among them.
Of course, that's if you're doing online dating right.
Strong photos, a compelling bio, messaging skills sufficient to not only start a conversation, but keep it going until your match is intrigued enough to meet you in person… all that takes practice, it takes time, and it's why tons of people hate online dating. It's not easy!
Why put yourself through all the frustration, especially when that steep learning curve means experiencing a lot of rejection?
There's a reason apps like Tinder damage your self esteem - no one wants to get ghosted, catfished, benched, breadcrumbed or any of that stuff. You just want to meet someone special, and start a relationship.
With VIDA Select, it will be different - because we know how to do an online search that works. No other matchmaking service has the years of experience or the tech to do an online search at the level we do.
You've probably tried online dating, but here are 5 reasons why your modern dating experience will be night and day different with VIDA Select at the helm:
Not Sure About Trying A Dating App?
If you were hesitant to try online dating because you're uncomfortable with the idea of having a profile that clients or coworkers may happen to see, don't worry.
Many of VIDA Select's clients are high-profile celebrities, Fortune 500 executives, professional athletes and the like who value discretion and privacy.
We are able to go about the search in a way that's completely discreet and gives you absolute control over exactly who sees your profile.
Ready to see how VIDA Select's elite matchmakers can find your perfect match?
Click here!
AT A GLANCE: See How VIDA Select Compares To Other Matchmaking Services!
Why Choose VIDA Select?

Since 2009, thousands of clients have discovered true love thanks to VIDA Select's fresh, modern approach to matchmaking – which has finally thrown blind dates and long-term contracts out the window. This isn't your grandmother's matchmaking!
Instead of working with a single matchmaker using a small rolodex of potential partners, VIDA Select's matchmaking team taps into the world's largest database of available singles. We'll quickly identify the matches who check all of your boxes so you can finally experience true chemistry. Are you ready to become our next success story? Schedule your complimentary consultation now by clicking the button below!
Get Started Now