I hope you enjoy reading the blog post.
If you want my team to just do your online dating for you, click here.
JWed Reviews: 2023 Cost, Features, User Experiences & More!
If you're looking for a dating site that exclusively caters to Jewish singles with marriage on their minds, it's no surprise JWed is on your radar.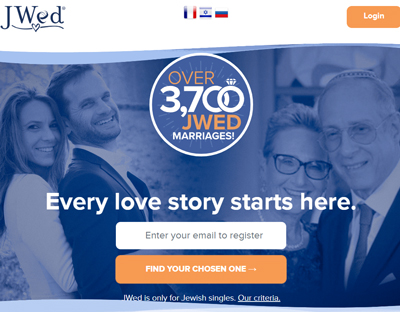 But is it the best Jewish dating site for you? To help you decide, this comprehensive JWed review covers everything you need to know, from user experiences and demographics to pricing and unique features.
We'll even walk you through the process of setting up a profile!
JWed Review Table of Contents
Is JWed a good dating site?
JWed is a well-established Jewish dating site that launched back in 2001. Founded by Derek Saker and Ben Rabizadeh, it was originally known as Frumster.com.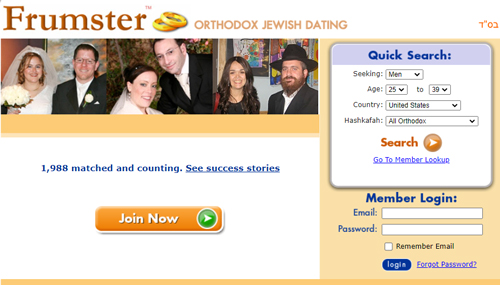 It rebranded to JWed in 2012, and has since acquired other Jewish niche sites and apps, including SuperTova in 2021.
As a niche dating platform, it hasn't attracted the same number of users as Match.com, Bumble and Hinge. JWed says it has a "worldwide membership of tens of thousands" compared to Bumble's 50 million active users.
But JWed can work. It's been around for 20+ years, and its mission is laser focused: bringing Jewish singles together in marriage.
On that note, it claims to have had a hand in "more than 3,700-plus known marriages."
Saker, who is also the site's CEO, explained to The Jewish Chronicle that JWed members are serious about finding marriage, and they screen every application to help ensure a good experience on the platform.
"We reject more than we accept — many of them are spam or they send a picture of a half naked woman, or they are just asking for sex. And if we have any doubt, we ask them to provide a passport or driving license, just to ensure they are not completely bogus or that they are lying about their age."
The platform's system is also designed to red flag potentially inappropriate content or behavior. For instance, as Saker explained,
"If a man contacts a range of women from 20 to 60, we'd probably get in touch to see whether he is serious about finding a marriage partner. If someone seems dodgy, we send out an email to anyone who has been contacted and tell them to terminate contact with that person."
That being said, Saker also added that they're "not policemen and we are not mind-readers."
Our Verdict: VIDA Select's dating experts have been helping singles find love since 2009. Our team has managed thousands and thousands of online dating profiles on behalf of clients, including on JWed.
In our experience, JWed can be a good dating site for Jewish singles looking for marriage. But due to the smaller membership base, it may take awhile to make quality connections.
It's best to use it along with another more popular dating app that attracts singles seeking a serious relationship, and use the religion filter to help screen potential matches.
Who Uses JWed?
JWed attracts users of all ages, with the platform seeing an increase in users who are under 28.
Unlike some other Jewish dating apps, JWed is exclusively for Jewish daters.
It welcomes all Jewish outlooks, "from observant to unaffiliated." But if you're not Jewish and interested in dating someone who is, there are better options out there.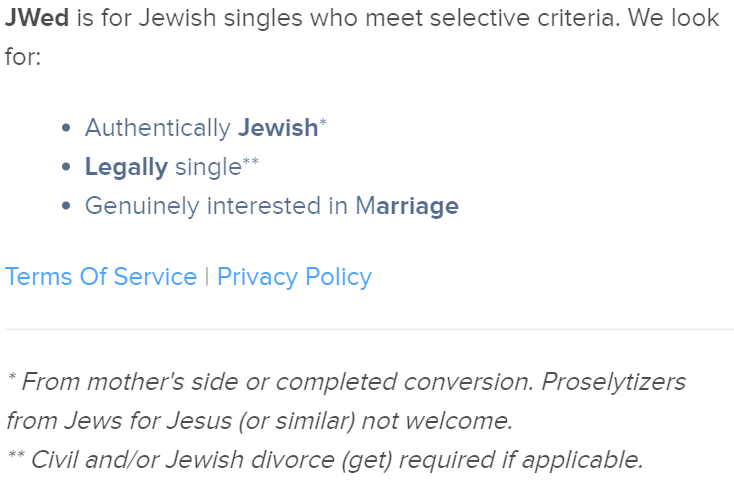 Not only does JWed require its members to be "authentically Jewish", you also need to be legally single and marriage-minded.
While the platform is worldwide, most members come from North America and Israel. Saker said JWed users are looking for quality rather than quantity, and are willing to pay for a dating site that provides it.
As he explained in an interview with Jewish News Syndicate, "Where before it was often 'What can I get for free,' today it is 'Where can I go so as to neither waste my time, nor my emotional investment?'"
And on that note, let's take a look at how much you'll have to pay to use JWed!
JWed Cost & Premium Features
JWed has a free trial period, but once that ends you'll need to purchase a subscription. But the free trial allows you to test out the site and get a feel for who you might find in your area (or beyond, if you're open to dating long distance).
Apart from that, JWed is not a dating platform you can use for free. Depending on your membership level, JWed costs between $9.95 and $29.95 a month.
The Basic subscription is $9.95 per month, but doesn't include all the premium features.
As a Basic JWed member, you can:
Have your profile visible to other members
Search all members
View member photos
Reply to messages that are sent to you
Note that with a Basic membership you can't initiate any conversations. For that, you'll need a Premium membership. That subscription costs between $24.95 and $29.95 per month, depending on the length of your membership.
As a Premium JWed member, you can:
Do everything a Basic member can
Send and receive messages
Get read receipts
Browse anonymously
See who viewed your profile
See who "liked" your profile
Invite a member to a video date
Record and hear audio introductions
Hide your online status/profile from Browse & Matches
Use the Dating Agent feature
JWed's Dating Agent feature provides more hands-on guidance to users, including coaching, matchmaking, and help using the platform.
JWed vs JDate vs Lox Club Cost
At $29.95 for 1 month, JWed is cheaper than JDate and Lox Club. A premium membership to JDate starts at $59.99 for 1 month. Lox Club is $36 for 3 months; there is no option to try it out for a single month.
So, is JWed worth the cost? Taking a look at some real user reviews will help you answer that question.
JWed User Reviews
Based on user experience, JWed hovers between 2 and 3-star ratings on most online review platforms.
On Google Play, the JWed companion app (called JWed Match) has a 2.8-star rating based on 200+ reviews.

On the downside, many of the negative reviews voiced complaints about app glitches, frequent crashes, or UX issues:
Positive reviews weren't as plentiful, but some reviewers did appreciate the quality of the matches they found:

JWed Match has a 2-star rating at the App Store, with the majority of reviews awarding the dating app only 1 star.

As on Google Play, many reviewers mentioned glitches that rendered the app virtually unusable: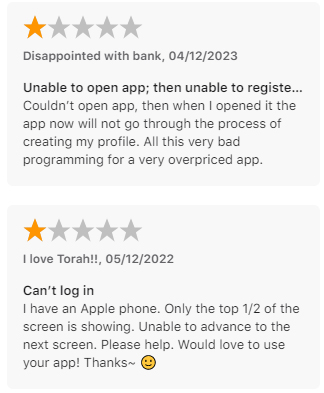 And other JWed Match app users expressed frustration with the length of time it took to get their profiles reviewed: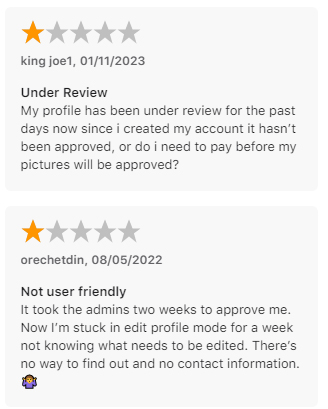 Trustpilot reviews resulted in an overall 2.6-star rating for JWed.

On the positive end of the spectrum, some JWed users were happy with their overall experience:
This JWed user thought the platform was especially effective for older Jewish singles:
But as with JWed app reviews, on Trustpilot the majority were negative.
Many users complained about the lack of responsiveness when emailing or calling customer service. In its replies, JWed mentioned that the Customer Care Team had been expanded, and they now "guarantee" a response within 12 hours.

If you're having an issue with the JWed platform, the Customer Care Team can be emailed at support@jwed.com.
Overall, the majority of JWed online reviews are negative. Your experience may vary, of course.
And it's worth noting that when it comes to dating app reviews, many users feel more inclined to leave a negative review than take the time out of their day to craft a positive one.
If you do decide to give JWed a try, here is what to expect when you sign up.
Creating Your JWed Profile
You can sign up by downloading the JWed Match app, which is available for Android or iOS devices. You can also sign up via the online dating site.
Start with providing the email address you want associated with your JWed account, then follow the prompts.
You'll be asked to create a password, and provide information like your name, mobile number and birth date.
Providing answers to most of the prompts is mandatory if you wish to join JWed.
When it comes to uploading your primary profile photo, there are some specific requirements that need to be met to pass the screening process:
Upload at least 1 photo of yourself.
Your face must be clearly displayed.
No suggestive or offensive photos.
No copyright photos.
Add extra photos of you in different settings and doing various activities (this one is encouraged, not mandatory).
You can choose to keep these photos private, but JWed manually screens these images to be sure they are authentic when they are considering you for approval.
Then you move on to the specifics of your Jewish background.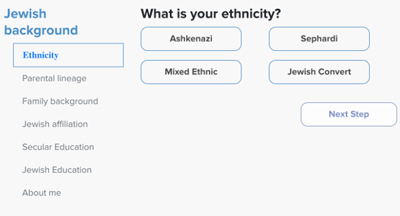 There is also a space to explain why Judaism is important to you, and an "Interests" section where you can share more information. You can use this section as a way to help a potential match find common ground with you, so take advantage by including hobbies and passions you are interested in sharing with a partner.
Lastly, the "About Me" section is an opportunity to tell potential matches about yourself, your job, and your goals. It has an accompanying "I'm looking for" section, where you can describe what type of people you'd like to connect with on the site.
You'll want to invest time polishing your JWed profile. Remember, this is an app for marriage-minded Jewish singles, so you need to present yourself as true relationship material.
Make sure your profile hits all the "relationship-worthy" marks, like this example does: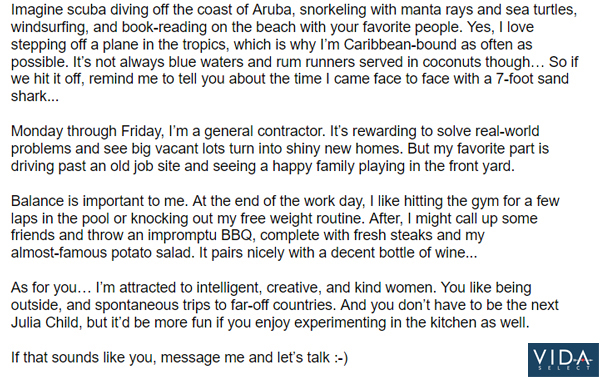 In this profile example, you've let your potential matches know you have the means to travel, a fulfilling career that makes a difference in people's lives, a commitment to fitness… in other words, you're painting an attractive picture in a genuine and authentic way.
Once you have completed these sections, your profile will be under manual review. The wait time might vary. Some users have said it can take approximately one to two days, others said it dragged on for weeks.
While you're waiting for the approval, you can tweak your match filters and you'll be off to the races!
Looking For "The One" On JWed?
Let VIDA Select's team of dating experts help! From crafting your profile to attract exactly the type of Jewish singles you're looking for to using a data driven process to optimize your best photo lineup, VIDA takes the work out of modern dating.
We'll even handle the match screening and all the back and forth messaging for you, representing you in a totally genuine way!
Want us to do your online dating for you?

Hey, I'm Ally, VIDA Select's Director of Matchmaking.
We take all the frustration, hard work and hassle out of modern dating!
Imagine your very own Dream Team of highly skilled dating experts searching for the very best local matches, sparking their interest, and arranging all the dates for you.
Wouldn't it be nice to finally stop swiping and start dating higher quality matches so you can meet someone special?
We've helped thousands of singles just like you since 2009, and we're ready to make you our next success story!
What are you waiting for? Take the next step now…
See If You Qualify