I hope you enjoy reading the blog post.
If you want to chat now about your matchmaking search, click here.
Meet Lory Kelsey [Best Greenwich Matchmaker For You?]
If you're thinking about trusting Greenwich matchmaker Lory Kelsey to head up the search for your perfect match, it makes sense to dig a little deeper into her background and matchmaking philosophy.
From how she got her start to her dating advice and more, this short Lory Kelsey profile has all the details you need to decide if her approach is the best one for you!
Our team of experts has reviewed 200+ matchmakers, from boutique agencies and celebrity matchmakers to the big international services. 
Our reviews are based on extensive research, 14+ years of matchmaking experience, client reviews, and more. We're intimately familiar with what clients value most in a service, so let's dive in!
How Greenwich Matchmaker Lory Kelsey Got Her Start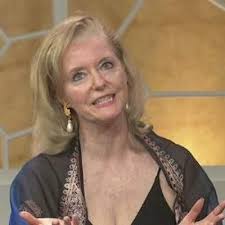 As a single parent following her divorce, Lory Kelsey found herself struggling to meet someone special in Greenwich. This challenge led her to the internet where she could continually search for "Greenwich matchmakers"... only to come up empty-handed.
She recounted her experience in an interview with Hamlet Hub:  
"There didn't seem to be any matchmaker nearby in my immediate area. So it began occurring to me that I could and should fill the role for my extended group of single friends that found themselves single in the same situation year after year."
Kelsey's professional background included working as a representative for a dating service called Turning Point International. Reflecting on her experience, Kelsey felt she "had been quite successful at it."
As she began to realize the demand for matchmaking within her own community, Kelsey felt something was calling her to become the matchmaker she had been searching for.
In her own words, 
"It's very difficult at times to meet someone you'd like to meet in Greenwich… Finally, I'm like, 'I think someone's telling me I need to be [the] Greenwich Matchmaker'."
In 2012, she opened Greenwich Matchmaker LLC, catering to clients throughout Connecticut and New York.
With a Bachelor's degree in psychology and a Master's degree in social work, it's no surprise Kelsey often dispenses dating and relationship advice to her clients.
She has also shared dating tips through social media and in interviews with various media outlets. Here are 4 of her best dating tips for Greenwich singles!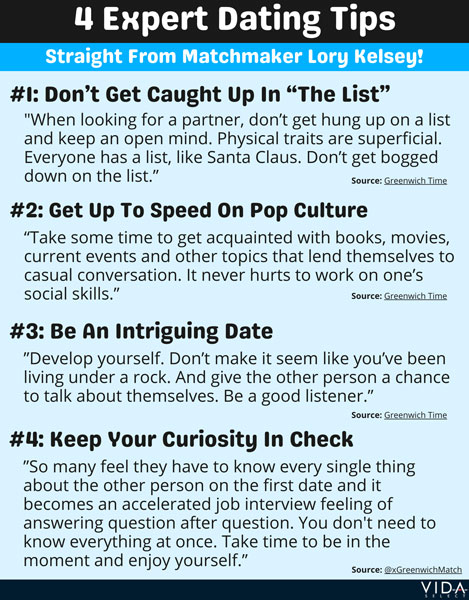 Greenwich Matchmaker At A Glance
Lory Kelsey works primarily with singles within 100 miles of Greenwich, but will take on clients throughout Connecticut and the surrounding areas in some instances.
She also offers dating coaching and life coaching services internationally, with appointments conducted via Zoom, Skype, phone, etc.
Kelsey is a boutique matchmaker, limiting the number of paying clients she works with at any given time. As she explains, "I'm selective. It's not for everybody."
As a paying client you can expect to work closely with Kelsey. She emphasizes the importance of building deep relationships with her clients on an emotional level.
"One thing I do enjoy about matchmaking is really getting to know my clients in an emotional way rather than what they see on a screen."
Both men and women can purchase a matchmaking package or join her registry of eligible singles.
On her website, Kelsey explains that when it comes to her "Private Lady Clients", she prefers to work with "higher net worth individuals" who are 25 to 60 years old.
As paying clients, both men and women are guaranteed introductions, and for an additional fee the first date details will be arranged for you.
After each first date, Kelsey checks in with both people and passes along any feedback to you.
There is also the option to join her singles registry, but that doesn't come with any guaranteed introductions. You'll only be contacted if and when you happen to match what a paying client is looking for.
Next, let's take a peek at…
What It Costs To Hire Lory Kelsey
For both men and women, having a profile listed in Kelsey's database requires a 1-hour interview that costs $600. Your profile will be considered for matching with paying clients for a 5-year period.
But remember, that's the passive option - no matchmaking is being done on your behalf.
For Kelsey to actively search for compatible singles for you to meet, you'll need to purchase a matchmaking package.
Pricing is not listed on her website, although she does say options are tailored for each client. If you're interested in scheduling a consultation, you'll need to fill out an application on her website.
If you pass her initial screening, she'll reach out to schedule a short, complimentary call. If both of you decide to move to the next step, you'll schedule a "Professional Consultation".
That consultation costs $600 per hour, and generally lasts between 1 and 2 hours. Assuming you move forward and sign a contract, you'll be matched with compatible singles from her database or with singles she's identified via her network.
Want an in-depth look at Greenwich Matchmaker, including what clients have to say about their experience with this Connecticut dating service?
Check out our Greenwich Matchmaker review next!
All product and company names are trademarks™ or registered® trademarks of their respective holders. Use of them does not imply any affiliation with or endorsement by them.
Why Choose VIDA Select?

Since 2009, thousands of clients have discovered true love thanks to VIDA Select's fresh, modern approach to matchmaking – which has finally thrown blind dates and long-term contracts out the window. This isn't your grandmother's matchmaking!
Instead of working with a single matchmaker using a small rolodex of potential partners, VIDA Select's matchmaking team taps into the world's largest database of available singles. We'll quickly identify the matches who check all of your boxes so you can finally experience true chemistry. Are you ready to become our next success story? Schedule your complimentary consultation now by clicking the button below!
Get Started Now