I hope you enjoy reading the blog post.
If you want to chat now about your matchmaking search, click here.
Is Matchmakers In The City Worth It? [2023 Service Review!]
Looking for love in La-La Land? It's not surprising Matchmakers In The City is on your radar. This Beverly Hills matchmaking service has carved out a niche for itself, and you're probably wondering if it's an option worth exploring.
Dive in to uncover the history of this family-run business, understand the type of clientele they serve, get a sneak peek into their matchmaking process, and find out about their pricing structure. We'll also share some authentic reviews from those who have experienced their services firsthand.
Our team of matchmaking experts has reviewed over 200 services, delving deep into their processes and operations, costs, success rates, and customer experiences. Our reviews are built on in-depth research and infused with our keen understanding of the matchmaking industry.
Here's what we'll cover in this Matchmakers In The City review:
Ready to dive into the world of these Beverly Hills matchmakers? Let's get started!
A Family Affair
Matchmakers In The City was co-founded by sisters Alessandra Conti and Cristina (Conti) Pineda. As young girls, they knew they had a knack for planning parties and encouraging their girlfriends to go chat up cute guys.
As Conti recalled in an interview,
We were always little social butterflies, and would never hesitate to give our friends the little nudge that they needed to talk to the boy they had a crush on in chemistry class.
The sisters often discussed their dreams of one day starting their own matchmaking company. After gaining real-world experience through internships and jobs, they took a leap of faith: relocating to Los Angeles in 2011 and launching Matchmakers In The City.
Pineda attributes much of their success to her sister's business acumen and work ethic.
As she explained in an interview with DatingNews,
When you're doing something well, people take notice, and it snowballs. That's why a matchmaking company is not something you can build overnight. It takes many years of trust, hiring the right people, and having the right company culture.
Conti's background in broadcast and print journalism isn't the only factor that helped her build her LA matchmaking service.
Patti Stanger, the celebrity matchmaker behind The Millionaire's Club speaks highly of the Conti sisters, referring to them as the "new generation of matchmakers." Stanger even hired them back in 2016 to try and find her own perfect match.
Over the years, Matchmakers In The City has expanded its presence beyond Los Angeles to include New York, San Francisco, and Washington, DC.
A Peek At Matchmakers In The City's Clientele
Conti and her sister are boutique matchmakers, meaning they limit the number of clients they work with simultaneously. Typically, they work with around 100 clients at a time.
Conti shared this about their clientele in an interview:
They are accomplished, inspiring, intelligent, and genuinely looking for a life partner. They are at that chapter in their lives where they have accomplished a whole lot and want to share it with a wonderful person.
As is the case with most upscale matchmakers, confidentiality is an important component of the service - and one of the major advantages of using a matchmaker versus online dating apps.
Conti says Matchmakers In The City attracts public figures, and she enjoys watching the success studies unfold in the tabloids.
Seeing their successes play out in the media is always such a thrill. I wish I could drop some names, but my lips have to be sealed because of our iron-clad NDAs!
Matchmakers In The City Process
Conti describes their approach to matchmaking as a blend of traditional and contemporary methods: "We're old school with a modern mindset."
As she described to DatingAdvice.com,
We personally interview and get to know every bachelor and bachelorette who we are working with. We get to know a lot more about our members than what would just be on their dating profiles.
Conti went on to explain that they take a traditional approach to matchmaking - preferring human intuition and perspective over algorithms and profiles.
The matchmaking process begins with an interview and personality assessment, where the team learns about you, your lifestyle, personality, etc, as well as what type of person you're hoping to meet.
During the matching stage, the information from your interview will help them create guidelines for your ideal match, taking into account 10 compatibility factors: occupation, height, age, education, faith/religion (and faith/religion partner preference), relationship goal & timeline, family plans, personality, and physical appearance.
Each potential match goes through a vetting process that includes an in-person interview and social media check. Matches are pulled from the Matchmaking In The City internal database, or if your package allows for it, identified via scouting or from their network of industry contacts.
There is also a dating coaching phase, after which you'll start going on dates with your selected matches.
After each date, you have the opportunity to meet with your matchmaker for a feedback session. This allows you to share your perspective on the quality of the match and address any challenges you may have encountered.
Matchmakers In The City Cost
Depending on your membership type, Matchmakers In The City costs anywhere from $100 to $25,000+.
If you're interested in working with Matchmakers In The City, the first step is submitting your profile via their website. A representative will reach out within a few days to schedule a consultation, and that's where you'll discuss cost.
Bachelor/Bachelorette Memberships start at $100. But at that price point, you'll only have a profile included in their database. So while you may potentially be matched with a paying client, there's no guarantee you'll ever meet anyone that way.
For a proactive search, you'll need to purchase a Priority membership. Those are available to both men and women, and start around $10,000 for a local search.
National/International Priority memberships start at $25,000 and cast a wider net in the search for your perfect match.
Matchmakers In The City Client Reviews
The company and its founders have been featured in various media outlets, but you might be wondering what actual customers have to say about their experience with Matchmakers In The City.
In their Google Business profile, Matchmakers In The City has a 4.8 rating based on 30+ reviews.

You'll find mostly 5-star reviews like this one sharing how Conti and the team successfully matched some of the reviewers friends: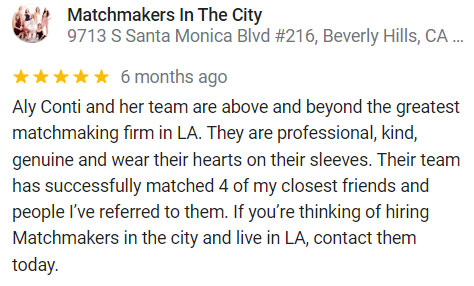 This Matchmakers In The City reviewer explained how he always felt he had their undivided attention: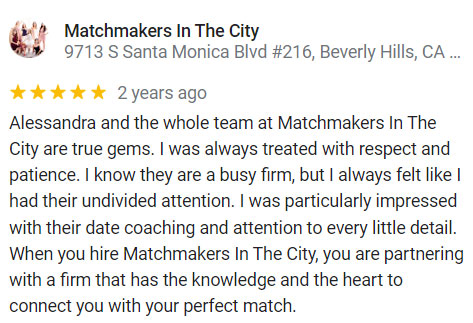 And this reviewer appreciated their hands-on approach:
Among the 5-star reviews were also endorsements from other matchmakers, including Jenny Apple Jacobs, a Jewish matchmakers who also helps LA singles find love.
There were a handful of 1-star reviews, but one was just a star rating with no additional information and the other had been identified by the service as a fake review.
Matchmakers In The City hasn't been reviewed on other local platforms like Yelp, Trustpilot, or the BBB yet.
Is Matchmakers In The City The Right Fit For You?
Engaging a dating service isn't a choice to be made lightly. After all, it's not just a financial investment, but one of trust as well - matchmaking is a deeply personal process.
To set yourself up for the best chance of meeting someone truly special, it's important to consider factors like where your matches are coming from. The size of the dating pool your matchmaker is working with matters, because for a pairing to be successful compatibility has to flow both ways.
It's not just about someone who fits all your criteria - you also have to fit theirs. And that's extremely hard to do from a limited source of candidates!
For the best chance of meeting someone truly compatible, maybe you'd also like to consider working with a matchmaking service that has direct access to the largest selection of eligible LA singles there is.
Thanks to VIDA Select's modern approach to matchmaking, your matchmaker isn't limited to an internal Rolodex. VIDA also offers a convenient pay-as-you-go structure, with monthly packages beginning at just $1795.
No long term contracts means you won't have to risk paying for time you don't need if you meet someone right away. And if it turns out VIDA's approach isn't quite right for you, simply don't proceed with the next month of service! It's that easy.
Want to discover more about how VIDA Select can find your ideal partner? Get started here!
All product and company names are trademarks™ or registered® trademarks of their respective holders. Use of them does not imply any affiliation with or endorsement by them.
Why Choose VIDA Select?

Since 2009, thousands of clients have discovered true love thanks to VIDA Select's fresh, modern approach to matchmaking – which has finally thrown blind dates and long-term contracts out the window. This isn't your grandmother's matchmaking!
Instead of working with a single matchmaker using a small rolodex of potential partners, VIDA Select's matchmaking team taps into the world's largest database of available singles. We'll quickly identify the matches who check all of your boxes so you can finally experience true chemistry. Are you ready to become our next success story? Schedule your complimentary consultation now by clicking the button below!
Get Started Now