I hope you enjoy reading the blog post.
If you want to chat now about your matchmaking search, click here.
Meet Alessandra Conti [Matchmakers In The City Review 2023]
Thinking about hiring Beverly Hills matchmaker Alessandra Conti?
From how much it costs to hire her to how she approaches matchmaking, this Matchmakers In The City review has everything you're curious about!
How Alessandra Conti Got Her Start
Conti says she has always called herself a "sandbox matchmaker," since she always seemed to find herself setting up her friends even from a young age.
In high school, she and her sister Cristina Conti Pineda would rent out venues and "invite all of the cute boys from neighboring high schools and all of our fabulous girlfriends."
She said they often talked about how much fun starting a matchmaking company would be, but both pursued higher education first.
Conti studied broadcast journalism at American University, then interned at a lifestyle magazine published by Fox News. Her sister went to Oxford, and interned at an event planning company.
Then, as Conti explained in an interview, it was time to turn their "day dreams into reality."
Conti and Pineda moved to Los Angeles, setting up shop in Beverly Hills and co-founding Matchmakers In The City in 2012.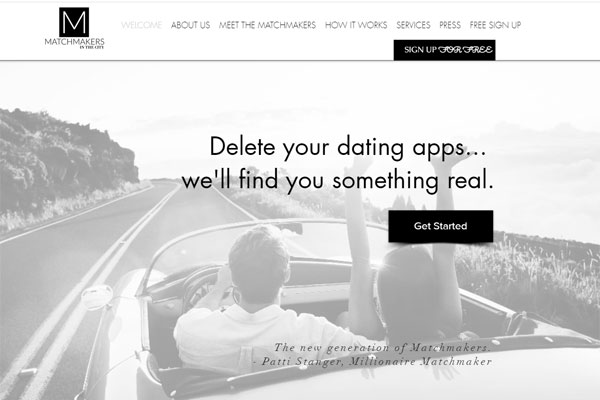 Since then, Conti has made a name for herself as a celebrity matchmaker.
She took on millionaire matchmaker Patti Stanger as a client in 2016, and was the matchmaker behind-the-scenes for Seasons 7 & 8 of MTV's "Are You The One."
Conti was also the matchmaker on Vivica A. Fox's "Face The Truth," which aired on CBS for 1 season.
A frequent media contributor, Conti has contributed relationship and dating advice to media outlets like Elite Daily, Bustle, Bravo and Fox News.
In an interview with Uproxx, she cautions singles to have realistic expectations when swiping on dating apps. In her opinion, one of the biggest downfalls with dating apps is the illusion of choice - and "no one looks like their photos because of Facetune and filters."
Instead of swiping, she advises men to approach women in real life. As she put it in the interview,
… Get over your approach anxiety. It takes twenty seconds of insane courage, twenty seconds of embarrassing bravery, and I promise you something great will come from it.
Of course, that only works if you do it the 'right' way. And Alessandra Conti has a 4-step approach to getting a woman's number that she shared with Uproxx:
How Her Beverly Hills Dating Service Works
Conti specializes in matchmaking for Beverly Hills singles, but also works with affiliated matchmakers in San Francisco, DC, and New York City.
Potential clients have two options:
The "Priority" membership
The Basic Bachelorette/Bachelor option costs a one-time fee of $100, but comes with no proactive matching. It's just having your profile included in their database of singles for one year.
Conti's team only reaches out in the event you happen to fall within a paying client's criteria.
Matchmakers In The City Cost
The Priority memberships start at $10,000, with the "payment plan" option of putting down $5,300 initially.
The total package price depends on the length of your contract, how many locations you'd like to date in, how many matches you'd like, and other factors.
Memberships typically last for 6 or 12 months.
Once you've signed the contract, you'll meet with a matchmaker to discuss your matching criteria.
Depending on your membership level, you'll be meeting matches sourced from Conti's database or that her team has scouted at events around the city you're dating in.
When a compatible match is found, all of the date details are handled for you. As Conti's sister explained in a press release,
Our clients are busy people, so we take care of selecting the location, and we cross reference the couple's schedules, so they don't have to go back and forth with each other.
After each date, you discuss how it went with your matchmaker via phone.
Matchmakers In The City also offers Dating Coaching, with packages starting at $4,900. Conti also offers a la carte dating coaching sessions. One hour costs $200, or you can do 30 minutes for $100.
Conti says a fundamental of their services is recognizing that "looks are not the most important part of a relationship."
In an interview with DatingNews.com, Cristina Conti Pineda explained why they advise their clients to do a social media cleanse:
It takes time to unwind from physical perfection because singles see it everywhere. We like our clients to go through social media cleanses because it can be problematic, especially for men. It can make them antisocial and unable to have a real relationship.
Instead, Conti and her team encourage clients to choose 5 "inner" qualities that are must-haves for a future spouse.
Alessandra Conti Reviews
While Alessandra Conti has been a frequent media contributor, there don't seem to be any Matchmaking In The City reviews on local review platforms.
It's not reviewed on Yelp or TrustPilot, nor is it listed with the Better Business Bureau. There are a handle of reviews on their Facebook page, but that's about it.
A lack of reviews isn't terribly surprising, given her more high-profile Beverly Hills clientele are likely privacy-minded. But with plenty of Los Angeles matchmakers to choose from, surviving the competition means her process must be working for her.
But is she the right matchmaker for you? Hiring a dating service is a big decision - you're not only investing money, you're hoping for a life-changing outcome.
One aspect to consider when hiring any personal matchmaker is how far their reach extends. Do you want to roll the proverbial dice and hope that your soulmate signed up with the same service?
Maybe you'd also like to consider a matchmaker service with a nearly unlimited reach, like VIDA Select.
VIDA Select's Matchmakers Access The Largest Pool Of LA Singles There Is
Thanks to a modern approach to matchmaking that doesn't rely on a limited internal database, you'll never have to compromise on looks or inner qualities.
You'll only meet highly compatible, incredible people who match what you're looking for - because you pre-approve each one!
And another advantage VIDA Select offers over most other matchmaking service is a convenient pay-as-you-go plan. No long-term memberships or contracts - you just pay for each month you'd like elite matchmaking service.
If you meet someone incredible right away, you're not locked into months and months of service you don't need. And with VIDA, you can pause and reactivate it on your schedule - it's dating entirely on your terms.
Find out more about how VIDA Select's modern matchmaking works!
All product and company names are trademarks™ or registered® trademarks of their respective holders. Use of them does not imply any affiliation with or endorsement by them.
Why Choose VIDA Select?

Since 2009, thousands of clients have discovered true love thanks to VIDA Select's fresh, modern approach to matchmaking – which has finally thrown blind dates and long-term contracts out the window. This isn't your grandmother's matchmaking!
Instead of working with a single matchmaker using a small rolodex of potential partners, VIDA Select's matchmaking team taps into the world's largest database of available singles. We'll quickly identify the matches who check all of your boxes so you can finally experience true chemistry. Are you ready to become our next success story? Schedule your complimentary consultation now by clicking the button below!
Get Started Now