I hope you enjoy reading the blog post.
If you want to chat now about your matchmaking search, click here.
Meet Nikki Lewis: Is She The Best NYC Matchmaker For You?
Curious about Nikki Lewis, the New York matchmaker behind The Bevy? This short profile reveals how she got started in the industry, what to expect if you decide to become a client, a taste of her dating advice, and more!
Here's What We'll Cover In This Nikki Lewis Matchmaker Profile:
Our team of experts has over 14 years of firsthand experience in the matchmaking industry, so we know exactly what clients value most when hiring a service.
To help singles feel confident they're making the best choice for them, we've reviewed over 200 matchmakers, diving deep into their costs, process, and client experiences.
Let's get started!
Meet Matchmaker Nikki Lewis
Nikki Lewis was born and raised in Beverly Hill, but pursuing her passion for drama brought her to NYU's Tisch School of the Arts.
After receiving her degree, she embarked on a career in luxury branding and celebrity PR and ultimately founded elite matchmaking service The Bevy with Greta Tufvesson.
Speaking to Fashion Week Daily, Lewis elaborated on how her diverse background contributed to her career as a matchmaker:
"I'd also cultivated many relationships throughout years of interning in fashion and celebrity PR in LA and NY throughout college at NYU, where I received a BFA in drama. I realized that my theatrical experience gave me the people skills and emotional intelligence necessary to cope empathetically with different types of people and their interpersonal relationships. All of these factors ultimately led me to Greta."
Tufvesson, who also had experience working with luxury brands and for a hotel management company, was the one who brought up the idea of delving into the matchmaking industry.
This collaboration resulted in the co-founding of The Bevy in 2014, an exclusive matchmaking service based in both LA and New York.
Dating Advice Straight From The Bevy's Matchmakers
Lewis and Tufvesson have shared plenty of dating and relationship advice over the years. In interviews, they often highlight the significance of compatibility, confidence, and aligned expectations in any relationship.
Here are 3 of their best dating & relationship tips from around the web!
"To add to the ever-expanding list of non-negotiables, many people prefer political or religious commonalities. For some, it may be similar socioeconomic backgrounds. Perhaps it's common interests and lifestyles. But ultimately the beauty of what we do lies in chemistry, and as we know, chemistry cannot be contained in a laundry list of must-haves."
"Love yourself before you expect anyone else to love you. People are constantly working on improving themselves but, in the meantime, have a good sense of who you are and know your strengths and weaknesses. Confidence is one of the most important qualities for forming a relationship."
"Do you both want monogamy? Marriage one day? To start a family? If those are non-negotiable for you, you should be upfront with your partner about it. Never assume someone wants the same things as you do. Never assume someone will change their minds. It's crucial to be on the same page about these."
Nikki Lewis's Matchmaking Process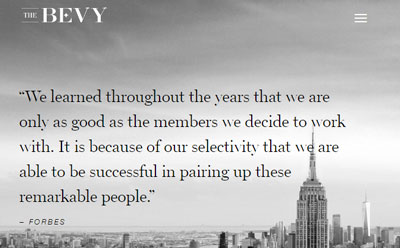 The Bevy primarily focuses on men as paying clientele, most of whom come to them via referral. Women who pass a screening and interview process have the option to join their database at no cost.
Being selective about their clients, Lewis emphasizes the exclusivity of their service in an interview with Observer, saying,
"This isn't something that everyone can come join, it's a very exclusive membership."
Lewis and Tufvesson typically work with no more than 30 clients at a time.
Their matchmaking process is a mix of intuition and science. As they shared with LA Confidential,
"We take note of everyone's fundamentals, non-negotiables and goals. The rest is up to our intuition. We always say it's one part science, two parts intuition."
Prospective clients are typically referred to their service, then submit a bio containing personal information.
This bio includes details such as age, occupation, education, reasons for seeking The Bevy's assistance, and recent photos. According to Lewis,
"We keep it methodical. Everyone has to send in a bio, so we learn the basics."
If they think you might be a good fit for the service, you'll have a face-to-face consultation. Expect to discuss your relationship history, expectations, matchmaking criteria, etc.
If the team wants to move forward (and vice versa), they'll send you an in-depth questionnaire covering topics not addressed during the consultation.
Lewis described the questionnaire this way:
"Everything from allergies to sex drive to your relationship with your parents. We try to delve into the psyche a little bit. Who inspires you? What's your idea of happiness? It's a self-discovery thing. When people fill it out, they feel really good afterward, like "Wow, I really needed to do that for myself."
If you officially come on board as a client, you'll be matched with singles from the database. After each introduction, The Bevy team gathers feedback from both halves of the match, and shares any insights with you.
As matchmaker Nikki Lewis explained in an interview, the feedback process allows for both self-awareness and continuous personal improvement.
"It's an opportunity for you to find out if there's something that you're doing that's turning your date off. Maybe you're talking too much about your ex; maybe you didn't hold the door open for her. It could be bad breath. There's nothing we haven't heard. It's great for us to hear whether it was a match or it wasn't—or if it was an almost match except for this one thing."
What It Costs To Hire Nikki Lewis
Matchmaking packages at The Bevy start from $25,000 to $35,000, with prices varying based on the specifics of your search. Although Lewis and Tufvesson have staff to manage different aspects of their business, they personally handle all client meetings.
The duo told Forbes,
"We outsource computer time to our team, but we will never delegate actual face time to anyone else. We are strict about meeting all members in-person ourselves."
Wondering how The Bevy price tag compares to other elite matchmaking services?
Like The Bevy, Enamour offers matchmaking for ultra-selective, accomplished singles seeking a personalized, "white glove" approach to finding their perfect match.
The Enamour team initiates the search within their highly curated, invitation-only database, and also leverages both recruiting technology and an extensive network of scouts to find incredible matches both online and offline.
All candidates are thoroughly vetted via an in-depth interview process that takes place in person or via video call. Your personal matchmaker uses an effective combination of relationship psychology, AI, and intuition to introduce you to matches who fit - and exceed - your expectations.
Enamour's packages start at around $20,000 for 6 months of service.
Selective Search, a nationwide service based in Chicago with a presence in major cities like LA, New York, San Francisco, and San Diego, typically works with men as paying clients.
Founded by former Fortune 500 executive recruiter Barbie Adler, Selective Search's introductory packages start around $25,000. Basic packages begin at $50,000, and costs can go up to $250,000 based on search preferences and location parameters.
And for those looking for a truly modern approach to matchmaking, consider VIDA Select.
VIDA's matchmakers leverage the largest source of eligible singles there is, so you can look forward to meeting quality matches who check all of your boxes.
With VIDA, packages are offered on a pay-as-you-go basis, meaning no multi-month, long-term contracts. Instead, packages are monthly, with pricing that aligns with the number of hours your personal matchmaker will invest in finding your ideal partner.
Basic matchmaking packages start at just $1,195 per month, Premium packages begin at just $1,795 per month, and Elite options start at $2,595 per month.
On average, VIDA clients begin a relationship with one of their matches within just 3 months of beginning service. Intrigued? Find out if VIDA is right for you!
All product and company names are trademarks™ or registered® trademarks of their respective holders. Use of them does not imply any affiliation with or endorsement by them.
Why Choose VIDA Select?

Since 2009, thousands of clients have discovered true love thanks to VIDA Select's fresh, modern approach to matchmaking – which has finally thrown blind dates and long-term contracts out the window. This isn't your grandmother's matchmaking!
Instead of working with a single matchmaker using a small rolodex of potential partners, VIDA Select's matchmaking team taps into the world's largest database of available singles. We'll quickly identify the matches who check all of your boxes so you can finally experience true chemistry. Are you ready to become our next success story? Schedule your complimentary consultation now by clicking the button below!
Get Started Now