I hope you enjoy reading the blog post.
If you want to chat now about your matchmaking search, click here.
One on One Matchmaking Reviews: Is It Legit & What's It Cost?
Not sure if this boutique Atlanta matchmaking service is the right choice for you? Keep reading for crucial details like cost, how the service works, and what real customers have to say in their One on One Matchmaking reviews!
The 411 On One on One
Sarah Kathryn Walmsley started her matchmaking career early in life. She purchased Eight At Eight Dinner Club for $2,000 in 1998 when she was just 22.
She added One on One Matchmaking in 2008, which offers "VIP" matchmaking services in Atlanta for clients who would rather go on traditional dates than meet 7 other singles at a hosted dinner party.
The matchmaking service is straightforward. Clients are matched with other paying clients, as well as Atlanta singles in the Eight At Eight database.
All the details of your date are pre-arranged. Your matchmaker follows up with your date afterward so you can receive feedback and any coaching that may help improve your overall style and approach.
Prospective clients can fill out the online form to request an appointment to meet with a matchmaker at their offices, located at 3102 Roswell Road NW in Atlanta.
You'll be given the opportunity to create a mini-profile by answering 3 screens worth of questions like these:
You can also upload up to 5 photos to their website.
Based on your answers to the questions, a matchmaker will reach out to set up a personal interview if she thinks you are someone they can work with.
The in-person interview lasts around an hour, and you'll describe your dating history, relationship goals, and background information.
One On One Matchmaking Cost
These Atlanta matchmakers charge between $3,500 and $10,000 to meet a minimum of 10 matches.
Granted that's a rather large price range, but it all depends on how hard they think it will be to find someone who meets all your "perfect partner" specifications and if you want extras like home visits and date coaching.
One on One does offer a guaranteed number of matches during the term of your contract, to be decided upon during the initial consultation.
Actual Customer Reviews For This Atlanta Matchmaker
One on One Matchmaking recommended reviews on Yelp are mostly positive, earning them a solid 4 1/2-star rating.
This client said she was using One on One to get back into the Atlanta dating scene:
This client was happy with the overall experience:
Other clients weren't quite so happy with the Atlanta singles they were matched with, or the customer service they received:
There are no One on One Matchmaking BBB reviews or complaints. This Atlanta matchmaking service has no rating with the Better Business Bureau, but there are two 1-star reviews:
Google reviews for One on One Matchmaking are mostly positive, resulting in a 4.87-star rating. Both of these clients met someone through the service: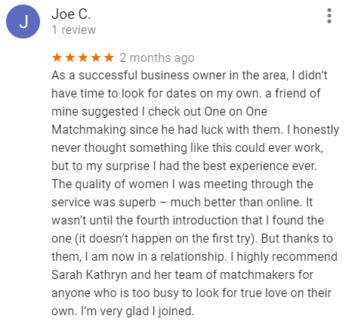 This client hadn't met the right person yet, but was pleased with her matches so far:
On the other end of the spectrum, this client felt like there weren't many matches in her age range:
And this client felt like they weren't using any particular screening criteria for selecting matches:
Maria Avgitidis, owner of Agape Match in New York City, also left a Google review praising this Atlanta matchmaking service:
So is this the best Atlanta matchmaker for you?
Only you can answer that - but hopefully the One on One Matchmaking reviews you just read will give you some guidance.
Things To Consider Before Hiring An Atlanta Matchmaker
Boutique matchmaking services that match clients with other clients typically don't have a large database of eligible singles, so you may find yourself having to "settle" for dates with people who meet some, but not all, of your criteria.
And then there's the contact.
With One on One Matchmaking, you're committing to and paying for a service that you haven't even gotten to try out yet, which can be a risky proposition if you don't get the results you're hoping for.
Maybe you'd feel more comfortable with a matchmaking service that's so confident in their ability to find your soulmate, they don't need you to sign a contract?
With VIDA Select, you get the flexibility of a pay-as-you-go pricing structure. And VIDA's expert matchmakers know just how to leverage Atlanta's biggest dating pool of eligible singles - so that means you never have to "settle" again.
You pre-approve every single match, so you already know each person you meet checks all your boxes!
Want to learn more? Just click here!
All product and company names are trademarks™ or registered® trademarks of their respective holders. Use of them does not imply any affiliation with or endorsement by them.
Why Choose VIDA Select?

Since 2009, thousands of clients have discovered true love thanks to VIDA Select's fresh, modern approach to matchmaking – which has finally thrown blind dates and long-term contracts out the window. This isn't your grandmother's matchmaking!
Instead of working with a single matchmaker using a small rolodex of potential partners, VIDA Select's matchmaking team taps into the world's largest database of available singles. We'll quickly identify the matches who check all of your boxes so you can finally experience true chemistry. Are you ready to become our next success story? Schedule your complimentary consultation now by clicking the button below!
Get Started Now