I hope you enjoy reading the blog post.
If you want to chat now about your matchmaking search, click here.
Samantha's Table Review: Best NYC Matchmaker For You?
Are you thinking about hiring Samantha's Table as your NYC matchmaker?
From the boutiques to the biggest industry players, our expert team has reviewed over 200 matchmaking services. Our expertise is distilled from 14+ years of firsthand experience in the industry, so we're intimately familar with what clients value most in a matchmaker.
This Samantha's Table review has all the details you need to know about this elite NYC matchmaking service, from cost and complaints to what you can expect if you sign up!
Samantha's Table Review Table of Contents:
Let's dive in and meet the founder!
Former Divorce Attorney Turned Matchmaker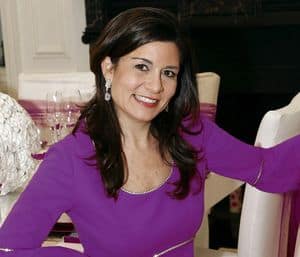 Samantha Daniels began her career as a NYC divorce attorney, but she found joy in bringing people together - often hosting parties for her single friends to meet fellow singles. This hobby ultimately sparked her passion for professional matchmaking.
In 1999, Daniels left her job as a divorce attorney and started her elite matchmaking service, Samantha's Table.
Headquartered in NYC, Daniels also accepts clients in Los Angeles where she has a Beverly Hills residence. Not in one of those cities? She also takes on singles on a case-by-case basis, if they request to become a "bi-city client" or purchase a "hometown search."
Bi-city clients frequently travel to NYC or LA, and are interested in meeting people as they pass through.
For hometown search clients, Daniels brings her matchmaking services to them. She visits their location and curates a list of eligible, local singles as potential matches.
Every client of Daniels receives 'tough love' dating advice, so they can act their best on dates. As Daniels puts it:
"Not only do I match my clients but I also give 'tough love' to my clients – giving them advice about what they are doing right and what they are doing wrong when it comes to dating so I can help them get the one thing that is missing in their lives, a person with whom to share all of their success."
Daniels also offers one-on-one dating coaching sessions in-person or through Zoom. You can inquire about these sessions by emailing her directly.
How Much Does Samantha's Table Cost?
Daniels claims to do all the matchmaking herself, so she only takes on a limited number of paying clients at a time.
Her paying clients are guaranteed to receive at least 12 matches. One year of matchmaking at Samantha's Table starts around $50,000.
There is also a $500 initial consultation fee, as well as a $75,000 success fee.
Let's take a quick look at how those prices stack up against a few other NYC matchmakers!
Enamour, a white glove service with a highly curated, invite-only database, offers packages starting at $20,000 for a 6-month contract. Enamour's dedicated team also leverages recruiting technology and an extensive scouting network in the search for your ideal partner.
Amy Laurent, an executive matchmaker, also has offices in both NYC and LA. She also helps singles in Florida. Laurent's matchmaking packages start around $25,000+ for a one-year contract.
Sameera Sullivan Matchmakers, based in Texas but with a presence in several major cities around the US, costs between $25,000 and $250,000 for a one-year contract. Prices depend on the particulars of your search. Sullivan specializes in matchmaking for "high net worth" singles.
Want a more detailed price comparison? Check out our guide to the best millionaire matchmakers in New York City!
What To Expect If You Hire Samantha Daniels
Samantha's Table has a database of approximately 60,000 singles – many of whom Daniels considers to be her friends, friends-of-friends, or singles she's met in her daily life via networking and travel.
Women can join the Samantha's Table database by emailing her basic profile information and photos of themselves and paying for a consultation. Women can also respond to the "Matchmaking Alerts" Daniels posts across her social media.
These posts describe what a client is looking for, and encourage singles who match that description to reach out to her, like this:
As a database member, there is no guarantee of ever being matched. For that you'll need to purchase a matchmaking package.
Clients are matched with clients, singles from the database, or singles who respond to the "casting calls".
Prospective clients start with an initial 60 to 90 minute consultation with Daniels, either in person or via Skype. This consultation costs $500, and you'll have the opportunity to describe yourself, your relationship goals, and what you're looking for in an ideal partner.
Be prepared to discuss what worked (or didn't work) in past relationships. You'll also share pictures of past significant others and celebrities you find attractive so that she can get a feel for "your type."
If you sign on, Daniels will get to work pulling matches from the database of contacts she's curated over the years. If she finds a suitable match for you, you'll have the opportunity to say yay or nay based on a description of the person.
If you're intrigued, she will contact the match and see if the interest is mutual. If it is, she'll arrange a drinks and apps date for the two of you. You can choose the location, and Daniels will set it up.
Prior to the scheduled date, she will give your cell phone number to your match, and vice versa, so that you can contact each other if something comes up at the last minute.
The next day, Daniels will get feedback from both you and your match, then she'll share any feedback that she feels would be helpful for you to know.
Samantha's Table Reviews
Samantha Daniels is no stranger to media attention. She's a published author, very active on social media, and has made numerous TV appearances. Her matchmaking service has been written up in publications like Forbes and the New York Times.
But when it comes to user reviews, there just aren't that many. That's typically a good sign, as dissatisfied clients are far more likely to post negative reviews.
Yelp gives this dating agency 2.9 stars for its NYC location. Out of the 7 recommended reviews, three are 5-star and the rest are 1 or 2-star.
The positive reviews are all from 2014. One was from a woman who joined Daniels' database of singles after attending one of the matchmaker's recruiting events. She was happy with the quality of her match:
Others weren't as happy with the Girl's Night Out experience:
Other Samantha's Table complaints included one client who felt Daniels was more focused on her media opportunities than she was on the actual matchmaking process:

And the most recent Samantha's Table Yelp review was from 2017. It's from a woman who paid $500 to be included in the database, but says she was never contacted:
Is Samantha's Table The Right NY Matchmaking Service For You?
The decision to hire any matchmaker ultimately comes down to how the initial consultation makes you feel, the cost of the service, and the length of your contract.
Most services require new clients to pay the entire package price up front, before the search for your ideal partner gets underway. With contracts often lasting a year or more, it's an investment of both time and money.
But long-term contracts aren't always on the table. VIDA Select, for instance, offers elite matchmaking services on a pay-as-you-go basis. Monthly packages are calibrated for the number of hours your personal matchmaker will spend on your search.
With an array of options available, VIDA's services are tailored to fit your needs - and your schedule. If you feel sparks start to fly with a match right away, you don't need to continue with the second month!
On average, VIDA clients meet someone special within only 3 months of beginning service. Ready to meet your ideal partner? Go here to schedule your complimentary consultation!
All product and company names are trademarks™ or registered® trademarks of their respective holders. Use of them does not imply any affiliation with or endorsement by them.
Why Choose VIDA Select?

Since 2009, thousands of clients have discovered true love thanks to VIDA Select's fresh, modern approach to matchmaking – which has finally thrown blind dates and long-term contracts out the window. This isn't your grandmother's matchmaking!
Instead of working with a single matchmaker using a small rolodex of potential partners, VIDA Select's matchmaking team taps into the world's largest database of available singles. We'll quickly identify the matches who check all of your boxes so you can finally experience true chemistry. Are you ready to become our next success story? Schedule your complimentary consultation now by clicking the button below!
Get Started Now