I hope you enjoy reading the blog post.
If you want to chat now about your matchmaking search, click here.
Serious Matchmaking: Best Elite NYC Matchmaker For You?
Curious about Janis Spindel's elite NYC matchmaking service? This Serious Matchmaking review has all the details you're looking for, from how much it costs to how it works and what real clients had to say about their experience.
From the small boutique operations to the big industry players, our team of matchmaking experts has reviewed over 200 services.
Our insight comes not only from comprehensive research, but also from 14+ years of first-hand industry knowledge. Our reviews are built on a keen understanding of the matchmaking landscape!
Serious Matchmaking Review Table of Contents
Hiring a matchmaking service is not just a financial investment - it's a deeply personal process that involves trust as well. Making the best decision for you is crucial. So let's dive in!
The Faces Behind Serious Matchmaking
Janis and Carly Spindel, a mother-daughter duo, are the brains and hearts behind Serious Matchmaking.
With over 25 years of experience under her belt, Janis Spindel says she has always felt a sense of purpose in her profession.
As she shared in an interview,
I was always setting up my friends and they were getting married left and right. After 14 of my guy friends got married within an 8 month period, I looked at my husband, looked at the phone and a matchmaker was born. I have the gift of gab and an uncanny sixth sense. Since I was a little girl, I've always been able to talk to people wherever I am.
She's graced the screens of countless love, dating, and relationship specials, including appearances on Dr. Phil, The Today Show, and CNN.
Spindel has also published two books on navigating dating and relationships: "Get Serious About Getting Married: 365 Proven Ways to Find Love in Less Than One Year" and "How to Date Men: Dating Secrets from America's Top Matchmaker."
Following in her mother's footsteps, Carly Spindel, immersed herself in the matchmaking business from an early age.
As Carly explained to Natfluence,
Ever since I was a teenager, I've been counseling my friends on every stage of their relationship. People have been coming to me for dating advice for as long as I can remember. Starting at 10 years old, I would spend every Saturday afternoon with my mom and listen to her interview dozens of women.
Her tenacity and natural ability to connect with people have some people referring to her as "mini Janis." Carly Spindel's knowledge of the industry has helped her hone in on her skills as a dating and relationship coach.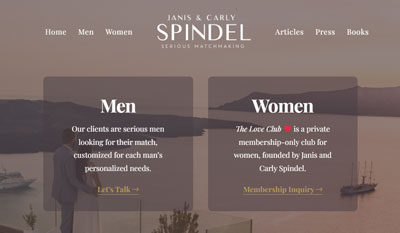 Janis Spindel founded Serious Matchmaking in 1993, with Carly Spindel coming on board later on. Located in the heart of New York City, the Spindels now work with clients nationally, and can provide an international search.
Serious Matchmaking caters to an elite group of successful, relationship-minded men who are willing to go to great lengths and spare no expense in their search for love.
As Janis Spindel explained in an interview with Dating News,
That is our specialty: working with billionaires who pay upward of $1.5 million dollars and want it all. These billionaires have it all — except for a wife.
While their paying clients are predominantly men, they also welcome women to join their database - or as they call it, the "Love Sphere." The Spindel's actively search for women who embody these 4 essential qualities: beauty, brains, body, and balance
To ensure clients receive a high level of attention and dedication, they limit themselves to a small handful of clients at a time.
The Serious Matchmaking Process
If you're thinking about being one of them, the first step is a screening call with one of the Spindels' assistants.
Next is a face to face consultation with Janis or her daughter. Typically it's over lunch or dinner - they call it a "simulated date" since they'll be getting to know you and what/who you're looking for in a relationship.
Working with these elite matchmakers means you can expect a rigorous vetting process. After the simulated dates they schedule an in-home visit to confirm that the client is marriage-minded.
As Carly Spindel shared with Newswire,
We absolutely adore every single one of our clients, or we wouldn't waste our time. We are very selective about whom we choose to work with, and 10x more selective with the women that we match them with. We actually refuse more clients than we accept.
Membership options will be discussed, and your package will be customized. The entire fee is paid up front, and you may also have an additional "success" fee due when you get engaged or married to someone you met via the service.
Once we've found our client their match, and they're either together for 12 months, living together, or engaged, they are contractually obligated to pay us a finder's fee, which is the same rate as their signing fee.
All the details will be clearly specified in the contract, which runs for a year. Clients can typically expect to see a couple of matches in the first two weeks.
The membership also includes a year's worth of "hold" time. Once you sign the contract, you can cancel your membership within 3 business days. After that there are typically no refunds offered.
As with most matchmaking services, Janis doesn't guarantee she'll find your perfect partner:
I don't do guarantees, if anyone offers you a guarantee, run away from them- you can't put a guarantee on feelings. I can lead a horse to water but I can't make it drink.
How Much It Costs To Hire Janis Spindel Serious Matchmaking
Serious Matchmaking cost ranges from $25,000 to $1,000,000, with contracts lasting for 1 year.
The cost of your matchmaking experience will vary depending on the matchmaker you choose or if you decide to work with both Janis and Carly Spindel. There are five package options available: Basic, Preferred, Elite, VIP, and Global VIP.
For the Basic package, you can either work exclusively with Carly for $25,000 or choose to work with both Carly and Janis Spindel for $75,000. This package is limited to the tri-state area, which includes New York, New Jersey, and Connecticut.
All other packages involve collaborating with both matchmakers and range in price from $150,000 to $1,000,000.
Preferred and Elite packages extend the search beyond the New York area but remain within a tri-state area of your preference. VIP packages include a national search, while the Global VIP packages include a worldwide search.
Women interested in joining their Love Sphere database will need to complete an application. The application includes a series of questions about physical appearance, educational background, family goals, and travel experiences. The application fee is $25.00.
For those who pass the initial screening, the next step is an individual or group interview session. The cost of the session typically ranges from $250 to $1,200, depending on whether it is a one-on-one or group meeting.
Serious Matchmaking Reviews
Both Janis and Carly have been profiled in various media outlets over the years, but what do real customers have to say about this NYC matchmaking service?
Most of the online reviews are from women who either paid to be in the Serious Matchmaking database or attended events.
They have a 2.5 star rating on Yelp, with the vast majority of the 50+ reviews from women in the database.
Many women were happy with their experience as potential matches for paying clients, like this Serious Matchmaking reviewer: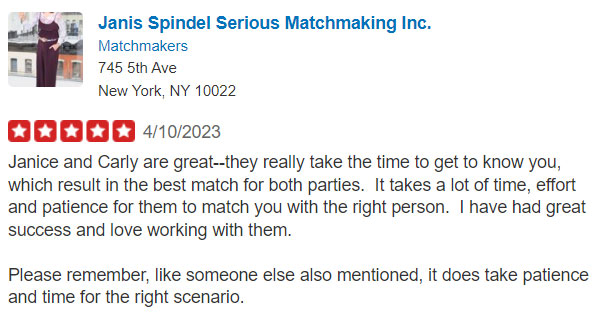 On the other end of the spectrum, a few women were unhappy that they had joined the database but not been matched with anyone yet.
One of the only male reviewers was hesitant about the $80,000 price tag he had been quoted, and wrote a 1-star Yelp review asking why there were so few if any reviews from men.
Janis Spindel responded, explaining via Yelp that "The men are extremely private and they are the clients, they are ALL happy campers I am proud to say. We do not take a man on if we do not think we can deliver what he is asking for."
Serious Matchmaking has a Google rating of 4.0 on their business profile. Similar to Yelp, most of the reviews were from women who had worked with Janis and Carly Spindel.
The predominately 5-star reviews from women in the database commonly shared that they enjoyed working personally with the two elite matchmakers.
Is Serious Matchmaking The Best Elite NYC Matchmaker For You?
Serious Matchmaking has been working its matchmaking magic in New York City since 1993, so it's worthy of your short list.
But keep in mind Janis and Carly Spindel only work with a few select clients at a time, and there's also the price point and year-long contract to consider.
Depending on which package you're considering, Serious Matchmaking is on the higher end of the cost spectrum compared to other NYC millionaire matchmakers.
Enamour, for instance, offers a luxury matchmaking experience starting at $20,000. Enamour's database is invite-only, with an extensive screening process for match candidates. 
Much like the Spindels, Enamour's matchmaking team isn't just selective about who joins the database. Clients are highly accomplished, successful singles who want to meet someone exceptional.
Contracts typically start at 6 months, depending on the particulars of your search requirements.
Maria Avgitidis, another well-known NYC matchmaker, also charges around $15,000 for her least-expensive package. Her service, Agape Match, helps singles throughout the Northeast but her primary focus is NYC.
Agape Match contracts also start at 6 months.
VIDA Select takes a different approach to contracts, offering service on a month-to-month basis instead. It's standard practice in the industry to require payment in full before your service begins, so if that gives you pause VIDA Select is an option you should consider.
Paying monthly not only allows you to give the service a "test drive", but it also means you don't have to worry about paying for search time you don't end up needing if you meet a match with relationship potential right away.
VIDA Select's matchmaking packages start at just $1095 per month, with Premium packages beginning at only $1695 per month. Elite packages begin at just $2595 per month. On average, VIDA Select clients meet someone special after only 3 months of service.
Want to learn more about VIDA Select? Discover how this modern matchmaking service will work for you by going here!
All product and company names are trademarks™ or registered® trademarks of their respective holders. Use of them does not imply any affiliation with or endorsement by them.
Why Choose VIDA Select?

Since 2009, thousands of clients have discovered true love thanks to VIDA Select's fresh, modern approach to matchmaking – which has finally thrown blind dates and long-term contracts out the window. This isn't your grandmother's matchmaking!
Instead of working with a single matchmaker using a small rolodex of potential partners, VIDA Select's matchmaking team taps into the world's largest database of available singles. We'll quickly identify the matches who check all of your boxes so you can finally experience true chemistry. Are you ready to become our next success story? Schedule your complimentary consultation now by clicking the button below!
Get Started Now