I hope you enjoy reading the blog post.
If you want to chat now about your matchmaking search, click here.
Single Atlanta Matchmakers Review: Should You Hire The Twins?
Wondering if a pair of Texas twins can combine forces to find you the love of your life?
Originally founded by Leisha Murphy, Single Atlanta has been in the matchmaking business since 1998. Today, Leisha's twin sister Lisa Lyngos stands by her side as the firm's managing director.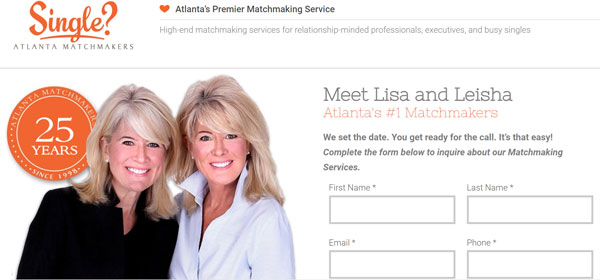 Single Atlanta, also known as Atlanta Matchmakers, works with singles all over the state. But with so many professional matchmaking services to choose from, are they the right choice for you?
This Single Atlanta Matchmakers review has all the details you need to help you make that decision. From how much it costs to their matchmaking process and more. Plus you'll discover what real clients have to say about their experience!
Our team has reviewed over 200 matchmaking services, researching their processes, success rates, and customer experiences. Our reviews are built on extensive research and a keen understanding of the matchmaking industry.
Single Atlanta Matchmakers Review Table Of Contents:
Let's start with…
The Price Tag
You won't find any pricing or membership options detailed on their website, as this matchmaking duo prefers to discuss the particulars face to face during the sales pitch.
From what we found, you can generally expect to spend between $1,000 and $15,000. The price varies depending on the membership option you choose.
But based on the company's response to several BBB complaints about charging different prices to different customers, the final price tag appears to be negotiable:

Negotiable pricing is nothing new in the matchmaking industry, however.
Depending on the matchmaking service, prices often vary by client. It can depend on factors like how many cities you'd like to date in, how many singles you want to meet in what length of time, your individual financial situation, etc.
But if you're uncomfortable with variable pricing, there are options. Many matchmaking services, like VIDA Select, offer a fixed price menu so everyone pays the same amount for a particular level of service.
Your Single Atlanta Matchmakers membership does not have a timeline. Instead you are guaranteed an agreed-upon number of matches, or "introductions."
Introductions are made as they become available in the database, meaning the dates could come quickly or they could literally take forever.
Who Will You Be Meeting?
Single Atlanta Matchmakers advertises all over the state of Georgia, but you can request to only meet local singles. For instance, if you're only interested in meeting single professionals in Atlanta, you can specify that in your contract.
Matches are made from within the client database, so you'll be introduced to other paying clients who typically range in age from mid-20s up to their 80s.
While Atlanta Matchmakers selects potential matches from their database, Lyngos mentioned in an interview that they don't rely on any AI algorithms for the matching process.
"We don't use any complicated computer algorithms. After all, how can a computer really understand your values, your preferences, your desires… your story? When it comes to finding love, we believe in a personal touch."
This philosophy is reflected in the company's tagline: "Simply put, we match people, not profiles."
What To Expect From Atlanta Matchmakers
Prospective clients can complete an online form on the Single Atlanta website, or call them directly to schedule a meeting with a relationship consultant.
This initial in-person consultation is where you'll talk about yourself and your "ideal partner" criteria.
Lyngos explains their process this way,
"They tell us their stories and together we are able to build a profile of the type of person they would like to meet. This is where our experience really counts. … We know precisely how to successfully guide them through the process."
You'll also learn about the membership options.
If you decide to sign up, they'll create a "profile card" for you that's entered into their database.
When your matchmaker finds a suitable match, you'll be notified of the match. The amount of information you receive about your match depends on your membership level.
For instance, the more comprehensive packages include a pre-screening option, where you can see a photograph of your match before the introduction is arranged.
After the date, you can call your matchmaker to discuss any feedback you have on the quality of the match.
Single Atlanta Matchmaking Reviews
Atlanta Matchmakers Google reviews were mostly positive, resulting in an overall 4 star rating on their Google Business profile.

This client mentioned a positive experience with his matchmaker and the entire process:
This reviewer also complimented the team and shared that she's engaged:
On Yelp, Atlanta Matchmakers has a 2-star rating, with over half of the 55 reviews being 1-star.

Several of the 1-star reviewers mentioned that their matches didn't meet their specified criteria:
Among the Atlanta Matchmakers Yelp reviews, there were a handful of 5-star ratings.
This client said she met someone special with wedding bells in their future:
Single Atlanta is not accredited with the BBB, but it has an A+ rating. There are no Single Atlanta BBB reviews or complaints currently listed.
Only you can decide if Single Atlanta is the right choice for you. See how you feel after the initial consultation, whether that's in person or by phone. Take some time to consider all your options before making an expensive commitment to any Atlanta matchmaking service.
A Modern Matchmaking Alternative...
Like many traditional matchmakers, Single Atlanta Matchmakers pairs you with other current members.
And while your soulmate could absolutely be signed up with them as well, working with a restricted database could also be a potential drawback. Someone who comes close to what you're looking for may or may not be a client.
On the plus side, Single Atlanta Matchmakers often collaborates with other local and national matchmakers. That expands their network of potential matches considerably.
But maybe you'd also like to consider a modern matchmaking service with a virtually unlimited database of local singles?
At VIDA Select, our matchmakers leverage the largest pool of eligible singles in the world, so you won't have to cross things off your list of "must haves". Plus, you'll get to pre-screen every single match, so you're only meeting people you're actually attracted to.
And when it comes to membership packages, everything is spelled out for you in black and white.
Our packages start as low as $1095 a month for Basic matchmaking service, and $1695/month for Premium matchmaking. Elite options start at just $2595 a month. Each package is paid by-the-month, with no long-term contract requirement.
Package prices highly correlate with how many hours should be devoted to your monthly search, with factors like your "ideal match" criteria list taken into account.
On average, our clients meet someone special within 3 months. If you're ready to stop wishing you could meet someone, start making it happen!
Just click here to get started.
All product and company names are trademarks™ or registered® trademarks of their respective holders. Use of them does not imply any affiliation with or endorsement by them.
Why Choose VIDA Select?

Since 2009, thousands of clients have discovered true love thanks to VIDA Select's fresh, modern approach to matchmaking – which has finally thrown blind dates and long-term contracts out the window. This isn't your grandmother's matchmaking!
Instead of working with a single matchmaker using a small rolodex of potential partners, VIDA Select's matchmaking team taps into the world's largest database of available singles. We'll quickly identify the matches who check all of your boxes so you can finally experience true chemistry. Are you ready to become our next success story? Schedule your complimentary consultation now by clicking the button below!
Get Started Now