I hope you enjoy reading the blog post.
If you want to chat now about your matchmaking search, click here.
Tawkify Reviews [2023] - Best Matchmaking Service For You?
Reading Tawkify reviews is one of the best ways to narrow down your options when it comes to choosing a matchmaking service - and this one has all the details you need to know to make an informed decision.
Tawkify Review Table of Contents
Start at the top or jump around!
What Is Tawkify?
Tawkify is a national matchmaking service. Paying clients work with a human matchmaker to meet compatible singles.
While it's not a dating site or dating app, the matchmakers do use a "patented predictability model" to help identify potential matches from within a database.
Tawkify Cities
Tawkify (pronounced talkify) has a network of more than 50 professional matchmakers working in 30+ major cities.
Tawkify locations include:
Atlanta, Austin, Baltimore, Boston, Charlotte, Chicago, Cleveland, Columbus, Dallas, Denver, Hartford/New Haven, Houston, Indianapolis, Kansas City, Las Vegas, Los Angeles, Miami/Ft. Lauderdale, Minneapolis, Nashville, New York City, Orlando, Philadelphia, Phoenix, Pittsburgh, Portland, Raleigh-Durham, Sacramento, St. Louis, Salt Lake City, San Antonio, San Francisco/Oakland/San Jose, Seattle, Tampa/St. Pete, Washington, DC; West Palm Beach.
The matchmaking service was co-founded in 2012 by E Jean Carroll. She is a long-running "life and love" advice columnist for Elle magazine.
Joining Tawkify
There are two ways to join Tawkify - as a Matchmaker Client or as a Matchable Member.
Matchmaker Clients sign up for matchmaking services, meaning they'll work with a personal matchmaker. Matchable Members become eligible to be matched with the clients.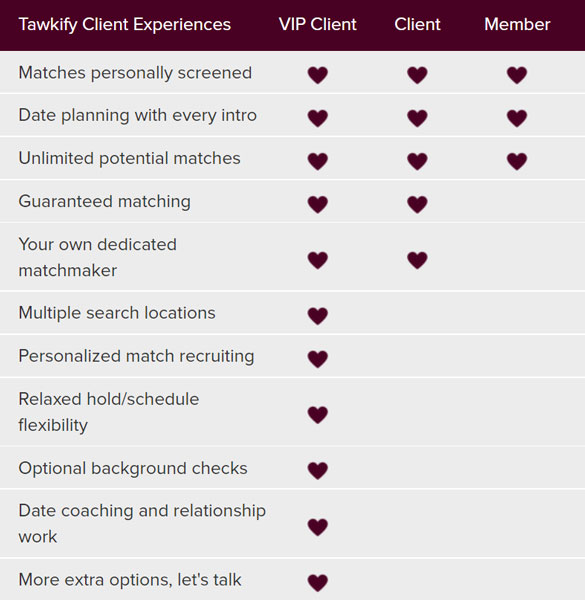 Tawkify claims to have approximately 1.5 million singles in its nationwide database, including both clients and members. The majority of clients are in their 30s to 60s, although you will find singles outside of that range as well.
The initial step for joining Tawkify, whether as a member or client, is filling out an online profile similar to what you'd find on a dating website. You provide a photo, basic background info, and a description of what your ideal match is like.
Before you become a Matchmaker Client, you'll need to go through the company's review process.
During the initial 10-15 minute consultation, be prepared to answer questions about your past relationships, what's worked and what hasn't, and why you're choosing to hire a matchmaker at this point in your life.
This initial consultation is important because you're also "auditioning" your matchmaker.
Do plenty of self-introspection before your meeting. If your relationship goals and desires are clear in your head, you'll get a better idea of whether Tawkify is a good fit for you.
A selection committee will review your online profile and the notes taken during the consultation, then decide whether or not to take you on as a client.
This approval process can take a few days. In the meantime, potential clients are asked to select and pay for a package up front to "hold" their spot. If you're not approved by the selection committee, your full payment amount is refunded.
What Does Tawkify Cost?
Tawkify packages start around $3,000 and run up to $70,000, depending on the number of matches included and the level of service and customization your search requires.
Joining as a Matchable Member costs $99 a year. But there are no set number of matches promised. Again, this is just to make you eligible to be sent on a date with a Matchmaker Client (whose best interests, theoretically, may be regarded as more important than your own).
Read more about the cost of Tawkify here.
Tawkify's Matchmaking Process In A Nutshell
Clients are typically matched with members in the database. However, if there aren't many eligible singles that meet your criteria, you can be matched with other clients or even non-members.
Recruiters supposedly scout for interesting matches on social networks and online dating sites and apps, then extend an invitation to become a member. The new recruits get one free match before paying the yearly fee to be in the database.
Your matchmaker initially searches for members who look like a good fit on paper. According to Tawkify, potential matches are then further screened by your matchmaker via a video chat.
Curated Dating
If the potential match passes the screening process, a date is scheduled. One of Tawkify's claims to fame is its "curated dating" process, which sends clients out on "Mystery Dates" with each match.
The particulars of the date are kept a surprise until the last minute, but are planned around a mutual interest. For example, if both you and your match are into art, you might meet at a gallery.
While you do get a basic description of your match prior to the date, you won't be able to see any photos prior to meeting.
After your date, you'll have the opportunity to give your matchmaker feedback about how you think the date went. You can also share your thoughts on how well the match fit what you're looking for.
Tawkify Reviews: What Customers Are Saying…
Customer experience varies depending on location.
On Yelp, Tawkify has a 2.5-star rating overall, with the majority of reviews being 1 star.
A common complaint centers around the quality of the matches and the perceived lack of pre-screening, as described in these reviews:
The 5-star reviews, all from 2016 or earlier, were mostly from reviewers who were happy with the quality of singles they met, like this one:
TrustPilot.com gives Tawkify a solid 4.5 stars, with the majority of the reviews being quite positive.
Some reviewers praised the interaction they had with their matchmaker, as in these examples:
Of the handful of 1-star reviews, some clients didn't feel they got a good return on their investment, as in these examples:
The BBB gave Tawkify a 2.33 (out of 5) rating based on 9 reviews, with an overall grade of A+. The Tawkify BBB reviews were a mix of 5 star and 1 star.
Customer experiences ranged from meeting someone special:
To low-quality matches:
Tawkify Review Verdict
Does Tawkify Really Work?
Compared to other matchmaking services, Tawkify hasn't been in the business all that long. But with self-reported membership numbers at over 1.5 million users, their "Romance Rolodex" would appear to be hefty.
Their matchmakers are spread out all over the US. So individual experiences and the success rate will vary depending on who you work with. You'll definitely want to spend time interviewing your potential matchmaker before making a decision.
Tawkify could be a great option if you enjoy the thrill of rolling the dice once a month on a blind date experience.

However, if you're more selective about who you choose to spend an evening with, you might want to try a matchmaking service that allows you to pick and choose the people you're interested in meeting - BEFORE you invest time and money in a date.
A Modern Alternative To Blind Dates
VIDA Select understands that a lot of people don't want to pay a premium for a potentially awkward drink or meal with someone they know next to nothing about. It's not worth the extra stress, much less the unnecessary risk of time wasted.
That's why our clients review each match's profile and confirm it's someone they'd be excited to meet before we set up the date. By pre-approving your matches, you're in full control of who stays and who goes.
When you have photos and extensive information about your matches, there are no disappointing blind dates with people you'd never find attractive. It only takes a few minutes to choose your favorites from our curated list of matches. Then we'll get to work arranging the dates for you.
While quality is far more important than quantity, we also know that it may take a small handful of dates to meet someone special.
Even if you're selectively dating only the best, there's no way to test the chemistry before you meet in person.
So why be limited to just one date per month? Wouldn't it be better if you could decide how many dates you'd like to go on? We think so.
If you're ready to skip the blind dates and begin consistently meeting good matches you find overwhelmingly attractive, the next step is a quick phone consultation with one of our matchmakers. It just takes 20 minutes to see if we're a good fit to work together to find your perfect match.
Interested? Take the next step today...
Schedule your complimentary consultation with one of VIDA's professional matchmakers by clicking here!
All product and company names are trademarks™ or registered® trademarks of their respective holders. Use of them does not imply any affiliation with or endorsement by them.
Why Choose VIDA Select?

Since 2009, thousands of clients have discovered true love thanks to VIDA Select's fresh, modern approach to matchmaking – which has finally thrown blind dates and long-term contracts out the window. This isn't your grandmother's matchmaking!
Instead of working with a single matchmaker using a small rolodex of potential partners, VIDA Select's matchmaking team taps into the world's largest database of available singles. We'll quickly identify the matches who check all of your boxes so you can finally experience true chemistry. Are you ready to become our next success story? Schedule your complimentary consultation now by clicking the button below!
Get Started Now