I hope you enjoy reading the blog post.
If you want to chat now about your matchmaking search, click here.
The Modern Matchmaker Review [#1 Pittsburgh Dating Service?]
Single in Pittsburgh and looking for a matchmaker? It's no surprise you're wondering if Susan Dunhoff and Modern Matchmaker can help you find your ideal partner. She's been in the industry for over 3 decades, but is her approach right for you?
This Modern Matchmaker review will help you answer that question.
Our expert team has reviewed over 200 matchmakers and their services, diving into their process, cost, client reviews and more. With 14+ years of industry experience, we know what singles value most when it comes to selecting a matchmaker!
The Modern Matchmaker Review Table Of Contents:
Let's get started with…
Matchmaker Susan Dunhoff's Backstory
Susan Dunhoff has a Bachelor's degree in Journalism and a Master's degree in Communications from Duquesne University. Before becoming a professional matchmaker, she owned a successful marketing and communications firm.
She says her own experience juggling a career with dating gave her insights into the challenges her clients face now, and it's also what inspired her to start her own matchmaking firm in 1991.
In an interview, she shared her story, saying,
"I remember being 29, a busy professional with a career in marketing at the time; I didn't have time to play games. And I knew that there were many more people out there with that same mindset of wanting to find a true connection."
Although Dunhoff explains she "didn't start this business to find a husband," fate had other plans. Shortly after opening Modern Matchmaker, she met her future spouse, and they tied the knot in 1994.
Their unexpected but joyful marriage further reinforced her belief in the effectiveness of the matchmaking process.
How The Modern Matchmaker Works
This Pittsburgh matchmaking service caters to single professionals of all ages, and she also works with older daters as well.
As Dunhoff puts it,
"My typical client is a cultured, well-rounded professional who enjoys life. No one has to be a model to work with me or have a certain educational background or financial portfolio. A successful individual who takes care of themselves and is ready for a relationship, but needs a little help finding someone who complements their life."
Although many of her clients are within a two-hour radius of Pittsburgh, Dunhoff also conducts nationwide scouting to find matches for clients who travel extensively.
Potential clients start by registering on the Modern Matchmaker website or calling their office to set up a confidential profile. Once this initial step is completed, a meeting with a matchmaker is scheduled to review the profile.
During this initial consultation, you can expect to describe yourself and your lifestyle, as well as what type of person you are looking to meet. If you decide to move forward with the service, the next step is a background check followed by a professional photography session.
The photos will be used for the profile that is placed in The Modern Matchmaker database, and you can also expect to receive guidance on how to optimize your profile.
Dunhoff also incorporates advice on everything from first date conversation topics to wardrobe suggestions, explaining that they "provide whatever the client needs to be successful. We assist in everything from how to dress to what to say on a date."
Once your profile is complete, the search is on and you'll be able to review the profiles of potential matches her team has selected for you.
Dunhoff believes that matchmaking is not a magical solution to finding love, and she emphasizes the importance of being flexible and open to new opportunities.
"I always tell my clients that the most important thing they can do is be open-minded and put in the work to make the relationship successful. I can only do so much. The rest is up to them."
Last names and contact information are only disclosed when both parties agree to meet for a date.
In addition to pairing clients with other clients from the database, The Modern matchmaker also scouts for additional matches outside of it if you purchase a higher level package.
"This concept has proven to be quite successful for our highly selective clients and is commonly used by matchmakers in cities such as New York, Chicago, and LA. Our team of professional scouts attends business networking events, charity events, and various other venues as a way to connect with the right people professionally and confidentially."
Dunhoff can also use her network of matchmaking contacts to source additional candidates.
The Modern Matchmaker team handles scheduling the date and encourages each client to provide feedback after meeting up with someone so they can adjust your search as needed.
How Much Does It Cost To Hire Susan Dunhoff?
The Modern Matchmaker doesn't disclose pricing on the website, but Dunoff mentioned in an interview that services typically range between $5,000 and $25,000.
The Modern Matchmaker offers three tailored membership levels: Signature, Concierge, and Premier, all with a year-long contract.
At the Signature level, you'll be matched with singles from The Modern Matchmaking database.
The Concierge level package includes matches from within the database, but Dunhoff will also utilize her network of contacts to source matches, as well as scouting at local events.
The most expensive package, the Premier level, includes everything already mentioned as well as a customized search by the professional scouting team.
Now that you know how The Modern Matchmaker works and what it costs to hire Susan Dunhoff, let's take a peek at what former clients had to say about their experience.
The Modern Matchmaker Reviews
This Pittsburgh matchmaking service has a 4.1-star rating on Google, based on 20+ reviews.
Many of the reviewers reported a positive experience, saying they had met someone through the service:
And this reviewer was happy with the quality of his matches:
There were a handful of negative reviews. This client wasn't happy with her experience:
This client did not purchase a membership, but said he was offered a complimentary date with someone he didn't find compatible:
Over on Yelp, The Modern Matchmaker has just a handful of reviews resulting in an overall rating of 1.6 stars.
4 out of the 5 reviews only gave the service 1-star. Most reviewers felt they were not provided with suitable matches:
But that wasn't always the case. In the 4-star review, the former client wrote that he met and dated a few of the women he was paired with:
The Modern Matchmaker is not accredited with the BBB but has a 1-star rating based on 1 review.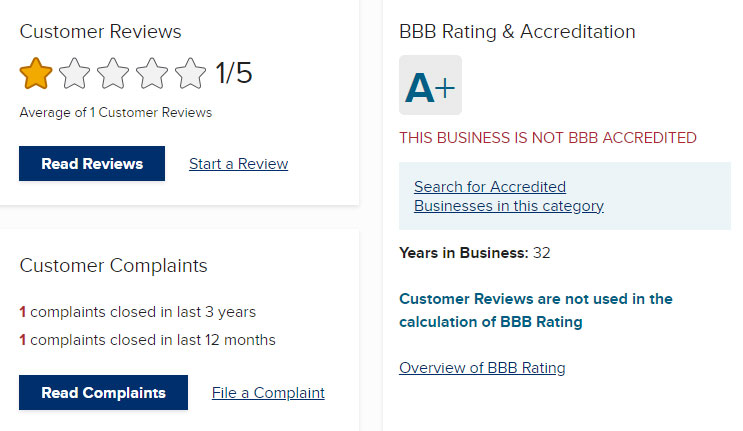 The 1-star reviewer of The Modern Matchmaker claimed he paid $3,000 for the service and was promised 12 dates but never got one.
The BBB also reports that there has been 1 complaint filed in the last 12 months.
The Modern Matchmaker complaint was from a client who had paid $2,500 for 4 matches. Per the complaint, the client met one of them in person but didn't think it was a suitable pairing.
Is This Pittsburgh Matchmaker Right For You?
Susan Dunhoff has been in the industry for decades, so there's no doubt she's experienced. But with other Pittsburgh matchmaking services to choose from, you want to ensure you sign up with the best one for you.
Online matchmaking service reviews on platforms like Yelp and Google business profiles can be insightful, particularly if you look beyond the star ratings. You likely already take those with a grain of salt anyway.
What can give you even more insight is checking out how a matchmaker responds to those reviews. It's a valuable sneak peek into how a particular company approaches customer service, and also helps you assess whether their communication style aligns with yours.
When selecting a matchmaking service, it's worth considering where your potential matches are coming from. In many cases, clients are paired with individuals from an internal database. For The Modern Matchmaker, opting for their premium membership is necessary if you want matches scouted from outside the database.
And when it comes to your ideal partner, that can be a gamechanger. Because finding a person who meets your desired criteria is only one aspect of a matchmaker's responsibility. Equally important is ensuring that you align with what the other person is looking for too.
Making consistently high-quality pairings is difficult to do from a limited roster of Pittsburgh singles! And that's the case with any matchmaker working in any city, which is why one of the most common complaints you'll read in reviews is being paired with people who just don't seem compatible.
That's why matchmaking services like Enamour take a two-pronged approach for all their clients. Enamour's matchmakers start by searching the exclusive, invitation-only database for compatible Pittsburgh singles. But that's not where your search ends!
Enamour also utilizes recruiting technology along with an extensive network of scouts to search high and low for perfect match contenders. Packages start around $20,000 for a 6-month package, and you can discover more about Enamour's highly effective process here.
VIDA Select is another matchmaking service Pittsburgh singles should consider. Like Enamour, VIDA takes a modern approach - in this case one that leverages the single largest source of eligible singles there is.
Another way VIDA stands out is the "pay as you go" pricing structure. While many services require long-term contracts of 3, 6, or 12 months, VIDA Select offers monthly packages instead.
Basic matchmaking service starts at only $1095 per month, with Elite and Premium options available as well.
On average, VIDA clients meet someone special within just 3 months of service. Discover how the modern approach to matchmaking will work for you, too! Just click here.
All product and company names are trademarks™ or registered® trademarks of their respective holders. Use of them does not imply any affiliation with or endorsement by them.
Why Choose VIDA Select?

Since 2009, thousands of clients have discovered true love thanks to VIDA Select's fresh, modern approach to matchmaking – which has finally thrown blind dates and long-term contracts out the window. This isn't your grandmother's matchmaking!
Instead of working with a single matchmaker using a small rolodex of potential partners, VIDA Select's matchmaking team taps into the world's largest database of available singles. We'll quickly identify the matches who check all of your boxes so you can finally experience true chemistry. Are you ready to become our next success story? Schedule your complimentary consultation now by clicking the button below!
Get Started Now