I hope you enjoy reading the blog post.
If you want my team to just do your online dating for you, click here.
eHarmony vs Match: Which Is Better? [2023 Reviews & Cost]
Debating between joining eHarmony vs Match? This is the article for you.
In this head-to-head comparison, you'll see how these two popular dating sites stack up in all the most important ways, like cost and functionality.
eHarmony vs Match Table Of Contents:
Jump straight to your biggest priority, or compare all the categories. Choosing which dating site is best for you will be a snap!
The Bottom Line Up Front
Match.com and eHarmony are both dating platforms that cater to people seeking a serious, long-term relationship. But they have one major difference: how you get your matches.
While Match does suggest compatible daily matches to you, you can also use your own search criteria and browse other profiles to your heart's content.
eHarmony, on the other hand, is not structured that way. You're limited to viewing the profiles the algorithm chooses to reveal to you.
In theory, those singles are a good fit based on the compatibility test and other information you provided.
But in practice, it's difficult if not impossible to predict long-term compatibility with a potential match based on the metrics dating sites tend to use. There are just too many real life variables in the mix. 
That's why the dating experts at VIDA Select believe it's generally better to use a dating site where you can browse through profiles and make your own decisions than one where you can't. So in the battle of eHarmony vs Match, Match is the best dating site.
How do we know that's the best approach? We've been managing dating profiles for tens of thousands of singles since 2009, and we understand the unique benefits and drawbacks of each dating platform.
The insights we share in this blog post are all based on direct experience and backed by data from our team!
Now, let's dive into our eHarmony vs Match comparison.
Who Uses It?
Of the two dating sites, Match is the most mainstream. It attracts singles who are willing to pay for online dating, so your matches are generally of higher quality than you might find on a free online dating site like Plenty of Fish.
While the majority of Match users are looking for a long term relationship and/or marriage, you'll also find some more casual daters as well.
Match is most popular with people over 30 - only around 12% of users are under 29. Around half of them are 30 to 49, and the remaining 37% or so are daters over 50.
eHarmony, on the other hand, attracts mainly commitment-minded singles. Thanks to some major retooling, it now attracts a younger crowd - 36% of users are under 30. Just under 40% are 30 to 49, and the rest are 50+.

When it comes to overall popularity, Match has over 25 years of brand recognition behind it. And the number of downloads reflects that: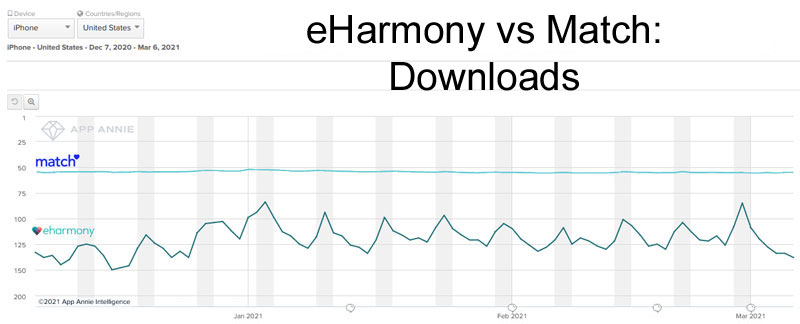 eHarmony does have one potential advantage over Match, if you happen to be a big believer in personality testing and compatibility quizzes.
The dating site made a name for itself back in the day when founder Neil Clark Warren designed the sign up process around hundreds (literally hundreds) of personality questions.
The site was redesigned in 2016 when a new CEO took the reins, but it still includes a [much shorter] personality quiz and offers analysis on different areas of compatibility with each match.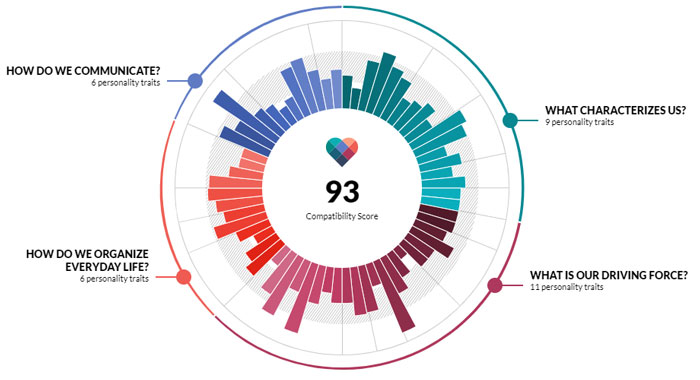 eHarmony vs Match Popularity Winner: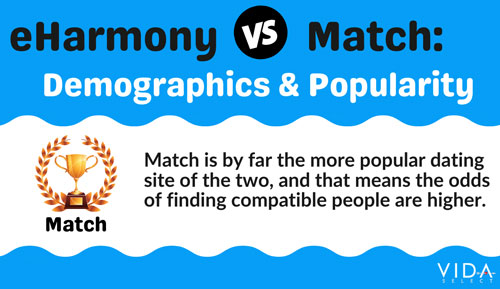 It's hard to compete with Match.com when it comes to sheer popularity. eHarmony's membership numbers, about the same since 2012, simply aren't growing at the same rate.
Match sweeps the category!
Cost & Premium Features
Both are paid online dating sites. Users must invest in a subscription to exchange unlimited messages on either, or see photos on eHarmony.
So no matter what, cost is a factor - but when you're looking for something as life-changing as a long-term relationship or marriage, investing in a quality dating app or site is a good idea.
Singles who pay to use a dating platform are generally serious about finding a relationship, so you'll often find your matches are more invested in the process. You'll also typically find fewer fake profiles.
Let's take a look at the costs associated with both dating sites.
Match Review: Membership Cost
The cost to join Match tends to vary widely depending on where you live, what specials are running at the time (like this free trial), and even whether you're checking prices on Match's mobile app or the website.
But to give you a ballpark idea, the base non-promotional cost for a "Standard" 1-month membership is around $38.
Committing to a longer subscription saves you money - it drops to around $26/month for a 3-month membership, $19/month for a 6-month membership, and $15/month for year's subscription.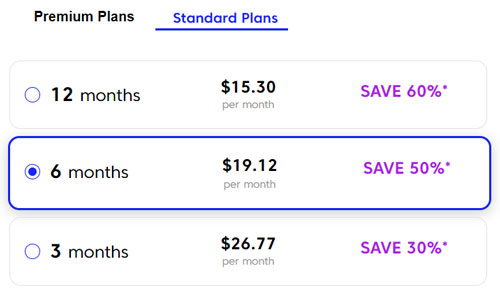 A "Premium" subscription is slightly more, because it comes with 3 extra features (more on those coming up).
The 3-month monthly rate is $28, and with a 6-month subscription you'll pay around $21 monthly. Invest in a year and the monthly cost drops to around $16.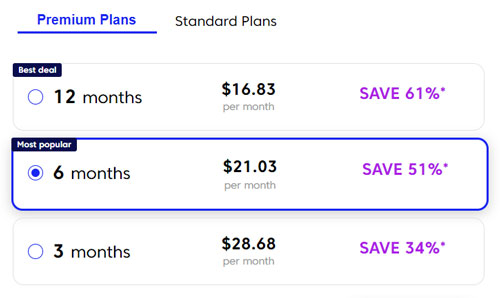 Match Subscription Benefits
First, let's recap what you can do for free on Match:
Browse profiles
Check out your top picks (specially curated matches)
Create a profile & appear in search results
Send "likes" to other users
These are all the features you get when you upgrade to Match's "Standard" subscription:
Read, send and respond to messages
See who viewed and 'liked' your profile
Send Super Likes
Match's "Premium" subscription includes all those perks, plus:
Message read alerts
Free monthly profile boost
See which users are also upgraded members
eHarmony Review: Membership Cost
Just like Match, eHarmony prices tend to vary depending on what market you're in and what sales are running when you sign up.
While eHarmony doesn't offer a free trial, you can generally score a discount by watching for promotions (or click here to get one now!)
eHarmony is typically more expensive than Match, and in most areas the minimum subscription length is 6 months.
That will run you around $65/month. It drops to $45/month when you buy a year-long subscription, or $35/month when you invest in 2 years.
eHarmony Subscription Benefits
This is what you can do on eHarmony without a paid subscription:
Review your matches (but profile only - you can't see their photos)
Receive and send stock icebreakers and smiles
Respond to a first message from a premium member
Browse anonymously
See who looked at your profile recently
Upgrade options on eHarmony just vary in subscription length. The access to premium features remains the same:
See photos
Unlimited messaging
See everyone who viewed your profile
Filter your match feed
Search your matches by distance
Unlock your detailed personality profile
Get regularly updated matches
Match vs eHarmony Cost Comparison
Both dating sites offer a 6-month subscription, so check out the features and the price point in this head-to head-comparison:
eHarmony vs Match Cost & Features Winner: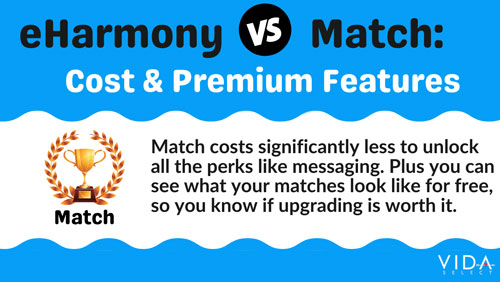 Match is better than eHarmony when it comes to price. It's less expensive, you can commit to a shorter subscription to see if it's the right fit for you, and you can see photos for free - so you know if Match is worth paying for.
Functionality
Match and eHarmony have one huge difference when it comes to user experience:
How You Find Matches
eHarmony wants you to focus on the matches it feels will interest you most - and only those matches.
There is no advanced search function that lets you search for users on your own. You are fully dependent on who the algorithm pairs you with.
You can filter your suggested eHarmony matches by:
Age
Height
Smoking Habits
Has Children/Wants Children
Religion
Ethnicity
Income
Education
Distance
The last 5 match criteria require a paid subscription.
Match, on the other hand, is all about choices. You can check out people the algorithm recommends as your "Top Picks", or freely browse the site on your own using the advanced search functions.
You can search by all kinds of things, including:
Appearance (body type and height)
Interests (sports, hobbies, pets)
Healthy habits (drinking, smoking, exercise, etc.)
Faith
Politics
Online now
Ethnicity
Education
Languages Spoken
Family (has/wants kids)
PRO TIP: Use The "Interests" Search Tab To Save A Ton Of Messaging Time On Match

You can search on different keywords, then send a copy & paste message targeting people who have that mutual interest. Because they mention the topic in their profile, it reads like a personalized message.
For example, if you're into snowboarding and that's an interest you want to share with your ideal partner, use that as a keyword filter:

Then, send a message like this to any intriguing singles in those search results:

The advanced search functions alone may make your decision to go with Match vs eHarmony even easier.
Messaging
Messaging on both sites is straightforward - you can send a message from the profile screen by tapping the conversation icon.
eHarmony members can also send a "stock" icebreaker. But the format is a little different. First, you go through a series of 5 pairs of photos, selecting the one in each pair you like best.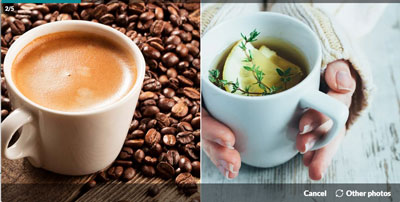 Then the site sends those photo pairs to your match, and they select their 5 preferences.
Once you've both made your selections, eHarmony lets you know how many selections were the same.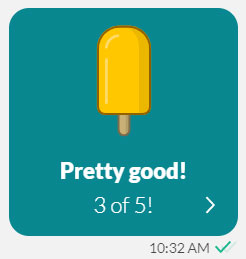 It will also show you which photos you both selected, with the idea being you can use one of those images as inspiration to start the conversation.
Both eHarmony and Match allow you to video chat within the app, and on eHarmony you can also initiate one through the website version.
Profiles
The profiles on both sites give users the option to share a ton of information about themselves, which is one of the reasons they are both good dating sites for finding a serious relationship.
Match profiles are a mix of biographical details, a long-form "About Me" section, short answers to profile prompts, and a section that highlights mutual interests.

eHarmony profiles are much the same - answers to profile prompts interspersed with biographical details. But eHarmony of course adds in the entire "Compatibility" section.
You'll get a breakdown of how compatible you are with each match, the overall compatibility score, and a comparison of your personality traits in various areas:
If you do choose to pay for eHarmony, you'll want to be as honest as possible during the compatibility quiz. Otherwise all the information you'll get in this profile section won't be all that meaningful.
eHarmony vs Match Functionality Winner: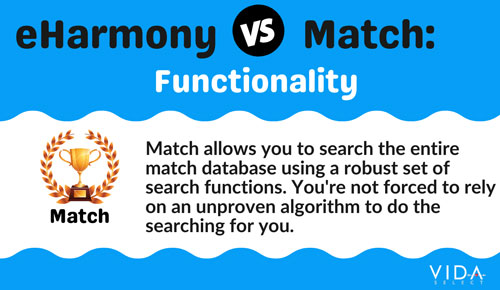 Match is better than eHarmony when it comes to overall functionality. The ability to use all those advanced search filters and dive into the entire Match database is worth its weight in gold.
While all of eHarmony's compatibility information is interesting, dating algorithms have been proven unreliable when it comes to predicting compatibility in long-term relationships.
In fact, eHarmony was banned in the UK from using the phrase "scientifically proven" when describing its matching system, as the dating site could not prove to the Advertising Standards Authority that they offered members a better chance of finding true love.
So why pay for a site that relies on one to select your matches?
eHarmony vs Match: Which Works Better?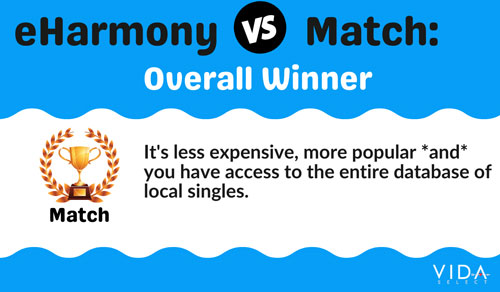 At VIDA, we almost always suggest Match.com over eHarmony for our clients. It really boils down to the ability to search the database on your own for local singles who intrigue you.
Not only does eHarmony limit your options in the match department, but our internal data also shows it typically takes quite a bit more time to go from message to date on eHarmony. You'd rather meet your soulmate sooner than later, right?
The average online dater spends 12 hours a week checking out matches and keeping up with messaging, so not getting the results you want can quickly turn into a frustrating experience.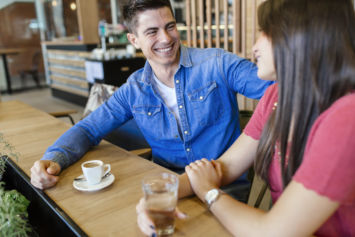 Why not let the dating experts at VIDA lend a hand? First, our experienced matchmakers will determine which dating sites and apps are best for you.
Then our professional writers craft a customized profile that gets the attention of the best singles in your area, and we'll select your most attractive photos using our proven ranking process!
You don't even need to send a single message.
Your dedicated matchmaker will hand-select singles that meet all your "must-have" criteria, and your dedicated writer handles the back and forth. Once a date is scheduled, we'll tell you when and where.
You'll arrive with the confidence of knowing you're about to meet someone incredible who is already excited to meet you! Want to know more?
Click here!
Want us to do your online dating for you?

Hey, I'm Ally, VIDA Select's Director of Matchmaking.
We take all the frustration, hard work and hassle out of modern dating!
Imagine your very own Dream Team of highly skilled dating experts searching for the very best local matches, sparking their interest, and arranging all the dates for you.
Wouldn't it be nice to finally stop swiping and start dating higher quality matches so you can meet someone special?
We've helped thousands of singles just like you since 2009, and we're ready to make you our next success story!
What are you waiting for? Take the next step now…
See If You Qualify