If you're debating between joining eHarmony vs Match, this is the article for you.
In this head-to-head comparison, you'll see how these two popular dating sites stack up when it comes to important features like cost, functionality, upgrade options, and more, so choosing which dating site is best for you will be a snap!
eHarmony vs Match: Cost
Both are paid dating sites, so you'll need to invest in a subscription if you want to exchange messages, or see photos on eHarmony. So no matter what, cost is a factor.
Here is how the two compare in terms of price tag and what you get for your money:
Premium Plan:

$23.95/month for 12 months
$37.95/month for 6 months
$65.95/month for 3 months

Additional features:

Anonymous browsing
Message read notifications
You are promoted as a "featured match" for 24 hours once a month
One-time personalized help available via phone

Best Value Plan:

$19.99/month for 6 months
$24.99/month for 3 months

Additional features:

Message read notifications
Profile shown to newest members first
Profile is highlighted in a colored box in search results

Standard Plan:

$17.95/month for 12 months
$32.95/month for 6 months
$55.95/month for 3 months

Additional features:

Read and send messages
See photos of your matches
See who viewed and 'favorited' your profile
Browse matches outside your preferences

Standard Plan:

$18.99/month for 6 months
$19.99/month for 3 months
$36.99 for 1 month

Additional features:

Read and send messages
See who viewed and 'liked' your profile
Remove members from your view

What You Can Do For Free:

Browse your matches' profiles (minus their photos)
Create a profile which can be viewed by others
Send 'smiles' and 'favorite' profiles
Send a question from a list via the 'Guided Communication' feature

What You Can Do For Free:

Browse matches
Receive daily matches
Create a profile which can be viewed by others
Upload photos
Send "likes"

Winner: Match

Match is not only cheaper overall, but you also have the option of subscribing for a single month to see if the site is a good fit for you.
eHarmony vs Match: "Ala Carte" Premium Features
Both of these popular dating sites allow you to add a few select premium features onto your monthly subscription, should you want to use a specific one that doesn't come with your membership level:
Incognito Mode:

View profiles anonymously – your match will never know you were there.
$24.99/month

Spotlight:

Your profile will be displayed in the top spot for all your matches for 24 hours.
Spotlight can only be purchased via the mobile app, however it will then work on both the mobile and desktop platforms.
$5.95

Anyone Can Reply To Your Messages:

Just like it sounds, anyone can respond for free.
$9.99/month

Private Mode:

Allows you total control of who sees your profile
$9.99/month

Message Read Receipts:

Get notified when your match reads your message
$4.99/month

Highlighted Profile:

Thanks to a brightly colored box, your profile stands out in search results
$4.99/month

First Impressions:

New members see your profile first
$4.99/month

MatchPhone Number:

A private number you can use to talk or text with your matches anytime
$3.99/month

Profile Boost:

Sends your profile to the top of local singles' search results for 60 minutes
$24.99/10, $14.95/5, $3.99/1

Winner: Match

With multiple options to choose from, Match is clearly more customizable than eHarmony.

That being said, all those ala carte options can add up quickly, so you may be better off purchasing one of the Best Value plans instead.
eHarmony vs Match: Functionality
This is one area where there's a clear difference between the two sites, and one that could push you definitively one way or the other.
eHarmony wants you to focus on the matches it feels will interest you most – and only those matches. No free browsing allowed.

eHarmony gives you 3 different types of matches:

Compatible matches are based on the "29 Dimensions of Compatibility" that come from your answers to the 124 personality questions.

Standard matches are based solely on your match criteria like age and distance.

Flex matches show up when eHarmony doesn't have any standard or compatible matches in the database to show you. They won't meet the match criteria you indicated were the least important to you.

Match is all about choices – you can check out the local singles the algorithm recommends, or freely browse the site on your own.

In larger cities, you can also attend events for Match members. Activities include mixers, wine tastings, bowling, cooking classes, etc.

Most events require making a reservation via the website. Event costs vary depending on the activity and location.

For example a mixer/movie screening for Los Angeles singles costs $5.00, whereas a week of outdoor activities in Aspen runs $2,050 (lodging included).

Winner: Match

Dating algorithms have been proven unreliable when it comes predicting compatibility in the long term, so why pay for a site that relies on one to select your matches?

In fact, eHarmony was banned in the UK from using the phrase "scientifically proven" when describing its matching system, as the dating site could not prove to the Advertising Standards Authority that they offered members a better chance of finding true love.

Having the freedom to browse *all* the local singles is likely a better way to find your perfect match.
eHarmony vs Match: Demographics
Members are looking for:

Member demographics:

eHarmony's user base is typically mid-30s+, although thanks to changes CEO Grant Langston has made, the average user age is now closer to 30.

Number of countries it's in:

Members are looking for:

Serious dating relationships or marriage

Member demographics:

25% are under 30
48.6% are 30-49
26.5% are 50+ (Match's fastest growing demographic)

Market share (Match Group):

Number of countries it's in:

Winner: Match

It's hard to compete with Match.com when it comes to sheer popularity. Established in 1995, it's one of the oldest dating sites in the biz, which makes it a trusted name. eHarmony's membership numbers, about the same since 2012, simply aren't growing at the same rate.
eHarmony vs Match: Guarantees
Not satisfied with your matches after 3 months? You'll get another 3 months for free.

However, some rules apply:

You must complete the entire relationship questionnaire
Your profile must be complete, including at least 3 photos
You must send or reply to a "qualified communication" (i.e. message of 'favorite') at least 5 different members
Subscribed for at least 3 months
Follow all eHarmony terms & conditions

If you don't find "someone special" within your first 6-month subscription, you'll get an additional 6 months for free.

However, some rules apply:

You must have a primary photo that's visible to the public
Your profile must be "truthful"
You must respond to or initiate contact with at least 5 different members per month
Follow all Match.com member rules

Winner: It's a draw

Both guarantees are essentially the same, with the exception of your time commitment up front.
eHarmony vs Match: Which Works Better?
Here at VIDA, we almost always suggest Match.com over eHarmony for our clients. It really boils down to the ability to search the database on your own for local singles who intrigue you.
Not only does eHarmony limit your options in the match department, but our internal data also shows it typically takes quite a bit more time to go from message to date on eHarmony. You'd rather meet your soulmate sooner than later, right?
The average online dater spends 12 hours a week checking out matches and keeping up with messaging, so not getting the results you want can quickly turn into a frustrating experience.
And since the majority of singles on dating sites are male, guys like you need to put even more effort into making sure your profile and photos stand out.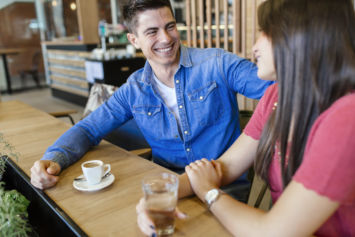 Why not let the dating experts at VIDA lend a hand? First, our experienced matchmakers will determine which dating sites and apps are best for you.
Then our professional writers will craft a customized profile that gets the attention of the best singles in your area, and we'll select your most attractive photos using our proven ranking process!
You don't even need to send a single message. Your dedicated matchmaker will hand select singles that meet all your "must have" criteria, and your dedicated writer will handle the back and forth. Once a date is scheduled, we'll tell you when and where.
You'll arrive with the confidence of knowing you're about to meet someone incredible who is already excited to meet you! Want to know more? Click here!