I hope you enjoy reading the blog post.
If you want my team to just do your online dating for you, click here.
Facebook Dating Review 2023: How It Works & If It's Any Good
Thinking about using Facebook for dating? This Facebook Dating review has all the info you need to decide if it's worth trying!
VIDA's team of dating experts has plenty of first-hand experience with the Facebook Dating app. After all, we've been using it on behalf of the clients we represent since it launched back in 2019.
Thanks to the countless number of hours we've logged setting up profiles, scrolling through matches, sending messages and setting up dates on the app, we know all the ins and outs - and the pros and cons!
In this Facebook Dating Review, you'll learn:
Ready to decide if you should give Facebook Dating a try? Let's get started!
Where You Can Use Facebook Dating
Hoping to change the relationship status of the roughly 200 million singles who use it, Facebook has officially launched in select locations, with other markets coming soon.
So far, Facebook Dating has been released in these countries:
Argentina, Austria, Belgium, Bolivia, Brazil, Bulgaria, Canada, Chile, Colombia, Croatia, Cyprus, Czech Republic, Denmark, Ecuador, Estonia, Finland, France, Germany, Greece, Guyana, Hungary, Iceland, Ireland, Italy, Laos, Latvia, Liechtenstein, Lithuania, Luxembourg, Malaysia, Malta, Mexico, Netherlands, Norway, Paraguay, Peru, Philippines, Poland, Portugal, Romania, Singapore, Slovakia, Slovenia, Spain, Suriname, Sweden, Switzerland, Thailand, United Kingdom, United States, Uruguay, and Vietnam.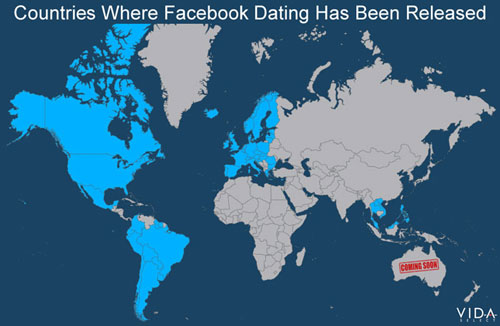 Now that you know where you can find it, let's talk about how to use it successfully!
How To Activate Facebook Dating
Signing up for Facebook Dating is easy! Just access "Dating" from the menu screen: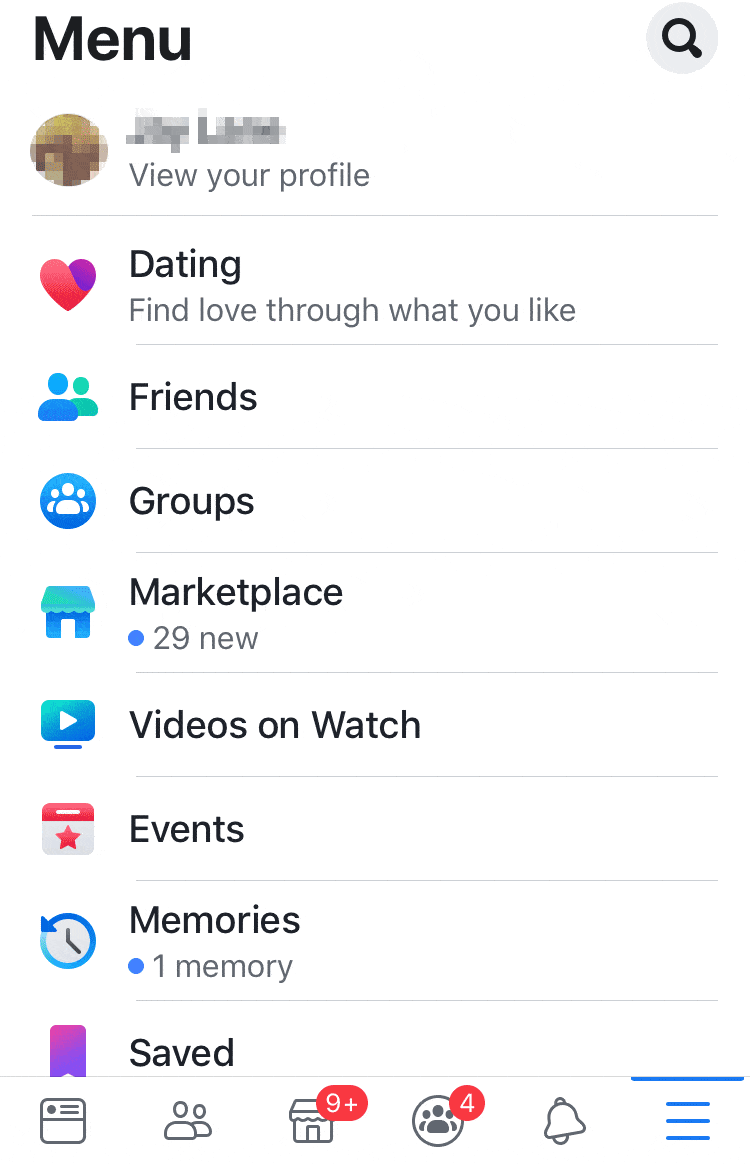 This will bring up your "dating home." From there, you can set up a separate Facebook dating profile so that it will be hidden from your Facebook friends.
Who can see your Facebook Dating profile?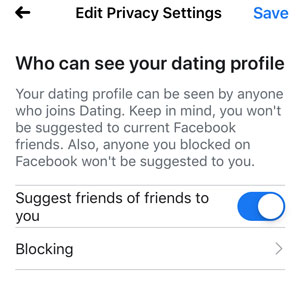 Only people who have opted in to the dating service will be able to view your dating profile, so it won't show up in News Feed or anywhere else in the main Facebook app.
Your current Facebook friends won't be able to see your dating profile. Facebook won't ever suggest your friends or people you've blocked as a possible match.
But you can choose whether or not you want the friends of your friends to be suggested as matches. Simply toggle that feature on or off in the privacy settings.
You can also proactively exclude other people you know from ever seeing your Facebook Dating profile. Just block/unblock individuals from the "Blocking" menu: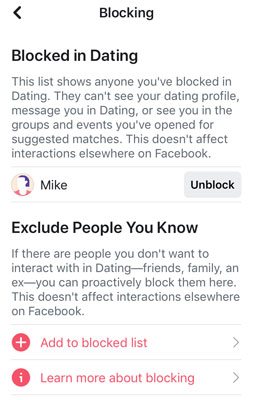 As an added privacy feature, Facebook also disabled screenshots past the registration page.
When someone checks out your dating profile, they'll see the basics: your first name, age, current city and photo. If you choose to share it, your work, education, and a few other biographical tidbits will be visible as well.
To ensure everyone is having an age-appropriate experience, Facebook Dating uses age detection technology to verify a user's stated age one of two ways: 
Take a video selfie, which is shared with Yoti to confirm your age.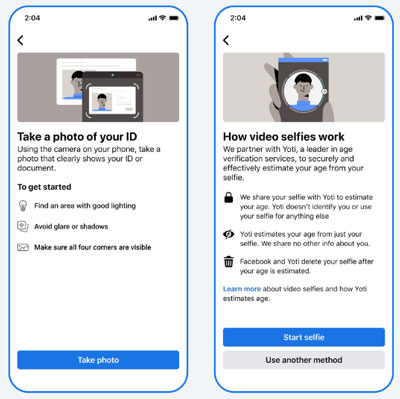 When this is verified, you'll receive a Facebook notification that your age has been confirmed on Dating. Per Meta's internal data, the age verification technology has already prevented 96% of teens who attempted to change their birthdays from under 18 to 18+ on Instagram.
Still worried about your personal data? Learn more about Facebook Dating's privacy policy and safety features here.
How To Set Up Your Facebook Dating Profile
Creating your Facebook dating profile is simple. and follows the same general set up process as apps like Tinder and Bumble.
You'll select your gender and the gender(s) of who you want to be matched with from an inclusive menu of options: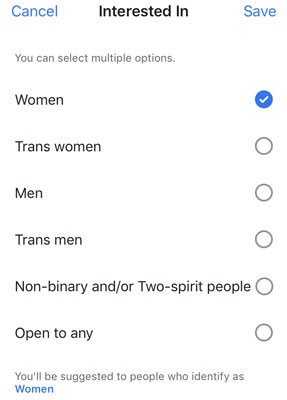 You'll also need to confirm your dating location, then write a brief bio. Facebook Dating profiles are the same length as Tinder profiles - 500 characters or less.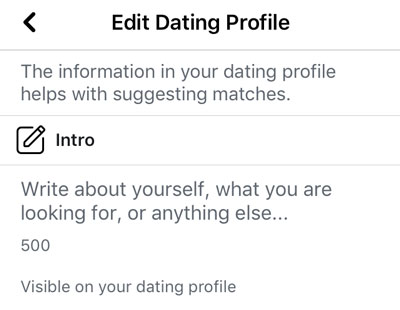 Facebook Dating Tip:
In your bio, focus on highlighting a few of your most attractive qualities and traits in a natural way that makes someone want to spend time with you. Here is Facebook Dating profile example for guys that is both compelling and engaging: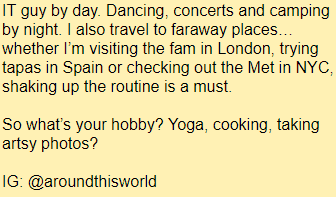 Want more profile ideas? Check out these short dating profile examples!
Facebook Dating Tiles
Facebook Dating also lets you display up to 12 profile "tiles."
Each tile is either a photo or an answer to one of the Facebook Dating questions.
Let's talk about the questions first: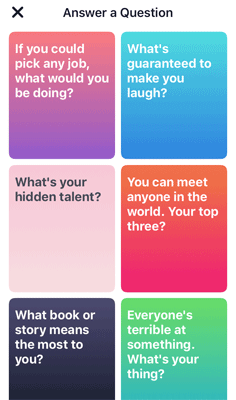 Just tap on the question you want displayed on your profile, and answer it in an interesting way.
Questions are a great way to let potential matches learn a little more about you, and potentially spark a connection around similar interests. Make sure to answer a few!
Facebook Dating Tip:
Keep your answers positive. Negativity coming from someone you don't know can be an instant turnoff. Use each question as a way to highlight a trait of yours that the type of person you want to date might find attractive, and you'll be matching in no time!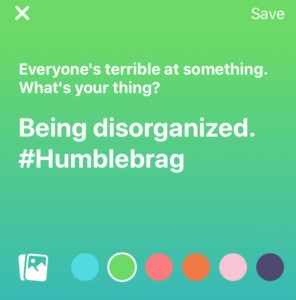 When it comes to selecting your primary Facebook Dating photo, follow the same rules that you would apply to choosing photos for a dating app like Tinder or Bumble: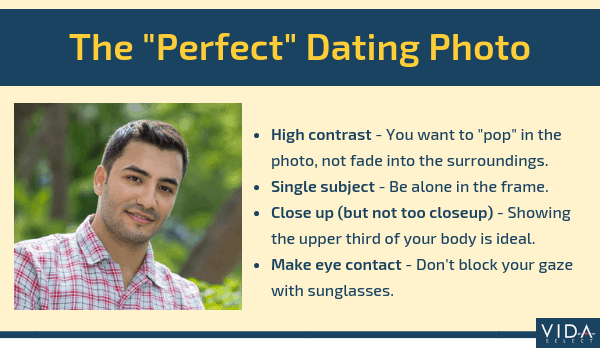 As for the rest of your Facebook Dating photo lineup, an intriguing mix of answers and photos is a good way to go.
Stick with a range of 3 to 5 photos where you look equally attractive.
It may be Facebook, but it's Facebook's Dating app. And all it takes is one questionable photo to make someone decide you're not relationship material.
You can also include your Instagram Stories in your Facebook dating profile, if you want to share even more pics with potential matches.
But before you link to the two, make sure your Instagram account is optimized for dating.
How To add Instagram to Facebook Dating:
Tap the "Settings" icon at the top right of the screen.
Tap "General" to bring up the General settings menu
Toggle on "Instagram"
You'll be prompted to Add Instagram to Dating; simply tap "Add Instagram"
Provide your login credentials for Instagram and authorize the linking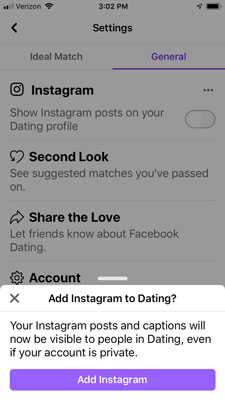 You can control which Instagram Stories are shared with your Facebook Dating matches, and anyone you've passed on or blocked won't see them.
Integrating Instagram into your Facebook Dating profile is a good idea, provided you choose your content carefully.
It's a great way for matches to get a taste of your personality, hobbies and interests, and knowing more about you generally makes it easier for someone to agree to take the next step toward meeting in person.
For more expert dating photo tips and advice, check out this expert advice.
Once you've got all your info entered, you can review & confirm it - and your Facebook Dating profile is up and running!
Any changes you make to your dating profile won't affect your regular Facebook profile, and vice versa. That means if you delete a photo from somewhere else on Facebook, it will remain in your dating profile.
And if you delete a photo from your dating profile, it will still remain anywhere else you've shared it.
The same is true if you delete your entire Facebook dating profile, which you can do from the Dating Settings screen: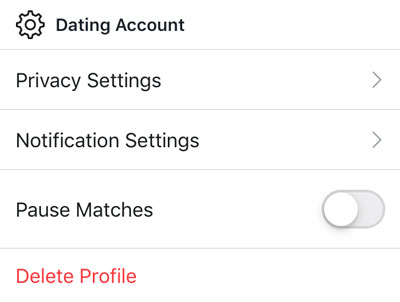 Anything you shared elsewhere won't be affected.
Facebook Dating Match Preferences
Adding or changing your Facebook Dating preferences is simple, you just specify your match criteria via the Dating Settings: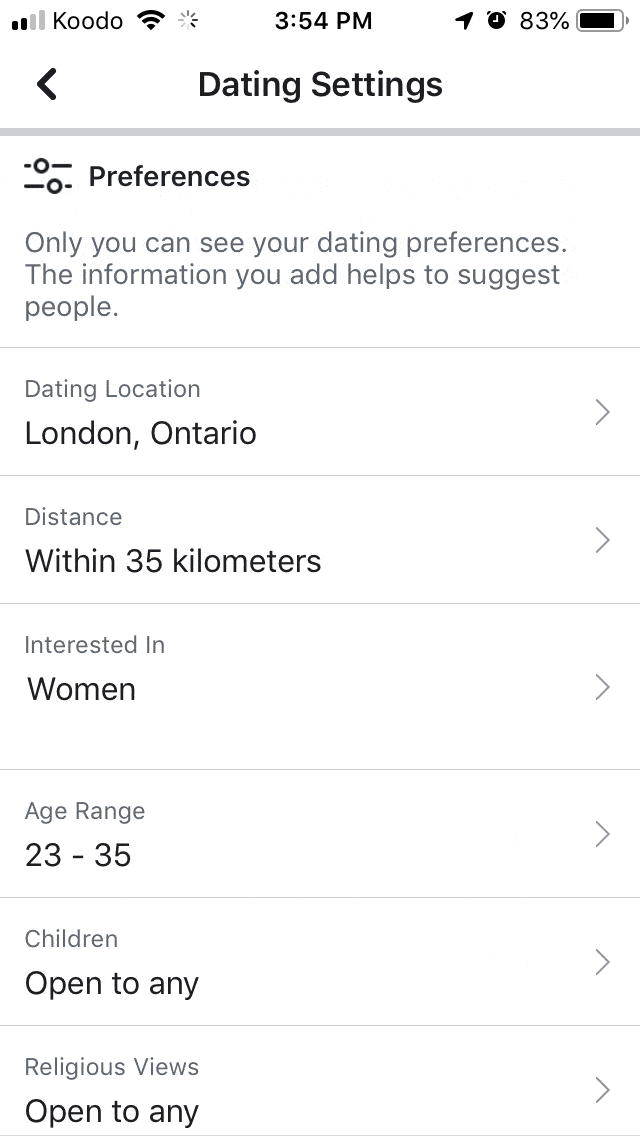 Now it's time to check out your matches!
How To Get Dates With Facebook
First, simply access your "Facebook Dating home" as you would any other Facebook activity.
From there, there are 3 different places where you can find potential matches:
Suggested For You
"Liked" You
Groups/Events
Suggested Matches
You'll find matches who meet your preferences in the "Suggested For You" section.
When someone catches your eye, you can "Like" them by tapping the Heart icon at the bottom right of the screen.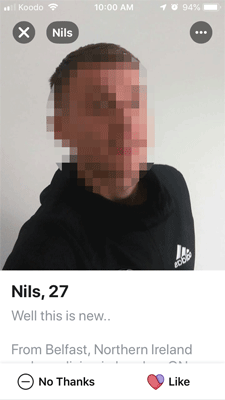 Similar to Hinge, Facebook allows you to interact with different parts of a person's profile, so you can "like" specific photos or question answers.
That will bring up a text box, so you can compose your message: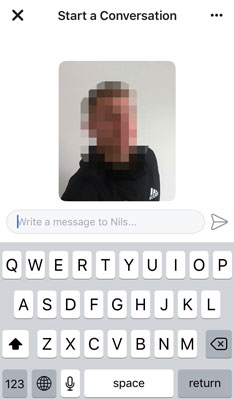 Message exchanges will be limited to text - no links or photos allowed.
Users are limited to sending just one initial message, and the messaging will be separate from any conversations on Messenger or WhatsApp. If you need some great conversation starters, try one of these Facebook Dating openers!
Facebook Dating Tip:
Since you can only send one initial message, you need to make it count! Wasting that opportunity with something boring like "Hey" isn't going to work any better for you on Facebook than it does on Tinder.

For starters - ask your potential partner a question that's both fun to ponder and easy to answer. Asking a question works way better than just making a statement because you're giving the conversation a direction - and making it super simple for someone to respond.
This is an example of a good question to ask on Facebook Dating: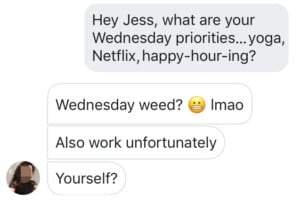 Exclusive Bonus: Download our 5 favorite conversation starters to get immediate response from attractive women.
If the person responds, the conversation will show up in the Conversations section: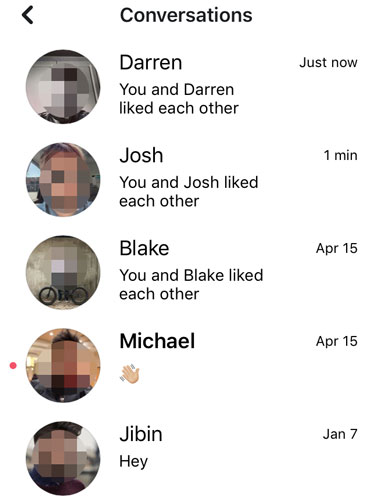 Likes You
There's also a section where you can see people who have expressed interest in your Facebook Dating profile.
You can decide whether or not to match with people in this section by tapping the Heart or the "No Thanks" icons, and if they sent you a message along with their "Like," it will appear here as well.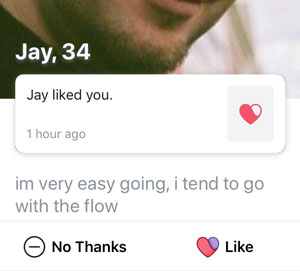 Groups & Events
The final place to see potential matches is in the Facebook Group/Events section.
Facebook will suggest profiles of people who fit your preferences who have expressed interest in the same groups or events that you have selected.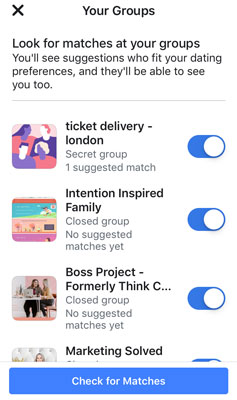 "Unlocking" an event or joining a group will make your dating profile visible to any of the other group members or event attendees who match your preferences.
This is one of the advantages of Facebook Dating - a shared interest is one of the easiest foundations for a message exchange.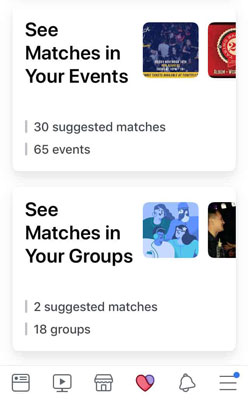 When you tap "Suggested Matches," you can check out their full dating profile. You'll also see any mutual friends you may have in common:
You can navigate between your dating profile, checking out people who are "interested" in you, and your active conversations by tapping the icons at the top of the screen: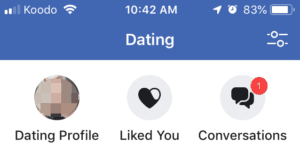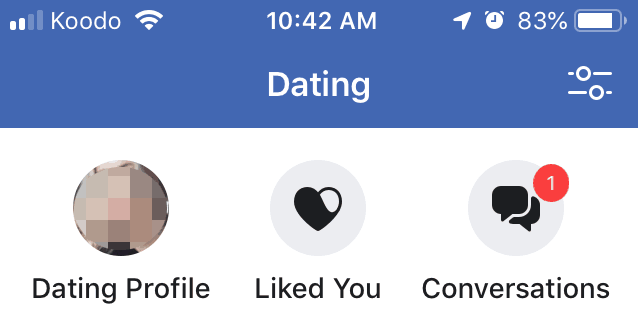 Facebook is working on integrating Messenger, so you can video chat with your matches.
Once the feature is live in your market, tapping the camera icon on the conversation screen will send a video chat invitation.
Your match will get a pop-up notification, and accepting it will launch the video chat in Messenger. (Want to make a great impression on your match? Check out these video dating tips!)
Facebook Dating's Secret Crush Feature
Got an interest in a Facebook friend or Instagram follower that goes beyond platonic? Facebook Dating's "Secret Crush" feature will get your dating profile in front of them - and hopefully the two of you match.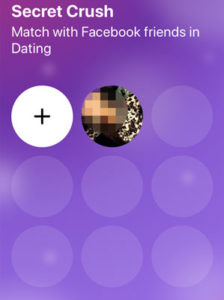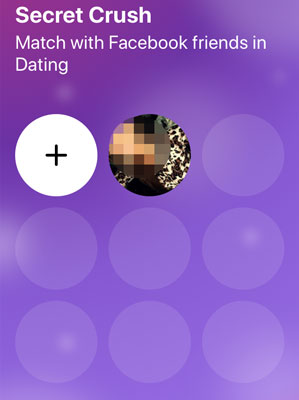 This is how Facebook's Secret Crush feature works:
Select a list of up to 9 of your Facebook Friends that you're *interested* in.
If they're also on Facebook Dating, they will get a notification that "someone" (i.e. not you specifically) has a crush on them.
If you both happen to add each other as a Secret Crush, names will be revealed to both people and the two of you will match.
Once your list is started, you can add one person per day, until you fill all 9 spots. You can remove Secret Crushes at any time. (Don't worry, your crush will not be notified that they just lost their spot on your list.)
No one but you can see your Secret Crush list.
Is Facebook Dating Free?
Yes - for now.
Right now Facebook users aren't charged for the dating service, but that could change as it's launched on a larger scale.
Facebook execs have said they've been thinking about the idea for years, and began building the service in late 2017.
They acknowledged people are already using Facebook as a way to meet new people, so being able to "support that in a safe way" was a natural progression.
What Industry Experts Are Saying About Facebook's Dating Service
There's no denying the launch generated a lot of buzz, but reactions were mixed.
A New Venue For Catfishers & Romance Scammers
Some are worried it will open up a whole new venue for catfishers and romance scammers.
The new dating service might be particularly popular with people over 40 who are familiar with Facebook and seeking casual or long-term relationships, but may not be comfortable using traditional dating sites and apps like Match.com or Tinder.
Kevin Lee, a former Facebook spam manager turned "trust and safety architect" of a fraud detection company, told the Washington Post that this new dating platform could potentially expose users to financial fraud, romance scams, fake profiles and the like.
According to the FBI, romance scams are on the rise. In 2020, over 23,000 victims in the US alone lost over $605,000,000 to romance scammers. And that's only the reported cases.
According to Lee's research, the majority of the victims who fall for romance scams on dating sites ad social media are women - often older women who are in a more vulnerable state of mind due to the end of a marriage or other stressful life situations.
Data Privacy Concerns
Other experts are wondering how the social network intends to keep its users' data private, given the concerns Zuckerberg testified about in front of Congress.
As Justin Brookman of the Consumers Union advocacy group told the Washington Post:
"Facebook already knows a lot about you that you tell it, and it collects a lot of information about you beyond that. … Now here's this whole other bucket of really sensitive stuff. How will Facebook police that? Will they put the resources into safety? … Or will their thirst for engagement trump these other concerns?"
Felicia Cravens, who helps track down fake Facebook accounts via a Facebook page called "Unfakery", acknowledged that online dating was a space it could take over fairly quickly - but should they?
As she pointed out to the Washington Post:
"People are scamming people right now on Facebook platforms from Nigeria, Macedonia, the Philippines and everywhere else."
Do You Really Want To Date Facebook Users?
Privacy and fraud concerns aside, there's also the question of who you're actually matching with.
By definition you've got interests in common with the people in your Facebook groups, but does that automatically mean you'd consider them potential dates?
Chelsea Reynolds, an assistant professor at CSU Fullerton who studies online dating, told MarketWatch that people who match as a result of being in the same professional groups may not want to date within those circles.
"For instance, I use my Facebook profile primarily to build my professional visibility. I am in groups dedicated to professors, media practitioners, and LGBTQ activists. Am I passionate about those communities? Absolutely. Am I trying to date within my professional circle? No way."
Attraction between matches is one thing - how attractive is all that data you're providing on your romantic likes and dislikes going to be to Facebook itself?
As Mike Herrick of Urban Airship, a market analytics company, pointed out to the Washington Post, the app is going to not only learn the identity of your current love interests, but it will also learn who else you're interested in, what you like, and how actively you're looking for a significant other.
It's not hard to imagine the next step being, "Hey - she just started a relationship, maybe she wants some new clothes or beauty products."
Want us to do your online dating for you?

Hey, I'm Ally, VIDA Select's Director of Matchmaking.
We take all the frustration, hard work and hassle out of modern dating!
Imagine your very own Dream Team of highly skilled dating experts searching for the very best local matches, sparking their interest, and arranging all the dates for you.
Wouldn't it be nice to finally stop swiping and start dating higher quality matches so you can meet someone special?
We've helped thousands of singles just like you since 2009, and we're ready to make you our next success story!
What are you waiting for? Take the next step now…
See If You Qualify