I hope you enjoy reading the blog post.
If you want to chat now about your matchmaking search, click here.
Krystal Walter Matchmaking [Best Calgary Matchmaker?]
Thinking about hiring matchmaker Krystal Walter to help find your ideal partner? This Krystal Walter Matchmaking review has all the details you want, including how she got her start, her matchmaking philosophy, cust, actual client reviews, and more!
Our team of experts has over 14 years of firsthand experience in the matchmaking industry, so we understand what customers value most in a service. We've reviewed more than 200 matchmakers, digging deep into their processes, success rates, and client experiences.
These reviews are all built on extensive research and a deep understanding of the matchmaking landscape!
What We'll Cover In This Krystal Walter Matchmaking Review…
Let's start with…
Krystal Walter's Journey Into Matchmaking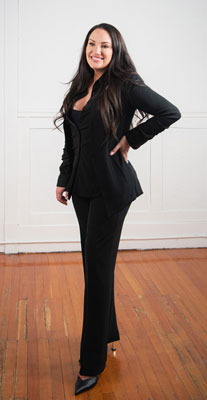 The transition from a career in commercial real estate to professional matchmaking wasn't a leap taken blindly by Krystal Walter. Instead, it was an intentional shift, one fueled by her personal experiences.
Before venturing into matchmaking, Walter had a firsthand encounter with online dating platforms and professional matchmaking services. Neither of these avenues turned out to be fruitful, and that was the catalyst for starting her own matchmaking company.
Reflecting on her journey, Walter shared in an interview:
"It just didn't work out for me — for many reasons. They were big companies, and I just thought I could do it better. On a whim, I started my own business, and I got busy immediately. I've been doing it ever since."
In 2012, she launched Krystal Walter Matchmaking in Vancouver, offering personalized services predominantly to Canadian singles. These days, the company has expanded, extending its services to those in the United States as well.
"I'm so excited to expand my services to the states. I look forward to all the opportunities to meet new people and help them on their journey to meeting their next partner."
The company has a presence in Calgary, Vancouver, Toronto, New York, Seattle, and LA, and offers matching in all major cities throughout the US and Canada.
The core clientele of Krystal Walter Matchmaking is busy, educated professionals who are either constrained by the demands of their occupations or who simply want a more private dating experience.
As she shared in an interview,
"We work with all types of people and accommodate all lifestyles. We do everything we can to include everyone."
Becoming A Krystal Walter Matchmaking Client
Prospective clients begin their journey by completing an online inquiry form.
Next, you'll have a consultation. During this meeting, the team delves into your dating history, learns about your match preferences, and reviews membership options. If both parties agree to move forward, a contract is signed and full payment for services is required upfront.
The next steps in the process involve profile creation and matchmaking counseling with their coach. Paying clients also work with a professional photographer to capture profile pictures.
Walter describes their customized approach this way,
"We practice a comprehensive and personable approach to profiling, so we can discover the fundamentals of what is essential to our clients- whether they are consciously aware of these fundamentals or not. From there, we begin to make connections."
You'll be paired with singles from Walter's database, or with singles proactively scouted if your package allows for that. After each date, their team requests post-date feedback to see if any adjustments need to be made in their matching process.
How Much Does Krystal Walter Matchmaking Cost?
Fees for matchmaking services are tailored based on individual preferences, typically starting at around $3,000. A consultation fee is required upfront but will be subtracted from the cost of your matchmaking package if you proceed with services.
Krystal Walter Matchmaking offers 3 membership options: VIP, Executive, and Database membership.
Each option offers unlimited matches for the 2-year contract period, and includes the flexibility to temporarily pause the membership. As she explained in an interview,
"Some clients are happy with their first match, while others might need to go on a few dates before settling down with one of their matches. Timing is different for everyone."
In addition to professional photos and coaching, VIP members will have scouting done on their behalf outside of the database through Walter's international matchmaking network. VIP members also have personal consultations with Walter.
Database members can join for free, but it's a passive membership and you'll only be contacted if you align with the preferences of a paying member. Walter and her team won't be looking for matches on your behalf.
Krystal Walter's Matchmaking Philosophy
Krystal Walter says she firmly believes in freeing oneself from the constraining notion of the 'perfect partner.' She maintains that focusing on a predetermined list of qualities might limit your choices and prevent you from connecting with interesting prospects.
Instead, she encourages her clients to be open-minded about meeting new people, saying, "You never know until you try!"
Another pillar of Walter's matchmaking philosophy is chemistry, which she considers a vital part of any relationship. She highlights the importance of finding someone with similar life goals.
She described it this way in an interview:
"Chemistry is everything! I like to say 'you'll know when you know'. The instant chemistry you have with someone upon meeting them is what fuels the fire to your relationship. Find someone who matches your humor and aspirations, and the rest will fall into place."
Beyond shared interests and mutual chemistry, Walter also emphasizes compatibility and flexibility. She suggests clients consider someone five years older or younger when they decide on a dating age range. In her own words,
"It's about lifestyle. If you're fit and vibrant, age really doesn't matter."
Walter's approach to matchmaking also involves developing a deeper understanding of her clients. She says she makes a significant effort to learn about each client's interests, desires, and even what an ideal date would look like for them.
As she shared with Elle Canada,
"Once I get to know you on a deeper level, that's when I start making connections."
According to Walter, her success is due to having a personable and sincere approach that encourages her clients to be forthcoming.
During an interview, she explained,
"My clients know they can be honest with me and I will always try my best to find them the best matches possible. My team and I have created a fun, fresh, creative approach to matchmaking. I guess I'm a hopeless romantic!"
Krystal Walter Matchmaking Reviews
Krystal Walter Matchmaking has a 4.2-star rating on Google, based on 10+ reviews.

This reviewer shared that he had met someone through the service:

And this client shared that the service helped him get back into the dating scene post-divorce:

This reviewer noted a positive experience as well: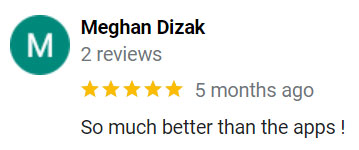 There were only 2 negative reviews, with both reviewers saying they were disappointed in the service. However, according to a representative of the company, one of the negative reviews was not from someone who had actually used the service.
Over on Yelp, Krystal Walter Matchmaking had less than a handful of reviews resulting in an overall rating of 2.8 stars.
The 5-star review was from a client who mentioned that Walter and her team helped her find her husband:

This client was pleased with the service so far, awarding it 3 stars in her Krystal Walter Matchmaking review:

The single 1-star reviewer shared that she felt she was not provided with suitable matches: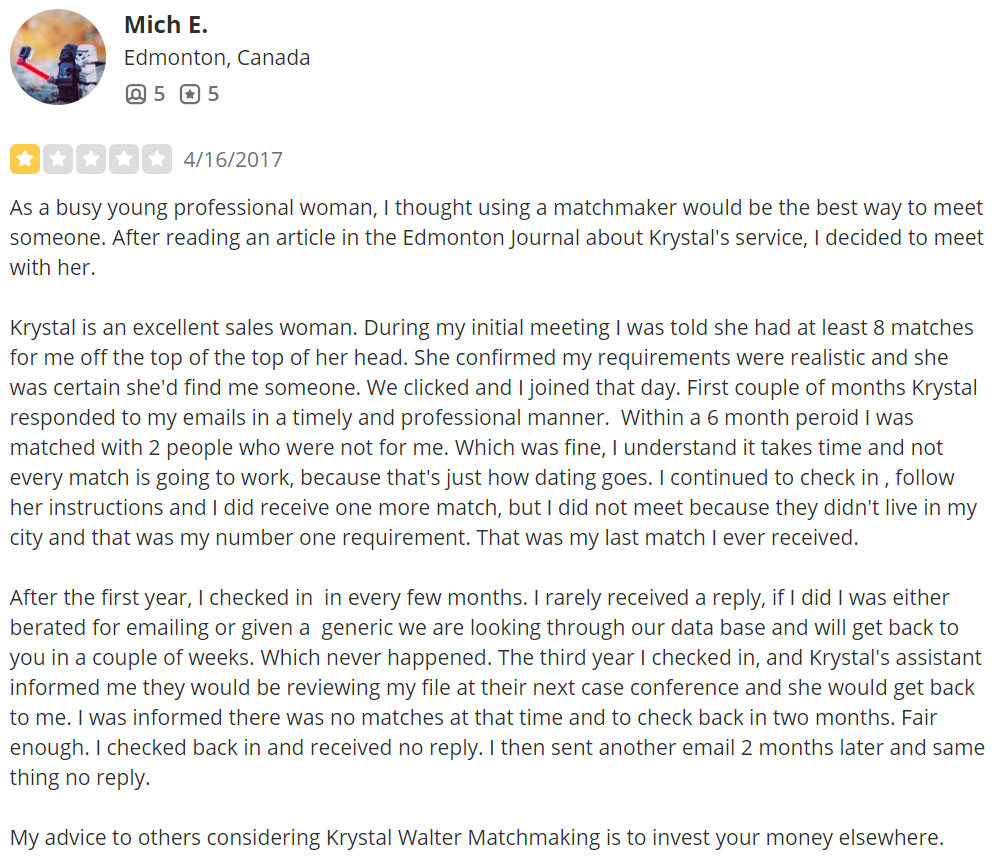 The first review for this Vancouver matchmaker was from back in 2015, with the client giving her experience 2 stars:
Krystal Walter Matchmaking also has 30+ not currently recommended reviews on Yelp, which run the spectrum of 1 to 5 stars.
Is Krystal Walter Matchmaking Right For You?
Krystal Walter has been in the industry for over a decade, so there's no doubt she's experienced. But with other Canada-based matchmaking services to choose from, it's essential to find the one that is best suited to your needs and preferences.
Reading online reviews of matchmaking services on platforms such as Yelp and Google business profiles can provide valuable insights. It's wise to look beyond star ratings and carefully consider the content of reviews, using them to formulate insightful questions to ask during your initial consultation.
(Want an insider's perspective on how to best prepare for your consultation call? Check out our Expert's Guide To Hiring A Matchmaker!)
Determining if Walter and her team are the right choice for you will largely depend on factors such as your personal experience during the initial consultation, the quoted cost, and how you feel about signing a long-term contract.
Regarding contracts, it's standard for services to use ones that span anywhere from 3 months to 2 years. In nearly all cases, payment is paid in full before your matchmaker starts the search for your ideal partner.
But that's not always the case! VIDA Select, for instance, opts instead for a pay-as-you-go payment model, with packages purchased on a month to month basis. That gives you the flexibility to stop and start your search as needed, whether you meet someone special right away or you feel VIDA's approach isn't quite the right fit. You're not committed to paying for time you don't end up wanting!
On average, VIDA clients meet someone special within just 3 months of beginning service. See if VIDA is the right fit for you - go here to learn more!
All product and company names are trademarks™ or registered® trademarks of their respective holders. Use of them does not imply any affiliation with or endorsement by them.
Why Choose VIDA Select?

Since 2009, thousands of clients have discovered true love thanks to VIDA Select's fresh, modern approach to matchmaking – which has finally thrown blind dates and long-term contracts out the window. This isn't your grandmother's matchmaking!
Instead of working with a single matchmaker using a small rolodex of potential partners, VIDA Select's matchmaking team taps into the world's largest database of available singles. We'll quickly identify the matches who check all of your boxes so you can finally experience true chemistry. Are you ready to become our next success story? Schedule your complimentary consultation now by clicking the button below!
Get Started Now