I hope you enjoy reading the blog post.
If you want to chat now about your matchmaking search, click here.
4 Best Matchmakers In Vancouver, BC [2023 Reviews & Cost]
You want to meet the type of person you dream of starting a relationship with. But when you barely have time to hit the gym, much less immerse yourself in Vancouver's notoriously challenging dating scene, finding high-quality singles isn't easy.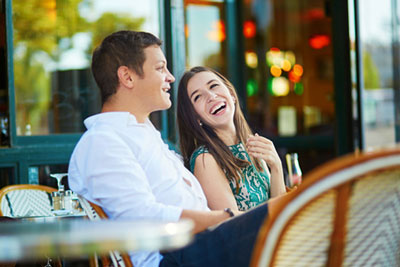 You've come to the right place. Here are 4 matchmakers in Vancouver, BC who can introduce you to elite singles - and maybe even find your perfect match!
Krystal Walter says she knows first hand how frustrating dating sites and apps can be - that's what drove her to try a matchmaking service herself. But she ended up being disappointed with her matches, which is part of what inspired her to launch her own dating agency in Calgary.
She has since expanded, and now helps singles in Vancouver as well as Calgary, Toronto, Seattle, Los Angeles, and New York City.
Clientele
Members range from 30 to 80, and come from all backgrounds.
Cost
$3,500 - $25,000, depending on your membership level and search area.
Contract Required
Yes
What To Expect
Walter offers 3 basic membership packages to choose from, or you can opt to have your profile included in her internal database of 3,000 or so singles available for matching for a couple hundred dollars.
All 3 membership packages come with unlimited matches, with the final matchmaking service cost depending on how much dating coaching you'd like, if you want the ability to say yes or no to potential matches, and if you want to meet singles from outside Walter's network as well.
It all starts with an in-person interview that lasts around 2 hours, and membership is contingent on passing a background check. Once you've decided on the level of matchmaking service you want, you'll sign the contract and Walter and her team will start consulting their roster for Vancouver singles who meet your criteria.
Additional Services
Dating coaching, photography
Founded In
2012
Like many professional matchmakers, Susan Semeniw discovered she had a knack for setting up friends early on. But she didn't jump straight into matchmaking - before launching her Vancouver-based dating agency, she spent 15 years in sales and marketing.
In addition to helping Vancouver singles, Divine Intervention also has a presence in Alberta and Toronto.
Clientele
While you'll find singles of all ages on Divine Intervention's client roster, she tends to specialize in helping people who have just started dating in Vancouver again, for instance after a divorce.
Cost
$1,500 - $15,000+
Contract Required
Yes
What To Expect
Divine Intervention customizes matchmaking services to each client. For instance, Semeniw takes into account how much coaching and advice you may need for your dates to go successfully. Clients meet other clients. But if you want to meet singles from outside of the Divine Intervention database as well you can pay extra for that.
Membership particulars are discussed during the initial phone interview. You'll chat about them again during a longer conversation with your matchmaker where you'll cover your long-term relationship goals and all the contract details.
Once Semeniw's team has found a compatible match for you, a date will be arranged. Afterward, both people get a "post date assessment" where you can both listen to and provide feedback. If needed, Divine Intervention can set up practice dates for you as well.
Additional Services
Dating and relationship coaching
Founded In
2006
Prior to starting her own high-end matchmaking service in Vancouver, Jill Carter worked for several other BC dating services over the course of 8 years or so. She also appeared on Real Housewives of Vancouver, and recruited one of the top finalists for Bachelor Canada in 2014.
Modern Pursuit Matchmaking is headquartered in Vancouver. Carter but she also works with singles in Calgary and Toronto, as well as California.
Clientele
Carter only takes on men as paying clients, often divorced and ready to find another serious relationship. They are typically professionals such as politicians, entrepreneurs, business owners, etc.
Cost
Varies per client
Contract Required
Yes
What To Expect
Like many high-end matchmakers, Carter will customize a matchmaking program for you.
Factors that could affect the final cost include the extent of coaching you'd like, what type of person you're hoping to meet and if you want her team to "scout" for potential matches as well as meet Vancouver singles who are already in her database.
Once you've discussed the matchmaking service and signed the contract, Carter will find compatible singles, arrange dates with the matches you're interested in and provide feedback and coaching as needed.
Founded In
2014
Additional Services
Dating coaching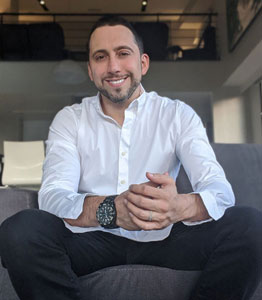 VIDA Select is an elite international matchmaking service that taps into the largest dating pool in Vancouver. Thanks to matchmakers who combine old-fashioned intuition with the latest tech, you'll be saying "hello there" to your perfect match in no time!
Clientele
Professional, accomplished and intelligent singles in their 20s to 60s who want to finally find their ideal partner.
Cost
VIDA Select has a full range of matchmaking packages available, all paid by the month. There are 3 levels of service offered: Basic, Premium and Elite.
The Basic matchmaking packages start at only $995/month, with Premium matchmaking service starting at $1295/month. Elite package options begin at $2395/month.
Package prices highly reflect how many hours will be used in your search for compatible matches, with factors such as how many cities you'd like to include in your search and how complex your matching criteria are taken into account.
Contract Required
No
What To Expect
Potential clients first have a quick, confidential and free phone consultation to talk about the service.
VIDA Select is different from most other high-end matchmaking services because there is no long-term matchmaking service contract.
You're not asked to pay in full for 6 or 12 months worth of time for a service you haven't even experienced yet!
Instead, you pay each month - which means you can stop the service at any time. Your matchmaker will work hard each and every month to find incredible Vancouver singles who are just the type of person you're looking for.
And since you pre-approve everyone based on a profile with photos before agreeing to meet them, you won't have to worry about frustratingly disappointing blind dates. With unlimited matches at every membership level, it's no wonder it typically only takes 11 first dates or so for clients to start a promising relationship with a match!
Check out how VIDA Select can change your life by clicking here!
Additional Services
Style and image consulting, dating coaching, pro photography & expert retouching
Founded In
2009
5 Questions To Ask Any Matchmakers In Vancouver
Selecting which matchmaking service best fits you and your relationship goals is a big decision - and a potentially sizable investment.
For the best results, go into every initial consultation armed with insightful questions that will help guide your decision making process.
Here are 5 examples to get your wheels turning: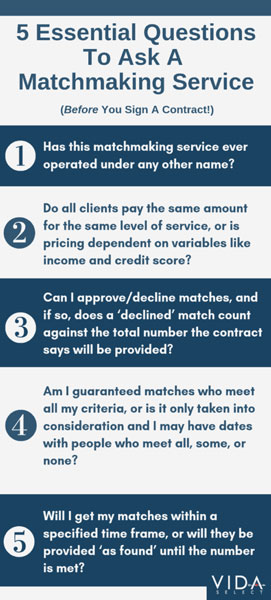 A Little Research Now Pays Off Later
Doing some recon beforehand is especially crucial if the matchmaking service you're considering requires members to sign a legally binding contract. You'll generally have to pay for the entire contract length before service begins. Most matchmakers in Vancouver won't provide refunds if you don't end up happy with the results.
What's promised to you during the sales pitch portion of the consultation doesn't really matter, but what's printed in black & white above your signature does.
Take enough time to read - and fully understand - exactly what you're being promised in exchange for your money.
Here is an example pulled from a BBB complaint where a Vancouver matchmaking service explained part of their contract:
With this matchmaking service, and others like it, you're being promised matches "as available."
In other words, you pay a lump sum up front and your matchmaker will search their internal database "on a monthly basis."
But it could theoretically be 6 months, a year or even more before you get matched with anyone. And that match may or may not meet all your criteria.
Maybe you'd prefer a matchmaking service like VIDA Select where you only pay for each month you want to continue with service instead of a large lump sum up front?
With VIDA Select, you can stop your matchmaking service for any reason at any time.
And your dedicated matchmaker isn't confined to searching for your soulmate in a limited internal database. That's one of the biggest reasons VIDA Select clients often stop service after 11 dates - they want to pursue a promising relationship!
Why not give VIDA Select a chance to find your ideal partner? See if you qualify here!
All product and company names are trademarks™ or registered® trademarks of their respective holders. Use of them does not imply any affiliation with or endorsement by them.
Why Choose VIDA Select?

Since 2009, thousands of clients have discovered true love thanks to VIDA Select's fresh, modern approach to matchmaking – which has finally thrown blind dates and long-term contracts out the window. This isn't your grandmother's matchmaking!
Instead of working with a single matchmaker using a small rolodex of potential partners, VIDA Select's matchmaking team taps into the world's largest database of available singles. We'll quickly identify the matches who check all of your boxes so you can finally experience true chemistry. Are you ready to become our next success story? Schedule your complimentary consultation now by clicking the button below!
Get Started Now