I hope you enjoy reading the blog post.
If you want to chat now about your matchmaking search, click here.
LastFirst Matchmaking Review [Best Service For NYC Singles?]
Not sure which elite NYC matchmaker is the best choice for you? This LastFirst Matchmaking review will help you decide if Emily Holmes Hahn should make your short list!
LastFirst Matchmaking Review Table Of Contents:
From the smallest boutique operations to the biggest industry players, our team of experts has reviewed over 200 matchmaking services.
With over 14 years of first-hand industry experience, our insight comes from extensive research, real customer reviews, and a keen understanding of the matchmaking landscape.
Let's dive in!
Meet LastFirst Founder Emily Holmes Hahn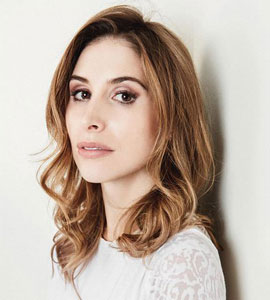 Before diving into matchmaking, Emily Holmes Hahn was a personal shopper for Ralph Lauren in Paris. In 2012, she returned to New York to start working for celebrity matchmaker Richard Easton.
Then in 2014, she branched out on her own, launching LastFirst. Headquartered in Manhattan, she describes it as "a boutique matchmaking club."
In an interview with Brides, she explained how their mission statement, 'To help you get your last first date,' reflects her approach when working with clients.
"I don't want to overstate our mission as something grandiose, but I do think we're doing our little part to bring the humanity back into the dating business. When someone really wants to give themselves over to this process—be a little flexible and learn things about themselves and grow through the experience—then it works so well."
Holmes Hahn emphasizes that seeking the assistance of a matchmaker doesn't necessarily mean her clients don't know how to date. Instead, she says they see her as a filter to "help weed out all the mismatches and make sure they're only spending time on quality individuals."
The singles she works with span a wide age range, from their late 20s to early 60s. But the majority are in their 30s and early 40s.
In an interview with Haute Living, Holmes Hahn shared that her contemporary approach attracts a different demographic compared to more "old-school competitors."
"I think one thing to understand is that the kind of men who proactively seek and hire an expensive matchmaker are a special slice of the singles-scape, and not really indicative of the population."
While the company is headquartered in New York they work with clients in Los Angeles, Miami, London, and Paris.
As she explains on her website, she only works with "a very small number" of clients at any given time. She screens for singles who are attractive, interesting, ready for a relationship, and of "high moral character".
Becoming A LastFirst Client
Starting the process with LastFirst begins with potential clients filling out an inquiry form on their website. If Emily Holmes Hahn believes you're a good fit, the team will reach out to schedule an interview.
During this initial consultation, you'll share more about your personal background, dating history, and the type of person you're hoping to meet. Their team considers this interview to be part of their vetting process.
As Holmes Hahn shared with DuJour,
"We ask people right off the bat about some very personal things. This way we can start to sense what they'd be like to match, before agreeing to work with them."
If both parties agree to work together then you'll sign a matchmaking contract. But because she typically keeps her client roster limited to under 30, you may have to wait for the matchmaking process to commence.
According to this NYC matchmaker, new clients are taken only when a spot becomes available after finding a suitable match for existing clients.
Your profile is added to the LastFirst database, and you'll be matched with others from within it. Holmes Hahn and her team also do proactive networking to identify potential candidates for you to meet.
The LastFirst process suggests only one match at a time. Once you approve a candidate, they'll arrange the date for you. You will both be provided a "code of conduct", which is a document that sets out clear expectations for a successful date.
As Holmes Hahn explained in an interview,
"It ups the ante and makes it more of an occasion. When someone is offering you such detailed guidance, it smooths things out and sets the stage for the date to go really well."
To maintain discretion, LastFirst doesn't share last names, photographs, or career details with you or your match prior to the date.
As she puts it, "We paint a really vivid picture of the person without showing an actual picture."
LastFirst Matchmaking Cost
LastFirst offers several levels of membership, with package specifics tailored based on your preferences and the scope of your search.
As for specific pricing, Holmes Hahn maintains discretion. In an interview with KDHamptons, she stated,
"I don't publish rates just because I like to be discreet and I think what my clients pay is very personal to them."
But as a point of reference, this former client said he paid $24,000 for his matchmaking package. Curious how that stacks up to other New York matchmaking services?
Enamour, for instance, utilizes an exclusive, invitation-only database, recruiting technology, and an extensive network of scouts to pinpoint accomplished, highly-compatible singles for you to meet. Enamour packages start around $20,000 for a 6-month contract.
Check out this guide to NYC matchmakers for more cost examples!
When it comes to service length, LastFirst contracts typically last for 18 months, though the goal is always to find a match in less time. As Holmes Hahn explained,
"The whole model is it's a flat fee, but we're very incentivized to get it done in less than 18 months."
The initial consultation is complimentary, and it's also free to sign up to be part of the database of singles provided you pass the screening process. But as a database member, there is no guarantee of ever being matched with a client.
LastFirst Matchmaking Reviews
LastFirst has a 3.7-star rating on Yelp, based on 7 reviews.

Four of the LastFirst reviews were 5 star. For instance, this client felt his suggested matches suited him:

And this client shared that he met his fiance through Holmes Hahn's matchmaking service:
This LastFirst reviewer was pleased with the matching process and her matches: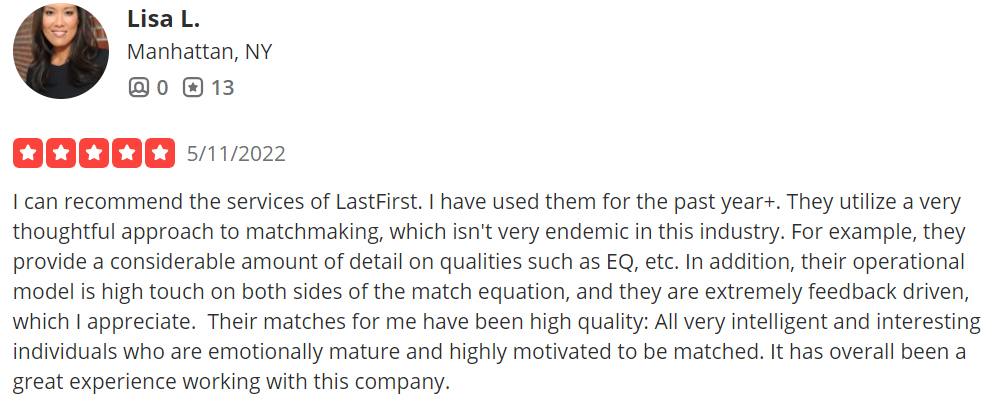 This former client wrote a 4-star LastFirst review, saying he had met a partner through the service:
There were also two 1-star reviews for LastFirst Matchmaking, both of which said that Holmes Hahn did not take their match criteria into consideration: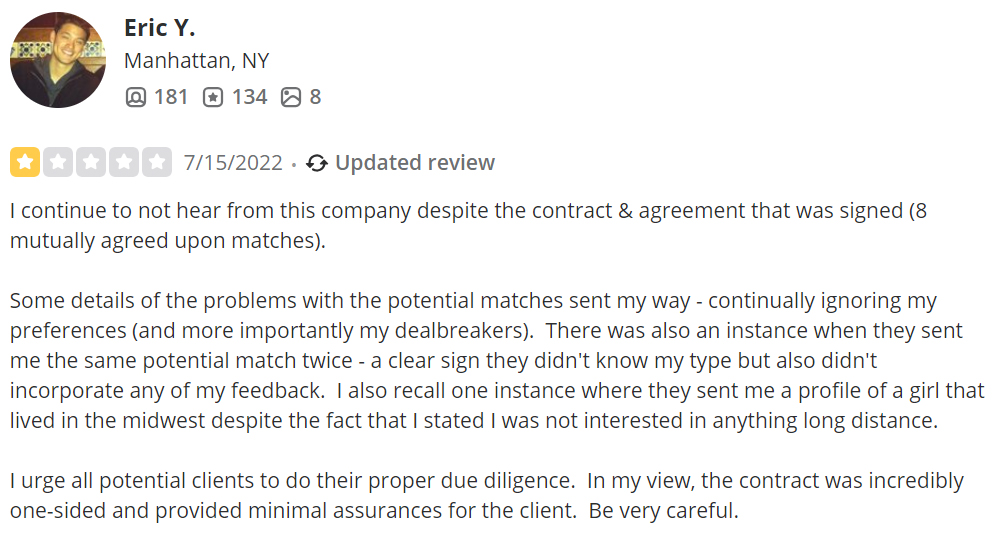 LastFirst Matchmaking also has 6 currently not recommended Yelp reviews, which are a mix of 1 and 5-star reviews.
LastFirst also has a BBB profile, however it is not currently rated and does not have any reviews or complaints listed. The service has not yet been reviewed on Trustpilot, nor does it have any google reviews yet.
Is LastFirst Matchmaking The Best NYC Matchmaker For You?
Choosing a matchmaking service often depends on several factors: cost, contract duration, and of course, how you feel about going on blind dates.
Withholding photos of possible matches isn't out of the ordinary for matchmaking services. It's typically done to encourage clients to be more open-minded when meeting new people, an approach some singles appreciate.
Others, however, might want more control over who they meet. If you only want first dates with singles you're truly confident you're attracted to, you may also want to consider VIDA Select.
VIDA's team has been helping singles in New York and other major cities find their ideal partners since 2009. And as a client, you'll review full profiles - including photos - of every match, so you can go into each date knowing there is relationship potential.
VIDA also offers the flexibility of monthly packages, meaning you don't have to commit to a long-term contract. Packages are tailored to fit your needs, as the cost highly aligns with the number of hours your matchmaker will spend on your search each month.
Basic matchmaking starts at just $1195 per month, while Premium options begin at $1795. Elite packages start at just $2595 per month.
On average, a VIDA client meets someone within just 3 months of beginning service! Thanks to VIDA's modern approach, your matchmaker is able to leverage the single largest source of NYC singles there is.
Curious if VIDA is the right fit for you? Learn more about the service here!
All product and company names are trademarks™ or registered® trademarks of their respective holders. Use of them does not imply any affiliation with or endorsement by them.
Why Choose VIDA Select?

Since 2009, thousands of clients have discovered true love thanks to VIDA Select's fresh, modern approach to matchmaking – which has finally thrown blind dates and long-term contracts out the window. This isn't your grandmother's matchmaking!
Instead of working with a single matchmaker using a small rolodex of potential partners, VIDA Select's matchmaking team taps into the world's largest database of available singles. We'll quickly identify the matches who check all of your boxes so you can finally experience true chemistry. Are you ready to become our next success story? Schedule your complimentary consultation now by clicking the button below!
Get Started Now