I hope you enjoy reading the blog post.
If you want to chat now about your matchmaking search, click here.
LunchDates Review [2023 Matchmaking Cost, Process & More!]
Wondering if LunchDates is the best Boston matchmaker for you? With so many options out there, it's no surprise you're conducting a little research before making a decision.
From client experiences to service costs, this 2023 LunchDates review is packed with the answers you need to make an informed choice!
Our team of experts has reviewed well over 200 matchmaking services, diving into their cost, processes, client experiences, and success rates. With over 14 years of firsthand industry experience, we're well versed in what customers value most in a matchmaker.
LunchDates Review Table Of Contents:
So, let's dive in and…
Meet The LunchDates Matchmakers
This Boston matchmaking service has been around for over 4 decades, and Executive Matchmakers Jill Vandor and Laura Kenney have both been with LunchDates since 2012.
Vandor has been in the matchmaking industry since 1996, first working as a Director for Great Expectations and then shifting to a national dating service as a VP. She was then regional manager for eLove before joining LunchDates.
Laura (Paluch) Kenney's professional background is in marketing, working in the tech industry before making the shift to matchmaking.
Both Kenney and Vandor also provide dating coaching to clients, and often share dating advice during media appearances.
For instance, as the duo explained on The Rhode Show,
"The trend seems to be that people… stand in their own way for success. They want to find out what's wrong with somebody rather than finding out what's right with somebody."
One of the biggest benefits to working with any matchmaking service is having someone who can help you clarify what's really important to you in a long-term relationship and in a potential partner.
What To Expect From LunchDates
LunchDates is a private matchmaking service for men and women in the Greater Boston area, New Hampshire and Rhode Island. Offices include Boston, Braintree, Burlington, Newton, and Nashua.
According to Vandor, LunchDates clients are typically well-educated, busy, attractive professionals who don't have trouble dating, they just want an "easier, more dignified way" to meet new people.
The process begins by filling out a form on the website to set up an initial consultation. During the call, you and a LunchDates representative discuss your dating goals, matching criteria, etc.
If you decide to continue, you'll sign the contract, which generally spans 6 months to a year. There are two options to choose from: Client or Executive Client.
Executive Clients get a few extra perks, like having dates arranged for them rather than planning the first date details directly with their matches.
As Vandor explained in an interview, the dates aren't typically for lunch, despite what the name of the service implies.
"Most dates involve meeting after work for apps & drinks, or something on the weekend as well."
LunchDates also offers dating coaching for clients who feel they would benefit from it.
How Much Does LunchDates Cost?
Matchmaking packages start around $3,000 for the basic service. Pricing ultimately depends on factors like your search criteria and geographic scope, the level of service you select, contract length, etc.
Let's do a quick Boston matchmaker price comparison so you can get an idea of how much you might be spending if you opt for executive matchmaking…
For Boston singles looking for an exclusive match pool, Enamour curates an invitation-only roster of matches. The team also uses both recruiting tech and an extensive network of scouts to identify compatible candidates, vastly extending your search beyond the database.
Packages begin at $20,000 for 6 months of service.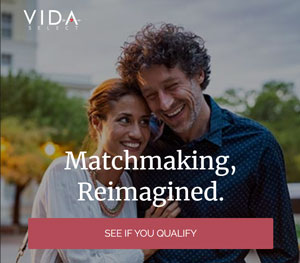 VIDA Select offers an alternative to multi-month contracts, with matchmaking packages offered on a month-to-month basis. With a service level tailored to fit most any budget, Basic options start at only $1095/month. Premium packages begin at just $1695/month, and Elite options start at $2595/month.
The cost highly aligns with the number of hours your matchmaker should devote to your search, given your matchmaking criteria and other requirements. The average VIDA client finds someone special after just three months!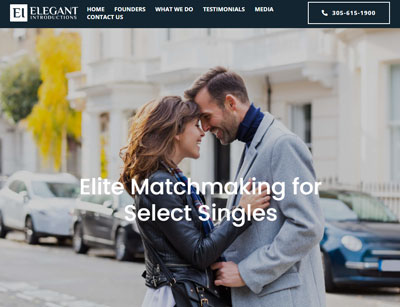 Elegant Introductions is now based in Florida, but it was founded by former long-time Boston residents Nancy Gold Zimmer and Barbara Black Goldfarb. The service still provides matchmaking for Boston singles, with packages starting at $15,000.
A boutique matchmaker with an office in Boston, Susanne MacDowell from Susie Q Matchmaking charges up to $15,000 for her services. Her packages typically include a 6-month search.
Now that you have a ballpark idea of cost, let's see what past clients have to say about their experience with LunchDates!
LunchDate Reviews From Around The Web
The star ratings for this Boston matchmaker vary widely, depending on which review platform you're checking out reviews on.
LunchDates has an overall A+ rating with the BBB, and 4.8 out of 5 stars from customers based on 20+ reviews.
A common theme is the enjoyable experience and quality matches:
Other LunchDates reviewers highlighted how they met someone special through the service, like these two:
On Yelp, however, the reviews are less positive. The Braintree LunchDates office has a 1-star rating, based on 4 reviews.
All four reviewers were not happy with the quality of their matches. For instance, this reviewer felt misled:
And this reviewer didn't feel confident the service would yield the results he wanted:
The Brighton location, which Yelpers have reported closed, has a 1.2-star rating based on 20+ reviews.
These reviewers were unhappy with the quality of matches they were set up with:
The vast majority of the LunchDates Brighton Yelp reviews are older, left in 2016 and prior.
When it comes to LunchDates Google reviews, the ratings vary. For instance, the 800 Boylston Street, Boston location garnered 2.7 stars based on 3 reviews.
The 5-star review was just a star rating with no accompanying text, and the 1-star review was from a client explaining a billing dispute.
In her lengthy 2-star review, this client expressed frustration with the quality of the matches she was provided:
The LunchDates office at 20 Park Ln, Boston, had a 2.6 star rating, based on 5 reviews.
However most of them were just a star rating with no further explanation.
The LunchDates office at 425 Washington St, Brighton had a 1.0-star rating, based on a single review with no accompanying text.
The Braintree LunchDates office, at 150 Grossman Drive, garnered a 2.3-star rating, based on 3 reviews.
The 5-star reviewer was happy with her overall experience:
The other 1-star reviews included no text.
Now, the question remains…
Should You Sign Up For LunchDates?
With plenty of Boston matchmaking services to choose from, deciding which one is the best fit for you will likely come down to key factors such as budget, contract length, and how you feel after your initial consultation.
Not sure what to expect during the consultation? Check out our insider's guide to hiring a matchmaking service next.
It's packed with insightful questions to ask, factors to consider, and more - all the info you need to be confident you're making the right choice!
All product and company names are trademarks™ or registered® trademarks of their respective holders. Use of them does not imply any affiliation with or endorsement by them.
Why Choose VIDA Select?

Since 2009, thousands of clients have discovered true love thanks to VIDA Select's fresh, modern approach to matchmaking – which has finally thrown blind dates and long-term contracts out the window. This isn't your grandmother's matchmaking!
Instead of working with a single matchmaker using a small rolodex of potential partners, VIDA Select's matchmaking team taps into the world's largest database of available singles. We'll quickly identify the matches who check all of your boxes so you can finally experience true chemistry. Are you ready to become our next success story? Schedule your complimentary consultation now by clicking the button below!
Get Started Now