I hope you enjoy reading the blog post.
If you want to chat now about your matchmaking search, click here.
How Much Does A Boston Matchmaker Cost? [2023 Prices!]
Working with a Boston matchmaking service can be a highly effective way of meeting someone when you are ready to find a relationship. But choosing a matchmaking service isn't a decision you should make lightly. You're about to commit your time, trust, and most importantly, your money.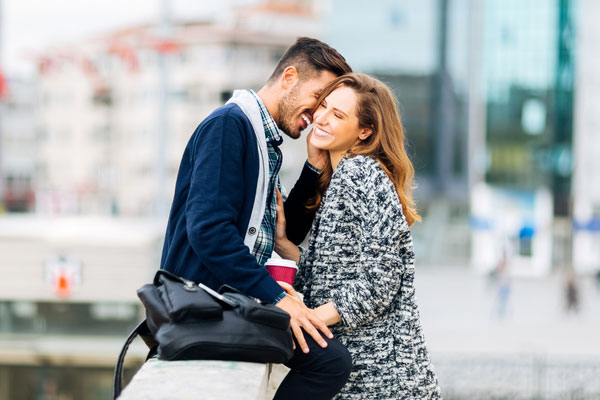 From the small independent operators to the big industry players, our team has reviewed over 200+ matchmaking services. We've spent countless hours researching and analyzing how they work, what they charge, their success rates and more.
So let's take a look at what you can realistically expect to invest when you're hiring a Boston matchmaker!
Factors That Impact How Much Matchmaking Costs
Hiring a matchmaking service in Boston can cost anywhere from $2,000 to $150,000+.
Most matchmaking services don't advertise their prices online, which doesn't make for easy comparison shopping!
It's also not an apples to apples situation. Matchmaking services come in many different varieties, from franchised operations to celebrity matchmakers, boutique services and high-end dating agencies.
They all offer different packages that cater to their clients' needs, and the approach they take to finding your perfect match can vary as well.
Understanding the factors that affect how much a service costs is one of the best ways to make a sound investment and choose the one that can actually deliver your perfect match.
The Boston Dating Pool
Where your matches come from is the #1 factor to consider when hiring a service.
Think of it this way: If your matchmaker only pairs you with other Boston singles who registered with the service, what are the odds someone who fits all your criteria also signed up? And assuming she finds a good match for you, what are the odds that person is also looking for someone like you?
Compatibility has to be mutual, so making quality matches requires an immense Boston dating pool. If your matchmaker is reliant on an internal database, the numbers simply aren't there to do quality matching.
And that's why one of the most common complaints you'll see about Boston matchmakers in review platforms is dates with totally incompatible people.
The Scope Of Your Search
The width of the net your matchmaker casts can have a direct impact on the overall cost of your service. For instance, traditional matchmakers often charge extra for "scouting" if you want them to look beyond their database.
Other services offer "local search" packages that include one city of your choosing. Kelleher International's local search starts at $30,000+, with additional cities adding $5,000 a pop.
Modern matchmaking services like Enamour and VIDA Select have recruiting technology built right into their matchmaking process so they aren't limited to a single database. This unlocks access to a nearly limitless pool of Boston singles without the premium price tag.
How Many Boston Singles You'll Meet
How many dates you expect varies from service to service. Some Boston matchmaking services let you purchase a defined number of introductions.
For instance with Tawkify, clients can purchase 3 matches for around $3,000. Three Day Rule also has a package providing a minimum of 3 matches, which costs $5,900. A minimum of 6 matches costs $9,500. Clients can also opt for a VIP membership, which starts at $18,500.
Boston Matchmakers offers 10 matches for around $7,000, although both numbers appear to be negotiable according to various online reviews.
Other services promise an unlimited number of matches over the duration of your contract, but don't specify how frequently you'll receive them. Many Boston matchmaking services also host events for their clients, where you can meet and mingle.
A reputable matchmaking service will have everything spelled out in the contract, and it's important to make sure you understand exactly what you're paying for when you sign up.
This is also where a "success" or "finder's" fee could come into play, and that's not something you want to be surprised by. This additional cost is exactly what it sounds like - you'll pay an additional amount upon a successful match.
For instance, with Janis Spindel's Serious Matchmaking, clients who enter into a long-term relationship with one of their matches from the service pay an additional fee that starts around $65,000.
Complementary Services
Additional services like personal styling, dating and relationship coaching, image consulting and professional photography can also impact how much your Boston matchmaking service costs.
These services may be included in your package, or available as a stand-alone purchase.
Boston Matchmaker Cost Comparison
Now let's take a look at what some of Boston's best matchmaking services cost. You'll also find a full rundown of each service in our guide to Boston matchmakers!
Enamour
An elite matchmaking service with a presence in Boston, Enamour caters to successful professionals who only want to meet carefully vetted matches. Matchmaking packages start around $15,000.
The team starts with the exclusive invite-only database, but their "relationship recruiting" approach expands the search beyond it. They use a blend of recruiting tech, AI and intuition to identify highly compatible, incredible Boston singles for you to meet.
Enamour also provides a personal touch. You'll be working hand in hand with a dedicated matchmaker, and she'll check in with you after every introduction.
Kelleher International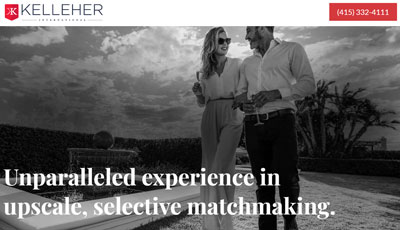 Kelleher International is based in San Francisco, but they have a presence in several cities around the US, including Boston. They build their membership packages around the type of search you wish to pursue.
Their membership packages are based on the type of search you wish to pursue. For example, a local search begins at $30,000. If you're interested in dating outside the Boston area, a national one starts around $45,000.
Clients usually receive approximately 8 to 13 introductions during the contract, which can span 1 to 3 years depending on how much "hold" time you use. The entire purchase price is paid up front.
Susie Q Matchmaking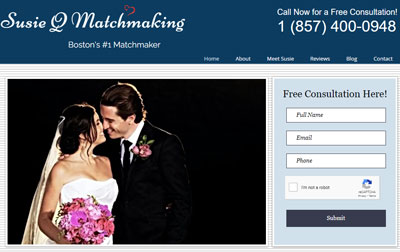 Boston matchmaker Susanne MacDowell has been in the industry since 2013. Her services start around $5,900 for a 6-month contract, with other package options running up to $15,000+.
Clients generally receive an unlimited number of matches, and you'll get to review a photo and profile of each one before making your decision to meet them or not.
LunchDates
LunchDates has arranged "low-key dates" for singles in the Greater Boston area since 1982. Clients can choose from several packages which span 6 months to a year for around $1,500 to $3,000+.
The price varies depending on how involved in the process you want your matchmaker to be, with more bespoke "Executive Dating" services available for single professionals.
With 5 local offices, LunchDates helps singles throughout Massachusetts, New Hampshire and Rhode Island.
Exclusive Matchmaking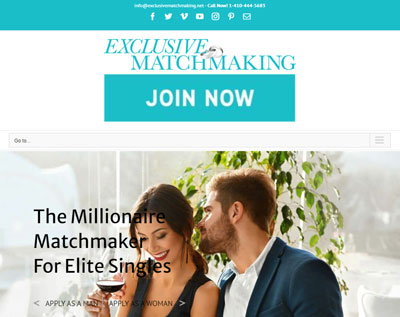 East Coast matchmaker Susan Trombetti is headquartered in Maryland, but she and her team help singles in Boston as well. Exclusive Matchmaking offers a range of services, including dating coaching and background checks on your significant other.
Her professional matchmaking services typically cost between $7,500 and $50,000. But packages are tailored to fit the client, so depending on your specific requirements it could run up to $250,000.
Trombetti's matchmaking and coaching services start with a $350 video consultation. If her schedule brings her to Boston, you can pay $550 for an in-person one.
Serious Matchmaking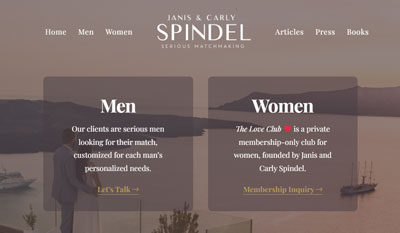 An elite matchmaker based out of NYC, Janis Spindel has been in the industry since 1993. Serious Matchmaking typically only works with men as paying clients, and maintains a database of women from all over the country. Women pay a one-time fee to be considered for inclusion, and are then available for matching with clients.
Spindel has carved out a niche as a luxury matchmaker - her services start at $50,000 for one year. Although if you want to work with her daughter Carly Spindel instead, that starts at $25,000. The package price can soar to over $1,000,000 depending where you'd like them to focus their efforts.
And don't forget, Spindel also charges a signing fee that starts around $65,000, in addition to any expenses arising from her search. If you end up dating one of her matches for more than a year, move in together or get engaged, a success fee equal to her signing fee will also be due.
Elegant Introductions
Co-founders Dr. Nancy Gold Zimmer and Barbara Black Goldfarb are both originally from the Boston area. These days, they run Elegant Introductions from its headquarters in South Florida but still maintain a matchmaking presence in Boston.
Matchmaking packages start at $15,000 for basic services. All the contract details tailored to fit each client's relationship goals and search parameters.
VIDA Select
Founder Scott Valdez and his matchmaking team have been helping Boston singles find their ideal partners since 2009. VIDA Select blends tech with matchmaking intuition, a modern approach that taps directly into the largest source of eligible singles there is. That means you'll only be meeting highly compatible people!
Matchmaking packages reflect the number of hours that should be dedicated to your search each month, so there are no long-term contracts. Instead of committing to 6 months or more of service, VIDA clients simply pay as they go for each month they'd like to continue dating.
Clients who qualify for the service can choose from Basic, Premium, and Elite packages, starting at $995 per month. To learn more and see if you qualify, start here!
All product and company names are trademarks™ or registered® trademarks of their respective holders. Use of them does not imply any affiliation with or endorsement by them.
Why Choose VIDA Select?

Since 2009, thousands of clients have discovered true love thanks to VIDA Select's fresh, modern approach to matchmaking – which has finally thrown blind dates and long-term contracts out the window. This isn't your grandmother's matchmaking!
Instead of working with a single matchmaker using a small rolodex of potential partners, VIDA Select's matchmaking team taps into the world's largest database of available singles. We'll quickly identify the matches who check all of your boxes so you can finally experience true chemistry. Are you ready to become our next success story? Schedule your complimentary consultation now by clicking the button below!
Get Started Now