I hope you enjoy reading the blog post.
If you want my team to just do your online dating for you, click here.
What Is Match 72 Hours? [+ 3 Ways To Get More First Dates!]
Launched in 2023, 72 Hours is a feature on Match's dating app that encourages you to go from online to in real life in no time flat.
Match believes that "3 days can change everything", especially for singles who want to avoid the endless back and forth messaging madness.
Keep reading to find out how Match's 72 Hours feature works, where it's available, and how to use it to meet more singles!
Let's dive in!
What Is Match 72 Hours?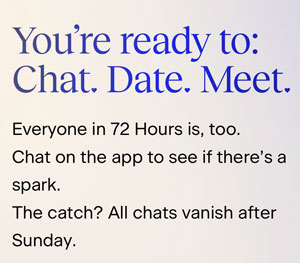 Match 72 Hours is a weekly in-app experience where you've got 3 days to message a potential match before the clock runs out. The feature debuted in New York, with a wider rollout following soon after.
Match's General Manager and Chief Product Officer, Dushyant Saraph, shared in a press release they created the feature to improve the dating process.
"With 72 Hours, we're providing a space that better aligns with singles' intentions to see conversations through with others who want to do the same, bring more fun to the dating experience, and create more real-life connection."
The point is to exchange messages with any of them who interest you, with an eye toward making date arrangements during the 3-day messaging window.
How Match 72 Hours Works
Members opt-in to each weekly event. To participate, you need to have at least 3 photos included in your profile.
Each session begins on Thursday at 4:00 p.m. local time and ends on Sunday at midnight. Once a session ends, your message history disappears.
You can sign up for that week's event any time, even once the event is live. You'll just have whatever time is remaining. For instance, if you join on a Sunday at 2 pm, you'll only have 10 hours left.
To opt into Match 72 Hours, tap the "meet" button on the menu bar, then join.

While the event is in progress, you can explore nearby profiles on an interactive map that displays up to 15 potential matches.
Your location on the map is determined by your zip code, and Match never shares your precise location with other users.
To view a profile, simply tap on the photo icon for that user. You can keep track of your requests and messages in the "Chat" section at the bottom of the screen.
You can adjust the Match 72 Hours distance and age filters using the drop down fields at the top of the screen. If you run out of profiles in your area, make your settings more broad.

When viewing a profile, simply like or pass on it. The Match 72 hour feature is progressive - as you message request or pass on profiles, more will appear.
Match 72 Hours is designed as a shortcut for "date ready" singles to meet someone new in time for the weekend.
The baked-in time limit removes the stress of figuring out when to ask her out, but your profile and messages need to be on point for her to say yes!
3 Ways To Get More Dates Using Match 72 Hours
Want to move from online to IRL with ease? These 3 Match.com tips will help you get more dates!
#1: Make Your Primary Pic Spotlight Worthy
You already know photos matter on a dating app. But in this feature, your primary photo will absolutely make or break your chances. Remember, when she's looking at her map, it's a sea of little photo icons.
If yours doesn't catch her eye, you don't stand a chance.
She'll absolutely want a clear view of your face, so make sure your primary pic is a headshot where you're not wearing sunglasses.
In this type of interface, you want to do everything you can to spark a connection so choose an image where you're making eye contact with the camera. Also consider a pic where you're wearing something bright and eye-catching.
Want more expert advice on choosing an image that will get you more dates? Check out these dating photo tips!
#2 Optimize Your Bio To Attract Your Perfect Match
You can bet your matches will be checking out your profile before agreeing to take things offline, so you want your bio to shine.
It's important to be authentic in your profile, especially if you're on Match to find a serious relationship. But that being said, your profile also needs to be written with your ideal partner in mind - because that's who you want to attract, right?
For instance, make sure to highlight hobbies and interests that the type of person you want to meet would find compelling. For instance, if you're looking for an athletic sort who values an active lifestyle, hit those notes in your profile.
If you're looking for someone who's as passionate about giving back to the community as you are, describe how you throw Frisbees and dispense treats to the rescue dogs at the animal shelter.
Specifics are important, because they offer a much more vivid - and interesting - glimpse of your life.
For more expert insights, check out these tips on crafting an attractive Match profile.
#3 Take Advantage Of The Countdown
Match 72 Hours is specifically made for singles who want to make plans, which is a huge advantage. To get the best results out of this feature, here are a few guidelines to follow:
Avoid statements that radiate insecurity. For instance, "I don't know if you'd be interested in someone like me, but I thought I'd take a shot…" is a surefire way to ruin your chances.
Fortune favors the bold. If your match is attractive, odds are excellent you're not the only game in town. When you're starting to feel the rapport, suggest meeting for coffee, drinks, or a casual activity like a walk. The whole point of the feature is to make weekend plans, so don't risk your match losing interest by taking too long to make plans.
Suggest a number swap. Match 72 Hour message exchanges disappear at the stroke of midnight on Sunday, so it's a good idea to ask for her number when you're making plans, "just in case."
Want More Dates With Better Matches, Without The Work?
VIDA's team of dating experts has been using Match.com daily since 2009. We've managed thousands and thousands of Match profiles for our clients, handling everything from optimization to screening to messaging.
In other words, we do everything for you - including arranging dates with singles who are just your type. If you're not getting the results you want on Match, it's time to change up your approach.
There's no easier way to meet your ideal partner on Match or any other dating app you want to use. Find out exactly how VIDA works here!
Want us to do your online dating for you?

Hey, I'm Ally, VIDA Select's Director of Matchmaking.
We take all the frustration, hard work and hassle out of modern dating!
Imagine your very own Dream Team of highly skilled dating experts searching for the very best local matches, sparking their interest, and arranging all the dates for you.
Wouldn't it be nice to finally stop swiping and start dating higher quality matches so you can meet someone special?
We've helped thousands of singles just like you since 2009, and we're ready to make you our next success story!
What are you waiting for? Take the next step now…
See If You Qualify