I hope you enjoy reading the blog post.
If you want to chat now about your matchmaking search, click here.
Matchmaking Miami Review [Best Service For Florida Singles?]
Getting his start as a men's dating coach, Dan Silverman has been in the matchmaking space for almost a decade. But with so many Florida matchmakers to choose from, you're likely wondering if he's the best choice for you.
This Matchmaking Miami Review has all the information you need to help you make a decision!
Our team of experts has reviewed well over 200 matchmaking services, delving into their operations, cost, success rates, and client experiences.
These reviews are built on 14+ years of firsthand industry experience, comprehensive research, and a deep understanding of the matchmaking landscape.
Matchmaking Miami Review Table Of Contents:
Let's get started with a look at the founder!
Meet Miami Matchmaker Dan Silverman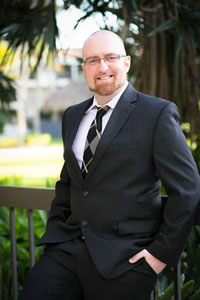 Born and raised in Miami, Dan Silverman's path to matchmaking began after a break up. Upon discovering his first girlfriend had been unfaithful, Silverman said he started examining his own dating habits and patterns.
Determined to learn as much as possible about dating and relationships, Silverman found the learning process both therapeutic and empowering. As he recalled in an interview, "The more I learned, the better I felt."
While attending business school, Silverman started "Miami Dating Coach" for single men, helping them replicate his success in the dating scene.
As he explained to ShoutoutMiami,
"I started my business to help prevent others from experiencing the same kind of heartbreaks I went through. I love people, I love helping to connect others, and helping people find love."
In 2006, Silverman launched his "in-field" coaching program for men, accompanying clients to various locations and observing how they approached women. He would then offer suggestions and strategies for flirting more effectively. A few years later, he expanded his coaching services to include women.
After almost a decade of coaching, Silverman added professional matchmaking as an option for clients in 2015.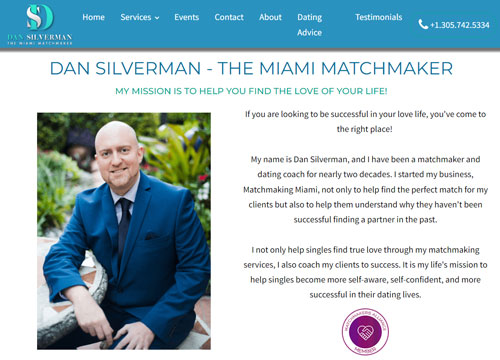 He described his approach to Canvas Rebel, saying,
"I'm a lot like a modern-day Hitch, where I find people matches or teach them how to meet people on their own."
Matchmaking Miami attracts a diverse clientele. He tailors his services to meet a wide range of dating needs, from young singles with social anxiety to older adults learning to date again after a divorce. He works with clients throughout the Miami-Dade and Broward County areas.
In 2022, Silverman relocated to Austin, TX; however, he continues to travel back and forth, maintaining a solid client base in Miami.
What To Expect From Matchmaking Miami
Silverman's philosophy is rooted in personalized attention and honest feedback. He believes in maintaining a small client base, allowing him to focus on aiding each individual in their pursuit of personal fulfillment and happiness.
He shared with Dating Advice that not everyone who comes to him is looking for just one person - and he's supportive of whatever their journey looks like.
"We're social creatures, so we naturally want to share our lives with someone — and it doesn't have to be in a committed relationship."
The Matchmaking Miami process begins with prospective clients filling out a questionnaire detailing their dating preferences and goals. Silverman then meets in person to determine if they are a good fit for his service (and vice versa).
As he explains on his website, Silverman's approach relies heavily on using his "intuition" during his coaching sessions and while scouting potential matches.
His understanding of human behavior is enriched by his father and sister, who are both professional psychologists. He expressed in an interview that he's thankful for everything his father taught him about 'psychology and cognitive behavioral therapy.'
As a matchmaking client, your matches will come from his singles database or via his scouting process. Silverman typically guarantees at least 1 date per month. However, he emphasizes the need for client participation and lets them know that the process is a collaborative effort.
In his words,
"I have learned that anyone can attract the person of their dreams as long as they are willing to conquer their fears and put in the effort required to make big changes."
Matchmaking Miami offers both online and 'in-field' coaching sessions to help singles improve their dating skills. Silverman tailors his approach to the unique needs of each client.
He shared in an interview that regardless of the direction he takes, following his advice leads to successful outcomes.
"I know if they listen to my advice, it's going to fix their problem. I use whatever methods I think will be most effective for my clients. It just depends on what they need."
How Much Does It Cost To Hire Dan Silverman?
You can join the Matchmaking Miami database for free. But that's a passive route, meaning no active searches are conducted on your behalf. You'll only be contacted if you meet the specifications of a paying client.
While pricing for both coaching and matchmaking packages are not explicitly listed on his website, Silverman did reveal in a past interview that a 6-month matchmaking package costs around $7,000, and 3 months of in-field coaching is priced starting around $3,000.
(Want to see how that price tag stacks up to other Miami matchmakers? Read this next!)
Now let's take a look at what singles are saying about their experience with this South Florida matchmaker.
Matchmaking Miami Reviews

Matchmaking Miami has a 5-star rating on Yelp based on 2 reviews from 2016, both of which complimented Silverman on his coaching techniques: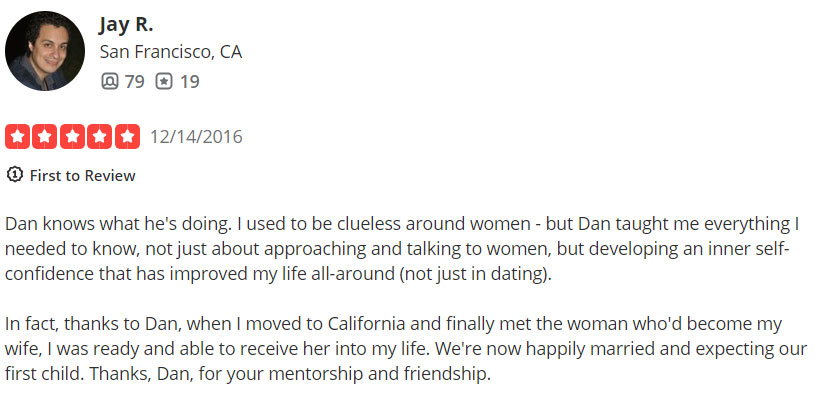 This Miami matchmaker also has a 5-star rating on their Google business page:

Three of the reviews were left by fellow matchmakers.
For example, Texas matchmaker Sameera Sullivan wrote a supportive endorsement:
As did Arizona matchmaker Joann Cohen: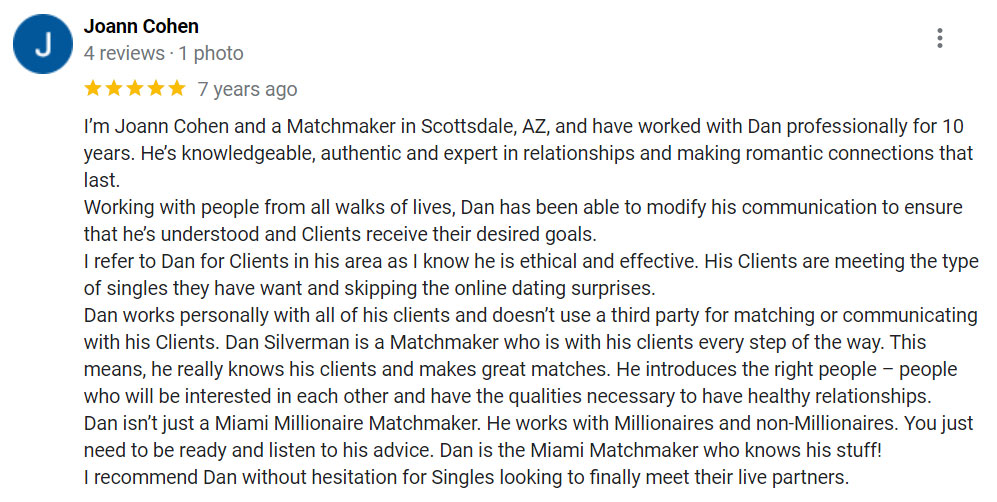 Most of the other reviews were from his male clients who said that working with Silverman gave them more confidence with women. Here is a sampling:

Is Dan Silverman & Matchmaking Miami Right For You?
Silverman has definitely carved out a niche for himself as a dating coach in the greater Miami area, helping singles for over 2 decades.
Ultimately, the decision of which matchmaking service to hire comes down to a host of factors, like the vibe you get during your initial consultation, the price point, and the type of contract you want to sign.
Most Florida matchmakers require payment in full before your search even begins, and contracts span anywhere from 3 months to over a year. That means you're paying for the entire span of service before you've even gotten a taste of what the experience will be like!
But that's not always the case. VIDA Select is another option Florida singles should consider, because VIDA offers service on a pay-as-you-go basis. Packages are all monthly, which means you won't have to invest in a long-term contract. 
And rather than rely primarily on a limited internal database for matches, VIDA's modern approach leverages the largest source of singles there is. That's why clients typically meet someone special within just 3 months!
VIDA also offers clients dating, relationship, and life coaching, in addition to personal styling services. It's a one-stop-shop for everything you need to find the relationship you're seeking.
Intrigued? Start by taking a minute to see if you qualify for VIDA's matchmaking service!
Why Choose VIDA Select?

Since 2009, thousands of clients have discovered true love thanks to VIDA Select's fresh, modern approach to matchmaking – which has finally thrown blind dates and long-term contracts out the window. This isn't your grandmother's matchmaking!
Instead of working with a single matchmaker using a small rolodex of potential partners, VIDA Select's matchmaking team taps into the world's largest database of available singles. We'll quickly identify the matches who check all of your boxes so you can finally experience true chemistry. Are you ready to become our next success story? Schedule your complimentary consultation now by clicking the button below!
Get Started Now