I hope you enjoy reading the blog post.
If you want my team to just do your OkCupid for you, click here.
OkCupid SuperLike Explained: How It Works, 2023 Cost & More!
In theory, sending someone a SuperLike on OkCupid increases your chances of matching with another user up to 4X. And while that "4X" may be some marketing hype, there's no denying using this feature makes your profile show up in more places.
But it will only work if she likes what she sees... which is why at the end you'll find 3 ways to make your profile more SuperLikable, straight from VIDA Select's dating experts!
Keep reading for everything you need to know about using this OkCupid feature:
OkCupid SuperLike Explained: Table of Contents
How SuperLikes Work On OkCupid
Sending a SuperLike is a way to show someone that you're "extra" interested in them. It sets your profile apart from the users who just regular liked them, so it can be an effective way to get a potential match's attention.
To SuperLike someone on OkCupid, all you have to do is tap the blue SuperLike button displayed next to the pink Like button on that user's profile.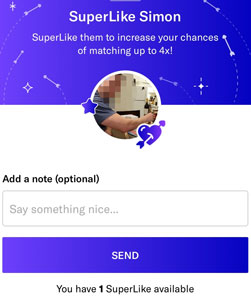 OkCupid allows users to include a note with a Super Like, which is an advantage over a dating app like Tinder. On Tinder, only Platinum subscribers get to attach a message to a SuperLike.
When you hit "Send", your potential match gets a notification that you sent them a SuperLike, and your profile will appear in her SuperLikes stack.
From there, she can check out your profile, send you an Intro, or just hit the "Like" button to match with you.
If she's an OkCupid Premium user, she'll also see your profile in her Likes You feed.
Want to see who SuperLiked you? Just tap on the SuperLikes stack icon. If you're a OkCupid Premium user, their profiles will also be revealed in the Likes You section.
Oddly enough, you can't see who you SuperLiked on OkCupid. Those profiles do not appear among the profiles of the people in the "You Like" feed.
OkCupid SuperLike vs Like
The biggest difference between sending a Like and a SuperLike on OkCupid is that your SuperLike gets displayed in a dedicated stack. That increases the chances of your potential match seeing it.

The other big difference is cost. Free users have a daily "likes" limit, but it's around 30 Likes every 12 hours. By comparison, you only get 1 free SuperLike per week.
If you're in the Cupid's Picks stack, you *have* to use a SuperLike to express interest in a potential match.
OkCupid SuperLike Cost
All OkCupid users get one free SuperLike every Sunday. But they don't accrue. If you don't use yours one week, you'll still only have 1 free SuperLike the next week.
If you're a Premium member, you get 3 free SuperLikes to send each week. Those don't accrue either; your free SuperLike stash will just reset to 3 each week.
All users, paid or free, can purchase additional SuperLikes at any time. And those never expire.
You can buy 2 SuperLikes at a time for $3.49 each, or you can choose to purchase them in packs of 15 or 20. If you purchase more at a time the individual cost goes down:
OkCupid SuperLikes 2023 Cost*
2 SuperLikes - $3.49 each
15 SuperLikes - $1.53 each
30 SuperLikes - $1.33 each
*Price may vary by location
When Should You Use OKCupid SuperLikes?
If you suspect your potential match gets a lot of attention on OkCupid, sending a SuperLike increases the odds of her seeing your profile. That's because it appears in more places, most notably her SuperLikes stack.
That being said, sending a SuperLike will only result in a match if she's intrigued by your photos and prompt answers. If your OkCupid profile doesn't impress her, you've wasted your free SuperLike. Or worse, you've wasted actual money.
Sending a SuperLike when your photos are awful and your profile text shows little to no effort is just going to make you look SuperDesperate. So before you tap that button with the heart and the arrow on it, check out these 3 expert OkCupid profile tips!
3 Ways To Make Your Profile SuperLikable
You'll find all the resources you need to make your profile the best it can be in our Ultimate Guide To OkCupid. So bookmark that, but for now, start here!
#1 - Pick The Perfect Primary Photo
No matter which OkCupid stack she's browsing, your primary photo is front and center. If it doesn't instantly make a favorable impression, the odds of someone checking out the rest of your profile plummet.
There are certain traits that will make a photo more appealing on a dating app, helpfully identified by a team of researchers who wanted to do singles a solid.
They found the most attractive dating photos had these 4 things in common:
You're the only person in the frame
It's a close-up (think headshot proportions)
It has a simple background
You're making unobstructed eye contact (no sunglasses)
And all the common sense rules apply when you're choosing your primary photo. You should look good, it should be a high-quality, well-lit image, etc.
For all expert insights you need to improve your dating profiles, check out these photo tips and tricks!
#2 - Make Your First Sentence Count
The first sentence of your OkCupid profile displays on your primary pic. A terrible answer here can derail even a strong primary photo, so it's the most important sentence you'll write in your profile.
For most users, what's shown on your photo is the first sentence or two of your "My Self Summary" prompt answer.
When you're writing this prompt, the key to success is highlighting a couple of your most compelling traits. So that's the overall goal of your answer.
But remember, only the first line of it will display on your photo. So that sentence needs to accomplish a different goal: spark her curiosity.
You can use your first sentence to build intrigue, like in this example. Odds are excellent she'll explore your profile just to find out how you predict the future. Curiosity is a powerful motivator!
Other effective approaches would be showing off your sense of humor, or highlighting an aspect of your lifestyle that the type of singles you want to match with would find compelling.
Just don't blow the opportunity by having a first sentence that waves a potential red flag. Stay away from anything that could be perceived as negative, like in these two real OkCupid profiles:
Another no-no is the way-too-common "ask me."
She learns nothing about you, apart from that you can't be bothered to invest your time making a good first impression. And worse, it implies she'll have to do the hard work of dragging details out of you.
Unless she's blown away by your primary photo, why would she bother asking you anything when guys with more compelling profiles are just a swipe away?
For plenty of good examples on how to stand out on OkCupid, check out these OkCupid profile tips!
#3: Answer More Matchmaking Questions
OkCupid displays your compatible score with each potential match right next to their first name - it's almost impossible to miss.
The more matching questions you answer, the more accurate - and hopefully higher - that percentage will be with the people you're most interested in meeting.
You can answer more questions on OkCupid by tapping on the profile icon to bring up the editing screen. Scroll down to "Answer More Questions" and tap the blue "Answer" button when you see one you like. To pass on a question, just hit "Skip".
OkCupid keeps a running tally of how many you've answered, and what bracket that puts you in.
It will also show you the highest possible percentage you can get with a match based on what you've already answered.
More and more singles are dating with intention, meaning thought is going into every "like". The more you can seem like a compatible match right off the bat, the more successful you'll be on OkCupid.
Sound Like A Lot Of Work?
It is. But creating a profile that pops and selecting the best photos is what it takes to get those SuperLikes - and the regular kind - on OKCupid. If all that feels like too much effort, and you'd rather just skip straight to first dates with more compatible matches, let VIDA Select help.
In fact, VIDA's dating experts will do it all. From profile optimization to swiping and messaging, everything is handled for you. You just need to show up for all the dates!
Want us to do your online dating for you?

Hey, I'm Ally, VIDA Select's Director of Matchmaking.
We take all the frustration, hard work and hassle out of modern dating!
Imagine your very own Dream Team of highly skilled dating experts searching for the very best local matches, sparking their interest, and arranging all the dates for you.
Wouldn't it be nice to finally stop swiping and start dating higher quality matches so you can meet someone special?
We've helped thousands of singles just like you since 2009, and we're ready to make you our next success story!
What are you waiting for? Take the next step now…
See If You Qualify