I hope you enjoy reading the blog post.
If you want my team to just do your online dating for you, click here.
Ship Dating App Review [Is It Worth The Download In 2023?]
Editor's Note:
As of 9/30/22,
Ship Dating App is no longer available. While no specific reason was given, Match Group CEO's Bernard Kim specified the corporation's intent to focus "on brands that are growing and pull back in areas that are not driving growth" during an earning call in that timeframe. Try one of these popular dating apps instead!
Dating apps like Tinder, Bumble and Hinge have allowed you to share profiles with friends by sending a link for quite some time now. But Ship takes it one step further - you can actually swipe on behalf of your friends. But you're reading a Ship dating app review, so you're probably wondering how that approach works in practice.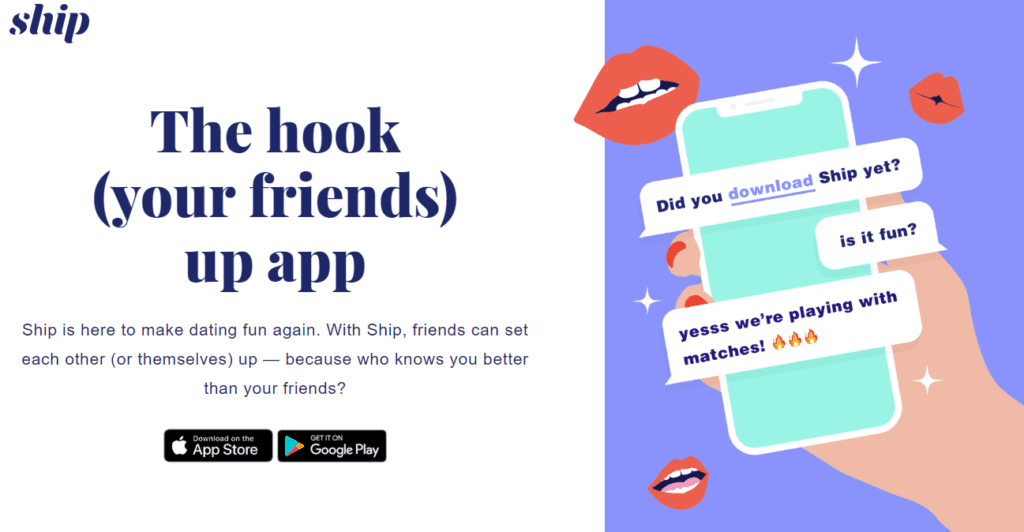 You can swipe for yourself, of course. But the whole point of this dating app is to let your friends, parents, coworkers, etc. in on the search for your soulmate. (Or at least your next date for Friday night.)
From exactly how it works to what it costs, this Ship dating app review has all the details you need to decide if this Tinder alternative is worth a try!
The Scoop On Ship
Released in early 2019, Match partnered with a company called Betches to develop Ship. Word on the street is Match provided the tech, Betches the overall branding and concept. And it's now one of the fastest growing apps in the Match portfolio.
At the moment Ship is a totally free dating app, with no premium membership - or features - offered.
Ship is available for both iOS (11 and higher - iPhone 5 and earlier models, and iPhone SE are not supported) and Android devices.
Two Ways To Join Ship
You can sign up as a single person, or as someone swiping for a single person:
When you're swiping on behalf of someone else, you join their "Crew."
You'll be browsing through profiles of singles who meet their criteria. So for instance, if you're in New York and your single friend happens to be in Chicago, you'll be swiping left or right on singles in Chicago.
Ship also has a "group chat" function, where you can offer up profiles for discussion among all the members of that Crew:
Whenever anyone in your Crew "likes" a profile, and that person expresses interest in your single friend, a match is made and messages can be exchanged.
Messages between the two single people aren't visible to their respective crews. The app's creators likely figured most people don't want their friends that involved in the process.
How Exactly Does Ship Work?
After downloading the app and specifying whether you're single or not, you'll provide your mobile phone number and the ensuing verification code. Then the user experience differs slightly depending on why you're using the app.
If you're using Ship to find matches for a friend...
You'll just enter the basics: first name, last name, birthday, gender (there's a free form text box option if you don't identify as a man or woman), and a primary photo. You can skip uploading a photo if you want.
When you're on the prowl for your friends, your "public" Ship profile consists solely of your first name and photo (or avatar). It's only visible to the people in your "Crew."
You'll need to join a single friend's Crew so you can find them matches. You have the option of syncing your contacts, so you can invite your single friend to join the app, or you can accept an invite.
You can join multiple crews. Just change who you're matching for by selecting from the "I'm matching for" menu at the top of the screen:

Then, you simply browse through the profiles of singles who meet your friend's matching criteria. "Like" any you think might be a good fit. If that person also "likes" your friend's profile, it's a match!
Any activity within your various Crews will show up within that Crew's activity feed. For instance, rating profiles, creating a match, or starting a conversation with a match will all appear there.
Profiles can be shared to a "group chat" where each Crew member can add their two cents via comments. To share a profile in Ship, tap the "i" to bring up the additional details. Then tap the orange arrow icon:
If you're joining Ship as a single person...
The set-up process is slightly more in-depth.
First, you'll need to allow Ship to access your location and your contacts (both mandatory).
Next you'll be asked for basics like name, birth date, what gender you identify with, what gender you're interested in, and your height.
Unlike when you're matching for friends, as a single person you're required to upload a photo at this point. You can upload up to 6, but only one is required.
You can choose whether or not to add your school and your occupation to your profile, or tap "skip" in the upper right hand corner. Then you can choose to invite your friends, or just start checking out profiles.
But since you're on Ship trying to find a date, you'll want to finish setting up your profile first, which is much more detailed.
Writing Your Ship Profile
For starters, there's an "About Me" section that's similar to a Tinder or Bumble bio. This section allow for over 1,000 characters, but since your matches are reading it on a phone screen brevity is best.
Keep it around the length of a Tinder profile, 500 characters give or take. That's plenty of space to highlight a few interesting tidbits that will make your matches want to learn more about you.
From the "Edit Profile" screen, you can also specify what type of relationship you're seeking, your political leanings, how often you exercise, drink and smoke, and how you feel about cannabis.
Your religion, family status, pets, and Zodiac sign round out the options. You can leave any of the fields blank.
When it comes to your match criteria, you can only filter by gender, age range and match distance.
Matching works the same on Ship as it does on apps like Tinder. If you (or your friends on your behalf) "like" a profile, and that person "likes" you back you match.
Once that happens, you're able to access your conversations by tapping on the "Matches" icon in the menu bar:
Don't worry, your Crew can't read your conversations with matches, they'll only see that you started a message exchange. You can also change what activities display in the activity feed in the "settings" menu.
If you're not onboard with a profile your friend chose for you, there's no way to override that "like". You can, however, unmatch anyone you're not actually interested in.
How To Change Your Status
If at any point you'd like to change your relationship status on Ship, follow these steps:
Delete the app
Reinstall the app
Tap "I'm not single" or "I'm single AF"
Follow the steps & log back in
Ship Dating App Review Verdict
So, should you give Ship a try? If you're single and living in an area with lots of other dating app users (read: a large urban area), you'll likely have better luck on this Tinder alternative simply because you'll find more people on it. That may change as the app grows in popularity and expands into more rural areas, but only time will tell.
But assuming you're in a big city and your friends and/or family are down to lend a swiping hand, it's worth the download just to check it out.
Need Help With Your Dating Life?
Whether you're interested in Ship because you want someone to do all that swiping for you, or because you're not getting the results you want on Tinder and Bumble… why not see how the dating experts at VIDA can transform your love life?
Not only will we swipe for you, we also handle all the other time consuming parts - writing your profile, selecting your photos, and even handling all your messaging!
If you don't stand out online, you don't stand a chance - but with VIDA's professional writers and image experts at the helm, you'll have a Ship profile even the hottest singles in your area can't resist!
Want to find out more? Click here!
Want us to do your online dating for you?

Hey, I'm Ally, VIDA Select's Director of Matchmaking.
We take all the frustration, hard work and hassle out of modern dating!
Imagine your very own Dream Team of highly skilled dating experts searching for the very best local matches, sparking their interest, and arranging all the dates for you.
Wouldn't it be nice to finally stop swiping and start dating higher quality matches so you can meet someone special?
We've helped thousands of singles just like you since 2009, and we're ready to make you our next success story!
What are you waiting for? Take the next step now…
See If You Qualify