I hope you enjoy reading the blog post.
If you want to chat now about your matchmaking search, click here.
Meet Simona Fusco [Best Beverly Hills Matchmaker For You?]
If you're thinking about hiring a Beverly Hills matchmaking service, it's no wonder Simona Fusco and Perfect 12 are on your radar. She's been in the love game since 2008!
But you're wondering if Perfect 12 is the best matchmaking service for you, so doing a little recon on its founder makes sense.
Our team of matchmaking experts has reviewed 200+ matchmakers, diving deep into their service, process, success rate, and customer reviews. With over 14 years in the industry, our reviews are not only built on our comprehensive research but also our first-hand experience and insights!
From Fusco's dating philosophy to what drew her into the business, this Simona Fusco review covers everything you need to decide if Perfect 12 is the right service for you.
Simona Fusco Review Table of Contents:
Let's start with the face behind the company:
Who Is Simona Fusco?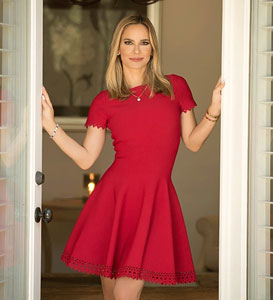 Simona Fusco grew up in Vienna, Austria, and Milan before moving to the United States at 14 years old.
First a model and then an actress, Fusco can be seen in movies like Beerfest (2006) and This Is Our Christmas (2018). A producer and frequent media contributor, she has been featured on outlets like Fox, Dr. Phil, CNN, and CBS.
She's also a philanthropist, founding both Ask Simi and The Maria Gruber Foundation.
Ask Simi recruits volunteers for the "Simi Army," which aims to protect and empower women and teenagers against bullying, viral videos, public shaming, over-sexualized clothing, partying, sugar daddy dating, and the pitfalls of social media.
She founded The Maria Gruber Foundation in 2014 after losing her mother to cancer. It provides support and tools to families whose loved ones have been affected by terminal cancer, and part of Perfect 12's proceeds go towards this foundation.
In addition to her philanthropy, Fusco is also a respected entrepreneur. In 2012, Simona was presented and honored with a Global Excellence Award in Women's Entrepreneurship by the Mayor of Los Angeles.
Simona Fusco's Approach To Matchmaking
As Fusco explained during an appearance on Morning Blend, she considers herself "proof" that matchmaking really works - it's how she got into all of her serious relationships.
But despite her success, she found one aspect lacking: "the personal touch that made you feel special."
Fusco explained that after working with several services, she found that some of them didn't do what she called "their due diligence":
"They wouldn't meet their clients in person, they wouldn't really get to know them on a deeper level. So I've had good and bad experiences with matchmakers. And so I said, 'okay, that's it - I'm going to start my own and do it right all across the board.'"
Fusco launched Perfect 12 in 2005.
It is headquartered in Beverly Hills, but over the years she has developed an international presence, helping singles around the world make quality connections.
In interviews, she has mentioned that many clients come to her with an idea of their perfect match in mind. Some have a list of physical attributes, while others prioritize specific personality traits and hobbies they are looking for in a partner.
But Fusco believes keeping a strict checklist of what you want in a partner is not always a positive. As she explained during an interview with Delphine's Circle:
"Women are the ones that come to me with a checklist of everything that has to check and that's not a good thing to have. You need to be a bit more open-minded and flexible… As you get to know a person, you mesh and mold together."
Having an open mind isn't the only thing that's important when you're looking for "The One:"
"You have to keep an open heart. If you start becoming cold and then you're closed off to the world, it's a very negative mindset."
An elite matchmaking service, Perfect 12 counts celebrities, Fortune 100 execs, models, and other high-profile, privacy-minded professionals among its clientele.
Fusco accepts a limited number of paying clients every year, and says she meets each one personally. As she explained in an interview:
"I'm all about quality over quantity… I practice and apply that same belief to my agency."
Potential clients start by submitting an application online, then participating in a $1,000 initial consultation.
If you pass the screening process and choose to move forward with the service, there are 3 membership options for an active search done on your behalf:
Gold
Platinum
Carte Blanche
Perfect 12 also offers a concierge service that helps to plan the entire date, including VIP access to venue openings, A-list events, private jets, and limos.
How Much Does Hiring Simona Fusco Cost?
You can opt to have a profile included in Perfect 12's database of eligible singles at no charge. However this is a passive membership - you may never be contacted as a potential match for a paying client.
For an active search, you'll need to purchase a membership.
Apart from mentioning her $1,000 consultation fee in an interview, Fusco does not widely disclose the cost of her matchmaking service. Package pricing is revealed during your consultation, and will be spelled out in your contract.
But to get you in the ballpark of what you might expect to spend, let's take a look at some comparable matchmaking services.
#1: Enamour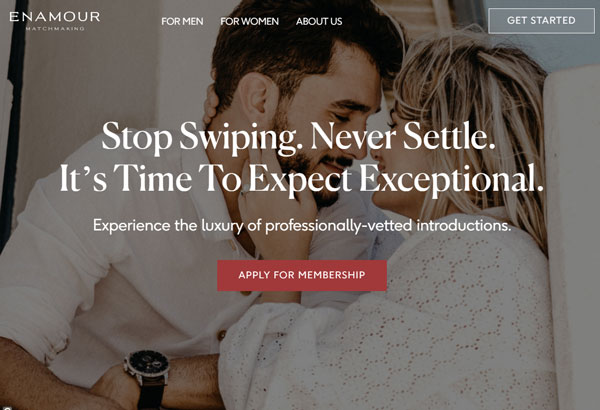 Similar to Fusco's exclusive matchmaking service, Enamour works with elite singles across the globe. With a rigorous screening for acceptance into the program, Enamour pairs highly successful, ambitious clients with extraordinary matches from its invite-only database. 
Enamour's team also employs an extensive recruiting process to perform a targeted search for each client, extending the reach far beyond the internal database.
Matchmaking services start around $20,000.
#2: VIDA Select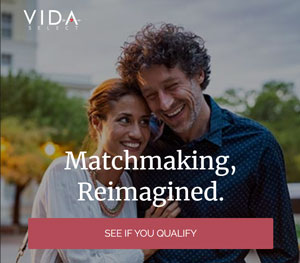 A matchmaking service with a modern twist, VIDA Select's proprietary technology allows the team to leverage the largest pool of eligible singles there is! That means each client meets truly compatible, relationship-worthy matches who check all their boxes.
VIDA Select takes a different approach to pricing than Perfect 12 - there are no long-term contracts. Instead, VIDA offers services on a monthly basis. This "pay as you go" structure means you can pause, stop and restart your search as needed.
Matchmaking packages are tailored to fit each client's particular requirements, with services offered at the different levels. Basic matchmaking packages start at $1095 per month, Premium packages begin at just $1695 per month, and Elite services begin at only $2595 per month.
Pricing is highly correlated with the number of hours that will be devoted to your search each month. On average, clients typically meet someone special after only 3 months of service.
#3: The Millionaire's Club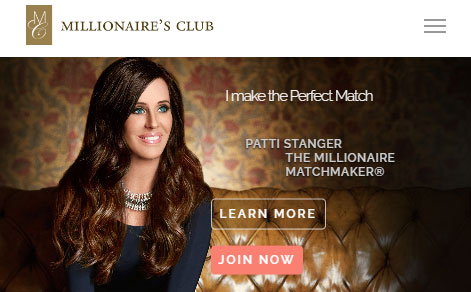 Patti Stanger's millionaire matchmaking service is based in Los Angeles. Like Fusco, Stanger is no stranger to the spotlight. Bravo TV's "The Millionaire Matchmaker'' was a reality show that followed Stanger as she worked her magic for clients over the course of 8 seasons.
The Millionaire's Club packages range from $45,000 to $250,000+, with the most expensive option running $285,000 (plus expenses) to work directly with Stanger.
#4: Matchmakers In The City
Another Beverly Hills-based service, founder Alessandra Conti launched Matchmakers In The City in 2011. While she focuses primarily on matching Los Angeles singles, her service has expanded to include a presence in NYC, San Francisco and DC as well.
Like Stanger, Conti has built a name for herself as a celebrity matchmaking service with many of her high-profile clients valuing discretion. Conti's packages start around $10,000 for a local search and can run over $25,000 depending on the level of service you want.
So when it comes to Perfect 12's prices, you can likely expect them to fall somewhere within a comparable range.
Want an even more in depth look at Fusco's exclusive matchmaking service, including what former clients had to say? Check out our Perfect 12 reviews!
All product and company names are trademarks™ or registered® trademarks of their respective holders. Use of them does not imply any affiliation with or endorsement by them.
Why Choose VIDA Select?

Since 2009, thousands of clients have discovered true love thanks to VIDA Select's fresh, modern approach to matchmaking – which has finally thrown blind dates and long-term contracts out the window. This isn't your grandmother's matchmaking!
Instead of working with a single matchmaker using a small rolodex of potential partners, VIDA Select's matchmaking team taps into the world's largest database of available singles. We'll quickly identify the matches who check all of your boxes so you can finally experience true chemistry. Are you ready to become our next success story? Schedule your complimentary consultation now by clicking the button below!
Get Started Now